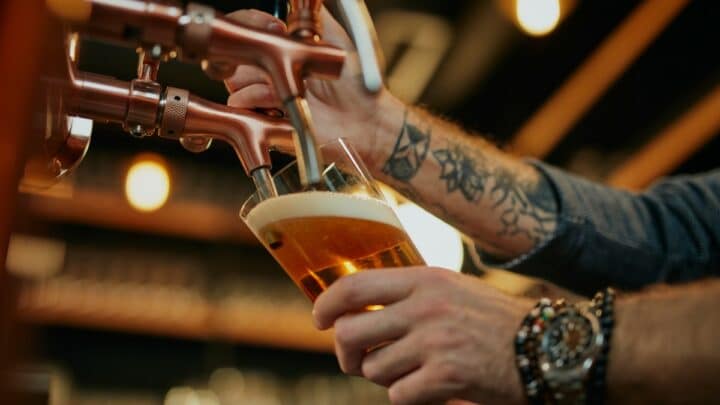 Looking for the best pubs in Forest Hill? These are the top boozers you need to visit for a great pint.
Tucked away in Lewisham, Forest Hill is a leafy London suburb known for its cool cafes, beautiful parks, and cosy pubs.
Whether you're looking for a traditional boozer and a classic pint or fancy venturing into a craft pub with a diverse array of local beers, do not underestimate this gorgeous corner of London.
Let's dive in…
Best Pubs in Forest Hill
The Chandos
The first of these seven pubs, The Chandos, is a traditional London pub with a little bit of a twist – and we love it.
Serving a menu of homemade pizzas and a roster of drinks composed of independently brewed beers and ales, The Chandos acts as the intersection between the traditional and the modern, providing good service, a welcoming atmosphere, and a pub run by unique people in their own unique way.
The Honor Oak
Just a five minute stroll away from Forest Hill station, you will find The Honor Oak, a somewhat traditional British pub offering a wide selection of drinks and simple (but delicious) takes on homemade British pub food.
What it lacks in frills, however, it makes up for in entertainment. The attached 'Laugh Train Home' comedy club next door hosts comedians, musical groups, and comedy acts on a regular basis.
Come for the atmosphere – and the decent selection of drinks – and stay for the show.
London Beer Dispensary
If it's old world charm you're looking for, then the London Beer Dispensary may just be the place for you.
With a quirky, somewhat bohemian interior and a focus on reclaimed wooden furniture and vintage-style fittings, this pub is the perfect place to sit back and read a book, unwind with colleagues after a long day, or socialise with friends whilst enjoying a round of independent beers and local microbrews.
The Dolphin
If you're looking for a relaxed, family friendly place to bring the kids on the weekend, then head to The Dolphin pub.
Boasting a traditional yet peaceful interior, but with a sizable menu of homemade pub classics, this establishment chooses quality over gimmicks, offering a no nonsense but friendly community atmosphere at a fair price.
The Blythe Hill Tavern
The Blythe Hill Tavern is reminiscent of a bygone era – in the best possible way.
With a central bar creating three separate, cosy seating areas, the traditional design is laden with charm and reinforced by friendly, attentive staff who make customer service their top priority.
Family and dog friendly, The Blythe Hill Tavern offers a range of homemade food, a wide selection of craft beer, ale, and ciders, as well as live music to top off the evening.
If you want a pub that feels like a home away from home, then this is the place for you.
The Ivy House
A short walk away in the Peckham area, The Ivy House is a quirky one indeed.
Situated in a Grade-II listed building constructed in 1930, The Ivy was reopened in 2013 as London's first cooperatively owned public house.
With a function room hosting jazz bands, stand-up comedy, jive dancing, and yoga classes, The Ivy House has definitely transcended what we know and expect from a pub, truly reconnecting with the community-minded spirit pubs were always designed to uphold.
With a wide selection of drinks, and a menu of classic, wholesome comfort food, The Ivy House is truly one of the top Forest Hill pubs.
The Sylvan Post
Opened on the site of Forest Hills former post office, The Sylvan Post is a charming addition to the district, delivering an inclusive, welcoming atmosphere at affordable prices.
Stocking a wide selection of premium lager and ciders, as well as a popular range of independent craft beers, The Sylvan Post combines a much missed sense of community, with a very modern outlook.
Food can be purchased on evenings and weekends – and whilst the menu may be somewhat unconventional (take the sausage meatballs, for example), the pub offers a delicious take on hearty grub.
The Signal Pub
If you're looking for a Forest Hill pub with a difference, The Signal is a gorgeous pub that acts as a community hub for locals.
Drinks-wise, there's a whole host of cocktails, wines, and craft spirits, as well as a healthy selection of classic and craft brews.
What about the food? The menu is filled with dishes that resort back to traditional methods of cooking, such as open fire on a charcoal rotisserie and grill – giving each dish a smokey, wholesome taste.
Make sure to check out the uber-cool beer garden space that is perfect for hanging out with pals on a summery day.
All Inn One Pub
If it's a beautiful pub you're after, All Inn One Pub is for you. In fact, we think it's one of the prettiest Forest Hill pubs, and we love the generous outdoor space.
Not only is the interior a modern, industrial take on a classic Victorian pub, but the drinks selection is stellar. Cask marqued real ales, craft beers, carefully-curated wine, and the occasional street food pop-up are on the menu here.
Forest Hill Pubs Map
Looking For More London Pub Guides?