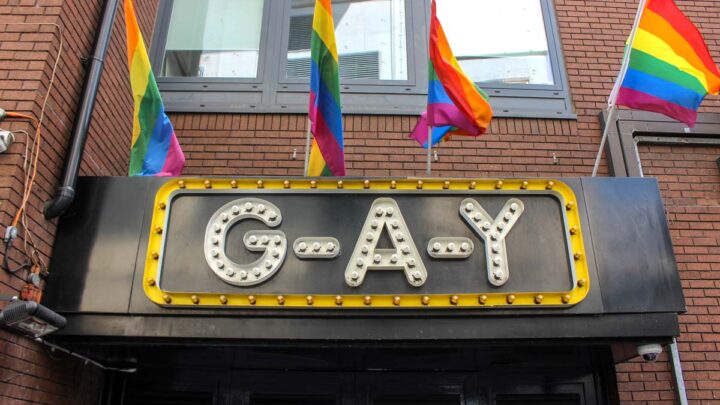 Ready to party it up in the best gay bars in London?
The capital is bursting with friendly LGBTQ+ bars, clubs, and pubs – from cosy joints that are perfect for low-key evenings tucked away in Vauxhall, to the ultimate lovable cheesefest that can be found at London's iconic G-A-Y.
Don your party gear and get ready to shake up London town the only way we know how… filled with booze and glammed up to the nines.
Best LGBTQ+ Bars in London
The Bridge
Gay bars in Clapham are not hard to come by, but hidden under a railway arch, The Bridge is one of the most popular among the areas LGBTQ+ crowd.
With events like drag bingo, themed pub-quizzes (you'll find us at the next Britney one), and fabulous Drag shows, The Bridge is friendly and fun AF.
The bar also streams the latest episodes of Ru Paul's Drag Race, so sashay your way on over for the ultimate glam night out.
Drinks are cheap too – head to The Bridge between 5-7pm every day for the happiest of happy hours.
G-A-Y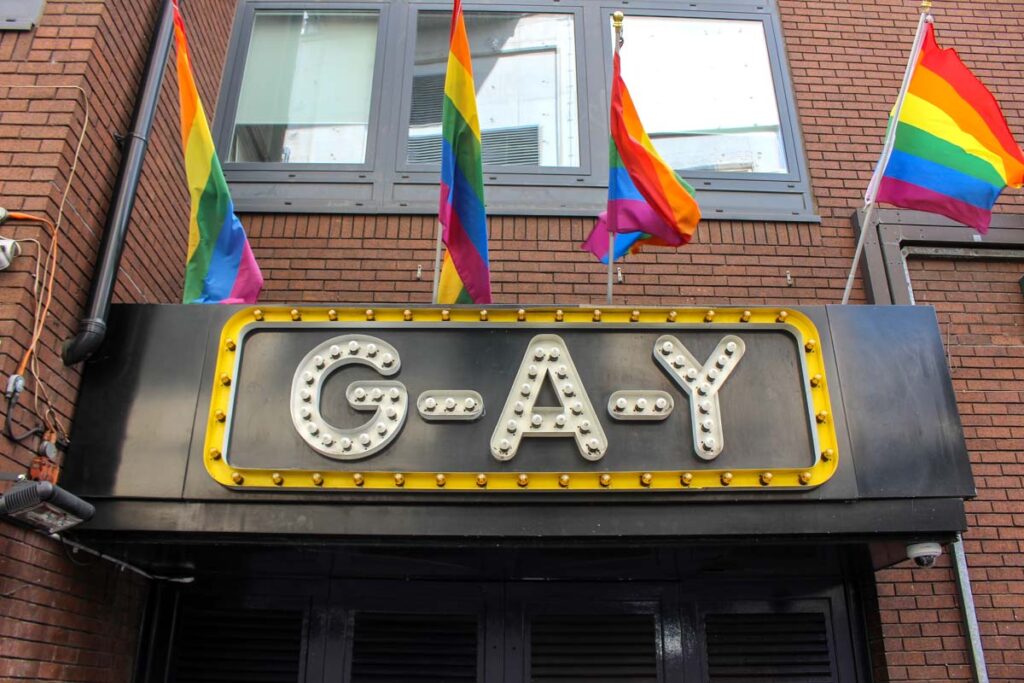 An iconic London venue, GAY's party bar is open 12pm-12am every day and attracts a young and vibrant LGBTQ+ crowd.
This 3-floor bar hosts regular themed nights – Ru Paul parties anyone? It's not going to win any awards for style, but for ultimate party vibes G-A-Y can't be beaten.
Ultimate cheese, an electric atmosphere, and cheap drinks (from £2.50, if you were wondering). Sign us up.
Ku Bar
Soho
Ku Bar has been a gay bar staple in the capital for over 20 years and is still a hub for a fun night out.
Spread over 3 floors, this is really an all-in-one venue: the upstairs champagne bar is a more classy affair, though we all know that once those champers have hit you'll be making your way down to the basement club, right?
Nightly DJ's hype up the crowd, and the Sunday Drag shows always prove popular with locals and tourists alike.
Friendly Society
Soho
Describing themselves as Soho's worst-kept secret, Friendly Society are unapologetically camp.
Adorned with pastel pink decor, flowers hanging from the ceiling (also: barbies suspended in mid-air), and friendly staff – what more could you ask for from a gay bar in London?
Once you're over the gorgeous interior, grab yourself a cocktail – we love the Bitter Slag. Ooh-err.
Village
Soho
Village is another Soho fail-safe worth popping into for a drink or two.
One of the main draws to the Village is the weekly Karaoke Wednesdays – join the hosts Luna Cortez and Martin Petersson from 9pm until the early hours and prepare to whack out your best Whitney impression…
… Or sit back and watch the chaos unleash throughout the night. Up to you.
Happy hour is Friday from 6pm until 9pm and you'll be able to snag yourself 50% off drinks.
The Yard
Soho
If chaotic boozy evenings are less your scene, but the idea of chilling out with a margarita sounds divine (we agree), head to The Yard, an intimate Italian-esque retreat tucked away just off Rupert Street.
Known for attracting a slightly more mature crowd, the drinks menu boasts a healthy amount of cocktails to choose from, as well as some shooters and shots if you're looking to take things up a notch.
Dalston Superstore
Dalston
We love that Dalston Superstore is not shy: along the high street's row of plain-Jane shops it sits decorated with rainbows, enticing you inside. Best-known as one of the more alternative gay bars in London, it's always filled with a cool (but welcoming) crowd.
Head there during the day for a delicious Vegan burger by Essential Vegan, or visit during the evening for couple of innovative cocktails (the Wh*re's Handbag goes down oh-so-smoothly). The bar also hosts plenty of exhibitions and events throughout the year.
DS' Drag Brunch offering is a popular event that we think everyone should attend at least once. Raucous fun and hilarity awaits.
Best LGBTQ+ Clubs in London
Heaven
Charing Cross
It feels like an understatement to say that Heaven was the blueprint for the Gay scene in London when it opened back in 1979. Famed for acid-house events run by Paul Oakenfold throughout the 80s, it was the capital's first superclub.
All these years later, it's still the top spot for tourists and locals in the LGBTQ+ community when looking to party it up in London.
Expect a wild night out here – Thursdays are home to the G-A-Y P*rn Idol strip contest, whilst Fridays are an all-out camp bonanza.
She Bar
Soho
Soho's She Bar is a spot for 'queer women, non-binary folk and their guests' and has long been a poppin' spot for those within the LBTQ+ community.
By day, it's an events space dedicated to supporting those within the community, and by night… a bar-turned-club where you can let loose and party.
Boasting an extensive calendar of events including fabulous drag performances, cocktails and cabaret shows, as well as themed music evenings, this is a welcoming bar that promises a good time.
Two Brewers
Clapham
Partying on a school night? Oh, go on then…
Another venue at the heart of Clapham's gay scene is Two Brewers, and you'll be glad to hear that it's open seven days a week.
Forget watered-down vodka cokes and disappointing Jagerbombs, expect everything from boozy cocktails to shots and shooters, all for reasonable prices..
Weekdays are filled with glittering cabaret shows, whilst weekends are crazy club nights filled with karaoke, drag shows, and fun quizzes to really amp up the crowd.
Freedom
Soho
Forget sticky floors and grungy bars, a night out at Freedom is a sophisticated affair surrounded by over 200 disco balls and chandeliers.
Set over two floors, the downstairs is saved for cabaret, drag shows, and a poppin' basement club whilst the top floor is home to a swanky cocktail bar with a menu named after famous Hollywood stars.
The Grace Kelly (vodka, hibiscus, lime, and orange) and the strong Rock Hudson (scotch, chestnut, and orange on the rocks).
Circa
Soho
A relative newbie amongst London gay clubs, Circa's weekly lineup is ridiculously good.
Tuesday, Thursday, Friday, and Saturday sees some of the best DJs in the capital electrify the crowd, with Friday's RnB offering popular amongst regular partygoers. This is the classic clubbing experience, complete with cramped dance floor and guilty-pleasure tunes.
Sunday's drag brunch is impeccable value for money – £20 tickets include a three-hour brunch, one-hour of bottomless drinks, and a fun drag show.
The WayOut Club
Tower Hill
As the leading Transgender club in London, The WayOut hosts a weekly bonanza that champions diversity and welcomes those who are transsexual, enjoy cross-dressing and pure drag, as well as friendly allies.
Vicky Lee has been the club's host since it opened in 1993 and you'll likely find her partying it up in the club and welcoming partygoers. The bar first started as a wine bar but soon transformed into one of the best clubs for transgender folk in London.
FIRE
Vauxhall
Who knew that tucked under a Vauxhall railway arch hides an industrial nightclub perfect for booze-filled raves amongst a friendly crowd?
Electronic music blares all the way through the LED-lit rooms until 6am – seasonal events and weekly themed evenings shake things up. The regular latin parties and dubstep evenings prove popular amongst ravers.
Expect loud music and cheap drinks at FIRE.
Best LGBTQ+ Pubs in London
Royal Vauxhall Tavern
Vauxhall
The RVT is a Victorian music hall turned LGBTQ+ pub in London that has a BIG reputation.
During the 70s, the RVT consisted of two bars which doubled as a stage for drag artists to dance across. This resulted in the pub spawning some pretty famous acts, including Carla who was famed for her Barbara Streisand impression.
The pub was actually given Grade II heritage in 2015 after a campaign backed by Boris Johnson and Ian McKellen recognised how important it was within the LGBTQ+ community. Even if partying is not your scene, grabbing a pint in this iconic venue is a must do.
Central Station
Handily located just across from King's Cross, Central Station is a warm and welcoming pub filled with all your typical beer, wine, and spirit options.
The pub is intimate and homely – Union Jack wallpaper and cosy seating provide the perfect atmosphere for a quick pint with friends. Weekly drag shows include the likes of ultra-camp Beyonce and Lady Gaga tributes.
And if you're feeling saucy, head downstairs to gawk at the regular fetish show.
LGBTQ+ London: Practical Tips
London is a very LGBTQ+ friendly destination, with Soho widely considered the epicentre of the gay community. You'll find that most of the best bars, clubs, and pubs are located here and the area has a ridiculously friendly vibe.
Vauxhall is another area in London bursting with LGBTQ+ venues – whereas Soho has plenty of bars and pubs, Vauxhall is the best place for a ramped up clubbing experience.
Map of LGBTQ+ Bars Pubs and Clubs in London
Looking For More London Nightlife Guides?