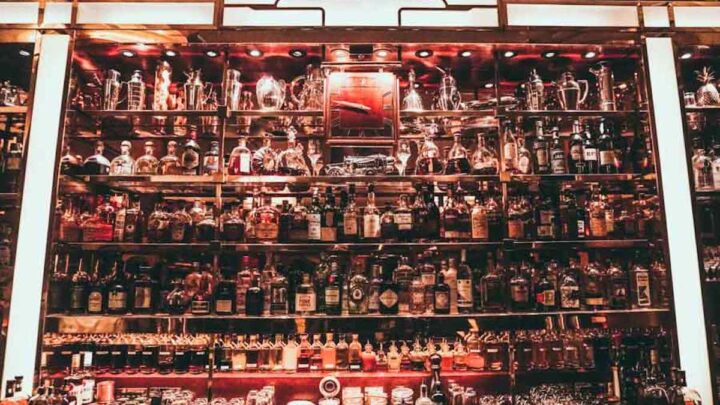 The Experimental Cocktail Club London (ECC for those in the know) is a friendly speakeasy hidden away in Chinatown. Add it to your little black book of cocktail bars in the heart of the West End.
The West End is the Russian roulette of drinking wheels – tacky bars with no redeeming qualities, marred by the slight sheen of seediness and overpriced drinks at one end of the spectrum…and places like the Experimental Cocktail Club at the other. Polar opposites in everything but a shared postcode.
Pick your way through the neon lights and lanterns of Chinatown, your eyes searching for an unmarked door – this door is the key to your evening – the multi-storied Experimental Cocktail Club to be more precise.
Inside Experimental Cocktail Club
It can be tough to find – you'll know that you've found the right door when you can peek what looks very much like a bar upstairs (just call us #sleuthymcsleuthy – hunting out speakeasies is something we've become rather adept at).
Inside, the doormen will let you know if there's space (not always a given as it does get busy) and usher you to your spot if there is. This is where all the fun begins.
The decor is rather sexy, in a shabby, faded beauty kind of way. No surprise that this is one of London's classic date night bars – a truth evidenced by the number of couples making eyes at each other over their drinks.
Read More: Cool Bars in Soho
The Cocktails
Peruse the cocktail menu – full of quirky libations and ECC Chinatown's takes on old classics or just tell one of the knowledgeable and incredibly helpful members of staff what you're after and they'll endeavour to do their best.
It changes all the time, but they're all the product of a mixology team who clearly know their stuff. However you get there, you will end up with a jolly good cocktail in hand.
Seating is tight, so if it's busy, expect to snuggle up a little too close for comfort with a stranger or two.
It's not our favourite way to spend the evening (space is a luxury that is handed out in dribs and drabs in this city) but then again, we are a little bit crabby about these things.
Either way, Experimental Cocktail Club Chinatown does have a pleasant buzz and the cocktails are worth sacrificing a smidgen of personal space for.
Read More: The Best Secret Bars in London
Experimental Cocktail Club London: Practical Information + Map
Address: ECC London, 13a Gerrard St, London W1D 5PS
Telephone: 020 7434 3559
Do I Need to Book in Advance at ECC Chinatown?
The Experimental Cocktail Club's reservations system is simple. They do take them and you need to email them to make one. Easy right?

Just drop them an email at reservation@chinatownecc.com with the booking request. Tables fill fast on the weekends, so get in there quick if you want to nab one.

Does ECC Have a Dress Code?
Not officially, though for any of London's fancy bars you're expected to wear smart casual. Pass on the sportswear and you'll be fine.
Looking for More Soho + Chinatown Guides?
Experimental Cocktail Club, Chinatown
Summary
The Experimental Cocktail Club London (ECC) is a friendly speakeasy hidden in Chinatown. The brilliant cocktails and cool vibe more than make up for the cramped space.
Experimental Cocktail Club