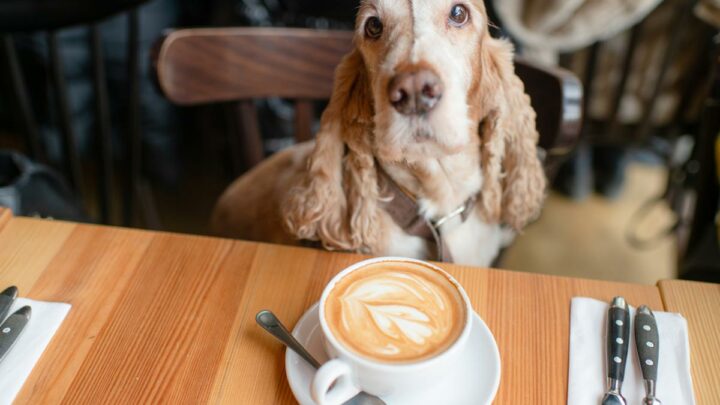 Looking for the best dog-friendly cafes in London? Bring your furry friend along to sniff out these excellent spots.
There's nothing worse than finding a dreamy new cafe and being told you can't bring your four-legged friend there. It's frustrating, annoying and worst of all there's nothing you can do about it – a no is a no.
So that's why we've decided to create a guide to all of our favourite dog-friendly cafes.
What's more, we've also included a few of the cafes in London parks which are all dog-friendly and great places for a coffee or bite to eat after you've given your doggo a nice long run around the park. They'll love you for it.
Let's go for a walkies around the top London dog cafes…
Dog Friendly Cafes in London
St Clements
Parsons Green
The ultimate dog friendly cafes in London are scattered all over this place, but we have to say that it seems Parsons Green has a lot of them.
St Clements loves dogs, in fact dogs are encouraged and they'll probably speak to your dog more than you. St Clements is an independent dog-friendly cafe in South West London which offers a delicious seasonal menu.
You can either sit inside with your pooch, or on the beautiful sunny terrace and watch the world go by sipping on one of the best cups of coffee in London.
Farm Girl
An Australian cafe with beautiful decor, Farm Girl is a must-try for anyone health conscious or looking to try different types of charcoal or beetroot lattes. Nestled right on Portobello Road, this cafe is the perfect place to bring your dog post Hyde Park walk.
Warning: You'll want to order absolutely everything on the menu.
We recommend going for the fluffy eggs, and make sure you get some water for your doggy. Your waiter will be more than happy to help (and provide a few friendly scritches – to your dog, not you).
Pawsitive
Notting Hill
Pawsitive isn't just a dog-friendly cafe, it's a cafe where dogs are encouraged over humans! Your dog will even have its very own menu – the big aim of this awesome cafe is to combine a passion for mental health and animals, by creating a calm community for anyone to bring their dog.
They welcome all dogs and the food, for both humans and dogs, is absolutely delicious (though we've never tried the pet offering, we've never had any complaints from our furry friends).
In all honesty, we'd say they do one of our favourite brunches in Notting Hill and Notting Hill famously has a lot of brunch spots.
We love the ethos behind Pawsitive, it's even in the name. They want to create a happy atmosphere for both you and your dog. A place where you can relax, feel welcome, and give a little hug to the rest of the dogs there.
Pawsitive is our top pick for the best dog-friendly cafe in London.
Watch House Coffee
From the very moment Watch House Coffee opened its doors, they have welcomed dogs with open arms and heart.
Rumour has it quite a few of the waiters even bring their dogs to work! We love this place because they want your dog there so badly – they even offer free dog biscuits to entice your furry friend in further.
If your floof is lucky, it might even make its way onto the Watch House Coffee Instagram page. The coffee is also absolutely delicious, and the warm atmosphere makes it one of our favourites.
Ozone Coffee
London Fields
Ozone Coffee is one of those coffee places in London that goes above and beyond to make you smile. They love dogs, but they also love people!
Whenever we go there, we don't want to leave. It helps that London Fields seems to have an accumulation of incredibly cute pooches and you'll be sitting there with your mouth open making cute baby sounds to the little furry beauties.
This has to be East London's best dog cafe, and we don't use those words lightly. It's also a great location close to many parks and dog walks, so you could start with a walk and finish up in this cute cafe with your dog, sipping on some coffee.
Wired Co London
West Hampstead
West Hampstead is the doggy capital of London, and the calibre of cute dogs knows no end. It turns out that 90% of those gorgeous little doggys (and big ones!) will be found at Wired Co – it's no wonder we think it's one of the best dog-friendly cafes London has to offer.
They love dogs in here, and they'll make sure to greet your pooch with adequate hugs and hellos. A great place to enjoy coffee and again, it's so close to Hamsptead Heath!
Hampstead Heath is one of our favourite parks in London. Bring your dog for a big run around, maybe a swim in the ponds (although they shouldn't swim in there, they really love doing it!) and then walk up to this gorgeous coffee spot to have a well deserved sit down and get your dog some water.
Gentlemen Baristas
Now it's interesting to find a coffee spot that is both dog and cat friendly, but here we have it!
Gentlemen Baristas has become a bit of an institution in recent time, known for their love for both cats and dogs, they even have a resident cat in one of their shops in Shadwell (he's called Beanie and is seriously cute).
If you're wandering around Borough Market, you'll notice that there's in fact not that many dog-friendly hot spots. So this is a great one to remember and note down for those Sunday market trips with your furry friends.
Pear Tree Cafe
Battersea Park
Pear Tree Cafe is the most picturesque cafe in London.
With a gorgeous view looking over the lake, you can sip on a delicious drink (the coffee is wonderful but if you're feeling a little adventurous, try one of their Aperol Spritz!) whilst feeling like you've stepped out of London and into something pretty magical.
You'll probably notice more dogs than humans at this cafe, as dog walkers and dog lovers get together to give their four legged friends a good walk around Battersea Park.
Battersea Park is also one of the most beautiful parks in London, you've got both the river and plenty of trees to walk through. Check out the rose garden whilst you're there, it's worth the visit.
The Serpentine Lido Cafe
Hyde Park
The Serpentine Lido Cafe dates back a long time and is a much loved centre for the Lido's cold water swimmers.
Recently renovated, you can now get a full English breakfast or any other delicious brunch classics at the Serpentine Lido. This dog friendly cafe in central London is great spot to sit outside in the summer with your furry friend and watch the swimmers go past.
Hyde Park is a wonderful place for dogs, and even better when there's a local cafe that loves dogs! If you're feeling really adventurous, you could become a member of the Serpentine Swimming Club, tie your dog up whilst you have a nice cold swim, and then go grab a coffee with your pooch when you're done.
London has so much to offer, and Hyde Park is one of our favourite places for it.
Chiswick House Cafe
Chiswick
Chiswick House boasts a dog-friendly cafe situated amongst 65 acres of wilderness and lakes – your dog will absolutely love you after this excursion and will be giving you all the appreciate licks and sniffs.
The Cafe is designed by award-winning architect Caruso St John and is seriously beautiful. But it doesn't end there. There's an abundance of outside space, and they make incredibly tasty bacon baps that we're sure your dog might want a little bite of.
You can finish off with a lovely walk along the river. On a nice sunny day, there's nothing better than a trip to Chiswick.
Practical Tips for Visiting London's Dog Friendly Cafes
It goes without saying, but double check before you head inside with your pup – nobody wants to be kicked out because they've brought a dog in that isn't allowed.
Make sure your dog is well-trained – accidents happen but an aggressive dog making a mess everywhere is not going to be welcomed inside any of the dog cafes London boasts.
London Dog Friendly Cafes: Map