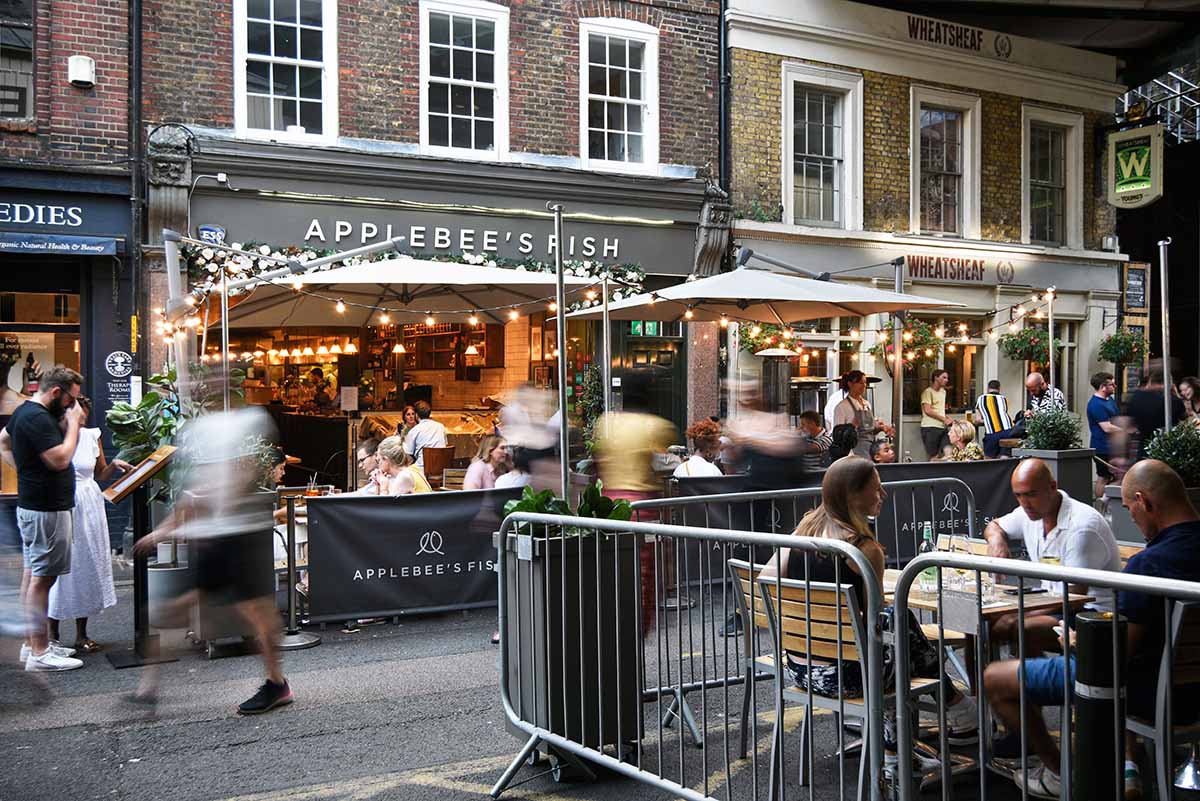 Looking for the best seafood restaurants in London? These tasty restaurants will take you straight to the coast.
It's a myth that you need to head to the coast to sample the very best seafood– luckily there are plenty of amazing seafood restaurants on our doorstep.
Ready for a round-up of the best plaice-s for fish in London? We've rounded up the very best restaurants serving oysters, shellfish, smoked fish and everything in between.
Let's dive in.
Best Seafood Restaurants in London
Fish Central
Fish Central is a bustling neighbourhood restaurant nestled in between Old Street and Angel. This London fish restaurant really lives up to its name, serving Londoners' favourite fish – as well as some exotic varieties – all fresh from Borough Market.
Family-run Fish Central has offerings like mouthwatering fish soup, grilled sardines and mussels in a spicy sauce alongside the usual suspects of cod, haddock, plaice and skate on the menu all battered to crispy perfection.
It's always busy at Fish Central, but tables are well spaced out in this spotless white dining room and service here is outstanding.
Cornerstone
Tucked away in Hackney Wick, Cornerstone is a seafood restaurant that should be next up on your list of must-dine spots.This pared-down restaurant has a calm ambience, but Cornerstone's food is the complete opposite– in a good way.
Every plate here is like a work of art. From the colours to the presentation, everything has been carefully thought out with not so much a gill out of place. If you really want a fish feast for taste and presentation, the skillful chefs' sharing menu allows you to explore the many wonders of the ocean.
Wright Brothers
Battersea + Borough Market + South Kensington
Through a passion for seafood two brother-in-laws created, Wright Brothers, you'll find three locations dotted across London. Each Wright Brothers restaurant brings about its own personality and charm and serves the best fish in London.
Wright Brothers' menu is seasonal, from shellfish platters, whole Devon brown crabs to the catch of the day– there's nothing fishy about this spot.
If you're dining in a large group, the roasted shellfish platter is not to be missed, as well as its legendary Oyster Happy Hour for a pound a pop.
Parsons
There's nothing unassuming about Parsons, fish is delivered twice a day and that's just the tip of the fin as to why this is one of the best fish restaurants in London.
Cooking with the freshest fish available on the day, Parsons' menu is seasonal but you'll most likely find whole plaice, Shetland blue shell mussels and the dreamy Cornish crab sandwich.
Parson's believes all good fish should be accompanied by its wine equivalent, and with an intelligent wine list and an extensive coastal wine selection you'll be well looked after here.
Only got room for a small bite? Stop by for all-day £1 oysters and a glass of wine Monday through Saturday.
Angler
Moorgate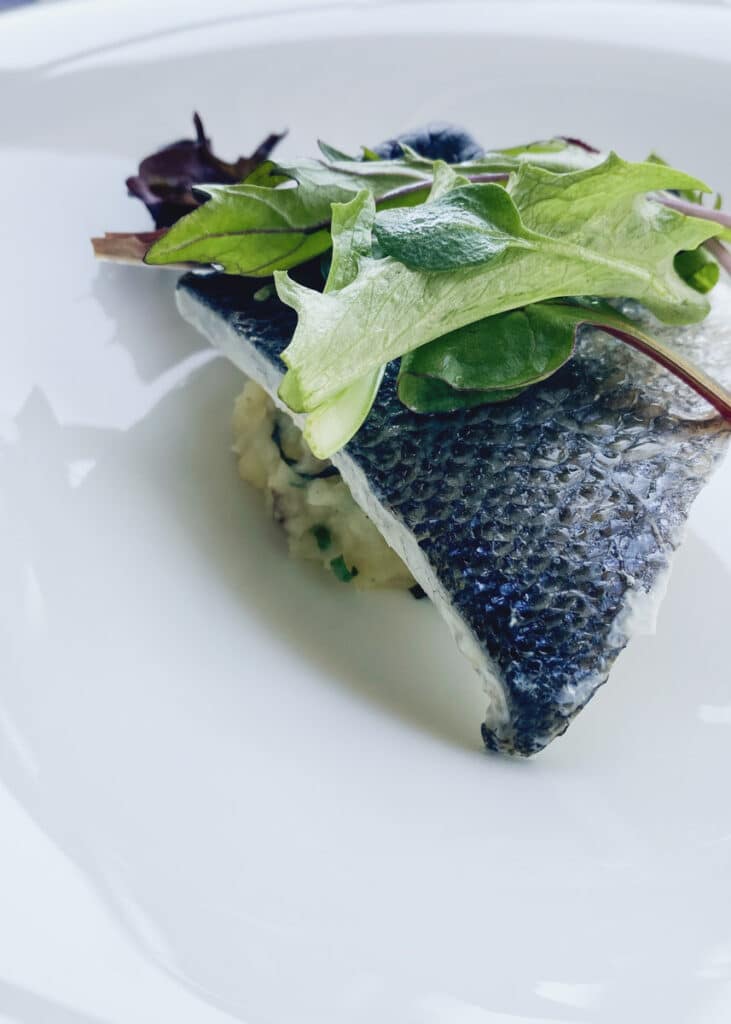 Looking for a Michelin-starred seafood restaurant in London? Angler sits atop South Place Hotel in Moorgate with a beautiful rooftop terrace boasting impressive city views.
This modern British restaurant is renowned for its sumptuous seafood dishes that celebrate tastes and textures. The seafood here is a fin above the rest and you'll find Native Lobster Ravioli, Roast Newlyn Cod and Hand-Picked Devon Crab on the menu.
Angler's menu is seasonal so expect each visit here to bring you something new. There's also an ever-changing lunch menu and tasting menu to try in its mirrored-ceiling dining room.
The Sea, The Sea
Chelsea + Hackney
London's leading fish merchant, The Sea, The Sea knows a thing or two about serving the best seafood in London. Its Chelsea Pavillion Road location is a fishmonger by day and fancy champagne and seafood bar by night.
The expert team at The Sea, The Sea cook the best fish caught in the last 24 hours into small plates, bowls and platters so good that we guarantee you'll be planning your next visit already.
For an extra special experience, The Sea, The Sea's cutting-edge chef's table restaurant in Hackney is housed in an iconic railway arch, it's an intimate dining experience with only seating 12.
Applebee's Fish
Borough Market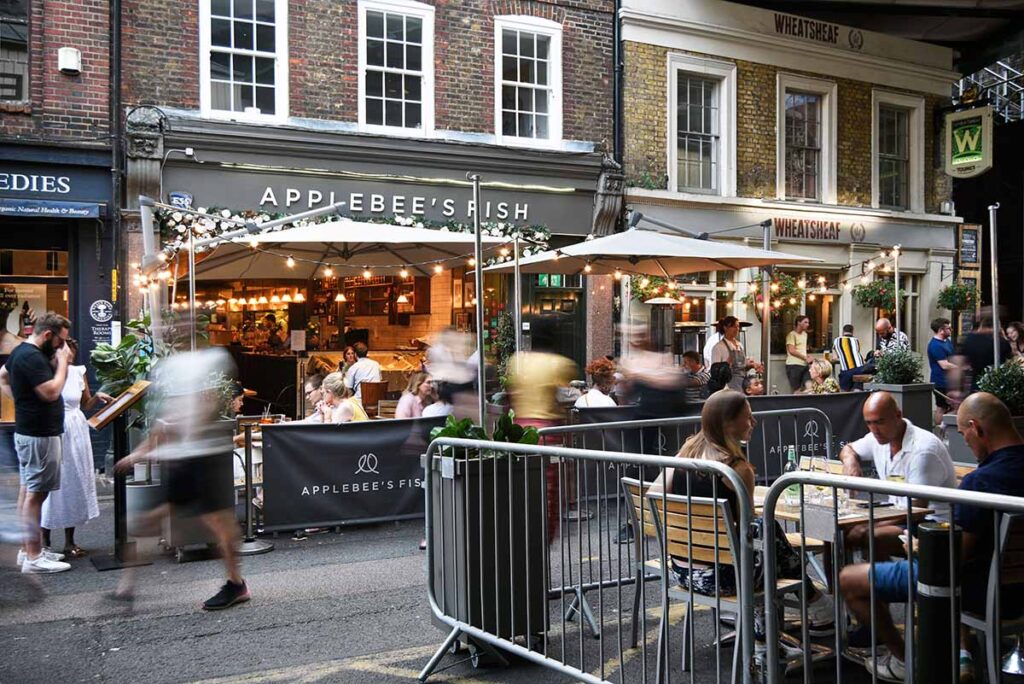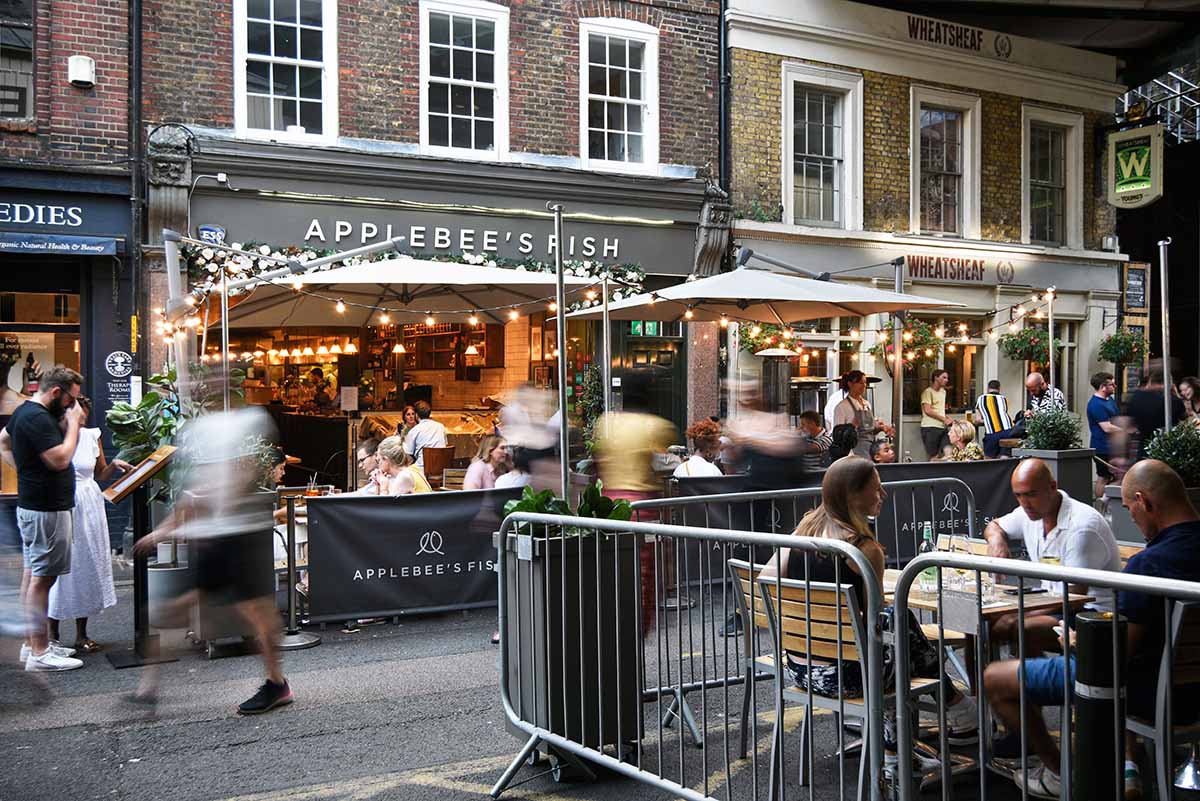 Borough Market's Applebee's Fish is a family-run fishmonger with an on-site restaurant serving some seriously fresh fish. Is it the best seafood restaurant London boasts? We certainly think so.
All fish is wild and line-caught seafood from lobster and Madagascan prawns to halibut, snapper, seabass, salmon and crab. Applebee's Fish prides itself on catching seafood from sea to plate in less than 48 hours using a sustainable supply chain.
Its modern restaurant opens out for you to dine streetside surrounded by plants and the freshest fish in London.
The Oystermen
Covent Garden
The Oystermen is an intimate warehouse in Covent Garden serving the best oysters in London.
With a dining bar crafted by a shipbuilder, it fits the bill perfectly – pull up a stool and watch the chefs at work shucking shells, it's all part of the experience at The Oystermen.
Not all oysters are the same, like people, they come with lots of unique and tasty toppings. Champonzu Wasabi Shisho, spicy buffalo Sauce Kosho and Champagne Aioli
Smoked Herring Caviar oysters are all calling your name.
It's not just about the oysters here though, Grilled Jumbo Tiger Prawns and the Pan-Fried Hake are best served with Champagne at The Oystermen.
Lyon's
Crouch End
Lyon's is classy and elegant with a marble bar, muted green banquettes, and vintage tiling. A family-run neighbourhood restaurant in the heart of Crouch End with a creative menu that you'll keep on coming back to.
Every dish here is packed with flavours and it's hard not to miss the vibrant colours on your plate. The chef's imagination knows no bounds and you'll be treated to Squid Bolognese, and Char Sui Monkfish to name a few of the creative dishes at Lyon's.
Let's not forget the drinks at this heavenly North London seafood restaurant, the wine list travels the globe from London to Oz and pairs perfectly with seafood dishes.
Prawn on the Lawn
Highbury
Unpretentious seafood served from a fishmonger with a quirky seating area– and that's exactly why we love Prawn on the Lawn.
This much-loved spot has daily deliveries from Devon and Cornwall bringing you the freshest brown crabs, Padstow lobsters, plaice and everything in between.
Its ever-changing menu means no two visits are the same at Prawn on the Lawn, one day you're devouring seared tuna and Szechuan prawns and the next you're discovering just how tasty lemon sole, nduja butter and tarragon are.
Seabird
Blackfriars
We couldn't talk about seafood restaurants in London without mentioning Seabird. This lofty dig will impress you from the get-go.
Its rooftop with panoramic skyline views would have been enough to impress anyone, but Seabirds marble-fronted raw bar is every seafood lover's heaven. Not to mention it boasts London's longest oyster list – oyster happy hour is Monday through Wednesday, FYI.
Main plates offer the fresh flavours of Europe, the Roasted Cornish Cod is dressed in pickled fennel and dill and the Whole Lobster Rice is giving beach holiday vibes.
London Shell Co
All Aboard London Shell Co's The Prince Regent, sailing London's waterways whilst serving the finest British seafood. Your journey along Regent's Canal is accompanied by a five-course menu showcasing the very best seafood that London has to offer.
If boats aren't your thing, visit the London Shell Co stationary restaurant, The Grand Duchess for the same great food minus the seasickness.
You should start with Jersey Oysters followed by the fish platter that's packed with flavour and lots of smoked fish. At the Grand Duchess you can choose to dine inside or on the deck watching the ducks float by.
Scott's
Scott's started out as an oyster bar in 1851, and has continued to serve superior fish and seafood to hungry Mayfair diners ever since.
Located on mount street, this elegant West End seafood restaurant offers classy terrace dining with crisp white tablecloths and shrubbery.
It'll be hard to choose from the shellfish, fish on bone and lobster sections on the menu since they're all just too good. We've heard the Dover Sole, grilled or with a divine meuniere sauce filleted at the table, has remained Scott's favourite for many years and deserves a place on your plate.
Wilton's Restaurant
Piccadilly
One of London's oldest restaurants, Wilton's Restaurant first opened as an oyster cart in 1742– it was so good that it evolved into the fine dining seafood restaurant that we love today.
Everything about Wilton's is prestigious, from its grand marble exterior to its plush velvet seating inside dark wood booths.
Got oysters on the mind? Wilton's selection of oysters are all kinds of buttery. Wilton's is best known for its outstanding smoked fish, the Secret Smokehouse London Cure Scottish Salmon is a must-try.
Practical Tips for Choosing a Fish Restaurant in London
Oyster happy hours are a must, especially if it's your first time trying them. It's a great way to sample different ones for a reasonable price.
It's vital to let servers know if you have any seafood allergies in advance.
London Seafood Restaurants: Map