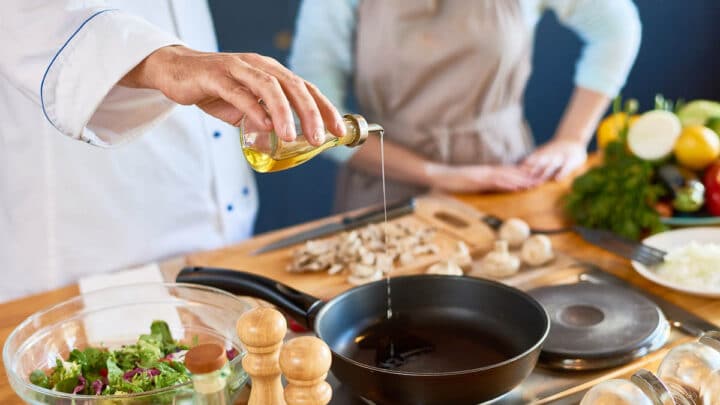 Looking to perfect your kitchen skills? These London cooking classes have got you more than covered.
Whilst we love spending weekends (and evenings… and lunches) at some of London's top restaurants, there's something oh-so-satisfying about cooking a completely tasty meal at home by yourself.
Up your dinner party game by taking a cookery class in London – whichever cuisine you're looking to perfect, there are so many to choose from.
Ready to discover the best cookery classes London has to offer? Your friends and family will thank you for it.
Cooking Classes in London You Have to Try
Leiths
Italian, East Asian, South American, British
£££
Offering some of the most prestigious cooking classes London boasts, Leiths is for those seriously looking to brush up on their cooking skills.
Choose between low-commitment classes based around the likes of Indonesian cuisine or perfecting sauces, or embark on longer courses that cover technical skills, introductions to baking, and even a weekend of food photography.
If you're looking to dabble in the world of cooking, taking one of Leiths' online courses is a great way to dip your toes into a class without the commitment of face-to-face teaching.
Bread Ahead
Baking
££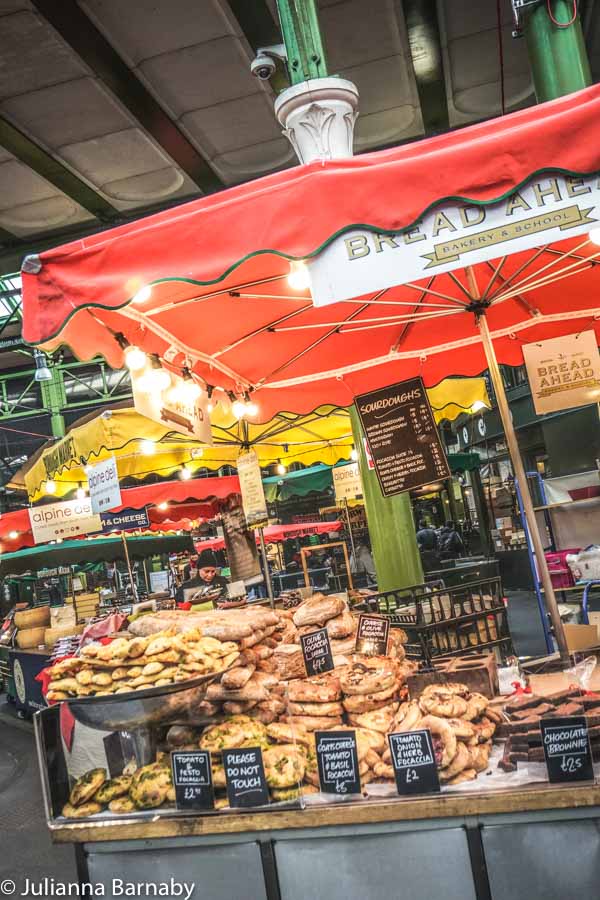 Situated in the lively Borough Market, Bread Ahead's baking courses are perfect for those looking to get hands-on experience in the kitchen – not to mention that these classes make the perfect gift for bread-lovers.
The 2-hour donut workshop is ideal for total beginners and those who don't want to spend hundreds of pounds on learning to bake. The best bit? You'll get to leave the class with a smug grin on your face, armed with the custard grenades you have just lovingly created.
Or, if you're looking to take things up a notch, their three-day sourdough bread course will leave you with the skills needed to rustle up a banging sourdough that seriously impresses your friends and family.
Cookery School at Little Portland Street
Italian, East Asian, South American, British
££
Sustainable cooking is on the menu at Soho's ultra-conscious Cookery School at Little Portland Street. Their London cookery classes attempt to demystify difficult jargon, instead championing simple home cooking that uses organic, easily sourced ingredients.
A wide range of cuisines are covered in their classes, alongside plenty of introductions into chocolate-making and patisserie.
However, if you're serious about entering the restaurant industry, why not embark on the school's intensive 6-week course? Professional culinary training will be provided and you'll be awarded a Level 3 Certificate from OCN London, a WSET wine qualification, and a Food Safety award, which can seriously help you take the first steps in your new career.
Jamie Oliver Cookery School
Various Cuisines
£
Looking for cheap cooking classes in London? Jamie Oliver's Cookery School has got your back with a whole host of affordable options. Learn how to cook roasted pork belly, South Indian curry, show stopping ravioli, and more in the Islington-based workshop.
Ideal for beginners, these cooking classes are simple and easy to follow – while most classes can even be adapted for vegan and vegetarian diets (just make sure to enquire before you book).
Bunga Bunga
Italian
£
When it comes to very many Italian cooking classes London offers, none are quite as fun as the one offered at Bunga Bunga, a cheeky Silvio Berlusconi-inspired joint in Battersea.
Well, we say cooking class, but this is far more of a supply-you-with-toppings-and-let-you-get-on-with-it kind of affair, though you will be taught how to make authentic Italian pizza dough from scratch (and given plenty of booze to boost your creativity).
Once you've created your pizza, the real fun begins – the chefs will cook it for you in their pizza ovens and you'll get to tuck in.
Food at 52 Cookery School
South American, Italian, East Asian
££
If you're looking for fun and chilled-out cooking classes in London, look no further than the Food at 52 Cookery School. These vibrant community-focused classes take place in a beautifully rustic kitchen and their homestyle offerings are equally as comforting.
Top picks include the Mexican Cooking Class, which sees students whipping up delicious corn tortillas, pico de gallo salsa and classic guacamole, and the Vietnamese Cooking Class, where summer rolls and zingy salads are on the menu.
Borough Kitchen
East Asian, Indian, British
££
Boasting some of the best cooking courses London has to offer, Borough Kitchen is one of our favourite foodie spots in the capital.
With an intense focus on technique-driven cooking, Borough Kitchen has classes dedicated to everything from how to make pasta from scratch to cooking the perfect steak (we think this might just be the best cooking class London offers), as well as plenty of broader workshops on Korean, Indian, and British cuisine.
Don't fancy the commitment of an IRL class? Take the pressure off with a digital cooking class and chef it up in the comfort of your own home.
School of Wok
Asian
££
Founded in 2009 by Jeremy Pang, you need to book a class at School of Wok if you're looking to hone your Asian cooking skills.
Whether you want to perfect your sushi-making or learn how to rustle up an entire menu filled with Chinese takeaway classics, School of Wok's lighthearted approach to cooking is perfect for all ages and abilities.
If you want to combine this with a little tour of London's foodie hotspots, book onto the full-day Chinatown walking tour and cookery class, where you'll get to explore the very best spot for Asian food in London.
Biscuiteers' School of Icing
Icing
££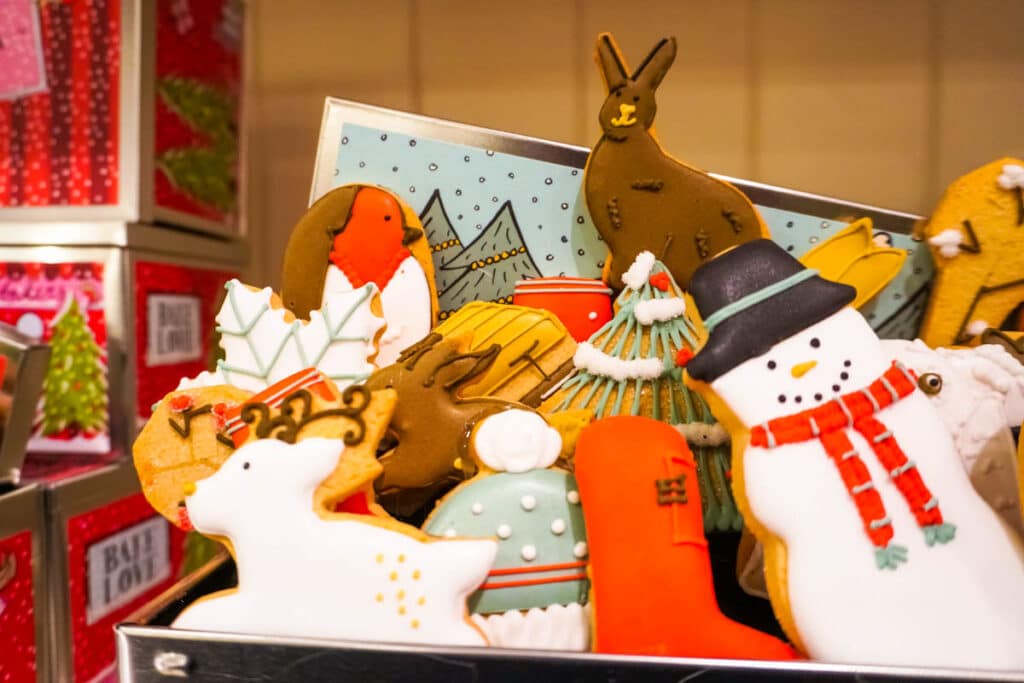 For all the sweet-tooth fiends out there, Biscuiteers offer wonderful icing classes where you can learn to decorate like a pro. The two-hour classes teach you the inside tricks and tips needed to whip up some of the biscuit brand's most iconic creations.
Offered in both Notting Hill and Belgravia, you'll be supplied with everything you need: biscuits, icing, and decorations, as well as tea or coffee to enjoy while you ice.
The best bit? At the end of the class, your biscuit collection is presented in a beautiful hand-illustrated tin, and you'll also be awarded a Certificate of Excellence to take home with you and pin on your fridge.
Sauce by The Langham
Italian, East Asian, British, Baking
£££
One of the new kids on the block, Sauce by The Langham is the hottest cookery school in London right now – though it comes with a price tag to match. Still, this spot offers some of the top cooking lessons in London.
Situated in Marylebone, this London cooking school offers both full day masterclasses as well as shorter building block lessons where you can learn to chop, flambe, bake, and plate like a professional.
Highlights include a full-day class with Michel Roux Jr, a quick and easy pasta masterclass, as well as an introduction to nailing bread. Kids classes are also available, so bring your little ones along and get ready to unleash your creativity.
London Vegetarian School
Italian, East Asian, Middle Eastern
£££
Want to avoid meaty dishes? Don't fret – Forest Hill's very own London Vegetarian School boasts the top veggie cooking classes London offers.
Whether you fancy learning how to hand-craft tortellini or cook up the perfect lentil dahl, LVS has classes and courses which cover a plethora of fabulous cuisines.
Top picks include Campania and Beyond, which offers an introduction into Italian cooking, as well as their half-day Metropolis Living class on whipping up easy and nutritious dishes for those who are too busy to cook.
The Avenue
American, Italian, British
££
We think that The Avenue might just boast the widest range of cookery classes in London – from masterclasses on technical skills and dietary requirements to dirty American dishes and best of British offerings.
Most classes are three hours long, though you also have the option to embark on intensive 1-2 week courses if you're seriously looking to brush up on your cooking skills.
Pssst… Keep your eyes peeled on their website as The Avenue often reduces the prices of classes that haven't sold out in advance.
Practical Tips for Booking a Cookery Class in London
Decide whether you want to take a more casual approach in a short cooking class, or really bolster your skills in a multi-week course. This will help you decide on which are the best cooking classes London has to offer you.
It's also worth checking out whether the class has prior-requirements or knowledge needed before you book – after all, there's no point signing up to an advanced technical skills course if you don't already understand the difference between a bread knife and a fish fry.
London's Best Cooking Classes: Map
Discover More London Food Guides