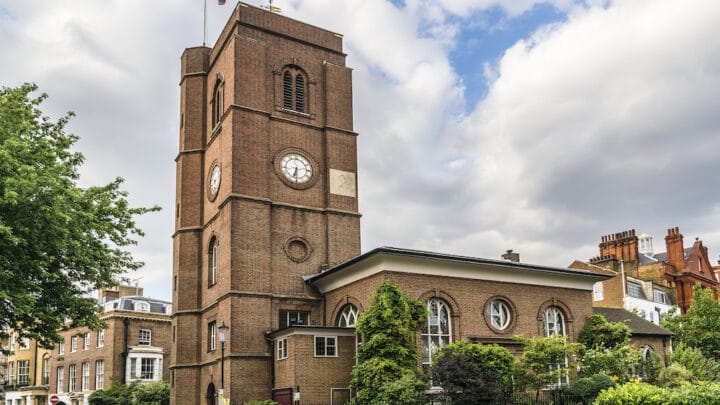 Chelsea's iconic Cheyne Walk stretches along the River Thames and has long attracted the rich and famous to the area's impressive mansions.
Although Cheyne Walk takes its name from William Cheyne, Viscount Newhaven who was the owner of Chelsea Manor until 1712, the first address to be officially built on the road belonged to none other than Henry VIII.
The infamous King lived here on-and-off with some of his many wives, including Anne of Cleves, for many years.
The majority of the houses were built during the 18th century and, at the time, they would have actually overlooked the River Thames. This was, until Chelsea Embankment was constructed decades later – though some say this enhanced the view.
Luckily, you don't need to be rich or famous to peruse the road today. Take your time hunting for the blue plaques that highlight the previous high-profile Cheyne Walk residents – George Eliot, Ian Fleming, and Mick Jagger, to name a few.
Ready to explore Cheyne Walk?
Famous Stops Along Cheyne Walk
4 Cheyne Walk
George Eliot, whose real name was actually Mary Ann Evans, was a famous Victorian writer and poet known for her works Middlemarch and The Mill on the Floss.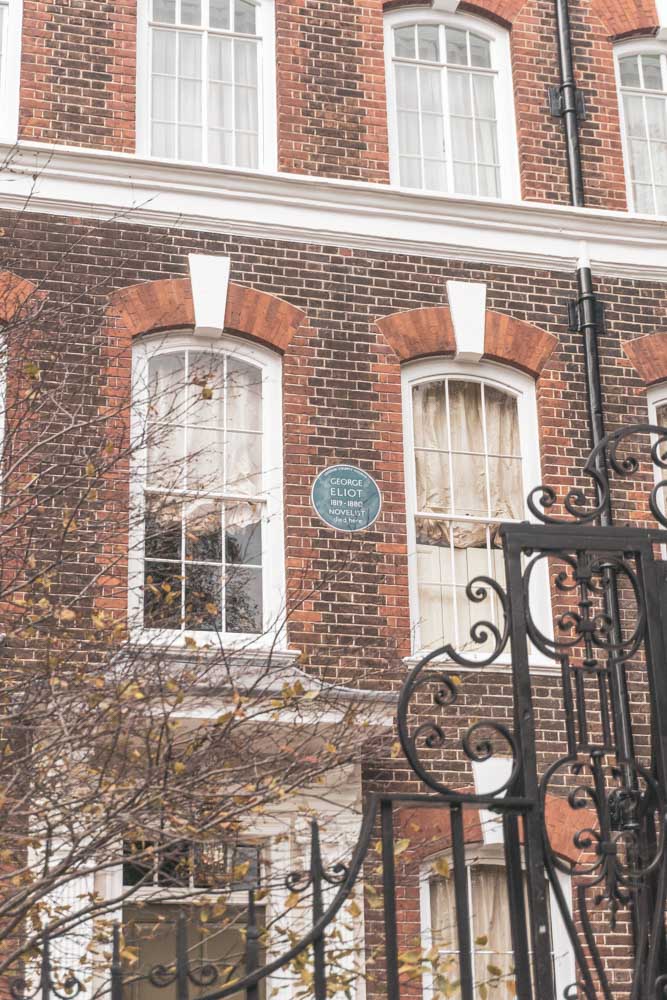 She moved into number 4 Cheyne Walk in 1880, though she only managed to live there for a few weeks before she died as the result of a kidney infection.
6 Cheyne Walk
One of the street's more unusual residents was an Italian doctor named Domenichetti.
Number 6 is one of the larger plots on Cheyne Walk, and Domenichetti decided that this was the perfect place to open a medicinal bath house, where he would claim to cure people from a wide range of illnesses.
Despite thousands of people flocking to the bath house between 1765 and 1782, very few saw even a slight improvement in their condition. This led many residents to believe that Domenichetti was, in fact, a massive fraud.
16 Cheyne Walk
This house is famous for being the rather zany abode of artist Dante Gabriel Rosetti for 20 years from 1862.
He moved to Cheyne Walk just after his wife overdosed on Laudanum and sadly passed away. After this, his behaviour was anything but normal. Reports of him eating six eggs and half a dozen kidneys for breakfast, as well as obsessively collecting antique furniture, were very common.
It's widely believed that Rosetti kept kangaroos, wombats, and armadillos inside his home – though, how he managed to get a kangaroo on the tube, we'll never know.
48 Cheyne Walk
One of the most famous residents to grace Cheyne Walk was perhaps Mick Jagger from the Rolling Stones. He was said to have purchased the house in 1968 for a rather cool £50,000 and lived there with Marianne Faithful, with whom he had a whirlwind romance.
Mick sold the property in the 70s, though he has reportedly moved back to Cheyne Walk in recent years after purchasing Isambard Kingdom Brunel's former home.
91-101 Cheyne Walk (Lindsey House)
Today, the Grade II listed Lindsey House encompasses the properties of 91 to 101 Cheyne Walk. The building is owned by the National Trust, although it is tenanted so it's not open to the general public.
Still, the history of the house makes it well worth taking a peek at it from outside – famous residents have included painter John Martin between 1849 and 1853, as well as James Whistler for 12 years from 1866.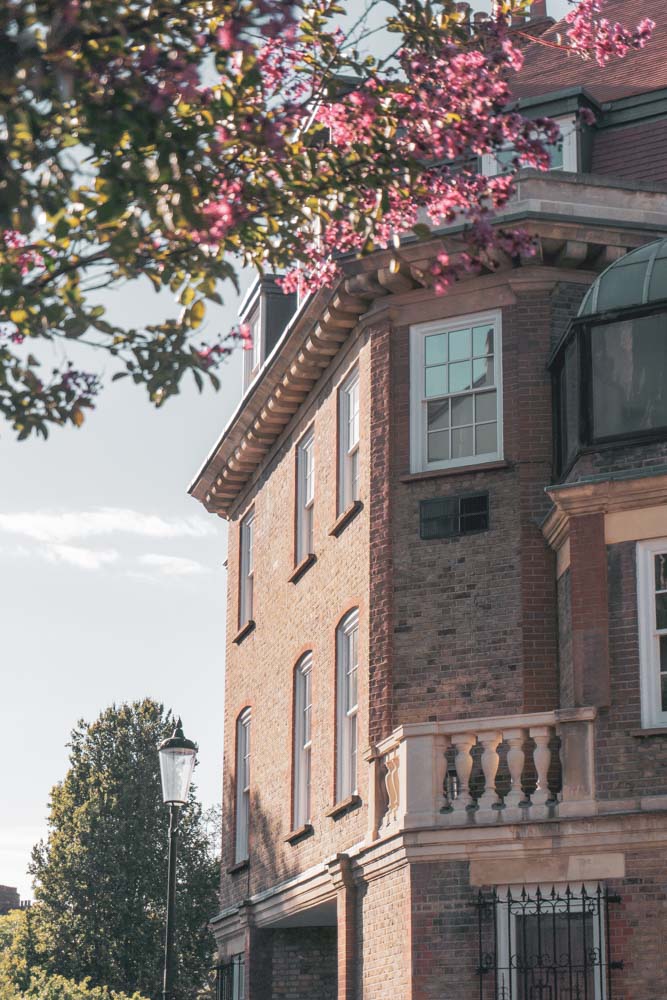 103 Cheyne Walk
Another Rolling Stone member, Ronnie Wood, bought number 103 in 2008 for a whopping £7.25 million.
Although, he never actually lived here in the end and decided to sell the home a few years later.
104 Cheyne Walk
The ultra-sophisticated 104 Cheyne Walk belonged to historian and poet Hillaire Belloc between 1900 and 1905. Originally born in France, Belloc became one of the most successful English writers in the early 20th century.
The house also boasts a plaque dedicated to Walter Greaves, the famed British painter who is believed to have lived at 104 in the second half of the 1800s.
122 Cheyne Walk
James Bond author Ian Fleming was another superstar resident that briefly lived on Cheyne Walk. He was said to reside in a smaller flat on Cheyne Walk before moving to number 122 briefly.
Carlyle Mansions
Built in 1886, Carlyle Mansions are a block of flats named after author Thomas Carlyle, who spent his entire life living in Chelsea. Plenty of authors have since lived here, which has led to the property being nicknamed 'Writer's Block'.
Interestingly enough, flats in this block currently go for around £1.5 million, though some have been known to sell for nearly double.
Restaurants and Bars Near Cheyne Walk
50 Cheyne Walk
Perched on the corner of the grandiose road, No 50 Cheyne is a quintessentially British restaurant, with each dining space reflecting a different aspect of the UK.
Upstairs is a Royally red bar, with pictures of Winston Churchill and gold accents to complete the intense theming. The main restaurant area below is reminiscent of a posh country club, with rich greens and warm leathers providing the perfect atmosphere for chowing down on some classic European dishes.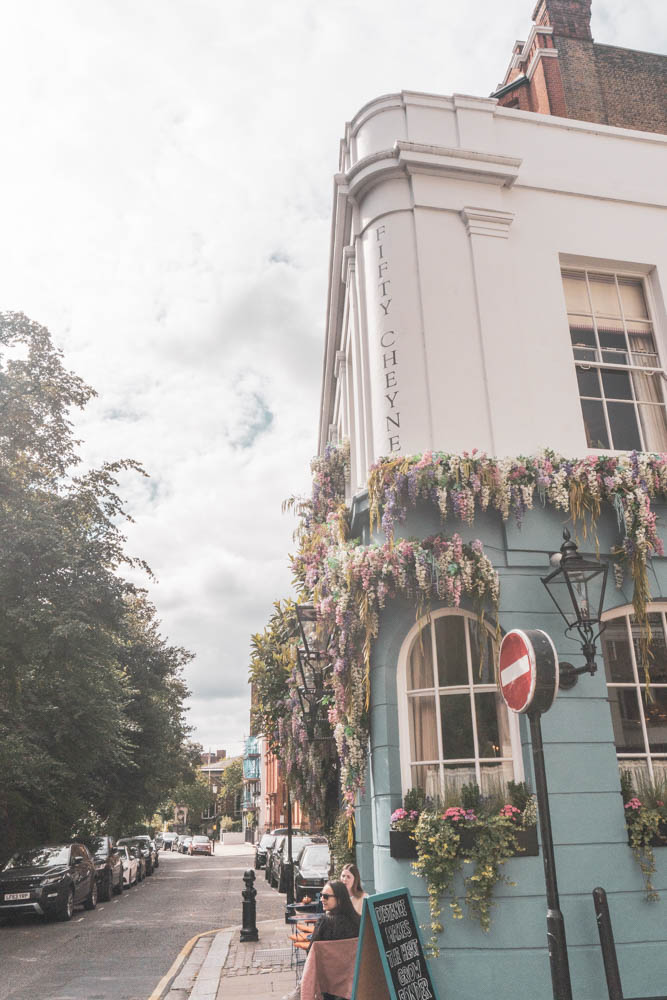 Speaking of dishes – the Herdwick lamb rump with dauphinoise and the stuffed courgette flower with goat's cheese and walnut crumble are the most impressive. The Chateaubriand to share for Sunday Lunch is also not to be sniffed at.
Finish off with an indulgent sticky toffee pudding with clotted cream, and then spend the afternoon walking it off as you hunt for blue plaques. Perfection.
The Cross Keys
Located just a five minute walk from Cheyne Walk, The Cross Keys is an elevated Gastropub that perfectly encapsulates Chelsea's sophisticated personality.
The seasonal menu changes daily, but expect locally-sourced meats and fish to make up most of it. Vegetarian relief comes in the form of a delicious chickpea falafel, courgette and red pepper tagine with pomegranates.
While you're here, make sure to order a white peach bellini for a little bit of fizz with dinner.
The Phene
The Phene in Chelsea is a bustling clubhouse venue boasting a pub and multiple bars, as well as a beautiful pub garden covered in twinkling lights.
Michelin-trained chef Sidy Kounta is Head Chef here, serving up seasonal dishes in the form of his modern takes on traditional food.
The drinks menu is extensive, filled with wines, beers, champagne, and cocktails for you to sip as you take in the stunning surroundings. The inside-outside seating is the perfect setting for a special occasion, or even just as a midday retreat after exploring Cheyne Walk.
Practical Tips and Map for Visiting Cheyne Walk
Cheyne Walk is pretty much in the dead-centre between Fulham Broadway and Sloane Square tube stations, so take your pick (though, Sloane Square makes for a prettier walk).
Obviously, you won't be able to enter the houses on Cheyne Walk since people really do live here, but make sure to take your time scoping out the blue plaques – most houses have at least one!
Looking for More Things to do in Chelsea, London?
Check these out…