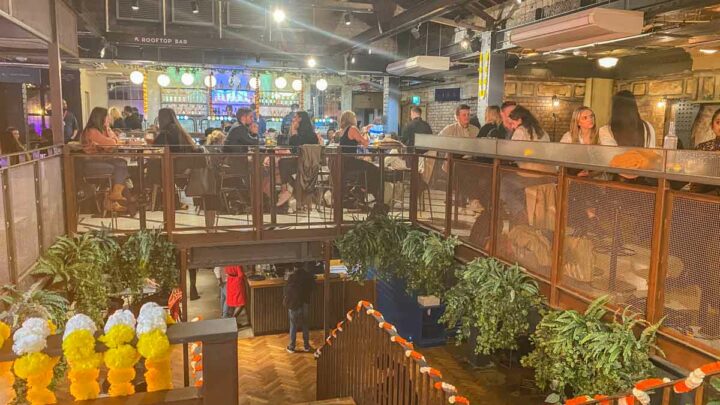 Discover the best bars in Victoria with this insider's guide.
Victoria is a lively neighbourhood awash with fantastic restaurants and creative bars. Whether you're out for a fun night out with friends or a special date night, it's got you covered.
From cocktail bars to high-end wine bars, there's no shortage of cool spots for you to hang out in. Here are the drinking spots you shouldn't miss.
£££: £10+ for a cocktail
££: £8 – £10 for a cocktail
£: Under £8 for a cocktail
The Best Bars in Victoria
BBar
££
Located in the heart of Victoria beneath London's largest living wall is the South African inspired BBar. Beneath the 6,000 herbaceous plants, this modern cocktail house features an array of innovative drinks that are sure to suit any taste.
Amongst some of their most popular creations concocted by their resident mixologists are the Mexican Truffle Old Fashioned which mixes together Sazerac rye, Jose Cuervo tequila, truffled honey and orange bitters.
There's also the famous Madagascan Espresso Martini which combines Tito's vodka infused with fresh Madagascan vanilla pods, Kahlua and Illy espresso.

If you're feeling hungry, pair your favourite cocktail with their signature 24-carat gold buffalo wings on their sun washed terrace while enjoying a live DJ set!
Clubhouse at Artist Residence
££
The Clubhouse at the Artist Residence Hotel in Victoria is an excellent place for a cocktail. The space is warm, comfortable, and inviting. The bar is only a five-minute walk from Victoria Station, but on the Pimlico side of things so it doesn't normally get too hectic.
Try the "Rose Collins" with gin, rose syrup, tonic water, angostura bitters, and lemon. Another popular drink is the "Anchorman" with Johnnie Walker scotch, brown butter, chardonnay, and orange bitters.
Boisdale of Belgravia
££
Boisdale is a live music bar and restaurant open Monday to Saturday. With various events and musical acts, it's an exciting place to grab a drink and take in the hottest shows around.
The "Spicy Dog" cocktail is a must-try, made with Broken Clock vodka, apple juice, lime juice, honey, and chili. No need to tell us twice.
Vagabond
££ – £££
For incredible and expert-selected wines, visit Vagabond. Guests can try a taster or a glass of more than one hundred different wines. Vagabond is located next to Victoria station and is open daily.
Try the 2020 Mountadam Riesling or the 2016 Venica Merlot. The 2020 Elmie Rose is also terrific. For a bite to eat, tuck into the roasted chorizo in red wine or the salted Catalan almonds.
Market Hall
££
Market Hall is one of Victoria's best food halls – and drink halls! Every day is something special, like Monday during lunch, visitors can enjoy two for one pitchers of beer.
The Victoria location offers food from nine kitchens, drinks from two bars, and an incredible rooftop terrace. The churros topped with chocolate sauce, dulce de leche, cinnamon sugar, and coconut brittle are fantastic. Also, try the blood orange cocktails from Didsbury Gin.
Flight Club
££
One of the more eccentric bars in Victoria, Flight Club combines drinks and darts – but drags them into the 21st century. This is no fuddy duddy pub with a few boards dotted on the walls – Flight Club is bright and out to help you have a good time.
The drink menu is filled with wines, beers, cocktails, and signature shots–like the Fruity Punch with Ketel One Citroen vodka, pineapple, passion fruit, and lemon.
Try the Champion's Cup sharable cocktail with rum, Campari, vermouth, passion fruit, pineapple, lemon, and prosecco.
St. George's Tavern
££ – £££
OK, so this is a pub rather than a bar proper but St. George's Tavern is one of London's first cabaret saloons. The interior is comfortable with exposed-brick walls, and the bartenders are serving cask ales. The tavern is a short walk from Victoria street and around the corner from the station.
Try the Bombay Bramble gin infused with blackberries and raspberries. The smoky Laphroaig 10 Year Old from Islay, Scotland, is a tasty sip. The Mac & Cheese Bites with ale chutney for dipping are a delicious bite.
Marquis of Westminster
££ – £££
The Marquis of Westminster is open daily for lunch, dinner, and late night. The bar offers wi-fi and outdoor seating. The bar is about a ten-minute walk from Victoria Station and is near Warwick Square.
The Lanson Rosé Brut Champagne from France is a tremendous celebratory sip, and the Corrida Verdejo Macabeo from Spain is refreshing with flavours of apple and melon. The Pimm's Spritz is Pimm's No. 1 topped with prosecco and Schweppes lemonade. The menu has a wide selection of wines and cocktails.
All Bar One Victoria
££
All Bar One Victoria is open daily, beginning at 10:00 am. The bar is contemporary and specialises in establishing the perfect vibe for an after-work happy hour. The bar is about a ten-minute walk from the Victoria train station.
From rum to whiskey to wine, the bar has every spirit for you to enjoy. Try the Espresso Martini or the Salted Caramel Old Fashioned. The Beavertown Neck Oil IPA is a tasty beer, and the Moonlight Shiraz from South Africa is uniquely delicious.
The Leopard Bar
£££
Situated just en face of Buckingham Palace Royal Mews is this elegant and chic leopard print decorated haven.
With over 200 whiskey selections and 30 champagnes, The Leopard Bar offers an air of sophistication that whisks you back to a more sophisticated era.
Picture the scene: smooth jazz playing in the background, you quaffing champagne on their guided tasting… sounds good doesn't it?
The tasting walks you through dry, rosé, and the manager's choice of champagnes. Don't forget to take a minute to look up from your glass to take a peek at the unique art of Sabrage – a ceremonial technique in opening a bottle with a sabre. Risky business.
Vic's Bar at the Park Plaza
£££
The bar and lounge of the Park Plaza hotel, known as Vic's, makes a very nice spot for a cocktail, glass of wine or pint of beer should you not want to crowd into a cramped and noisy pub.
The style and service here also lack the pretensions that you might find in the other nearby cocktail lounges, and service is a touch more relaxed (though no less on point). That means that while you get quality, you'll also find it a super relaxing place to hang out.
The Bar and Lounge at the Goring
£££
If you do want some of that swanky old-money charm about your cocktail bar, you'll find it at The Bar and Lounge at The Goring. The place looks like it belongs in the home of a stately duke and service waits on you as if you in fact were blood related to the royal family.
The drinks don't come cheap, but they are pretty spectacular and you've got to consider that you're partly paying for the privilege of being in a place like this.
They have some signature drinks but our advice is stick to the classic cocktails: a lounge like this almost begs you to be holding a martini.
Victoria Bars: Practical Tips
Victoria is a busy area with lots of choice and as such it can help if you know what you're looking for. If you want a classy place for nice cocktails make a beeline for the Leopard Bar. If you fancy something a little more laid back, St George's Tavern or the Marquis of Westminster is for you.
If you're going to the fancy spots it might be best to call ahead and book a table or at least see if they have space at the last minute. Those spots are popular and as such fill up quickly.
Victoria Bars: Map
Looking for More London Bar Guides?