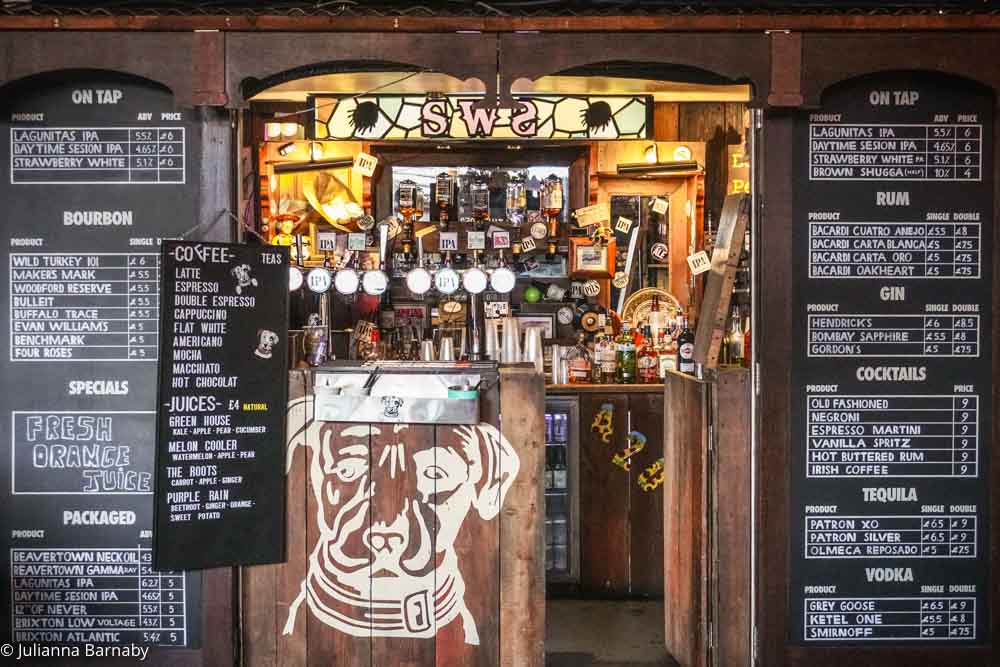 The Best Brixton Cafes and Coffee Shops
In Brixton and in need of your coffee fix? These are the Brixton cafes and coffee shops you shouldn't miss.
It's safe to that we are head over heels for Brixton – from cool street food markets to buzzing bars, there are so many things to do that you're never short of an option or two.
Hunting out the best coffee shops in Brixton? We've got you covered.
The Best Brixton Cafes and Coffee Shops
Blank Brixton
For those times when you fancy spending a chilled-out hour or two with a good book and an even better coffee, Blank Brixton welcomes you with open arms (and oodles of caffeine).
The brunch here is fantastic, a flavoursome blend of British, Jamaica, and New Zealand dishes. Better yet – it's vegan, though even meat-lovers won't find themselves too put out with the vast array of pancakes, fry ups, and meat alternatives.
Federation Coffee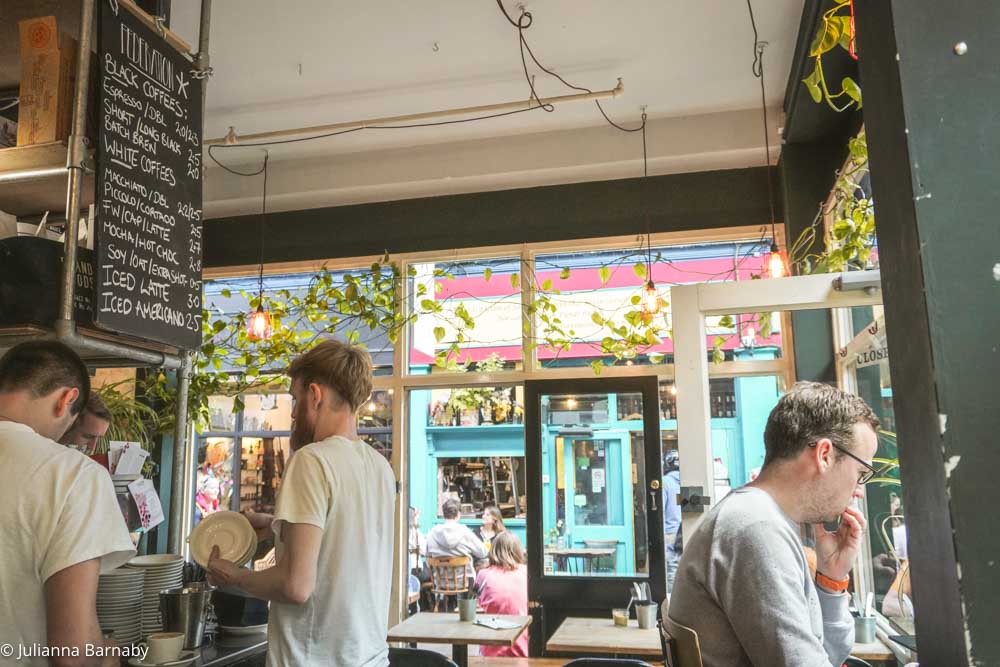 If you find yourself in need of a caffeinated pick-me-up while visiting Brixton Market, you'd best head for Federation Coffee.
The space is cosy and casual, and there's excellent coffee on offer.
What makes Federation Coffee in Brixton a rare space these days is the total lack of Wi-Fi.
As a result, it's not ideal if you're looking to do a spot of work (to be honest, the seating isn't really set up for that anyway) – but it's perfect if you're after some good old fashioned conversation.
Another thing we love about Federation Coffee is they have espresso soaked banana bread on offer. Perfect for when you are trying to limit yourself to coffee or cake (always a difficult choice.)
Stir Coffee
Coffee, craft beer and good food? Sign us up.
It's no wonder that Stir Coffee is one of the most popular cafes in Brixton. It really knows how to please a crowd.
This cosy and quaint coffee shop's motto is "good vibes matter", and they sure do. If you want a friendly face to serve your beverage of choice, then you'll love Stir.
This cafe is born out of a genuine passion for coffee and for Brixton. The owner can often be found manning the coffee machine and chatting away to customers.
A particular highlight of the menu is the tasty brioche buns that are perfect for a brunch – and fabulously accompanied by coffee or beer.
San Marino
Brixton has gone through many changes in recent years, but stepping into San Marino is like visiting the home of an old friend.
This Sicilian-inspired coffee shop has been serving up great coffee and great vibes in equal measure since 1993.
Being Sicilian-inspired, it's no surprise that this Brixton staple also serves up amazing Italian food to boot.
They also do a mean full English breakfast – perfect if you're craving something greasy and delicious after a big night enjoying Brixton's nightlife.
San Marino makes sure everyone is welcome, so there's also a great vegetarian and vegan section as well.
Cafe Van Gogh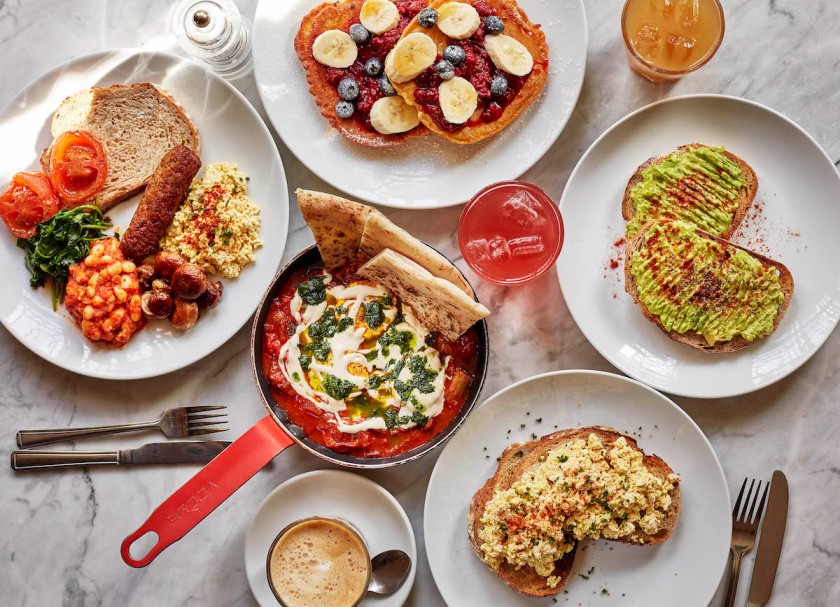 Cafe Van Gogh is another 100% vegan cafe – but don't fret, not every Brixton Cafe is plant-based.
This cafe is particularly special, as they're a not-for-profit social enterprise that works with people with learning disabilities to provide on the job training. The result? An excellent cafe with reasonable prices – and some of the best coffee Brixton offers.
They also ensure that they waste as little as possible, and only use single-use plastic alternatives and compostable cups – which means you can enjoy a coffee or two without feeling guilty.
Caya
We're always on the look out for a cafe that offers a great working space as well as delicious food and the best coffee in Brixton. We certainly found it with Caya.
This Brixton hotspot is a co-working space, attracting freelancers, creatives and entrepreneurs to the space.
This means there's a fun, energetic atmosphere that certainly helps to overcome any lingering writer's block.
Of course, if you're lucky enough to be footloose and fancy free in Brixton, you're totally welcome at Caya. The coffee is awesome and the good vibes can be shared by all.
Don't miss the hummus on sourdough – yum.
Katakata
Don't believe vegan and vegetarian food can be delicious? We dare you to try what's on offer at Katakata. The crepes in particular are a revelation.
If you're looking for a coffee shop sans meat and dairy, then you're sure to love what's on offer at this quirky cafe.
Forget the high-end furniture posing as rustic – Katakata really practice what they preach, recycling donated furniture to fill the cafe. The result is a warm and eclectic space.
The coffee is great, with a wide range of milk alternatives available if that's your thing. It's a guilt-free cup, that's best enjoyed in the comfort of this colourful and quirky space.
Balance
There are two types of people in the world. Those who start their day off with a healthy, vitamin-rich juice, and those who sleepwalk to the coffee machine for coffee #1.
No judgment here – they both have their merits.
Whichever category you fit into – or maybe you're a rare hybrid – then you'll be well taken care of at Balance. This great Brixton cafe serves up delicious coffee as well as freshly pressed juices.
Owned by a husband and wife team, Balance has a small, personal feel so you immediately feel welcome.
Things get even better when they serve up some delicious treats, including some secret smoothies that aren't on the menu (just ask what's available that day).
F. Mondays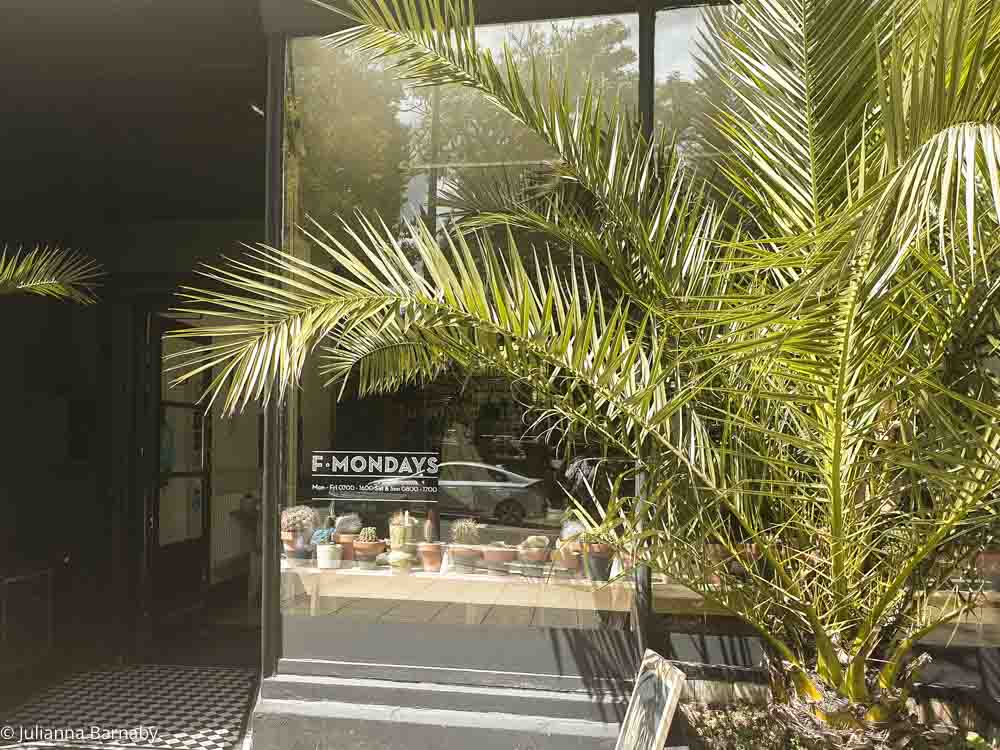 As well as its memorable name (who hasn't said something similar when you're alarm sounds at the beginning of the week), F. Mondays is well-known for its great food and coffee.
Since opening up in 2014, word about their modest but delicious menu and fabulous coffee has spread throughout Brixton. It's now a local fave, that also features on many travellers' to do lists as well.
The cafe in Brixton supports lots of other independent businesses, sourcing as much as they can locally. The menu also changes a lot depending on what's in season.
What doesn't change is the consistently awesome coffee. Whether you're meeting up with a friend or just need a massive caffeine kick to face the new week, you'll find it at F. Mondays.
Ritzy Cinema Cafe
Heading out to the pictures is one of the best things to do in Brixton, and if you're looking for a great coffee shop nearby you won't be disappointed.
The beautiful 1911-built cinema also houses a delectable cafe where you can sit and soak up the vintage atmosphere.
The menu has plenty of cafe favourites as long as some more unusual choices like a beetroot curry. They also have quite a good wine list, if you fancy a tipple before catching a flick.
Even if you're not planning to catch a movie, it's still a great choice for a coffee or a light lunch. Just be warned, it does get very busy so you might want to call ahead.
Pipoca Vegan
Fancy stocking up on your basics whilst you sip coffee? Pipoca is a low waste store and vegan deli in Brixton that also happens to serve up some of the best drinks in East London.
Some of the dishes are extremely hearty – take the chickpea, potato, and carrot mezze bowl, though you can swing by for a cup of joe and a pastry if you're looking for something a little bit lighter.
Bring a tupperware box along with you so you can purchase your plastic-free pasta and rice on your way out from one of the top coffee shops Brixton offers.
Brixton Coffee Shop Map
Looking For More Brixton + South London Guides