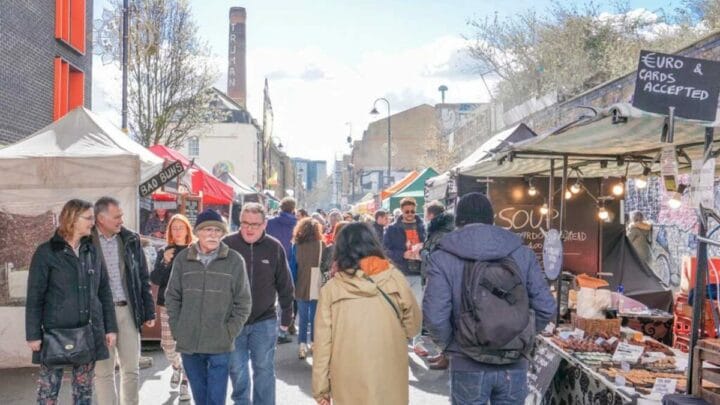 Have you even been to London if you haven't been to Brick Lane? Brick Lane is one of the most popular destinations for tourists and Londoners alike to visit in London's East End. Check out our guide to exploring this iconic London spot.
Brick Lane is one of East London's best-known spots… for good reason. Winding its way between Whitechapel and Shoreditch, it's full of cool shops, buzzing markets and, of course, those famous curry houses.
Whether you're looking for a bit of fashion, food or funky street art, there's something for everybody on Brick Lane.
First Up, Where is Brick Lane?
Brick Lane is at the heart of London's East End, where Whitechapel, Aldgate, and Spitalfields intersect.
Why is Brick Lane famous?
Brick Lane is a melting pot of curious creations and cultural phenomena, a microcosm of fresh and unique styles, smells and sounds.
Once associated with the poorest slums of East London, and a favoured spot for Jack the Ripper murders (gulp!), Brick Lane is now a vibrant cultural, ethnic and artistic hub where millions of people come to explore year-round.
It is also famous for housing some of the best curry houses in London – over the years there have been many challengers popping up in different parts of town, but the ones on Brick Lane are still strong contenders to the title.
Cool Things to do in Brick Lane
Visit Brick Lane's Markets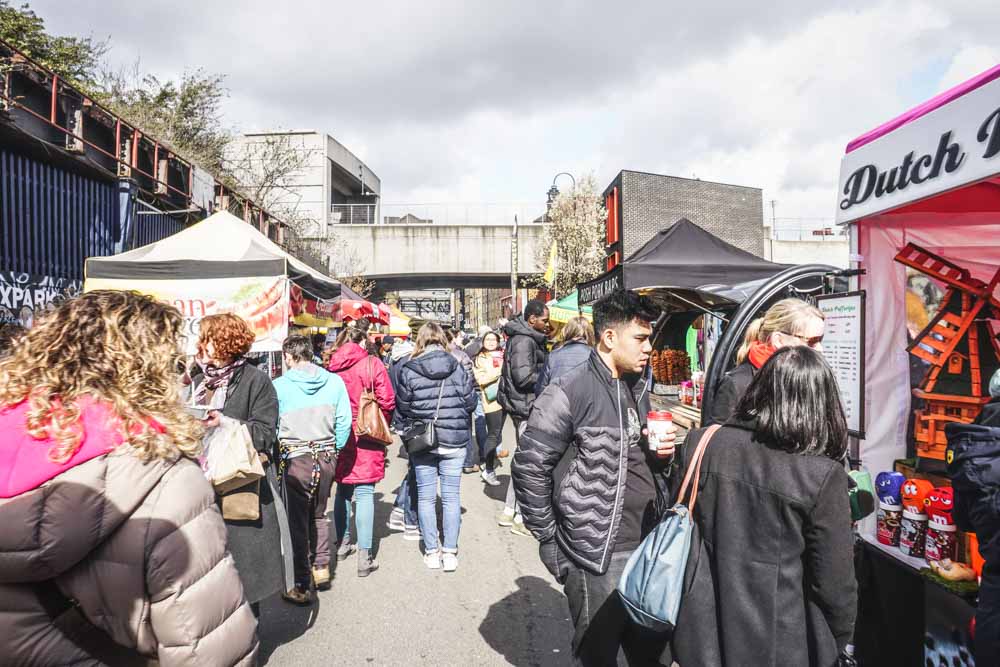 There are quite a few little and large marketplaces around Brick Lane. Whether you're looking for nibbles or new threads, make time to go to the Brick Lane Markets.
At the Brick Lane Food Hall (open 11am – 5:30pm every Saturday, and 10am – 5pm every Sunday), there are over 30 stalls of flavoursome food from a variety of global cuisines to try, from Canadian Poutine to Chinese bao buns. Mmm.
There are also the popular Brick Lane Vintage Market, Upmarket and Backyard Markets to choose from.
Brick Lane's Upmarket (organised by The Truman Brewery) houses an eclectic mix of over 200(!) lifestyle, food and accessories stalls. There's a great sense of community trade and craftsmanship here, with a lot of local sellers and designers showcasing their work.
Take the Ely's Yard entrance and dive into the food hall there too.
Read Next: The Best Sunday Markets in London
Brick Lane Nomadic Community Garden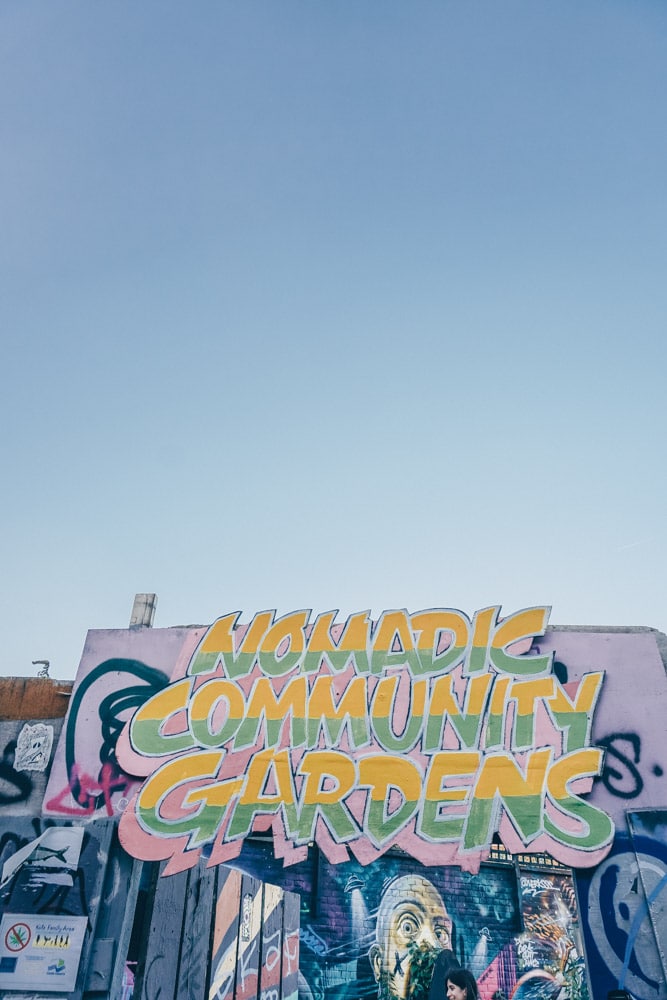 Fancy something a little more peaceful? Find some zen in nature at the Brick Lane Nomadic Community Garden.
This is a private area found just off of Brick Lane that is open to the public daily. Need directions?
From Brick Lane, go through to Allen Gardens, take a left through the underpass and you'll see the gardens. Or, cross the footbridge from Cheshire Street and you'll see a door opposite the bottom of the steps to the gardens.
The gardens are part of an endeavour to enable residents to re-establish their communities, learn new skills, discover new interests and new purposes.
Take a Guided Street Art Tour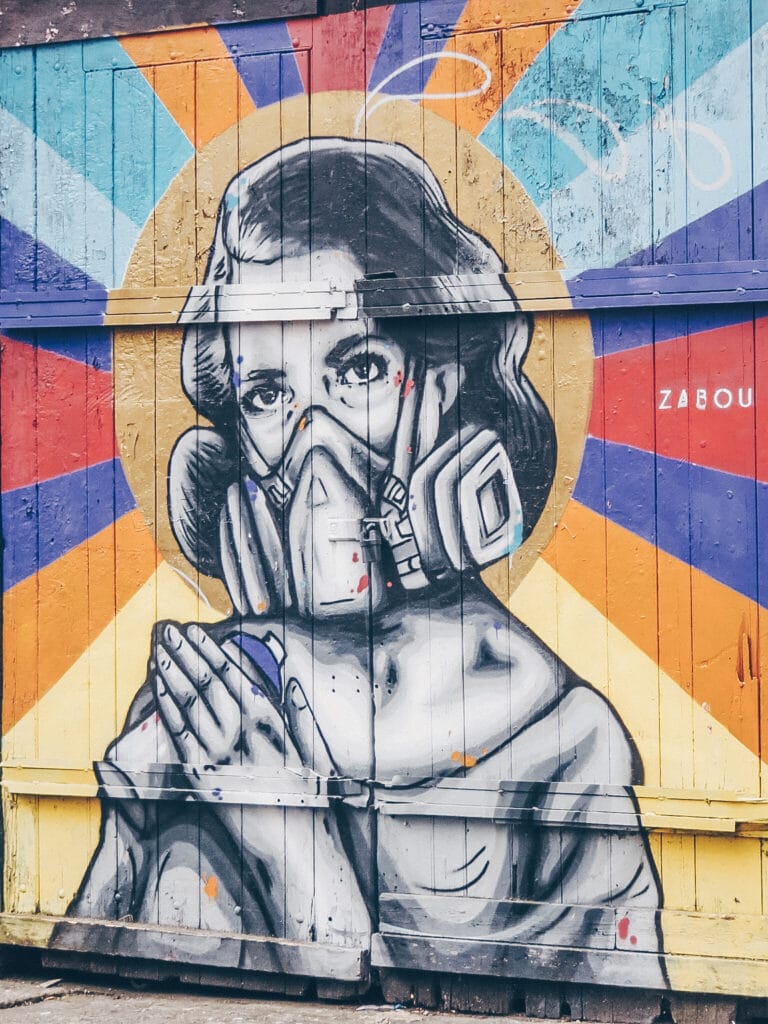 Awash with colourful graffiti, Brick Lane is the epicentre of street art in East London. First on your Brick Lane Bucket List should therefore be a Shoreditch Street Art Tour.
The works of art adorning Brick Lane are by artists from far and wide. One of the most popular Brick Lane Graffiti pieces is The Crane on Hanbury Street, created by well-known Belgian artist ROA.
Pedley Street, Grimsby Street and Cheshire Street have also all been used as canvases by street artists, each riddled with creative and meaningful designs.
Any self-respecting street art lover won't allow themselves to miss out on the Seven Stars either, one of the most recognisable street art scenes in London.
Read Next: Cool Street Art in Shoreditch
Brick Lane Gallery
For something a bit more contained, The Brick Lane Gallery puts on a variety of exhibitions throughout the year which showcases the works of emerging local and international contemporary and urban artists.
The programme always promises to provide a good mix of painting, sculpture, photography and video, so you can be sure that something will catch your eye.
Explore Brick Lane's Quirky Shops
Didn't find what you want at the Brick Lane vintage market? Head to the unmissable Brick Lane vintage stores to continue your perusal… Some of the best vintage shops on Brick Lane include Beyond Retro, Rokit and Hunky Dory Vintage.
Alternatively, you can get first dibs on huge collections from top brands like Jimmy Choo, Prada and YSL. If these Brick lane shops are your jam, keep an eye out for pop-up designer outlets.
The Truman Brewery holds a lot of these, as well as major clearance sales too. These are frequented by some of the fanciest fashionistas out there; to witness their style and flair alone is reason enough to head on over.
There is also the Brick Lane Bookshop, a cute little independent bookshop selling every genre you can think of. They hold regular events here too!
The Brick Lane Food Guide: Best Places to Eat
Eat at one of Brick Lane's Famous Curry Houses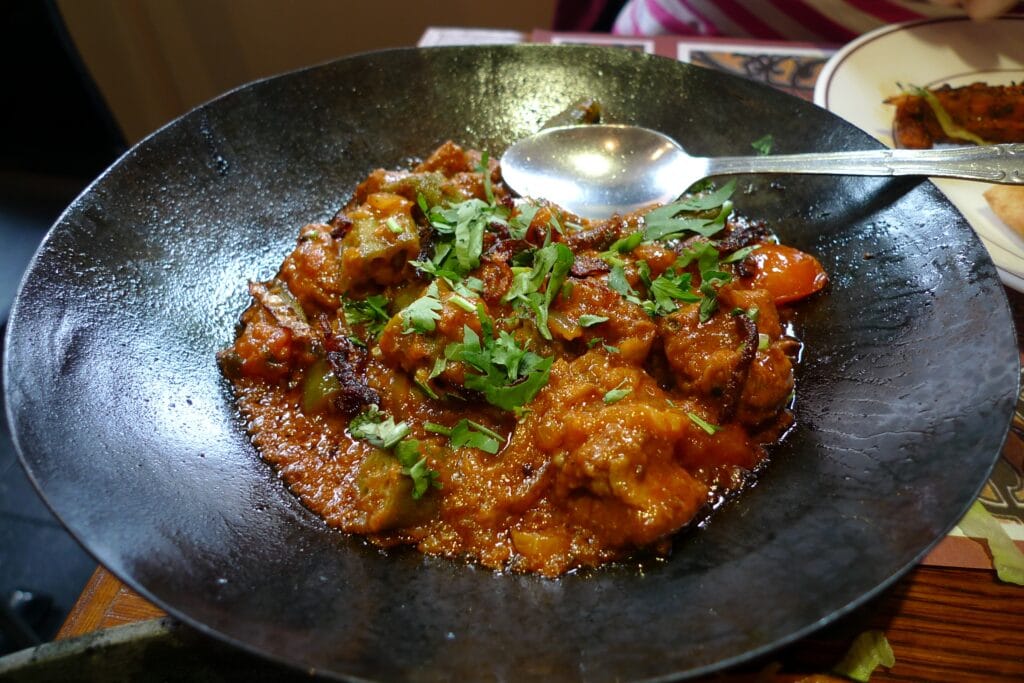 What is brick lane famous for? Fun fact: Brick Lane is often referred to as Banglatown by Londoners. Brick Lane has been a major home and community for immigrants from Bangladesh, since the late 20th century, particularly Bengalis from the Sylheti region.
OK. But what does that mean in practical terms for you and (more importantly), your belly? Well, it means that if you fancy a curry in London, Brick Lane is where you should be.
This is particularly true if you want something traditional and authentic, not just any old curry dish!
Some of the best curry houses to try are Aladin, a traditional BYOB balti and grill restaurant, City Spice, serving Indian food to make you drool, and Bengal Village, rated by food critics as one of the best.
Not in the mood for spice? There's no lack of European restaurants either…
Pop into a European Restaurant
One of our favourite things to do in Brick Lane is to grab a bite (or a slice) at Italian favourite La Cucina, well known for it's warm, familial feel.
Italian ristorante Franze & Evans is equally esteemed for its locally sourced organic ingredients used to make delicious, reimagined Italian classics.
For finely crafted regional French specialities, head to the rustic bistro, Chez Elles. Be sure to make a reservation – this one gets busy! If you're lucky, they also occasionally have live jazz music on too.
Or Indulge in an American Feast
Dirty Bones is one of our favourite spots for food near Brick Lane. Dirty Bones serves up American-style classics – we're talking filthy burgers, ribs, and fries. Their cocktails ain't half bad too.
Visit on the weekend for the ultimate bottomless boozy brunch.
Where to Eat in Brick Lane for Something a Little Different…
Brick Lane has no shortage of weird and wonderful eateries, hence the insane 'hipster-hype' associated with the area.
Beigel Bake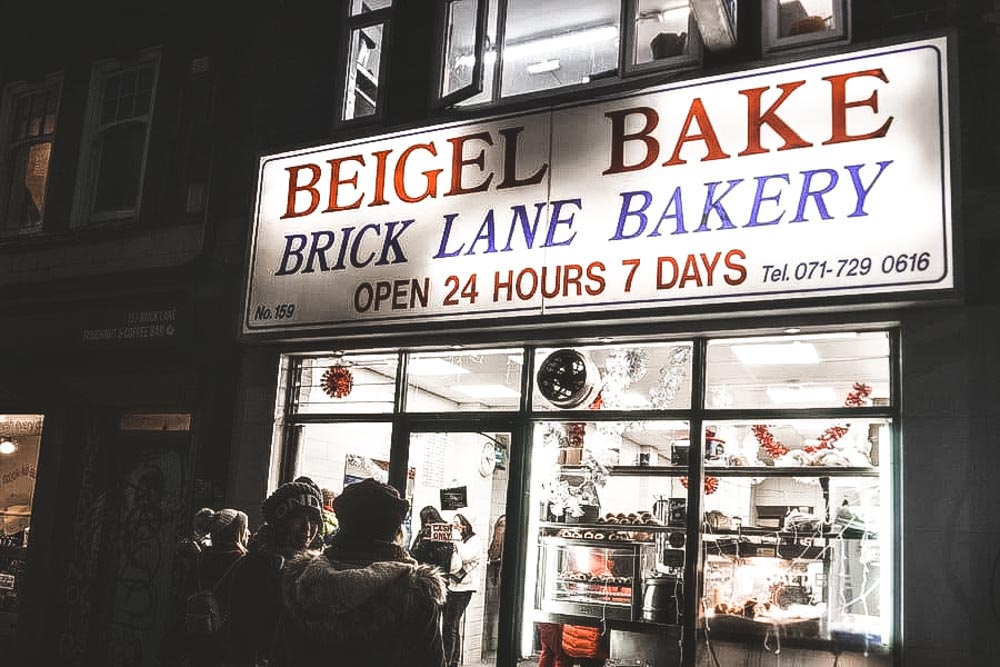 Eat your heart out in bundles of bagels at Beigel Bakery, famed for its Jewish-style filled bagels such as salt beef and smoked salmon. You can often see queues forming around the block for this bad boy, but we promise you, it's worth the wait!
Side note: It's also open 24 hours a day if you need to pop back for seconds… (believe us, you'll want to pop in for seconds).
Dark Sugars Cocoa House
Just want to rest your feet and have a hot drink? There's plenty of ultra-cosy coffee shops and cafes on Brick Lane. For something a little different though, make sure to try a hot chocolate from Dark Sugars Cocoa House.
It's a London chocolate shop like none other. Dark Sugars brings the culture of West African cocoa production to Brick Lane. Inhale the sweet, sweet aroma of roasting cocoa beans while watching the pros do their thing behind the counter.
You'll want to keep the chocolate moustache for later too…
Caboose
Street food kitchen Caboose serves up heavy American-style dishes from the comfort of an old train carriage. Take it from us and order the 12-hour shredded beef rib topped with sweet maple slaw.
Book the private cabin if you want to go all-out.
Best Places to Eat in Brick Lane for Vegetarians and Vegans
Don't eat meat or dairy? Don't fret. The vegan market is alive, well and thriving in East London.
Mooshies
For vegan guilty pleasures, Mooshies is always a good shout. Mooshies is a vegan burger joint on Brick Lane. The founders have proudly said it's the spot for veggies who don't like vegetables… We recommend the panko fried aubergine patty with ALL the trimmings!
The Canvas Cafe
Another favourite vegan hotspot is The Canvas Cafe, a vegan cafe and not-for-profit co-working space. Everything on the menu is 100% vegan (including their mahoosive, glowing cake options). You can also offer to buy a homeless person a meal too here.
Organic Livity Co.
You'll find these guys at Brick Lane Market, serving up the best vegan cakes in London. Organic, raw, vegan, gluten-free, and sugar-free treats might not sound too appealing, but somehow Organic Livity Co. really makes it work.
The vegan eclair is to die for.
The Best Bars and Pubs in and around Brick Lane
Thirsty? There are plenty of drinking spots dotted along Brick Lane too.
The Ten Bells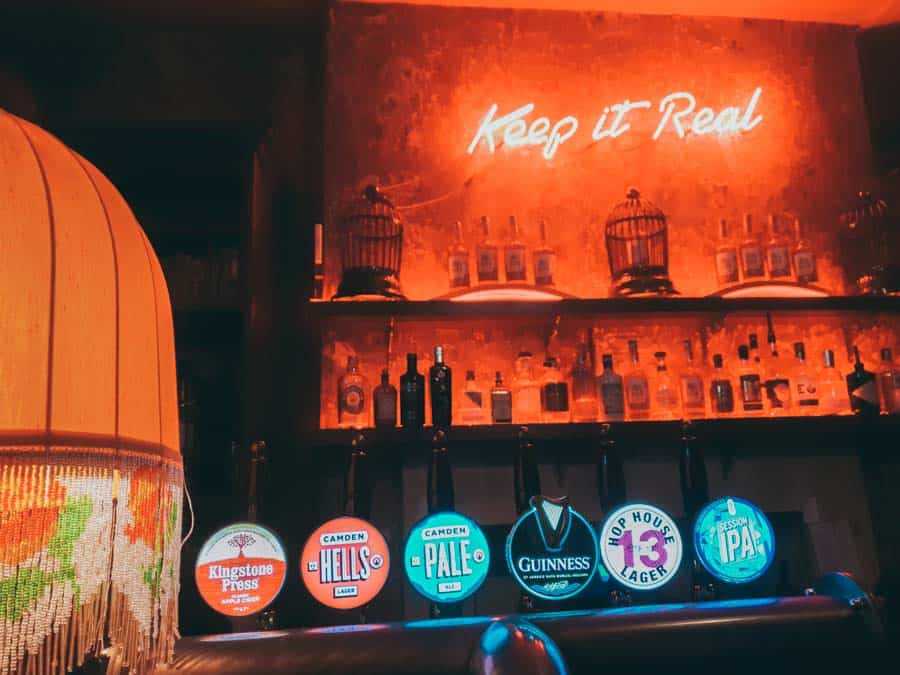 While it's not on Brick Lane itself, if you're just looking for a bev, there's the Ten Bells public house near Spitalfields Market for a traditional British pint. Go the whole hog and grab a bag of pork scratchings too.
Monty's Bar and Lounge
In the mood for a boogie? Then definitely try Monty's Bar and Lounge. They do cocktails, open-mic nights, spoken word events and more.
Alcotraz
Ever wondered what it would be like to spend a night in prison? Head to Alcotraz, where you'll don an orange jumpsuit before being locked in your "cell" – that is, if you successfully manage to smuggle alcohol past the guards.
The Cocktail Trading Co.
The Cocktail Trading Co. has some serious cocktail making skills. They've even won some awards!
Among its many accolades though, one of the most appealing things about this bar is the fact that it's fun; from the cocktail menu to the interior and all the staff, the place is full of character.
What Next? Exploring the Area Surrounding Brick Lane
Visit Spitalfields Market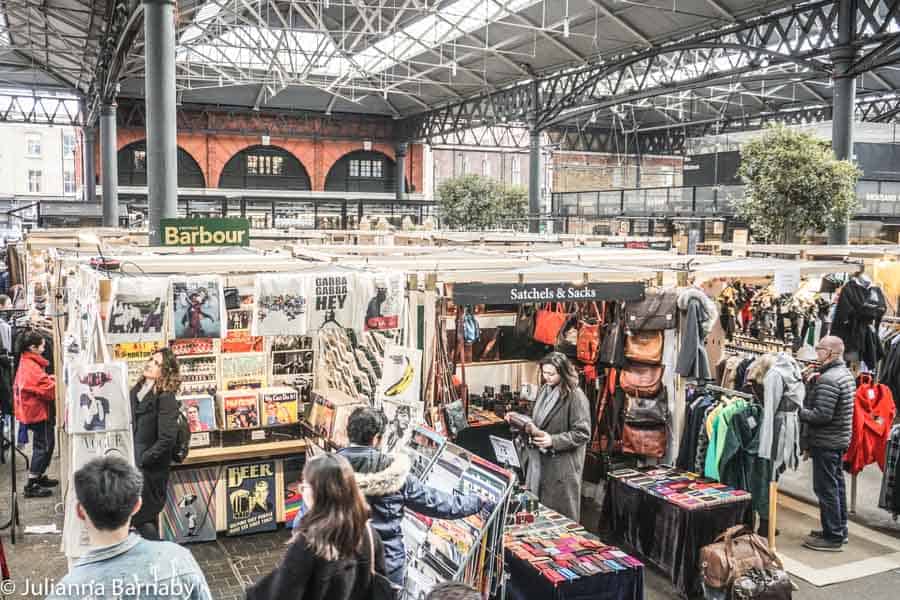 If you haven't had your fill from all the Brick Lane eateries, you can head to Spitalfields just up the road.
A tad more commercial than Brick Lane, Spitalfields Market is a recently refurbed shopping district where you'll find a range of tasty treats and garms to peruse.
Fancy splashing out?
You'll find slightly more 'upmarket' stores here such as The Mercantile which sells high-end but affordable designer labels, as well as more high street brands like & Other Stories, Lululemon and The Ordinary.
Historic Princelet Street
Tucked away behind the bustle and barter of Spitalfields market, you'll find an 18th-century enclave brimming with history: Princelet Street.
Princelet Street is a step back in time. Though just a stone's throw from one of the liveliest parts of London, this narrow terrace of Georgian-era houses offers a pocket of quiet and calm amidst all the noise.
Sadly, try not to get too attached. To live in one of these houses, you need a 7 figure budget. Ouch.
For a deep dive into the story behind Princelet Street, you can visit Number 19, one of London's earliest synagogues and now a museum of immigration and diversity.
Note: Make sure to check for open days on their website as Number 19 Princelet Street isn't always open to the public.
Wilton's Music Hall
We highly recommend visiting London's oldest music hall in Whitechapel, a 19th-century performing arts theatre that time seems to have forgotten.
The theatre still stands with its original cast iron pillars, balcony and decor from when it was originally built in 1859.
Wilton's Music Hall hosts an eclectic mix of arts and culture events, so make sure to check out what's on. You can also book onto a guided tour of the building.
Whitechapel Gallery
If you can squeeze any more arts and culture into your day, Whitechapel Gallery is also a short walk, or rather a step, from the south entrance to Brick Lane. This one's for contemporary art fans.
Be sure to stop for a coffee in the gallery cafe after too, where you'll also find a selection of tasty, homemade cakes and treats on offer.
Practical Tips for Visiting Brick Lane London
Brick Lane is just as safe as anywhere else in London, but make sure to keep your belongings close to you, especially on busy market days.
Where to Stay Near Brick Lane
There's loads of ultra-cool urban apartments up for grabs in and around Brick Lane. Be sure to see what's available on Airbnb before you book your trip.
The Dictionary Hostel
For short stays on a budget, The Dictionary Hostel is a great shout for funky, alternative style rooms that don't cost a fortune. Breakfast is also included in your stay.
Or check out this guide to the best hostels in London.
Batty Langley's
Fancy something a bit more… fancy? There's the swanky Batty Langley's 18th Century Hotel (recently listed by Conde Nast as the 6th best hotel to stay in London).
Looking for more London hotel recommendations? Check out our Where to Stay in London guide.
Underground
The closest tube stops to Brick Lane are:
Southside: Aldgate East, Whitechapel Station
Northside: Liverpool Street Station, Shoreditch High Street Station
By Car
If you're driving, for Brick Lane parking head to Spitalfields Car Park (around 6 minutes walk away).
By Flight
The closest airport to Brick Lane is London City Airport (around 5.4 miles away).
Brick Lane, London Map
Looking for More Shoreditch, London Guides – Read Next
Love This? Save and Share on Pinterest