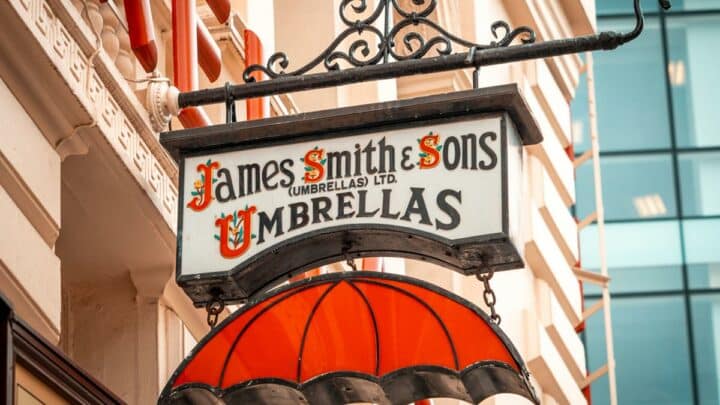 Little seems as quintessentially British as the humble brolly. Whether important business folk are wielding it as a weapon on their way to important work or simply a necessary convenience to shelter from the inevitable approaching downpour, the umbrella is the Londoner's best friend.
Words by John Rogers
Winter, spring, summer or autumn, carrying a brolly is a wise move at all times of the year in London since you never quite know how much to trust the weather forecast. The truth is, there's always a chance of rain.
No matter if you arrive in town without an umbrella, we've got you covered with the best brolly shops in town.
Best Umbrella Shops in London
London Undercover
Bloomsbury + Spitalfields
London Undercover has arguably the largest selection of handcrafted umbrellas to suit every conceivable style and need among Londoners needing to dodge the rain. Their expert craftspeople use tried and tested methods to hone the finest materials into some of the best umbrellas you'll find in London without breaking the bank.
London Undercover's brollies come with a social conscience, as all of their materials are sourced from sustainable sources, while their long-lasting durability reassures users that they won't need to replace their brolly any time soon.
Collaborations with Carhartt and Fred Perry illustrate the quality of London Undercover's products, stocked in Liberty, Selfridges and The Conran Shop. We love their original flagship Bloomsbury store best, though, where we think you'll spend hours selecting the suitable canvas for you.
James Smith & Sons
Holborn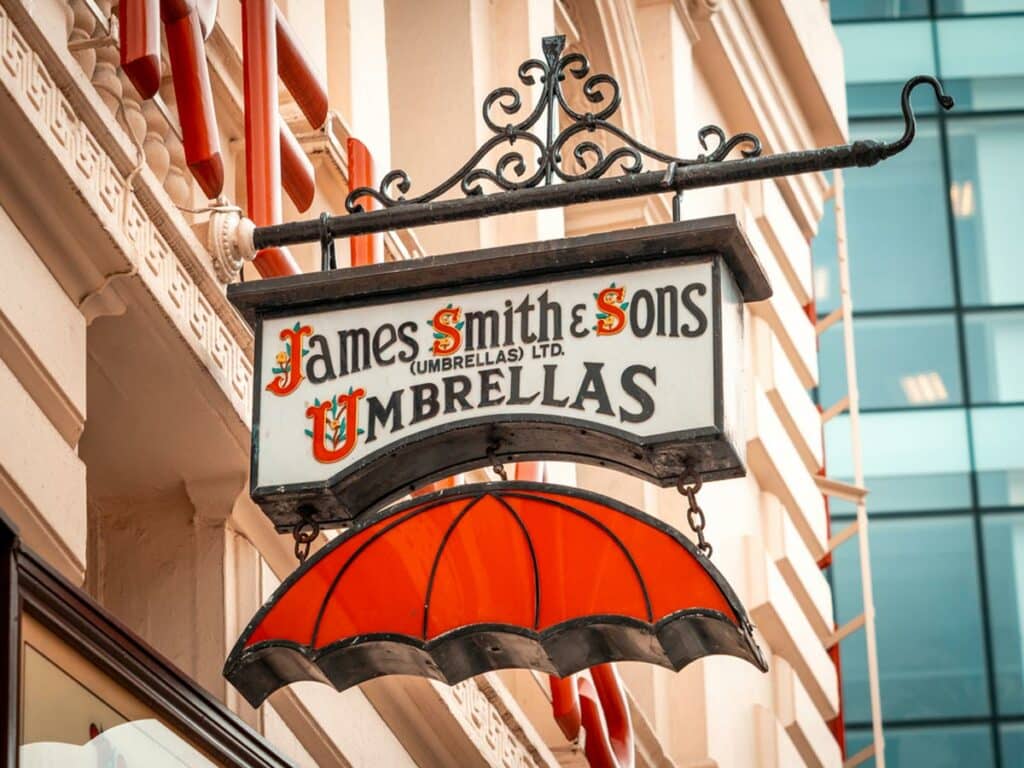 Deep in the heart of London's West End shopping district stands a shop that looks like it jumped directly from the pages of a Dickens novel into the modern day. Enter James Smith & Sons and you step back into the 1830s when London's premier umbrella shop opened.
Employing the finest British craftsmanship to create their range of stunning hand-crafted umbrellas, James Smith & Sons on New Oxford Street is the last remaining branch after a bombing raid destroyed their other shop in the Burlington Arcade.
James Smith has the finest luxury selection for every need: umbrellas for gentlemen, umbrellas for ladies, folding umbrellas and even sun umbrellas (not that you'll be needing them).
And all with the expert, personal service you'd expect from a shop of such rich history and grandeur.
Swaine Adeney Brigg
Piccadilly
If you find yourself in London's charming undercover Burlington Arcade precinct or New Bond Street, you'd be disappointed not to find a shop precisely like Swaine Adeney Brigg.
Although a purveyor and creator of elegant British items such as briefcases, purses, handbags and headwear, Swaine of London also presents The Brigg Collection, one of the finest collections of luxury umbrellas found anywhere.
Canopies come in the finest silk and nylon, with various colours and styles and a range of handles, from hand-crafted chestnut to stripped cherrywood. All umbrellas can come with a bespoke engraving on the signature collar, finished in sterling silver or gold plate.
These brollies are the height of British luxury!
Fulton at Selfridges
Oxford Street
Selfridges is one of London's best-known department stores, standing proud on Oxford Street. One of London's best-kept secrets is within its confines, its range of Fulton umbrellas.
Built in its factory in North-West London, just off the North Circular Road, Fulton supplies some of the best, most affordable, high-quality umbrellas available in London to suit every style and desire.
From their luxury Diamond Collection to umbrellas for kids, Fulton has also collaborated with The National Gallery and William Morris to provide unique, bespoke designs you won't find anywhere else.
Selfridges is among several stockists across London, but since we love perusing this London department store, we've added them to the list! Watch for the National Gallery Birdcage/Skyline brolly; that's our London-themed fave brolly!
Radley
Nestled around Covent Garden is Radley London, a charming boutique with some of the most charming accessories you'll find anywhere in the area. Chief among these is their range of beautifully designed portable brollies.
From mini handbag umbrellas to responsible umbrellas that can be easily and unobtrusively carried as you stroll around the streets of London, we think you'll love the stunning, unique designs that allow you to show off your character as you shelter from the rain.
We love their "An Apple a Day" Superlite brolly, but don't let us sway you. Take a look for yourself and find the one that speaks for you.
Archer Adams
Archer Adams claims to add a touch of class to any rainy day, and one glance at their collection of premium-handled umbrellas will illustrate why.
Their stunningly crafted umbrella handles use lacquered jet-black birch for the stick and silver-plated handles with Swarovski Crystals.
The handles set Archer Adams apart from other umbrella manufacturers, with their range of handles taking in greyhounds, frogs, cobras, skulls, lions, rams, and almost every other animal that comes to mind.
They're not cheap, but they're damn unique and a wonderful accessory to your jaunts around London.
Practical Tips for Exploring the Best Umbrella Shops in London
Our top pick for the best umbrella shop in London is James Smith & Sons, purely for their rich history and the step back you experience when you walk through the door.
We also love the Fulton and National Gallery collaboration that lets you pick up a London-themed souvenir at an excellent price.
Umbrella Shops in London: Map
Umbrellas in London: Read Next