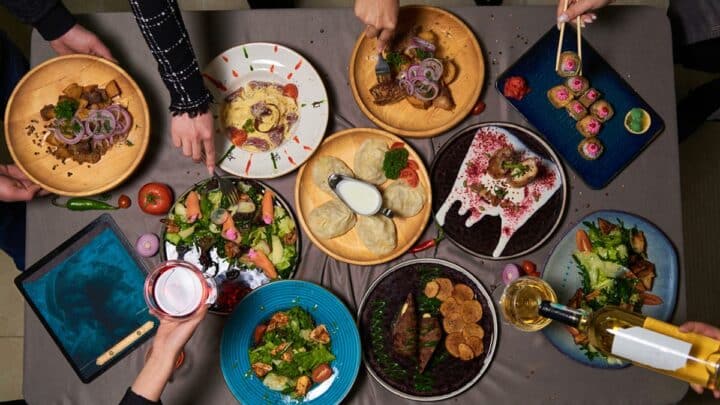 With its waterside restaurants and hidden gems Hackney Wick is a part of town any foodie should have on their radar. But where exactly should you be eating? Don't worry, we've got you covered.
We love Hackney Wick for all sorts of reasons – and its eclectic mix of dining spots is one of them.
There are Thai places hidden in pubs, waterside breweries doing pizza with flavours you didn't even know were possible, Michelin-star seafood… And of course a selection of brunch spots that makes the Wick a bona fide weekend mecca.
Read on for our guide on where you should be eating in Hackney Wick.
Best Restaurants in Hackney Wick
Randy's Wing Bar
££
Randy's is something of a coveted treasure on the Hackney Wick food scene. The hearty American menu never misses a beat.
And don't get us started on those award-winning wings.
Taking their inspiration from a full palate of world flavours, think chimichurri, jerk, gangnam, Kansas BBQ, and of course Buffalo, Randy's should have Colonel Sanders on the run.
But they don't. Because husband and wife team Andy & Emma are quite happy doing what they do. Running a single restaurant that focuses on quality cooking.
No fuss. No frills. And some hella good wings.
Kottu House
Another hidden gem from Hackney Wick is this Sri Lankan joint that came to London by way of New York.
While on the other side of the pond Kottu House caused quite a stir, even making it into The New York Times.
If you couldn't tell by the name, the menu is focused on varieties of kottu. That's a Sri Lankan dish made of chopped roti.
They chuck in a bit of something else: chicken, mutton, plant-based meats, and dice the beauty up into one big mix that goes down well alongside a nice cold pint.
Which by the way they also have.
Mother
££
Self proclaimed 'cafe with a conscious' Mother aims to bring you that good organic grub in an eco-conscious environment.
All the food is plant based pretty much guaranteed to make you feel good with a capital G.
Not only because it comes without any nasty stuff hidden away in it.
But also because they've taken pains to make sure it has only a minimal impact on the environment.
It's a daytime place, they don't open in the evening. And that, as well as the gorgeous canalside location make it a highly popular brunch spot for the weekend eco-warriors.
Gotto Trattoria
££
When it comes to value for money in Hackney Wick you don't get much better than Gotto Trattoria.
From the four-way team of three brothers and their best friend that also opened The Lock Inn (see below) and Mele e Pere in Soho comes this neighbourhood fav.
And that's exactly what they want it to be, like a neighbourhood trattoria from back in their home in Italy.
The food is simple, high quality and comes without a hefty price tag.
You'd be hard pressed to pay more than £15 for anything on the a la carte.
Got your attention now don't we. So what's good?
If we had to pick three things: the pizza (try the Gotto). The negronis. And the canalside location.
Scoff's Grill
££
This Turkish restaurant takes up a couple of unassuming shop fronts on Wick Road and quietly turns out some of the low-key best food in Hackney Wick.
The fare: everything you might expect coming off the grill and a selection of seafood and casserole dishes that might just redefine what you mean when you talk about Turkish food.
Oh yeah, and of course a tidy selection of hot and cold mezze.
It's worth mentioning too that even though there's as much skill in the kitchen as any other place on this list, the price tag won't break the bank.
Can't argue with that.
Silo
£££
We love a sustainable restaurant at London X London. And they don't come much better than Silo.
These guys were doing sustainable way back before the word was ever used to describe a London restaurant.
Silo say their restaurant is designed back to front. I.e: with the bin in mind. And they aim to keep as much out of it as possible.
Everything they have to get in is sourced from local farms that engage in sustainable farming. The rest is made on site.
That means brewing their own oat milk, churning their own butter, and even milling their own flour for their freshly-baked, made-on-site loafs of bread.

Which are, by the way, exceptional. As is everything else on their menu.
The Lock Inn
££
By the same brother-and-best-friend quartet behind Gotto Trattoria (above) comes the Lock Inn, and guess what…
It's another spot serving excellent food with a gorgeous waterside location. These guys seem to have the formula on lock, no pun intended.
With this venue they definitely leaned more to the pubby side of things and by that we mean its a pub. But it's one of those fancy kind of pubs that also do cocktails.
And food that doesn't need to count as two of your daily meals.
Their pub quiz is a big draw every Tuesday. As is the Sunday roast.
Cornerstone
£££
Hackney Wick's contribution to the Michelin guide comes in the form of Cornerstone, a one-star seafood restaurant with rising star Tom Brown at the helm.
He cut his teeth at Nathan Outlaw in Cornwall and it shows in his cooking – the menu here is almost exclusively seafood.
As Michelin-recommended restaurants come, Cornerstone is super casual. The focus is on the food, well-sourced, and fresh ingredients that absolutely burst off the plate.
With food that good you're likely to be sat, menu in hand, struggling to make your mind up on a dish. No problem, you're best off trying the chef's tasting menu anyway.
No. 90
££
Easily the most popular venue on this list, and possibly in the whole East End, Number 90 is a go to hang-out for just about everything you could want.
Dancing, drinking, dining, and a whole load of other fun stuff that doesn't necessarily start with the letter D.
The food is designed with their bar in mind. You'll be choosing from a range of smaller bites to share with friends, or something a bit more hearty to accompany the beers…
We're looking at you Korean Grilled Chicken Burger.
Throw into the mix that this spot has one of the coolest facade's in the city and back's on to a good stretch of canal and you've got yourself a winner.
Krapow
££
Ever heard of a symbiotic restaurant? Nope. You haven't. Because we just came up with it,
The phrase describes a restaurant that exists within another venue and that's exactly how Krapow likes to live.
They've got three locations across the city. All nestled as neatly as Russian dolls, inside local pubs.
The branch in Hackney is at the Lord Napier Star and does exactly what they do everywhere they take over…
Serve delicious Thai food at a decent price. So delicious in fact, that they've even picked up a few awards for it.
Barge East
£££
Barge East doesn't just do on-the-waterfront, it does right on the water itself. This unique restaurant is set inside a 120 year-old repurposed barge.
And partly for that it's become one of Hackney Wick's most iconic restaurants.
But also because of the food: all painstakingly sourced by the talented chefs on board, or picked from Barge East's gardens.
Gardens? Yep Barge East spills off-deck and onto the waterside where the chefs grow their own produce, and you can sit and enjoy a drink.
If you think all that sounds pretty cool, wait till you hear this…
The boat's owners sailed the thing all the way over here from Holland.
Burnt Umber
££
Brunch anyone? In Hackney Wick you can't do much better than Burnt Umber.
The kitchen turns out a good selection of things for breakfast and lunch, and that beautiful combination of both that so obsesses us Londoners.
Think eggs of all styles, filled croissants, warm waffles with ice cream by morning, and steaks and more substantial seafood dishes by lunch.
The wine menu is on point, as it should be at anywhere that calls itself a brasserie, with a selection of things by the glass and bottle that we're sure you won't be able to turn down.
Other Places to Eat in Hackney Wick
Hackney Wick ain't just all about the restaurants, folks. There's also a hoard of excellent pubs and breweries. Here's another one of our favs.
Howling Hops
££
This top-of-the-list tap room ticks all the boxes on aesthetics: Charming wooden benches in neatly-formed rows. Stacks of on-display brewing tanks, and a well-executed bit of industrial revival.
The beer? Well don't even get us started on the beer. All we'll say is that it's no wonder this is one of London's favourite breweries.
CRATE Brewery & Pizzeria
££
This one's actually a brewery with a great selection of home-brewed craft beers, but CRATE Brewery's pizza menu is too good to leave off this list.
They come thin crust and stone-baked, made with only fresh ingredients, and in a range of flavours that get us pretty excited.
Sweet potato, walnut and red onion anyone? Think we will. Or how about Kasmiri Dahl? Ah, that Middle-Eastern lamb one looks too good to miss.
They do have the regular flavours if you aren't feeling adventurous. If you ask nicely we might trade a slice.
Practical Tips for Exploring The Best Hackney Wick Restaurants
Always book ahead folks, especially if you're desperate for a table on one of those riverside spots.
Enjoy yourself. Take it easy. A lot of these places are a short walk from each other along the canal. Tie in your restaurant booking with a drink or two at some of these spots on the way.
Or turn your evening into a food tour of them all. Just sayin'.
Hackney Wick Restaurants: Map
Where to Eat in Hackney Wick: Read Next