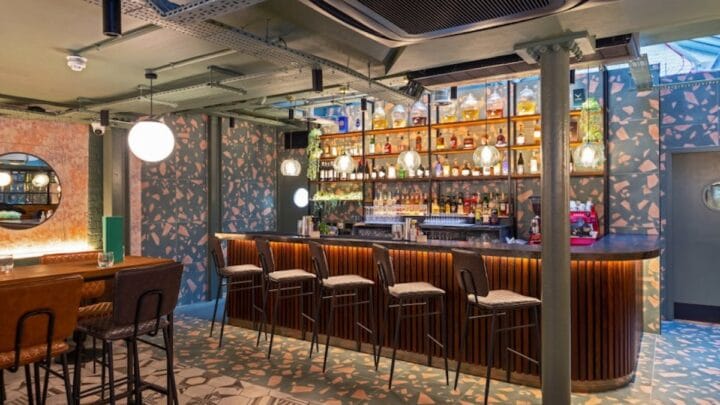 Discover the best things to do in Fitzrovia with this insider's area guide. Packed with cool restaurants and bars and steeped in history, this central London area has plenty to explore.
Words by Matthew Cook
Bohemian Fitzrovia has many charms – from the famous Charlotte Street to the countless bars, restaurants and galleries that adorn this hub in the centre of London – there's a lot to love.
Things to do in Fitzrovia
Top Hat & Monopoly Lifesized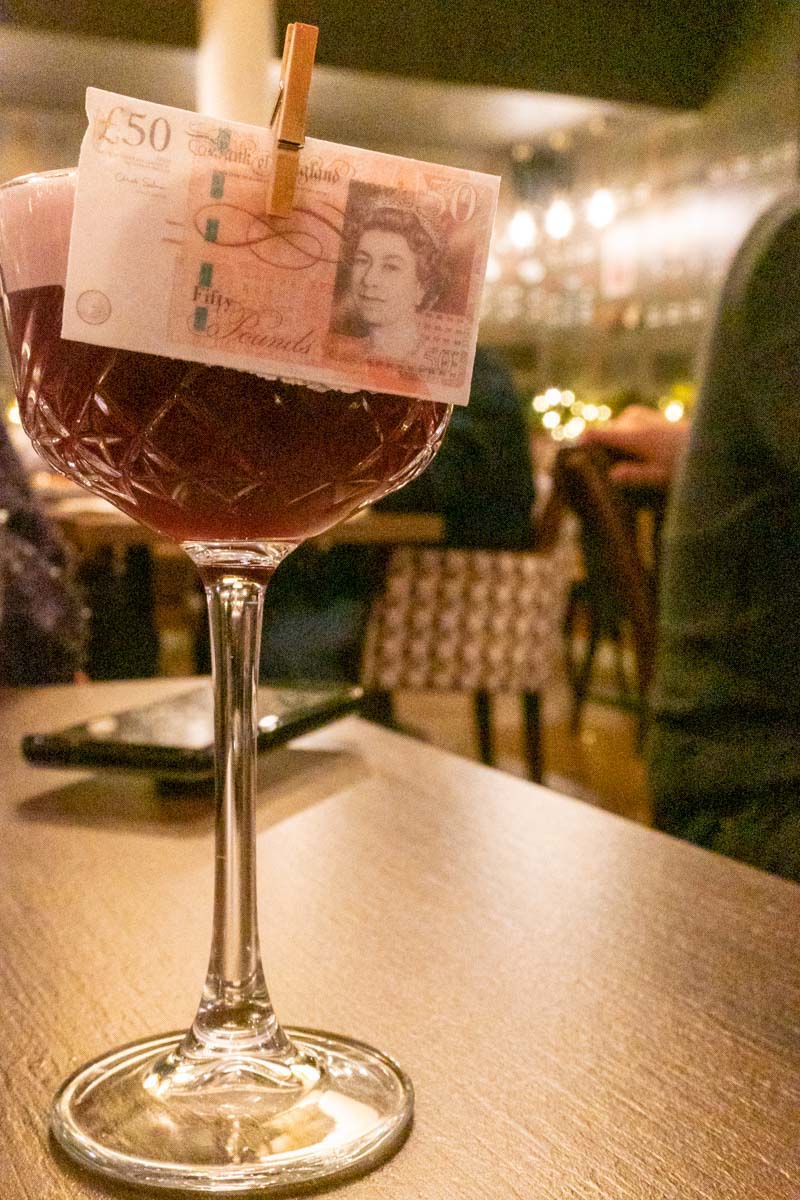 Hands up if you haven't played monopoly since the great board game argument of 1998. Yeah, us too.
If the knowledge that a new Monopoly-themed destination exists conjures up flashbacks of flying silver boots and mini houses crashing to the floor, you're not alone.
Yet fortune favours the brave and venture there you should.
First of all, it's really two venues in one – The Top Hat is a restaurant and bar doing all things Monopoly. Think small plate tapas but with a stiff upper lip
Monopoly Lifesized is kind of exactly what the name would suggest – real life Monopoly played on a giant board but with some extra escape room vibes thrown in for good measure. Sound epic? It is.
Grant Museum of Zoology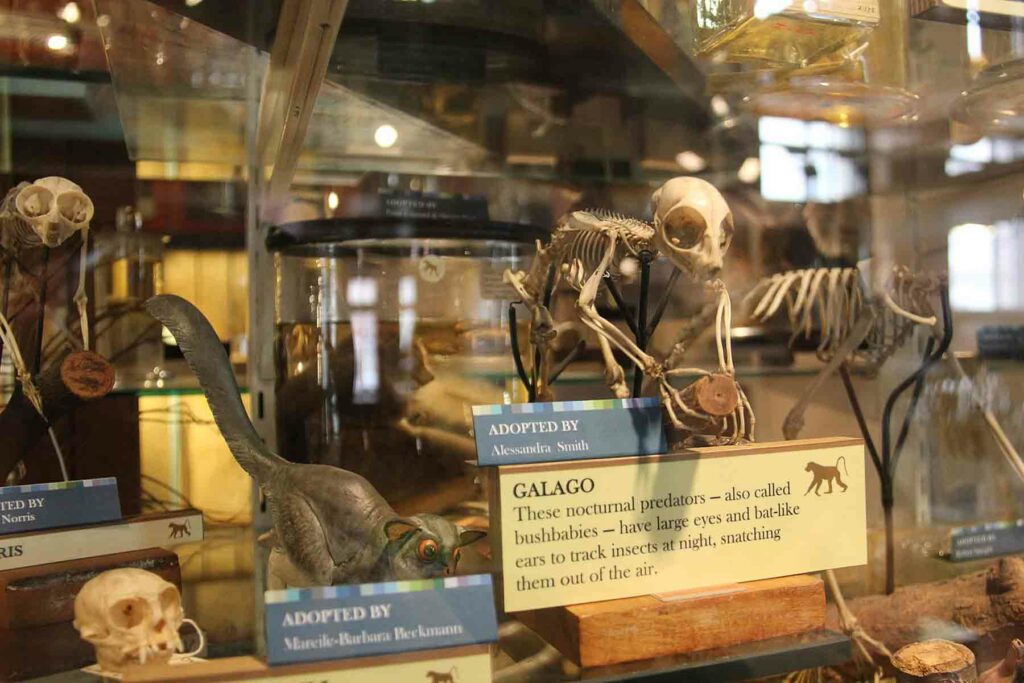 The wonderful Grant Museum of Zoology located in the Rockefeller Building at University College London. Founded in 1827 it is the last remaining university zoological museum in the capital.
With 67,000 specimens comprising a Tasmanian Tiger, a Dodo and an array of skeletons – there's plenty to peak the interest and keep you guessing.
With many of the specimens now either extinct or endangered, the gallery is a stark reminder to the fragility of the environment and history's careless past.
The Cartoon Museum
Like Peter Pan, we've never grown up, and being able to gander at a selection of cartoons and comic art from the 1750s to the present day as is the case at The Cartoon Museum, is quite frankly, perfection.
Exhibitions vary so take a look – the upcoming one celebrating the 45-year anniversary of Judge Dredd, is set to be pretty special.
Unfortunately the museum receives no funding so admission charges apply with adults paying £8.50, over 60s £5, students £3 and Under-18s and ArtFund and London Pass members go free.
Pi Artworks
Pi Artworks is one of London's coolest galleries. Initially dedicated to raising the profile of Turkish artists throughout the globe, it now hosts works by a vast array of nationalities.
Pi Artworks boasts works from Vuslat's Silent Serenade, touted as an arresting collection of never-before-seen sculptures, and 'An Ode to Orlando', the exhibition curated by Marcelle Joseph, based on Virginia Woolf's Orlando.
Check the website for exhibition dates.
Swingers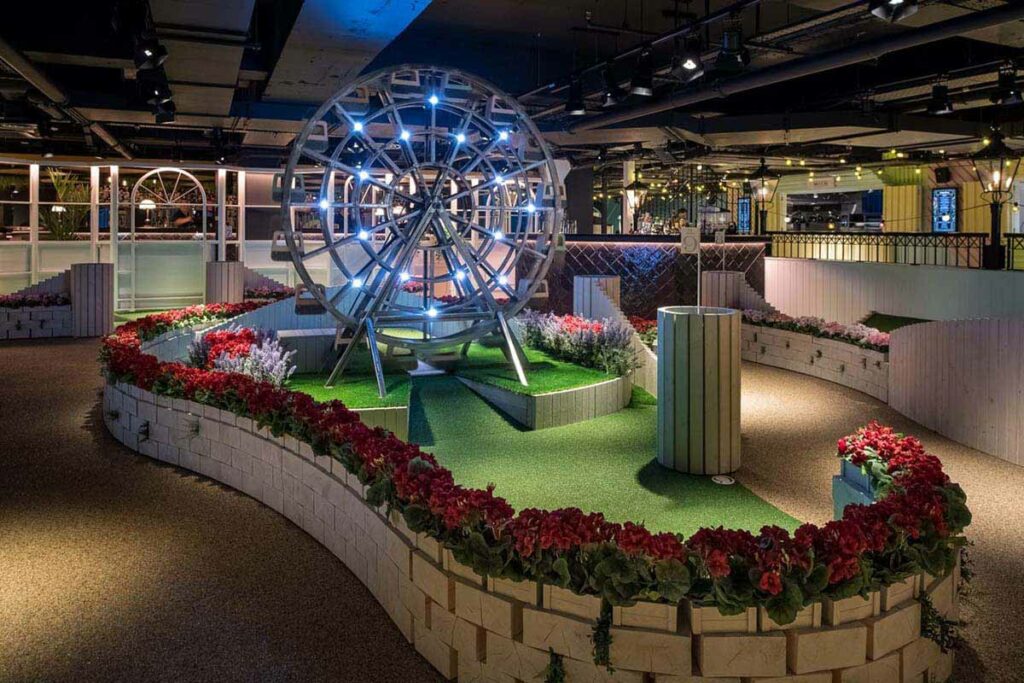 You can't take a trip to Fitzrovia without going to Swingers. Fact. Don't let the name fool you, it's far more salubrious than it sounds – we're talking crazy golf!
With two 9-hole bespoke crazy golf courses, no less than four cocktail bars and four street food vendors, you're all set if you're in the mood to swing.
The sheer size of the venue is surprising at first, but if you're looking for a bit of unabashed fun, stellar cocktails and a brilliant selection of food you should definitely swing by.
Two tips: don't get too competitive… but above all else, make sure that you win!
Things to do in Fitzrovia: Eating & Drinking
Pinch Bar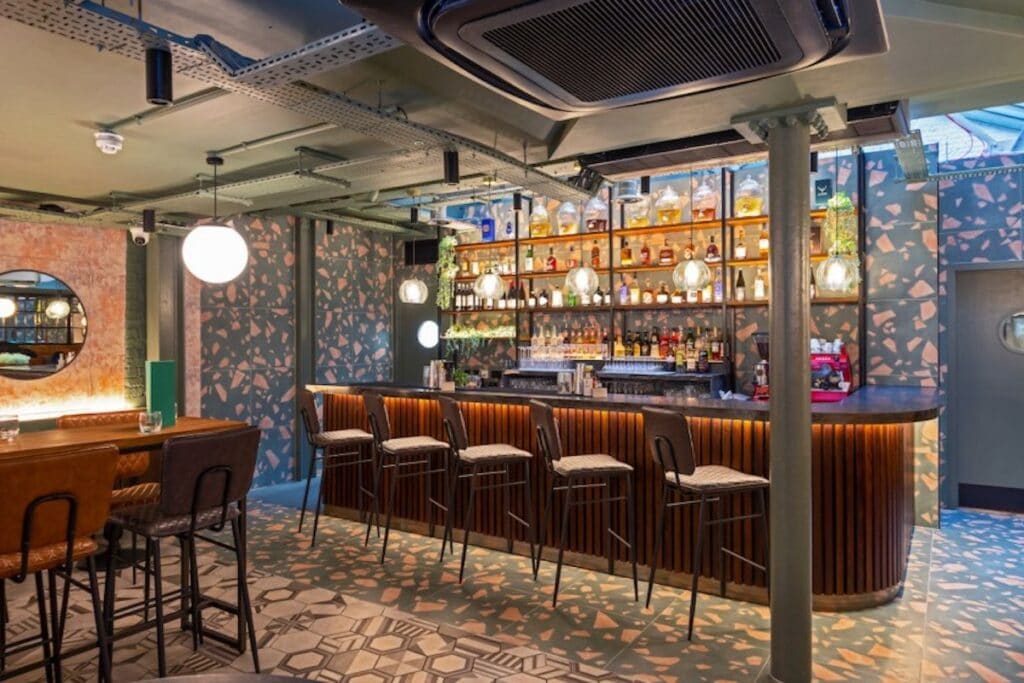 The relatively new Pinch is by far our new favourite cocktail bar. A venue that stylishly celebrates the character and flavours of Ukraine, it's one of London's rare truly unique destinations.
Go for stellar cocktails (no, really – we mean stellar). Can't choose? We'd suggest the Liv Bling – a heady mix of Dima's Vodka, Peychaud Bitters and La Jara Rose Organic Prosecco.
Bandra Bhai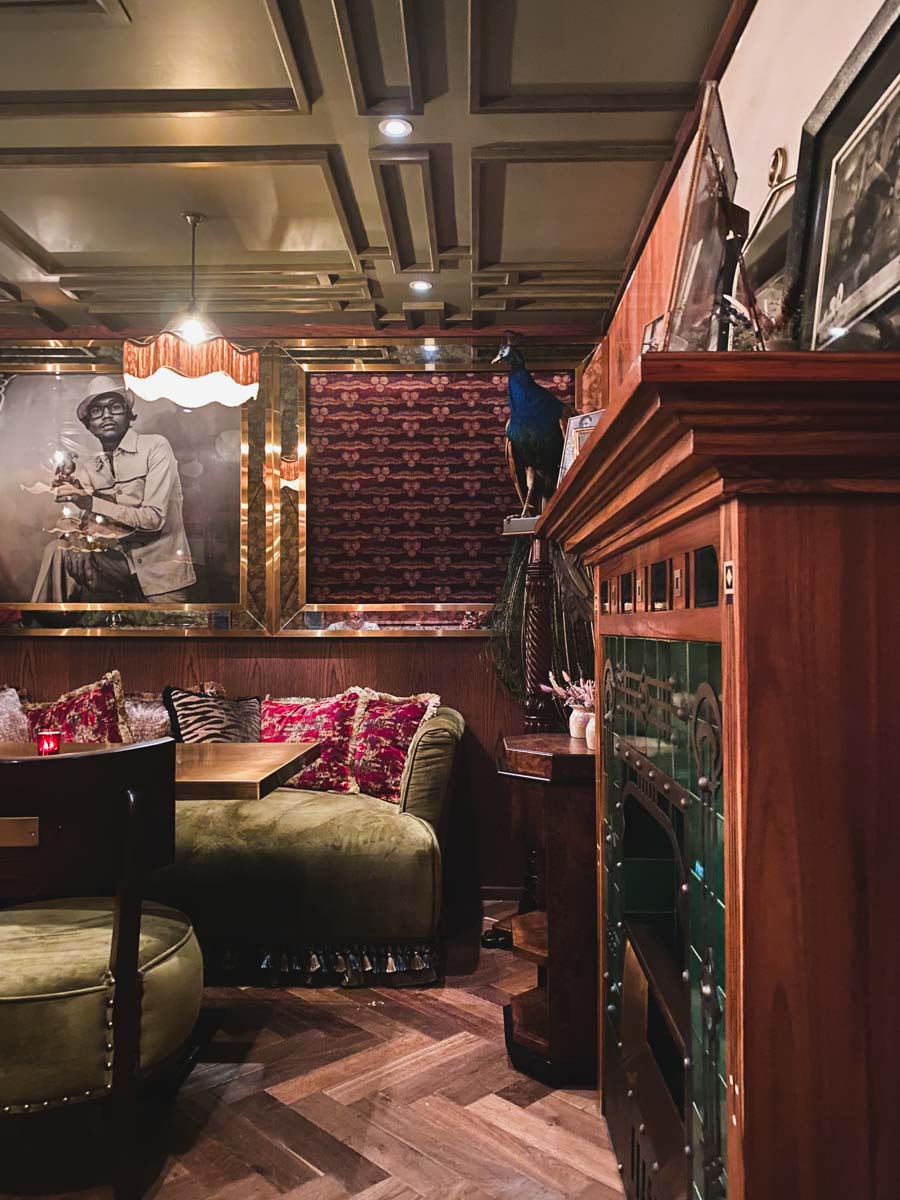 When we were told that Bandra Bhai was themed around a 'retro Indian smugglers den', we were kind of unsure what that actually meant. Now we've been, we can tell you – a secret bar oozing retro glamour that more than lives up to its quirky cocktail bar tag.
The smuggler backstory definitely adds a unique element, as do the drinks themselves. The Smokey Joe cocktail with MaCallan 12yr whiskey, apricot liqueur, martini rosso, lemon, and a dash lapsang souchong is just one example of the quality cocktails you'll find on the menu here.
Fitzroy Tavern
Last but in no way least we have the Fitzroy Tavern. We missed a few names out of regulars at the pub before – Dylan Thomas, Augustus John, and some bloke named Aleister Crowley (Crowley was actually an occultist, mountaineer magician and the self-titled "Wickedest Man in the World" so… yeah).
Weird former patrons aside, with stories about inventing darts this London gem will always be a delight to have a cheeky pint in.
Explore More Things to do in Fitzrovia