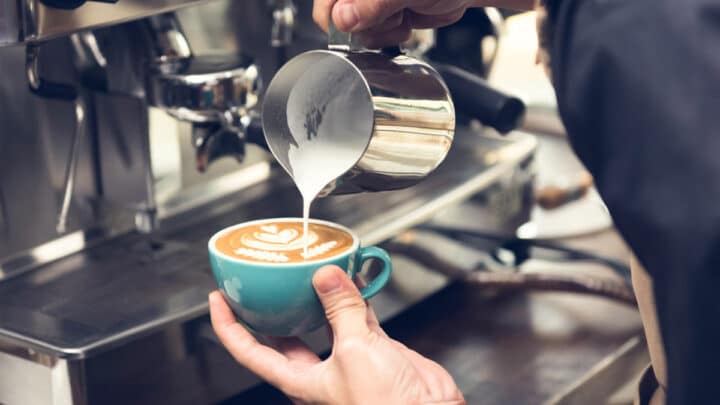 Exploring West London? You need to hit up one of these incredible Fulham coffee shops.
Fulham is renowned for its coffee shops. In fact, if you're an avid coffee drinker, a brunch lover or a cute cafe enthusiast then this is the place for you.
Ready to explore the leafy streets of Fulham via one of its brilliant cafes? Let's go.
Best Cafes and Coffee Shops in Fulham
St Clements
St Clements will always be our favourite cafe in Fulham. With a gorgeous outside courtyard, stocked with blankets in case it gets cold, as well as a downstairs seating area where you can get your laptop out and focus on work, it truly has it all.
St Clements isn't the cheapest place in the world, but that's because they feel so strongly about which ingredients they use – reflected in the 'farm to fork' ethos. T
hat said, the brunch menu is incredible and they take eggs to an entirely new level. The best brunch in Fulham? We think so.
The gorgeous independent cafe is open for both breakfast and lunch and has delicious little cakes and cookies (you won't be able to get enough of the tahini cookies – don't say we didn't warn you).
For lunch, we recommend trying out one of their daily fresh quiches with a side of salads – it's fresh, tasty and, not to mention, pairs perfectly with one of the best coffees in Fulham.
Megan's By The Green
Megan's By The Green is more of a brunch spot in the day, but the evening sees it transform into a fantastic restaurant with a Turkish twist. Expect cheese fondue, Gambas Pil Pil or some good old buttermilk chicken.
Cute fairy lights drip from the ceilings and the restaurant is covered in plants, there's a lovely vibe inside this place we just keep wanting to come back to. If you're looking for somewhere to work during the day, then this is also an excellent option as their coffees and brunches are incredible.
The breakfast, brunch and selection of coffees are amazing. Brunch-wise, we love the eggs royale because they don't stinge out on the salmon or sauce. Other popular options are the Shakshouka Baked Eggs – they're famous and look very pretty on the 'Gram.
Love Walk Cafe
Love Walk Cafe is another neighbourhood favourite, with outside seating filled with different coloured chairs on a cute cobbled street. It's definitely got the wow factor.
With an equally-kooky interior, lovely staff and delicious brunch options, there's nothing not to like. It's also dog friendly! Although it has to be said, most cafes in Fulham are dog friendly.
We recommend going for the Love Walk Omelette, you get a choice of two fillings and tasty wood-fired sourdough bread on the side. The freshly made juices are equally as delicious and add ​​to this spot serving up the best breakfast in Fulham.
We love bringing our laptops here and working outside in the sun (if you manage to get the right brightness/light combo to see your laptop) – it's perfect.
Shot Espresso
Just across the road from Love Walk Cafe is Shot Espresso. Shot Espresso is a bit of an institution in Fulham and known to be a place to go for serious coffee connoisseurs.
The lovely Italian staff will make you feel right at home and help you pick out the perfect coffee. Usually, we'd go for something with milk but the coffee is so good at Shot Espresso you almost don't want to hybrid it with any other tastes.
By far, the best coffee in Fulham and perhaps all of London. We're not joking, people actually travel far and wide to come to this coffee place!
Hally's
Hally's is on the corner of the green in Parson's Green and is a much-loved Californian Cafe. We're talking Californian-inspired breakfast, brunch and lunch with an uber-trendy whitewashed beach-house style eatery.
The staff are super friendly, the coffee is really tasty and the healthy food hits that summer light-meal spot we're all craving at the moment. We recommend going for their wholesome brunch burrito.
What we love most about this place though has to be the interior, there are so many cute ornaments and pictures around and you really feel like you've just taken a trip to the beach. It's adorable on so many levels!
Across the road, they also have their own juice bar which is equally as delicious if you're just after a refreshing snack. Although slightly on the pricey side, it's worth it.
Bonbon Deli Fulham
Bonbon has really grown over the years, going from a small little cafe to a much bigger restaurant. Though, thankfully they've managed to keep their laid-back atmosphere and delicious food intact.
The menu is overall quite wholesome, though we typically opt for the options that aren't so much – the desserts are incredible.
Sit outside on a summer day and enjoy the fresh food along with some of the best coffee we've ever had. As far as Fulham cafes go, this is one to write home about.
The Kaf
The Kaf is new to the Fulham cafe scene, which is even more of a reason to support it, if you ask us. The independent cafe knows how to do coffee incredibly well, and that's exactly why people go there.
Well-priced coffee, excellent toasties, a lovely atmosphere and a great place to sit outside to catch some summer rays. The Kaf has quickly made its way as one of the best cafes in Fulham.
Fulham Cafe Guide: Map