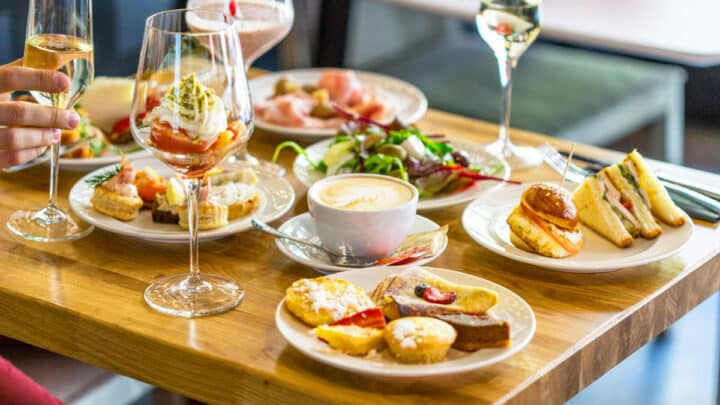 How do you like your eggs in the morning? At one of Fulham's best brunch and breakfast cafes, right?
Fulham has an abundance of chic boutiques and trendy restaurants– so, of course, its breakfast and brunch spots are on point too.
This ultra-cool area of West London boasts leafy green spaces and upmarket wine bars with riverside views, and it knows exactly how to pull off stellar breakfasts and brunches. You just can't beat a brunch date with friends and, for Fulham residents, brunch is a way of life.
Fulham's easygoing West London charm is everything you need in the AM. Get ready to sip on freshly squeezed juices and eat avocado toast at one of these breakfast and brunch spots.
We're hungry just thinking about it.
Best Breakfasts & Brunch Spots in Fulham
Manuka Kitchen
Manuka Kitchen has been listed in the Michelin guide for the past 5 years– there are so many yummy reasons as to why.
This awesome brunch spot serves British cuisine with a Kiwi spin and has a seasonal-driven menu. Speaking of menus, Manuka Kitchen's brunch and lunch menu has all your brunch cravings covered from sweet to savoury.
If it's savoury snacks you're after, the duck & waffle or spiced red pepper with hash brown are hard to beat, whilst blueberry pancakes and banana bread will hit those sweet spots. Or, go wild and order something to satisfy both cravings.
Little Blue Door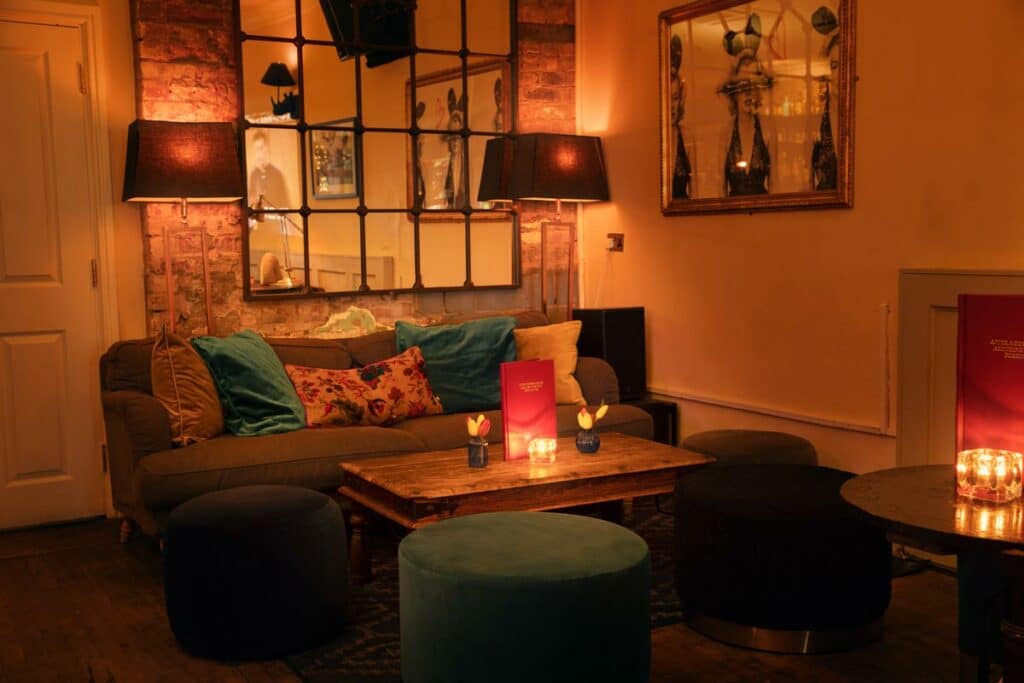 The little sister of Notting Hill's Little Yellow Door, Fulham's Little Blue Door is a lively bar and restaurant. This spot boasts lots of tempting brunch options as well as the best boozy bottomless brunch in Fulham– we can't say no to that.
Little Blue Door isn't messing about with the humble poached egg on toast menu, try the avocado, bacon and chilli coriander for a fiery kick that's sure to wake you up in the morning. Failing that, add a shot of toti rum syrup to your house pancakes with caramelised banana, maple syrup, chocolate, and nuts.
If you're after a boozy brunch date, add bottomless prosecco, the house punch, or there's a whole list of brunch cocktails to choose from. We think it might just be the best boozy brunch in the area.
The Fulham House
For those in the know, The Fulham House on the corner of Fulham Road is one of the best and chicest breakfast spots near the Thames.
Its unpretentious and reasonably priced breakfast and brunch menu hit all the right spots. Eggs take centre stage here with eggs florentine, benedict, and royale all on the menu.
For a more hearty affair, order the single or full English breakfast with all the trimmings, there's a veggie option available too. Wash it all down with a freshly squeezed juice, smoothie, milkshake or frothy iced coffee.
Megan's
Looking to take your dog to brunch? Head to Megan's on Kings Road in Fulham, it's a dog-friendly chic hangout spot for you and your pooch.
Megan's is a wisteria-covered delicatessen serving seriously good Mediterranean-inspired food. Flick straight to brunch plates on the menu and you'll find Shakshorizo Baked Eggs for chorizo lovers, as well as the more traditional Shakshuka Baked Eggs.
Veggies are well catered for here too, with a Veggie Brunch plate and the Scrambled Turmeric Tofu on offer. Brunching with company? Check out their Turkish brunch feast sharer. It will not disappoint.
Hally's
If you're in the mood for a Californian-inspired breakfast or brunch– then you're in luck, Hally's does just that. This bright and airy brunch spot channels cool-Californian whites and muted woods. Its shop front opens out onto a chequered seating area. It's everything you'd expect to find after your imaginary dip in the Californian ocean.
Breakfast at Hally's includes acai bowls and buckwheat pancakes, whilst brunch offers poppyseed bagels and brunch burritos stuffed with chorizo and a spicy jalapeno sauce.
If you want to toast a special occasion, grab their boozy bottomless brunch that includes 60 minutes of as much prosecco as you can cope with alongside your brunch dish.
Love Walk Cafe
You'll be charmed by Love Walk Cafe's hip green brick exterior with hanging plants and a quaint streetside seating area. There's also a side alley complete with colourful seating, yellow hues and a trendy mural for a more rustic brunch experience.
Besides Love Walk Cafe's trendy vibe, it also serves the best breakfast around. Breakfast club is Monday through Friday, the full English has dry cured bacon and organic Cumberland sausage, and there's also a veggie breakfast option with halloumi, veggie sausage and pesto– both include tea or hand-roasted coffee.
But it's not all about the full English. Eggs come every which way, berry-topped pancakes and omelettes with fillings of your choice are worthy contenders. Love Walk Cafe's drink menu is overloaded with smoothies, milkshakes and freshly squeezed juices– if you can't pick one, have them all.
Chairs and Coffee
Chairs and Coffee is a chic cafe to enjoy breakfast near Fulham Broadway. This casual espresso bar is petite with rustic interiors and chairs hanging from the walls. Yes, you read that right.
Most menu items are homemade, you must try its dreamy toasted banana bread served Canadian style, with butter or greek yoghurt.
All good breakfasts have eggs, right? That's why Chairs and Coffee's scrambled egg on sourdough toasts come with five different topping options to choose from, including parma ham and truffle oil or smoked salmon and rocket salad.
Boys n Berry
Boys n Berry is a trendy cafe and the best place to eat brunch on Fulham Road. We love this cosy coffee shop for its bare brick walls, low lighting and rustic seating areas.
The breakfast and all-day brunch menu has everything you'd want to devour in the AM– including gluten-free and veggie options.
The health-focused menu has hot and cold dishes including poached eggs on sourdough, oat porridge with peanut butter and flax seeds and sweet pancakes with honey and seasonal fruit.
Boys n Berry's coffee is smooth and organic, and there are freshly squeezed juices if you're on a total health kick.
Mil Kitchen
Mil Kitchen offers an awesome all-day breakfast menu that are deliciously crafted in-house with carefully selected ingredients from local markets. All of the meat that goes into their gorgeous carnivorous brekkies (and main meals too) is supplied locally by HG Walter butchers.
Once you arrive at this beautiful cafe, you can choose from a good range of sweet treats, savoury dishes, and all the usual drinks you'd expect from any self-respecting brekkie joint.
We love the stacked banana pancakes which come with fresh blueberries and strawberries and oozy maple syrup, and the apple cinnamon french toast.
If it's something less sweet you're after, we can't recommend the Mil Kitchen omelette highly enough, stacked with gorgeous roasted veg, or the special Huevos Rancheros Mexican brekkie, with eggs, chorizo, beans, melting cheese and avocado sitting on a tortilla.
St Clements Cafe
St Clements Cafe is an independent brunch restaurant that provides a seasonally selected all-day menu that includes breakfast, brunch, lunch, genuinely awesome single-origin coffee and deliciously seductive homemade cakes.
If it's the weekend, start as you mean to go on, with a Mimosa to accompany your food. The brunch menu is stacked with delights, including maple, sour cherry and nut granola topped with greek yoghurt, orange, pomegranate, and local honey.
We also adore their Lincolnshire sausage, squash, and rosemary hash, while vegetarians and those on a gluten-free diet will be delighted by the pea, chard, leek and feta fritters. Grab a slice of banana bread, chocolate cookie, or energy balls to go for a little treat later in the day too.
BonBon
This cool Fulham cafe and restaurant is one of the area's finest brunch spot. Set over two sections, with a bright a breezy cafe and terrace giving way inside to the more private restaurant space with moodier lighting for more intimate meals. BonBon also has co-working spaces available to hire if you want to brunch and work.
The menu is as extensive as you'll find anywhere in West London, with sweet snacks, enough eggs to last you a week, brunch sandwiches, pasta, burgers, salads and smoothies to get your day off to a flyer.
We love the turkey and avocado toastie, pear porridge, and poached eggs on sour dough with halloumi and mushrooms. The spicy tomato sauce that tops these delights is incredibly moreish and will have you coming back for more. As an accompaniment, check out the simply raspberry smoothie.
The Hive
Located on Fulham Road, The Hive is one of the best breakfast and brunch spots in SW6 with its cosy atmosphere, gorgeous food, and knockout coffees.
As with all good brekkie and brunch joints, The Hive has an excellent selection of sweets and savouries to suit whatever your appetite is craving. We love their perfectly cooked scrambled eggs with smoked salmon, while the full English looked fantastic.
Meanwhile, the almond croissants hit the spot as well alongside a warming cup of chai latte.
Best Brunches in Fulham: Read More Fulham Guides