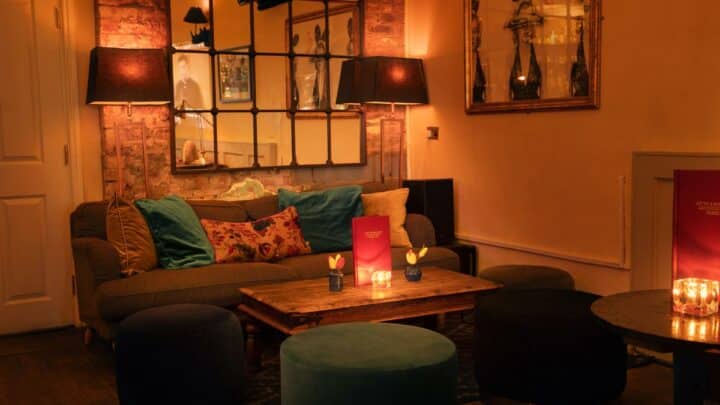 Get ready to discover the best bars in Fulham – these are the top places for cocktails, wine, beer and more.
Fulham is becoming one of the hottest places to drink in London – after all, it's a popular spot for young professionals, so it's no wonder that new bars are also popping up by the day.
Whether you're looking for a swish date night spot, somewhere fun to drink with friends, or somewhere inbetween, Fulham has a killer selection of spots. These are our favourites.
The Best Bars in Fulham
The Little Blue Door
££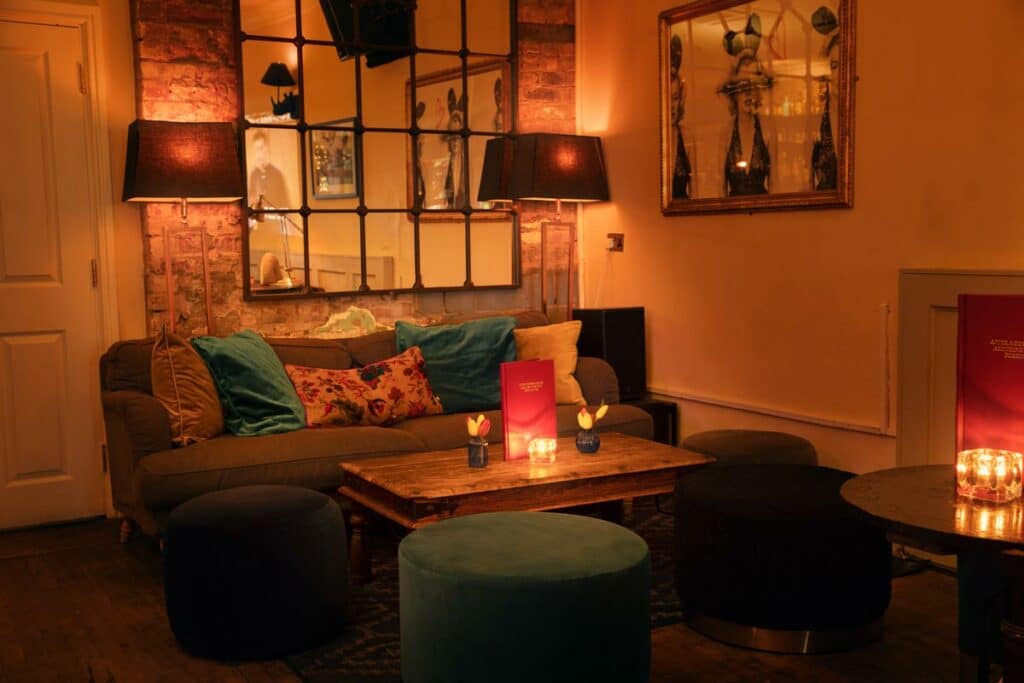 It's no secret that we love The Little Yellow Door in Notting Hill and the new The Little Scarlet Door in Soho, so whenever we head to Fulham, our first stop is a drink at The Little Blue Door. This one is arguably the best.
Why? The Little Blue door is so fun because it has been designed to look like someone's apartment. The decor includes toothbrushes, hair brushes and toiletries in the loo, comfy chill areas, kitchen type areas, games rooms and party rooms. The dream flat, if you ask us.
This Fulham cocktail bar also hosts one of the best dinner parties in the capital, called The Supper Club, every Thursday night. The food is incredible and it's open late into the night for your cocktail cravings. That alone makes it the best place for late night drinking in Fulham.
Amuse Bouche
£££
Looking for somewhere a little bit more luxe? Amuse Bouche is a gorgeous little spot for champagne and cocktails in Fulham. A great spot for a date, this bar boasts a huge drinks menu filled with elevated classics.
This bar prides itself on serving vintage champagne and original recipe cocktails whilst having the best live music London has to offer every Friday and Saturday night.
They have both an upstairs and downstairs bar, as well as a pretty heated garden. Head here for excellent cocktails at decent prices.
The Waterside
££
Perched on the beautiful banks of Imperial Wharf, close to Fulham Broadway, is The Waterside, a stellar Fulham bar. We love that The Waterside is still relatively underrated and, unless you live in the area, you most likely won't know it's there.
It's very well priced for the area – especially considering the fact you're drinking on the river with a dreamy sunset and delicious food. There's an impressive cocktail list with tasty food (and there's heaters for those icy winter months!)
Megan's by the Green
££
Megan
's are popping up all over London at the moment and we can understand why, not only is the food delicious but the cocktails are seriously good.
Megan's bar is pretty adorable, flanked with fairy lights and a magical feel to it. You've most likely seen pictures of it online because, after all, it is one of the most Instagrammable restaurants in London.
Top tip: Sit by the window and it'll almost feel like you're outside with the warmth and cosiness of the inside. One of our favourite places for cocktails in Fulham.
Brinkley's Wines Fulham
££
Formerly known as Joe's Brasserie, this fantastic wine bar on Wandsworth Bridge Road has become increasingly popular for after work drinks in Fulham.
The food is delicious and the service is always perfect, but the wine list is why we keep going back. New wines at Brinkley's always impress.
We also love the outside seating, it's rather romantic so you might want to add it to your list for a casual date night option alongside being the best wine bar in Fulham.
Brook House
££
Brook House is one of our favourite places to eat in Fulham and we've raved about it on the site before, but what we might not have mentioned is that it's also the greatest place to go for a drink.
There are a few tables outside that you can grab if you're lucky enough to get there in time, otherwise it's mostly inside seating.
We love the huge selection of wine, beer, and cocktails. Brook House is also wonderfully decorated and you'll feel as though you're in some swanky Soho bar right in the centre of Fulham.
It's also dog friendly which is also a plus for us.
Vagabond
££
Another great wine bar option close to Fulham Broadway is Vagabond.
This swanky London chain makes it all too easy to spend an evening sipping wine – you just need to register a card upon entry and then you're free to try what you would like. Dangerous but fun, we think.
Add to this a stellar location and tasty charcuterie boards and you're onto a winner – this is the best wine bar Fulham boasts.
Neverland – Fulham Beach Club
£££
Neverland is the bar of duality – transformed into a beach during summer and, in the winter, it turns into a snowy hut bursting with all the Christmas vibes you'll ever need. Neverland is a great spot for a drink in Fulham, and one of the very few beaches in London!
It has beach-style beds, huts and cabanas that all need to be reserved before the day, but you can also just rock up on the day and try your luck or just head inside for a standard drink.
Fun music + great cocktails = one of the coolest places to drink in Fulham.
Cool Bars in Fulham: Practical Tips
Make a reservation in advance. If you're going for an early drink, don't just drop in because the chances are you won't get a table. Although, if it's a late night drink you'll most likely be fine and we're sure all the lovely Fulham hosts will do the best to seat you.
Check out the neighbouring parks like Bishops Park and Battersea Park whilst you're in the area, it's nice to get a good walk in before you sit down for a drinking session.
Fulham Bars: Map
Best Fulham Bars: Read Next