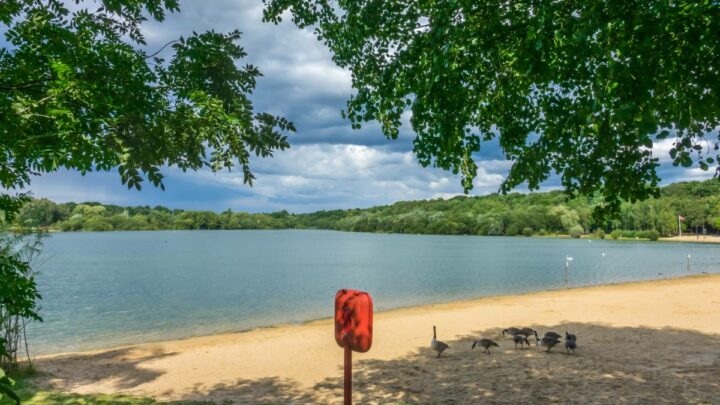 Looking for the best beaches near London? Don't miss our handy guide to planning your day at the seaside.
Summer is here and WE ARE READY. Too excited? Maybe. Maybe not.
Let's face it, the weather in the UK has room for improvement, but when the sun comes out, it's just beautiful. What better way to celebrate the sunnier months than heading to a gorgeous beach for a day at the seaside?
Pack your buckets and spades, it's time to head to the best beaches near London.
Best Beaches Near London By Train
Brighton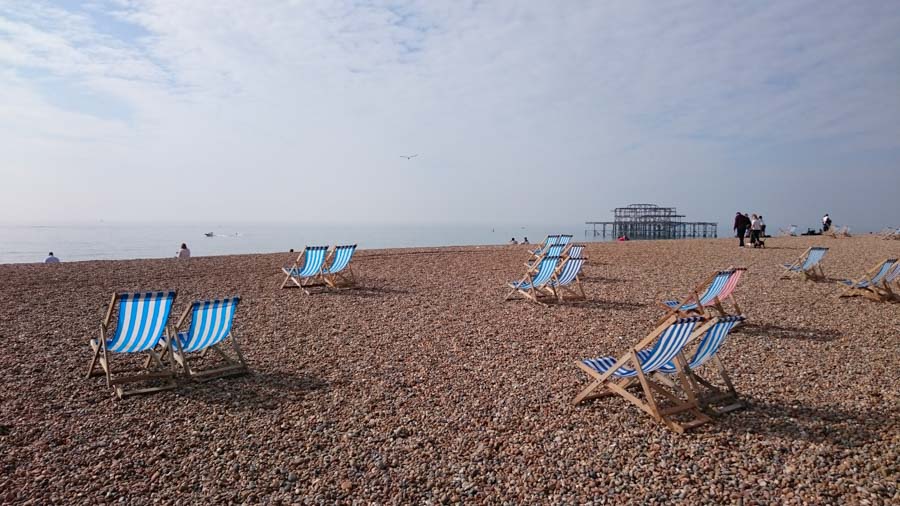 A long-time favourite for seaside day trips from London, Brighton rivals London in the cool stakes (although, of course, London is, and will always be our #1).
The cute higgledy-piggledy lanes are lined with stately Georgian houses but, more importantly, it also has a pretty great beach.
Brighton's beach is a long, pebble affair lined with colourful beach huts, cool cafes (we recommend Lucky Beach Cafe) and ice-cream stalls. In other words, it's everything you want for your day at the seaside.
Once you've braved the surf, be sure to wander down the pier and drop in at the old retro arcade. Keep an eye out for the many film screenings and gigs that are held on the beach during the long summer evenings too.
Getting There: Brighton station is only about an hour from London with numerous direct trains from London Bridge and Victoria.
Read Next: The Best Day Trips from London
Margate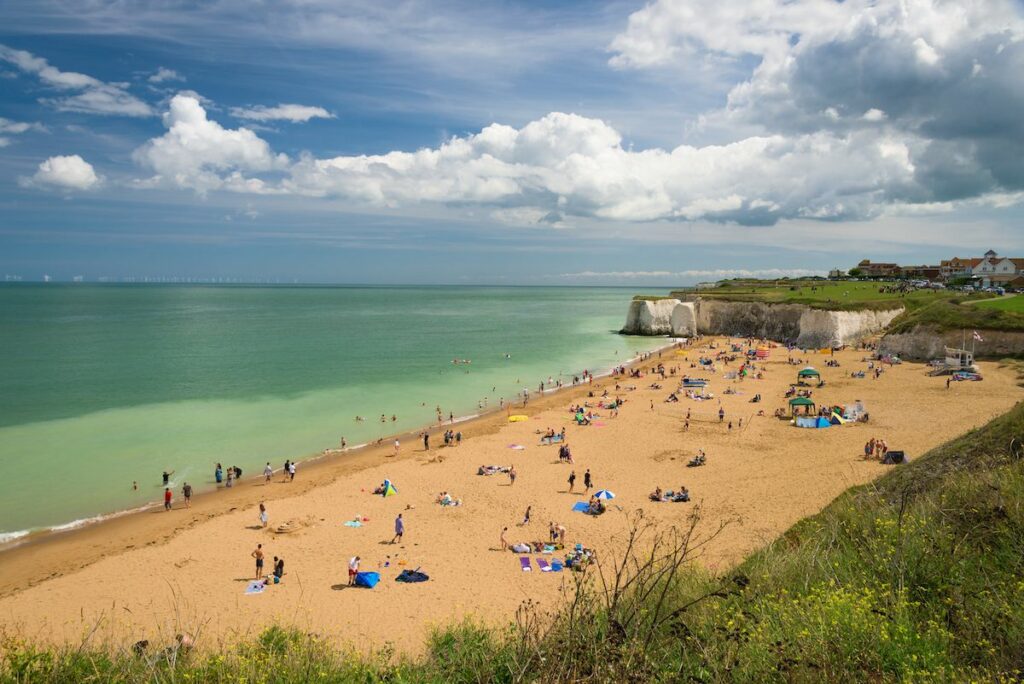 Located in Kent, charming Margate is ever-popular with Londoners looking to trade sprawling concrete for swathes of sand.
It's no wonder – it really is a charming, quintessentially British town – complete with Tudor influence – and a lovely beach, Margate Sands.
As its name suggests, it's a soft and sandy beach near London that's dotted with colourful beach umbrellas and chairs in the summer.
Getting There: There are frequent direct trains from St Pancras and Victoria to Margate, and they take about 1.5 hours.
Ruislip Lido Beach (An Actual Beach in London!)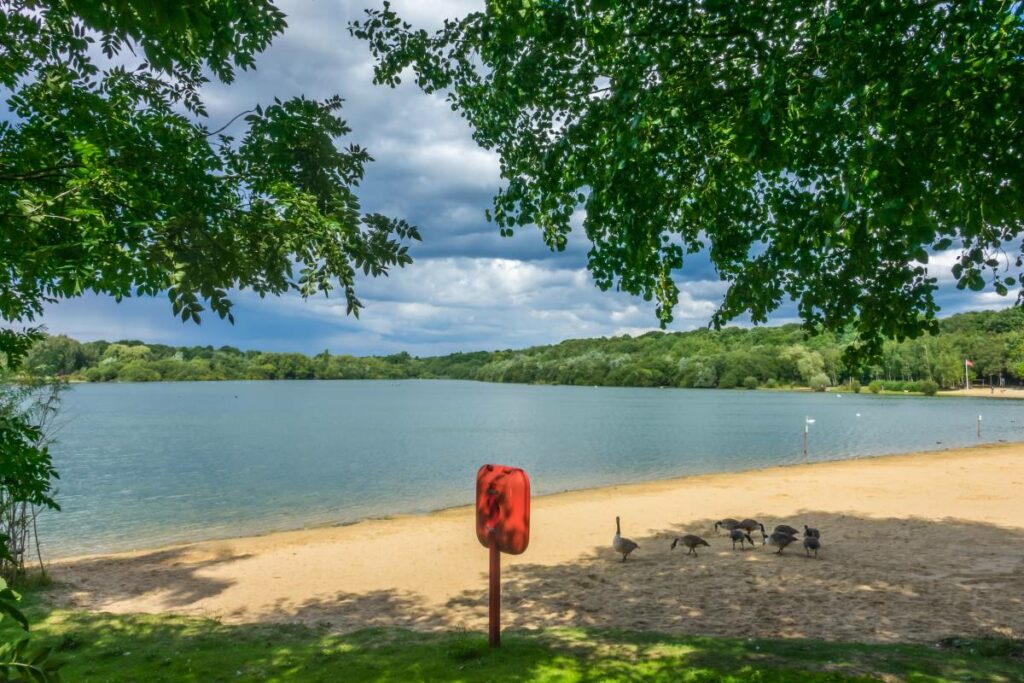 If the idea of going beyond the M25 breaks you out in a cold sweat, then we have some great news for you. There's a beach you can reach on the tube. Well, and a short bus ride.
Alright, so it's not exactly a seaside town, but it is pretty much one of the only real life beaches in London – for all you folks who just can't quite bring yourself to leave the capital.
This is Ruislip Lido, a sandy beach that flanks a 60-acre lake. Just getting there is a treat, as it takes you through some gorgeous woodland – and then you will find the beach. It's very pretty, and there's even a miniature train that will take you on a scenic trip around it. We approve.
Getting There: Simply catch the Piccadilly or Metropolitan line to Ruislip station. From there it's a short jaunt on the H13 to reach London's real-life beach.
Herne Bay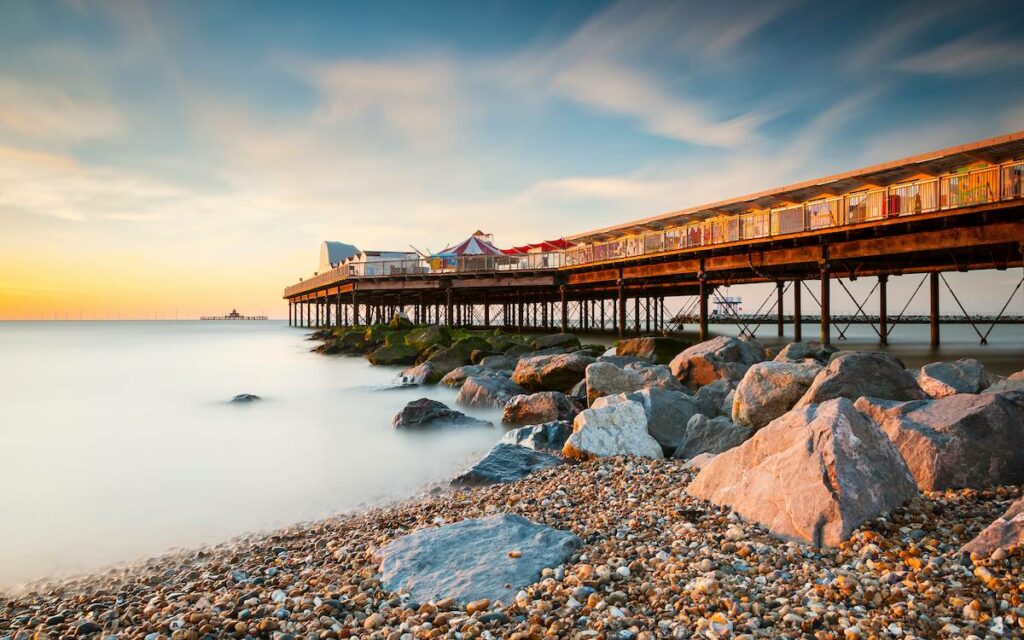 Herne Bay may have begun its life as a shipping port but it's way more than that these days. It grew to become one of the most popular beaches of the Victorian era – and has remained a popular day trip from London beach destinations ever since.
Today things aren't quite as frenetic, but Herne Bay is still much-loved by locals as well as Londoners – partly because it's a cool beach you can get to London from by train.
It's a pretty pebbly beach with many family-friendly attractions nearby. Plus, there's plenty of fish and chip shops – a non-negotiable for a day at the seaside near London.
Getting There: Train to Herne Bay Station, and there are regular train services from Victoria, Cannon Street and St Pancras. The journey takes about 1.5 hours.
Southend-on-Sea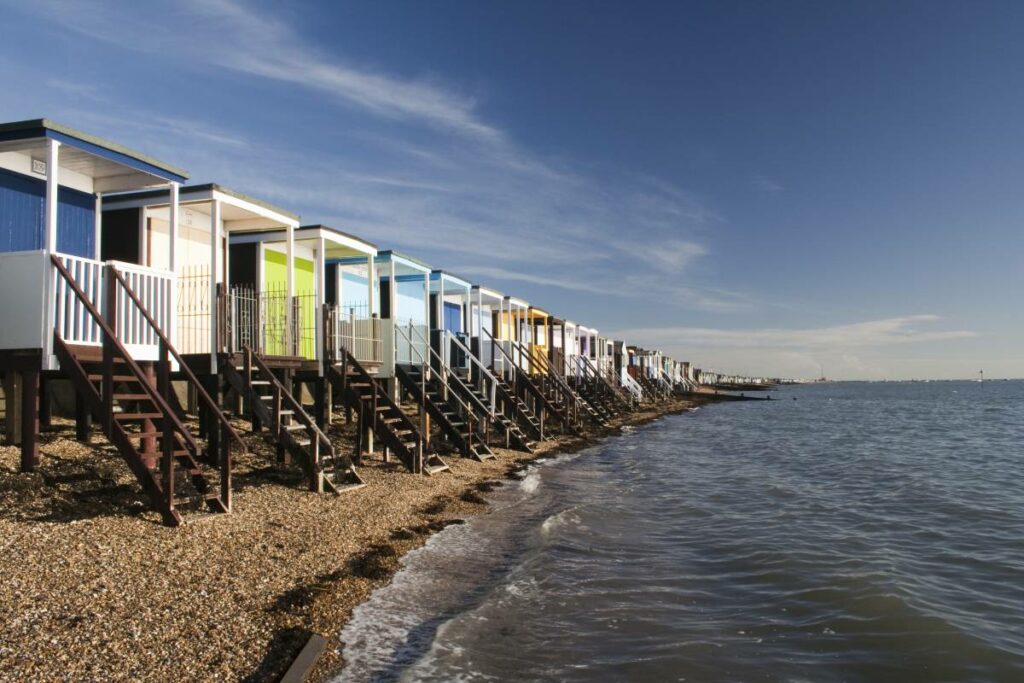 Southend-on-Sea is pretty much the closest beach to London. Perched at the end of the River Thames, the town boasts not one but EIGHT beaches.
Three Shells is the most central, while Chalkwell Beach and Westcliff are pretty nice (though be warned, they're not as pretty as some of the other beaches featured in this guide) – my pick is Leigh Bell Wharf Beach but it's small and can get busy during warmer days.
Getting There: Trains run from Fenchurch Street and Liverpool Street to Southend Central and Southend Victoria station and take about an hour each way. It couldn't be simpler to get to the nearest beach to London.
Whitstable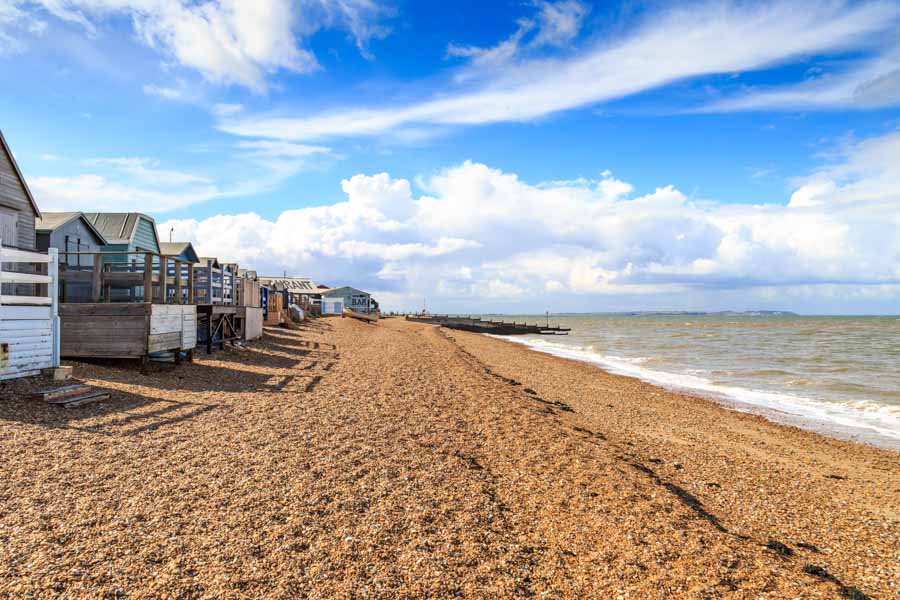 What's the perfect accompaniment to a day out at the London seaside? Delicious seafood, of course – and Whitsable's is highly acclaimed.
There are plenty of great restaurants and cafes to choose from, as well as one pretty gorgeous beach. That's Tankerton, a charming pebbly beach that's much loved for its picturesque shoreline.
Plop yourself down ready for a day of sun-worshipping and a few indulgent oysters.
Getting There: It's easy to access from London; just take the train from Victoria, Cannon Street or St Pancras to Whitsable, and you'll be there in around 1.5 hours.
Hastings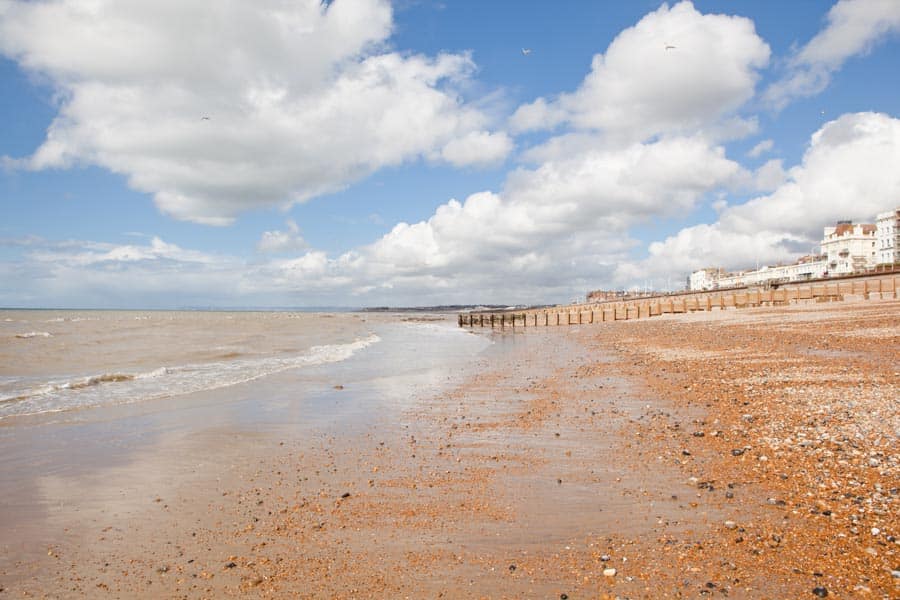 For something a bit different, head to West Sussex to experience Hastings, a beautiful pebbly beach with a few sandy sections.
Although Hastings doesn't have the same well-heeled reputation of some of the Kentish beaches (read: it's got a reputation for being a bit rough), it has been recently revamped and is making waves.
In particular, it's good for families with older kids as there's a new, ultra-swish underground BMX skatepark that is the world's largest.
Of course, you could just enjoy the sea and surf.
Getting There: Hastings is easy to get to with frequent trains that take just under two hours to travel from Charing Cross, Cannon Street or St Pancras to Hastings.
Hove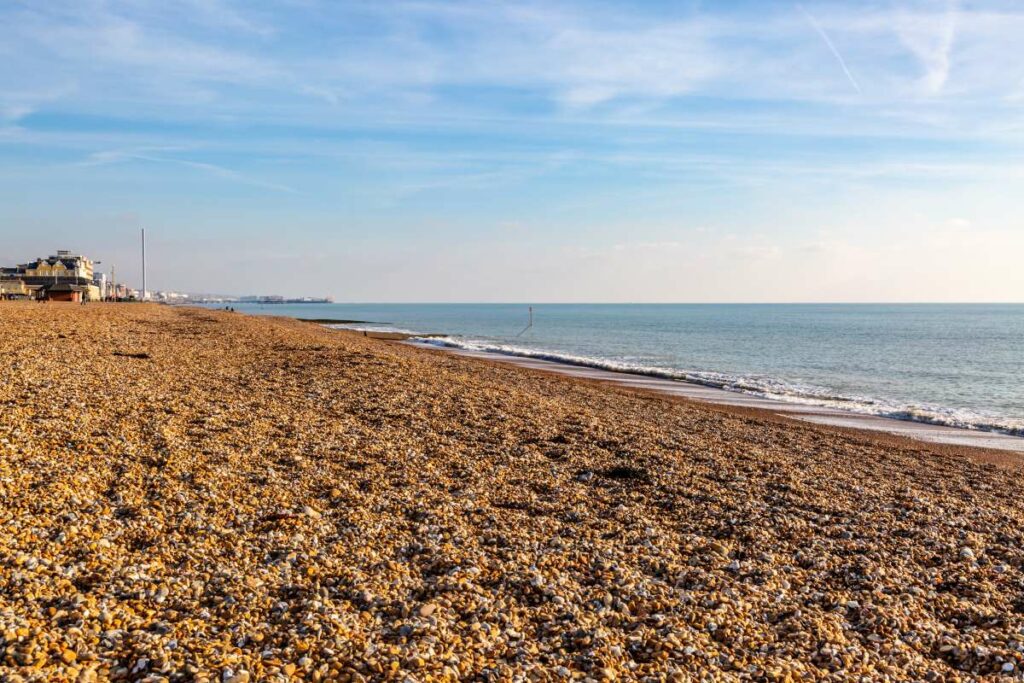 Brighton's more refined sibling, Hove, is a fabulous seaside day trip from London in its own right.
From the beautiful beach, you'll be looking up at seaside mansions that have attracted the likes of Adele and Paul McCartney.
The beach here is pebbly, but that doesn't stop people from setting up for a day of sunbathing, punctuated by stops at the nearby trendy cafes.
Getting There: To get to Hove from London, you'll want to get the train to Brighton, and then it's another short hop across to Hove. In total, the journey takes about 1.5 hours.
Eastbourne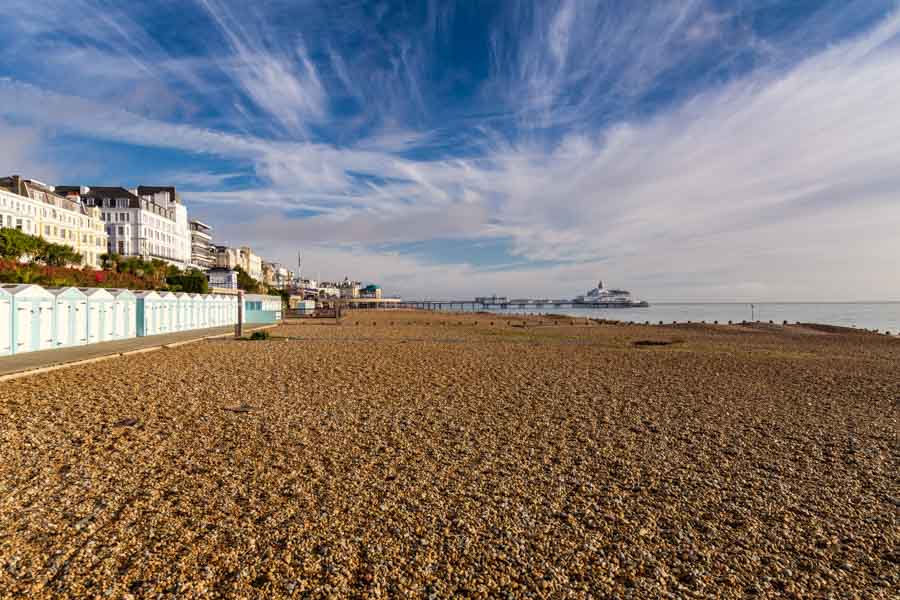 Yet another seaside town that was a favourite haunt of Londoners during the Victorian era is charming Eastbourne in East Sussex.
If you're looking for a sandy beach near London, it's probably not ideal – it's really pebbly. Nonetheless, the historic homes and charming vibe certainly make up for it.
There's also an antique pier that adds to the Victorianesque charm.
Getting There: Part of the reason for Eastbourne's popularity is the ease of access from London – simply hop on the direct train from London Bridge or Victoria, and you'll be at Eastbourne in about 1.5 hours.
Climping
Finding a beach you can enjoy pretty much to yourself is a pipe dream at many beaches near London; but not at Climping.
Honestly, it may not be England's prettiest beach, but there's a stretch of pebbly shore and water where you can take a dip. Plus, what's a bit of pebble when you have plenty of room to stretch out your towel?
Getting There: Located in West Sussex, Climping Beach is about two hours from London. The most direct route is to catch the train from Victoria to Littlehampton. The three-mile walk to the beach is beautiful and very popular, or you can get a taxi.
Camber Sands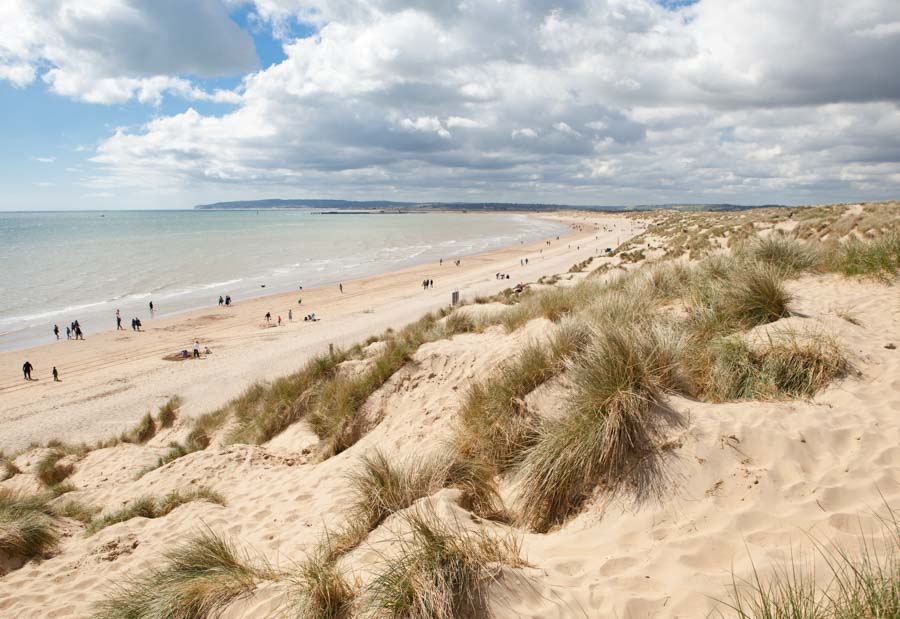 Who says there are no beautiful sandy beaches near London? Anyone who says this obviously hasn't seen Camber Sands – or the many movies it has featured in.
This is a true sandy beach, with a long, five-mile stretch of shoreline for walking or sunbaking along. Then there's the calm and clear waters. Bliss.
It's particularly popular amongst kitesurfers, although during the summer it gets a tad crowded.
Getting There: Camber Sands is only about an hour from London – just hop on the train from St Pancras to Rye. From there, there is a bus to Camber Sands.
Bournemouth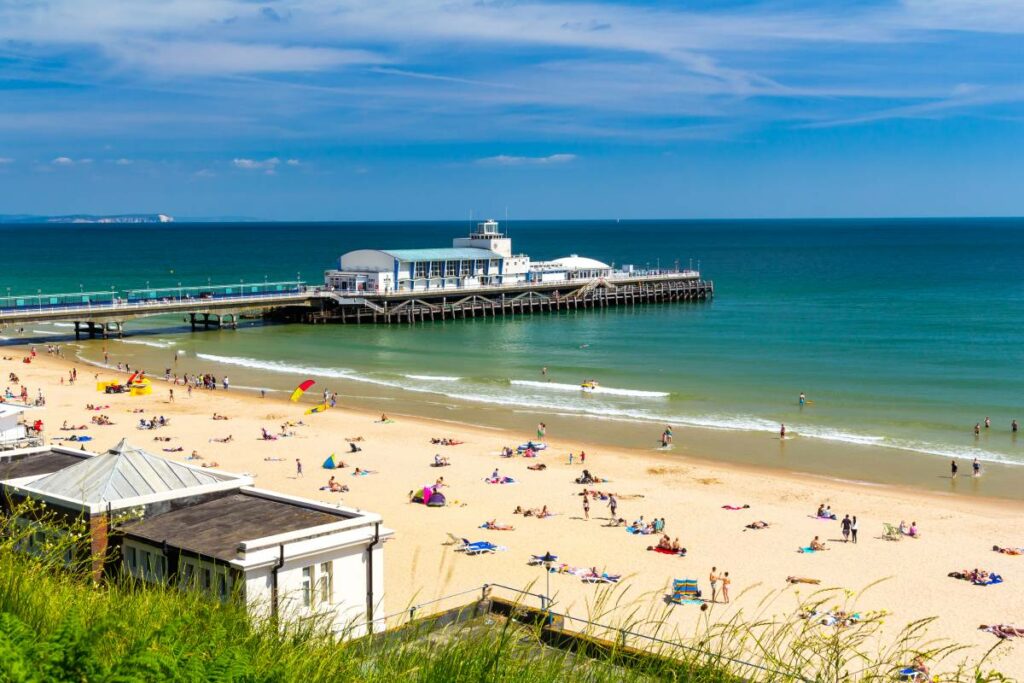 If you're looking for that postcard-esque beach near London, then Bournemouth is a pretty great choice.
With over 11 miles of sand (yes, that's not a typo), there's plenty to go around here. You can even kick a football.
Some parts of the beach are pebbly, but others – like the aptly named Sandbank – are glorious sand – pretty simple explanation for why it's known as one of the best sandy beaches near London.
Getting There: There are frequent direct trains from Waterloo to Bournemouth, and the journey takes around two hours.
West Wittering
Another option if you want the quintessential seaside near London experience – sand, swimming and all – is beautiful West Wittering.
As well as the gorgeous beach itself, it also offers beautiful views of the picturesque Chichester Harbour. You're also likely to spot some kite and windsurfers doing their thing in the pristine seas.
Getting There: There are several direct trains from London Victoria to Chichester, or you can swap over in Woking. If catching the direct train, it's about 1.5 hours from London.
Goring Beach
If you prefer your seaside towns less about resorts and more about humble fishing boats, then you'll love picturesque Goring Beach.
This pebbly beach in West Sussex has largely avoided overdevelopment, and it still has a quaint, traditional feel. If you do crave a little more excitement, there is a small town nearby with a selection of cafes, restaurants and pubs.
Getting There: Getting to Goring Beach is quite straightforward – there are numerous daily trains from Victoria or London Bridge to Durrington-on-Sea. From here, it's less than a 20 minute walk to Goring Beach.
Just make sure you're headed to Goring-by-the-Sea, as there's another one near Reading (which lacks a beach, though it is very pretty).
Bexhill on Sea
If you want your day at the seaside along with a hefty dose of British history, you really can't look past Bexhill on Sea. Of course, simply lazing by the shore is an option, too.
The area is extremely historic, with a history stretching back well over a millennia. If you can draw yourself away from the beach, the town of Bexhill is utterly charming.
So too is Bexhill Beach. Like most of the beaches in Sussex, it's predominantly pebbles – but it has a lovely atmosphere, complete with beach huts and even lifeguards to keep swimmers safe.
Getting There: There are direct trains between Victoria and Bexhill on Sea, although they are somewhat infrequent. The other option is to get a connection via Brighton, Hampden Park or Ashford International. It usually takes just under two hours in total.
Ramsgate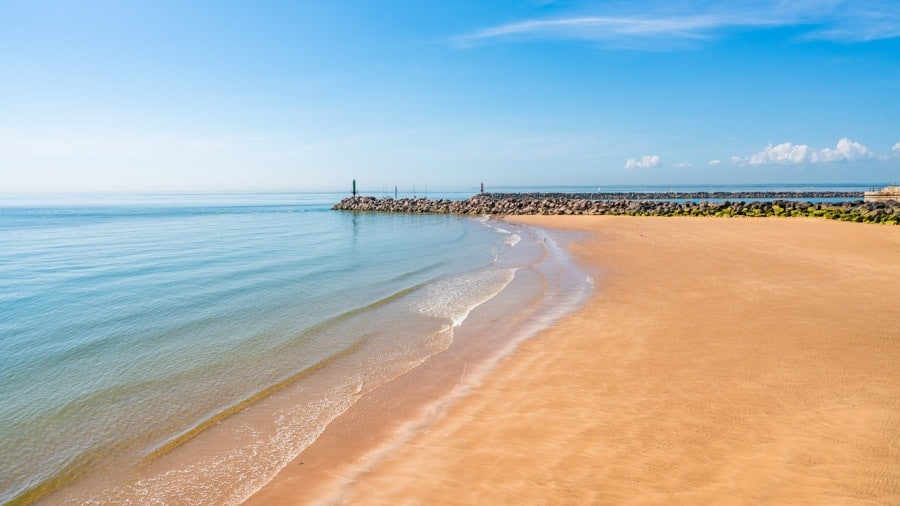 Ramsgate's centuries-long popularity is no surprise, given its one of the closest sandy beaches to London.
It also boasts picturesque chalk cliffs, as well as a marina and harbour – so there is plenty to admire here. There are also a few rides for children, so it's a great choice for families.
Of course, everyone can enjoy the swathes of sand and nearby restaurants and cafes (including plenty of fish and chip shops, of course).
Getting There: The popularity of Ramsgate means there are plenty of trains from the capital to the seaside town. Direct trains frequently depart from Charing Cross, St Pancras and Victoria, and take between 1.5 and two hours each way.
Other Brilliant Beaches Near London
Kingsgate Bay – Broadstairs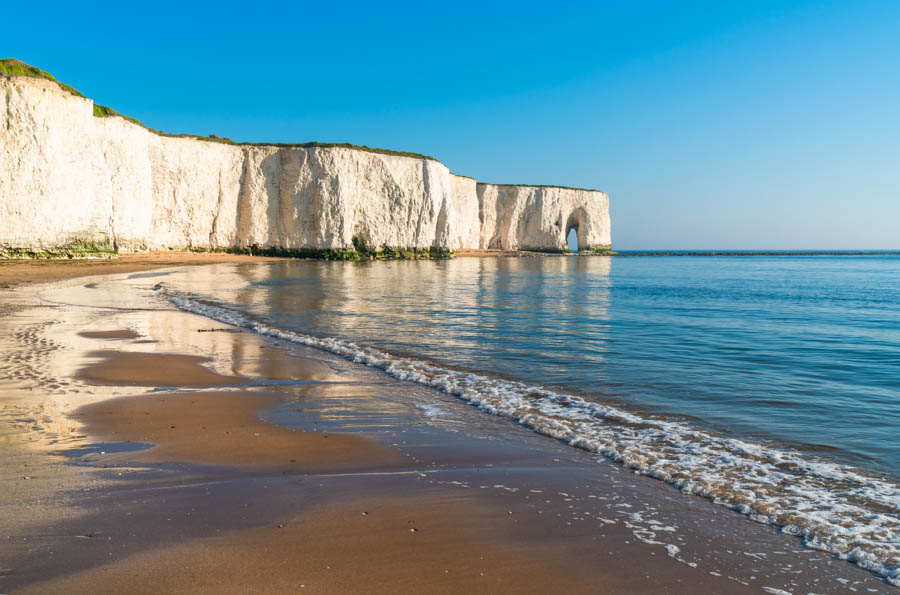 Beautiful Broadstairs is another seaside resort town that's been popular as one of the best seasides near London since the Victorian era. We can see why – it's awfully picturesque.
Kingsgate Bay is a particular delight, with a long stretch of soft sand. Most uniquely, the beach is flanked by stark white cliffs, which makes it one of the most recognisable beaches in England.
Within them, you'll find a collection of sea caves to explore.
Getting There: The best way to get to Kingsgate Bay is to travel from St Pancras or Victoria to Margate, and then get the "breeze" bus to nearby Kingsgate.
Cuckmere Haven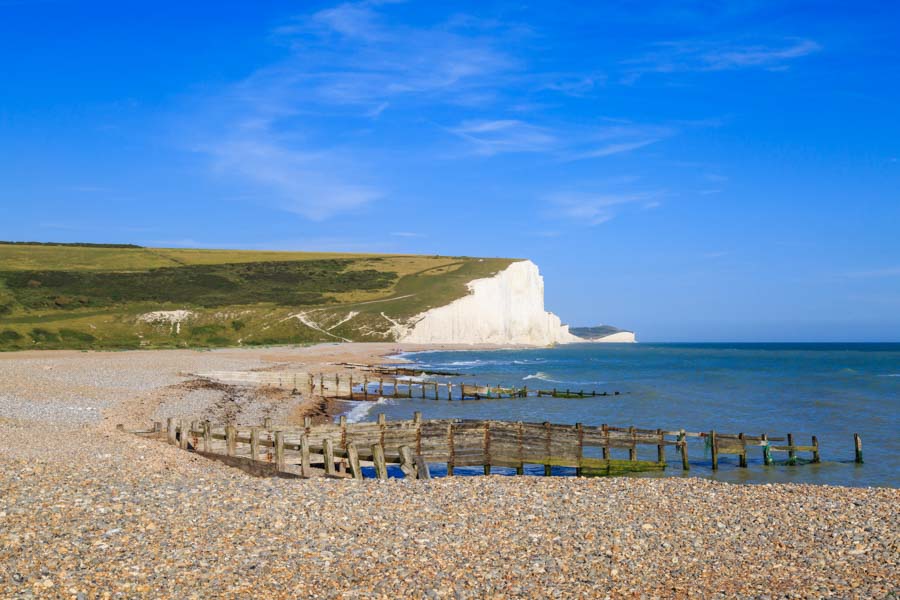 The iconic views of Cuckmere Haven are thanks to the meeting of the River Cuckmere with the English Channel.
If you love nature then this spot is pretty special. In just a short walk, you can see the beautiful chalk cliffs known as the Seven Sisters, as well as observe where the river meets the channel.
The beach is pebbly, but the gorgeous views really make up for it. Who needs sand when the landscape looks like a painting come to life? Absolutely one of the best beaches close to London for the views alone.
Eagle-eyed Harry Potter fans may even recognise the backdrop from Harry Potter and the Goblet of Fire.
Getting There: To experience it for yourself, you'll need to get to the nearby town of Seaford and then walk (or taxi) down. There are buses from either Eastbourne or Brighton, which are both directly linked by train to London. The total journey should take about 1.5 hours.
Read Next: Harry Potter in London – Following in the Footsteps of the Boy Who Lived
Felixstowe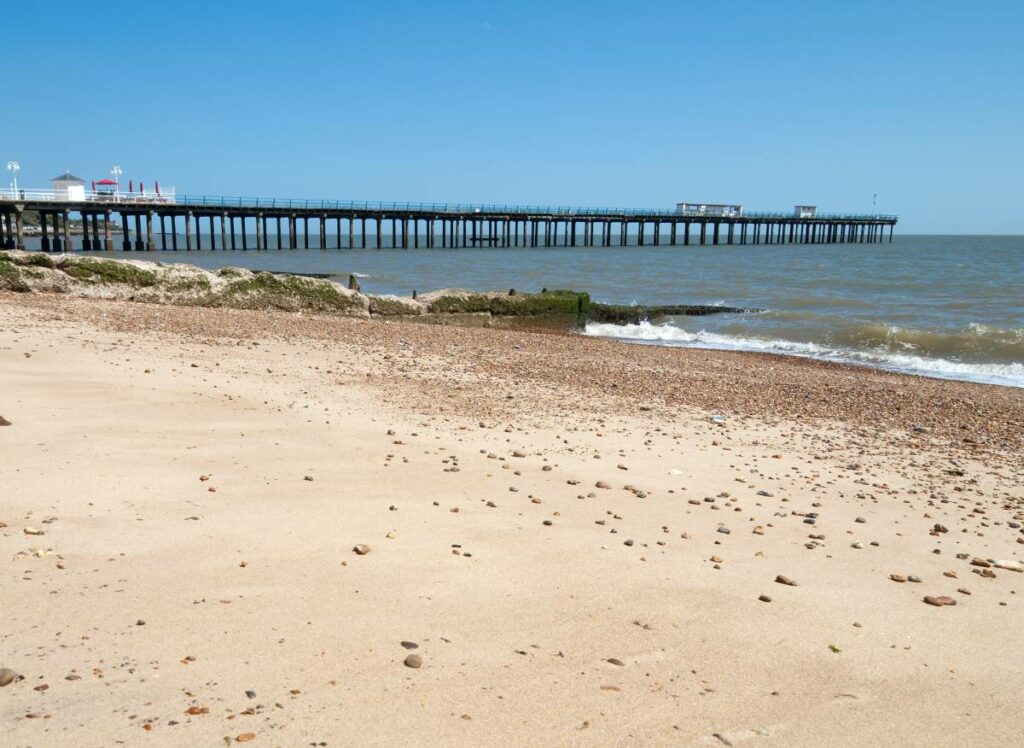 Felixstowe is a family-friendly beach with plenty to do – with or without the family in tow.
A sand/shingle beach, Felixstowe is particularly renowned for "shelling", and you can pick up some gorgeous souvenirs to take home (just make sure there's nothing alive inside). Don't knock it – we'll be surprised if you can leave without at least a few stashed in your pocket.
The sea is also very clear, so if you're looking for a London beach where you can go swimming – do check it out.
Getting There: Located in Suffolk, it's a little further afield but still a very manageable day trip. You can take the train from Liverpool Street Station to Ipswich, and then catch local buses to Felixstowe (there are many).
Greatstone Beach Romney Marsh
If you're one of those people who believe a beach should be sandy – fair call – then Greatstone Beach Romney Marsh is a great option.
The sand here is particularly soft and beautiful, as a result of being washed by the tide of the English Channel for thousands of years.
The soft sand and wide beach is sure to impress, and there's a beautiful coastal walk that takes you around the sand dunes nearby. It's also a good choice for active beachgoers, as everyone from dog walkers to horse-riders and kite-surfers are welcome.
Getting There: To get to the beach from London, you're best bet is to catch the train from St Pancras to Folkestone Central, where there are buses on to the beach (the 102 is the most direct). You can also go via Ashford International or Dover Priory (from Victoria), but it is slower.
Pevensey Bay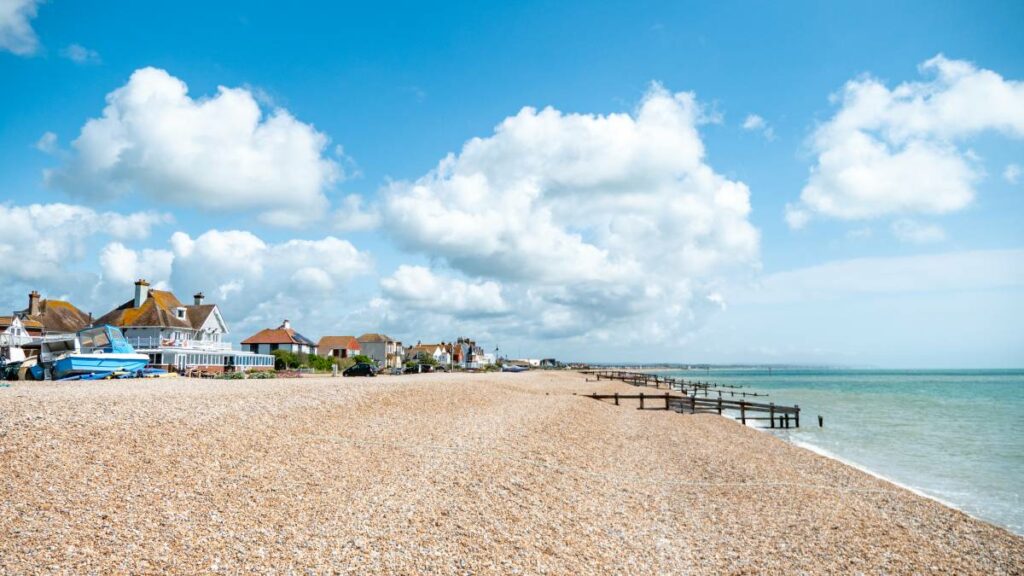 Charming Pevensey Bay is a relatively small beach, which means it doesn't experience the crowds of some others on this list. Did we say a beach near London without the crowds? Yes we certainly did.
So, if you're looking for a quiet day at the seaside away from the sunscreened masses, then this is a great choice.
It's a pebbly beach with calm water – so it's generally better for swimming, sunbathing and walking than building sandcastles. There's also an old castle (Pevensey Castle) nearby, if you're looking to combine activities.
Getting There: The most direct way to get to Pevensey Bay from London is to take the train from London Victoria to Hampden Park Station, where there are numerous local buses the rest of the way – the 55 being the most direct. In total, the journey takes around 2.5 hours.
Read Next: 15 Castles for the Perfect Day Trips from London
Isle of Grain
Handily located near Rochester in Kent, the Isle of Grain beach offers areas of shingle and sand on the Hoo peninsula – though, we don't know about you, but we'd always pick sand.
Not only is this one of the closest beaches to London – just over an hour's drive away – but you've also got pretty woodland nearby so you can go for a walk, settle on the beach, or even have a go at rock pooling in one of the many spots dotted across the sand.
Pssst… keep your eyes peeled over the water as you might just be able to spot Essex across the way!
Getting There: It's a pretty straightforward drive to the end of the B2001 towards the Isle of Grain. Head past St James Church and you'll reach the Grain Coastal Park car park – ME3 0BS.
Botany Bay
Often overshadowed by the nearby Margate, Botany Bay is another gem on the Kent coast (and arguably the best beach near London!).
This beautiful white sand beach near London was once a haven for pirates, and you can still see the caves carved into the cliffs where they once hid – climb in and take a peek for yourself!
For the ultimate British seaside escape, head to the Botany Bay Hotel and treat yourself to picturesque views of the bay whilst you munch on a pub lunch.
Getting There: Whilst you can get a train there (with a change and a short walk), we recommend driving the 80 minutes to the Kent Coast – it's super easy.
St Margaret's at Cliffe
Whilst it's not the closest beach to London, St Margaret's at Cliffe is worth the drive. Situated under the iconic white cliffs of Dover, this is a charming shingle beach with a historical twist.
This beach offers the best of both worlds: a perfect place to relax, or you can spot WWII defences at the south of the beach and head to the cliffs to navigate a network of secret tunnels that were key during the war.
Or, if that's not your thing, make your way to the Coastguard pub for drinks overlooking the water.
Getting There: For a car journey under two hours long (much quicker than the trains here), head to Dover via the M2 and A2, before travelling on the A258 at Guston until you arrive. Don't worry, you've got plenty of parking options available to you.
The Naze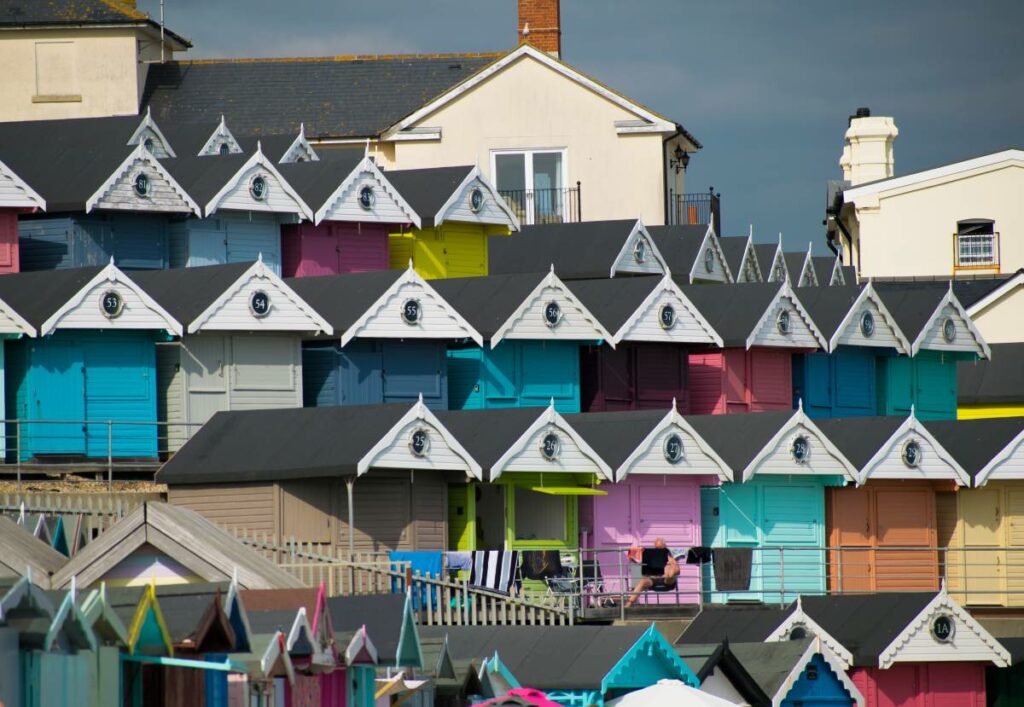 For a quieter beach near London, head to The Naze. It's hard to miss, just find the colourful beach huts and turn the corner to a hidden sandy spot.
This beach is pretty impressive – where else can you still stumble across million-years-old shark teeth nestled in amongst the cliffs? Whether you want to spend a day splashing in the sea or enjoying the 30-mile views from atop the nearby Folly Tower, this is a little slice of paradise near the capital.
Getting There: To get to The Naze, you'll need to head north through Essex towards Frinton-on-sea. This is a 90-minute drive, but it's well worth it for the pretty views. Naze car park is nearby, so make sure to pack those deckchairs!
Frensham Beach
Well, technically the title of this spot is Frensham Great Pond, however, that doesn't quite have the same ring to it. In fact, that's doing this beachy location a huge disservice.
Located in Frensham Common, the beach boasts plenty of sand and two separate swimming areas – so you can get all your beachy needs without having to travel to the middle of nowhere.
As you may expect this beach gets incredibly busy when the sun comes out, so head here early to grab a great sunbathing spot.
Getting There: To get here, take a train from Waterloo to Farnham and then hop on bus 19 towards St Mary's School. Alternatively, it's a 90 minute drive from central London.
Mersea Island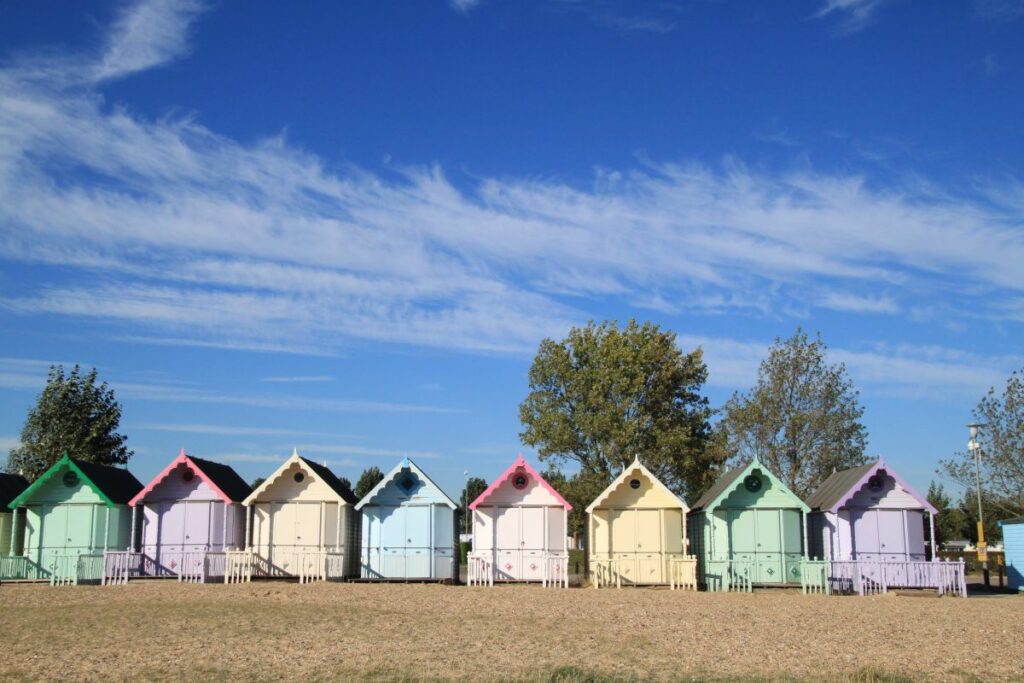 Known for having an abundance of fresh seafood on the island, Mersea is a haven for those looking to eat oysters and shellfish (make sure to visit The Company Shed for lunch).
This beautiful island and surrounding beach has a somewhat tropical feel to it, which is only aided by the pastel coloured beach huts that line the coast. We'll be honest, Mersea Island boasts some of the best sand in the UK – not a horrible shingle in sight.
The island and beach is only accessible for part of the day so be careful, as you need to make sure you're back on the mainland before the tide comes in at sunset.
Getting There: Logistically, getting to Mersea Island can be a little bit tricky. But, we promise it's worth the planning. To get to this little island from London, you need to take a train from Liverpool Street to Colchester, followed by the bus 86 towards Mersea. In all honesty, it's worth renting a car for this trip as you need to time your visit with the tides.
Joss Bay
Known by many as Kent's best beach, Joss Bay is a little cove sheltered by soaring chalk cliffs. While it gets incredibly busy during the summer months, it's worth heading here early to nab yourself a little corner of bliss.
If you're a surfer, you'll want to visit Joss Bay – it's known for having the best waves in Kent (it's not quite Newquay, but it comes close). There's a surf school just on the fringes of the beach and also a golf club if you fancy playing a round or two.
We're more than happy just to recline on the sand with a book, though.
Getting There: Take a train from Victoria to Ramsgate, followed by a bus to Knight's Avenue and a short walk to the beach.
Folkestone Beach
Known for having some of the clearest waters in the South East, Folkestone Beach is a lovely place to be if you plan to spend most of your time in the water. It also has the benefit of being very easy to get to (just a train ride and a short walk from central London).
Being right on the edge of Folkestone you'll also have more than enough options for food, drinks, and of course, the all important ice creams.
Getting There: Take the train from St. Pancras to Folkestone Central and take a short walk (10-15 mins) through town to the beach.
Dungeness East, Lydd
You won't find much sand here, but what you will find is an expansive shingle beach – one of Europe's largest in fact. Though it's not particularly bucket-and-spade material Dungeness East is a strangely beautiful place with heaps of charm.
Don't take our word for it. The area has been home to artists, writers and thinkers for hundreds of years, including and most recently director Derek Jarman. We back their decision. A brisk walk along the seafront is as good for clearing the head as a freezing dip in the sea.
Nature lovers will also get a particular kick out of the 600 species of flora and fauna on the coast.
Getting There: You'll probably want to drive. Taking public transport can be a close-to-three-hour ordeal involving heady combinations of buses and trains. Driving will take a little over an hour.
Shoreham Beach
Just a little further along from Hove beach (and therefore, Brighton) you can find the idyllic Shoreham Beach – idyllic because while Brighton beach groans under the strain of all those seaside-seeking Londoners, Shoreham remains relatively quiet.
The quality of the beach itself is much the same as Brightons. Lots of rocks, a similar brownishness to the channel water. Stroll east along the beach and you'll find a slice of history in Shoreham Redoubt, a 19th century fortification.
Getting there: You can take a train direct to Shoreham from Victoria, or take the 700 bus from Brighton. Of course, trains also run from Brighton station.
Beaches Near London: Map
Practical Information + Tips
What's the Best Way to Get to the Beaches Near London?
Generally it's easiest to catch the train to these beaches near London – we've chosen ones that are easy to get to on a day trip.
You can drive of course, but be warned that parking in many of these seaside spots can be tough (and frustrating) plus the traffic getting there and back can be pretty hectic on warmer days.
There are plenty of tours running day trips from London, which can also be an easy option. Check Get Your Guide to find a tour.
What is the Closest Beach to London?
The closest beach to London is Southend-on-Sea, which has eight beaches for you to choose from.
Which is the Best Beach Close to London?
Tough call, but Camber Sands is probably the best beach close to London as it is a sandy beach with gorgeous views and plenty of amenities.