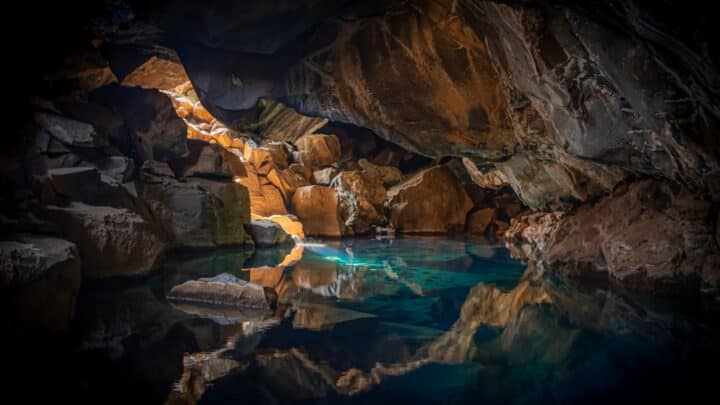 Ready to make your next adventure an underground one at one of these thrilling caves in and around London?
Did you know that London has underground caves that you can explore?
Well they're not all technically in London, but are still easily accessible via public transport.
These caves are drenched in history, shells, cockles, mosaics and sometimes even in the middle of a maze.
Many of these caves were created by famous poets, private pagan clubs and lived in by medieval queens– they're as spooky as they are enchanting and well-worth a visit.
Let's head underground to these unmissable caves in and around London.
Stunning Caves in and Near London
Chislehurst Caves
Kent
Chislehurst Caves in Kent are seeped in history; they were carved out over one hundred years ago for chalk used in lime burning and brick-making for the buildings of London.
The caves are a labyrinth of man-made tunnels spanning 6 hectares, sitting 30 metres below the homes and woodlands above, and were once used as a shelter during the blitz.
Today the caves are a thrilling tourist attraction with a gift shop, cafe and a guided lamp-lit tour– it's easy to get lost if you stray from the group in its mysterious passageways, so be careful.
How to get there: The Chislehurst Caves are just 30 minutes by train from London Bridge to Chislehurst.
Crystal Grotto
Surrey
Crystal Grotto provides a heavy dose of magic with shimmering, bubbling water and rough rocks – there's a photo op at every corner.
The aptly named Crystal Grotto at Painshill in Surrey was created by Charles Hamilton in 1738 as he wanted to create the garden and lake as a living painting. Large enchanting crystals hang from the grotto so mesmerising you won't be able to look away.
Take a stroll around the beautiful lake and admire the Crystal Grotto at Painshill Park, before retreating to the cafe for a slice of cake and a coffee.
How to get there: To get to Crystal Grotto take the South Western railway from Waterloo to Weybridge, followed by the C1 bus to the fire station. Alternatively, it's a pleasant 60 minute drive from Central London.
Reigate Caves
Surrey
Reigate in Surrey is well known for its impressive caves near London, most of which are old sand mines.
The castle mound overlooks Reigate town centre and was mined for several centuries, the castle has long gone but what's left is a fun underground experience you won't want to miss.
Book yourself onto a guided tour for Baron's Caves in the castle grounds– rumour has it, it was once a castle dungeon.
Tunnel Road Caves is also closeby and worth a visit as it has lived through two world wars. It's even the oldest road tunnel in Britain.
How to get there: It's simple – take the train to Reigate from Victoria Station and you'll be there in less than an hour.
The Grotto Leeds Castle
Kent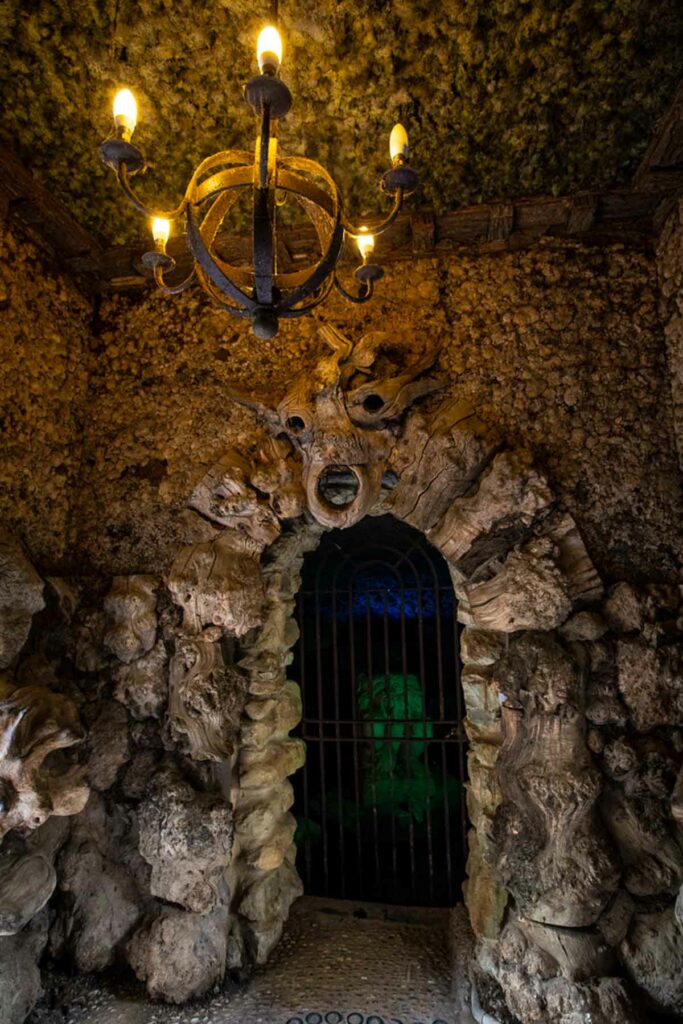 The Maze and Underground Grotto at Leeds Castle in Kent is one of the best caves near London to visit.
Leeds Castle has been the private property of six England medieval Queens and was used by Henry VIII and his first wife Catherine of Aragon– it's since become the most visited historic building in Britain.
To reach the grotto you'll need to complete a maze with a series of twists and turns through 2400 yew trees. When you've reached the middle of the maze you can return to civilisation through the grotto– or just stay in the maze forever if you're afraid of the dark.
The underworld grotto is alluring with mythical beasts created from shells, minerals and woods embezzled into the walls.
How to get there: Take a train from Victoria to Maidstone, and then hop on the X10 bus towards the Great Danes Hotel.
Pope's Grotto
Twickenham
Built by the 18th-Century poet Alexander Pope, Pope's Grotto sits in the grounds of Radnor House School in Twickenham. The grotto was built when Pope lived in a villa on site and it's the best cave in London to visit.
The grotto is decorated in colourful mosaics that are very interesting to look at as well as the stalactites and sparkling crystals. You can really admire how much time went into constructing this masterpiece– sadly Pope kept on extending the grotto and died before it was completed. And in 2015 the Pope's Grotto began restoration with help from the Heritage Lottery Fund.
How to get there: Check the website for monthly open days and plan your visit – it's only 40 minutes from Waterloo.
Shell Grotto
Margate
The mysterious circumstances surrounding Shell Grotto make it the spookiest cave of them all. To be honest there's not a lot of answers as the cave was only discovered by chance in 1835.
No one knows how long it has been there for or what its purpose was– but this just makes us more curious. The look of Shell's Grotto is mystical and magical and it's dressed in shells from floor to ceiling. A whopping 4.6 million shells, to be exact.
The shells are mostly cockles, oysters, mussels, whelks, limpets and razor shells that are typically found along the British Isles. Though the odd Carribean Queen conches can be seen throughout the grotto which only adds fire to the confusion. Definitely one for the 'Gram.
How to get there: Shell's Grotto in Margate is not far from the beach. If you fancy a dip, take the Southeastern fast train from Victoria to Margate and book your tickets online before you go.
Hellfire Caves
West Wycombe
A network of man-made caves that extend an impressive 260 metres underground, Hellfire Caves in West Wycombe really do have a hellish past.The Hellfire Caves are for lovers of the macabre as it's believed that sacrifices, orgies and bacchanals have taken place inside these caves.
The notorious Hellfire Club dug out the tunnel in the 1700's directly beneath a church, the tunnel consisted of a banquet hall, main hall, Franklin Cave and ended in the Inner Temple. The Inner Temple is where the Hellfire Club held conspicuous meetings where unknown criminal acts took place… including pagan rituals. Creepy.
Today the caves are a popular tourist attraction and boast a gift shop and cafe. Though the rumours of the caves being haunted have never ceased.
How to get there: It's seriously easier to drive to these caves, though you can get there via a slew of public transport if you so wish. Take a train from Paddington to Slough, before making your way to High Wycombe. From there it's a short bus ride.
Caves in and Around London: Map
Discover More Day Trips From London