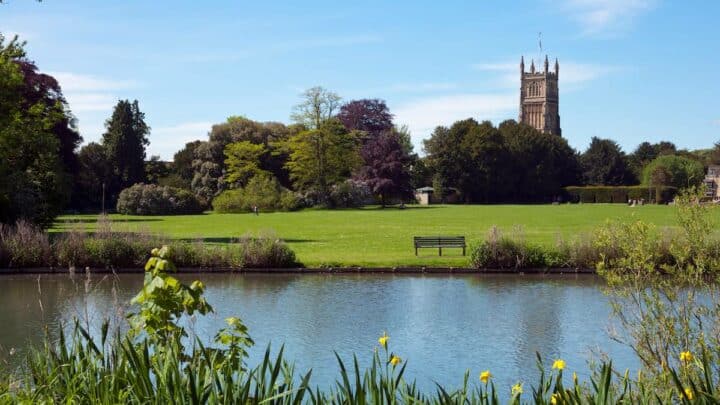 We all love London… but the UK is full of wonderful spots that are ripe for exploration. Planning your next adventure? Here are 28 cool day trips from London to get you started.
London is a great city – but there's so much more to the UK to explore.
Hop on a train or into your car and you can go on an adventure around some of the UK's historic sites and beautiful landscapes.
In need of some inspiration? Check out this guide to the best day trips from London by train and by car.
Sneak a peek at the day trip destinations in this video to see what they look like in action!
Day Trips from London by Train
Planning your day trip from London? We love using Omio for finding the best deals when it comes to train travel around the UK. They work with over 1000 major travel companies to bring you the best deals (including many major airlines if you're looking to travel a little bit further).
Better yet, download the Omio App and you can store all of your travel tickets in one place. This means that you can spend less time organising your tickets and more time planning an adventure. Yes, please!
Oxford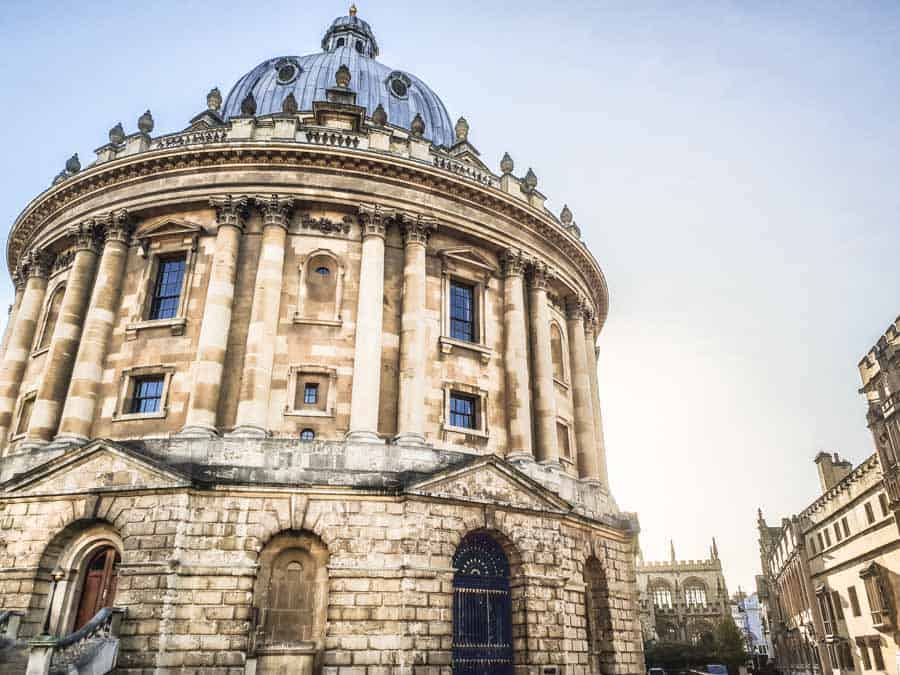 Oxford, the city of the dreaming spires is an easy day out from London. It's only an hour on the train and trains run frequently until the early hours.
We might be biased, but we really think that it's one of the best places to visit in the UK – a gorgeous city that's brimming with history and cool things to do.
While there's a lot to see in the city, its small size means that a lot of the biggest Oxford attractions are within easy walking distance of each other.
From the iconic Radcliffe Camera to the world-famous Ashmolean Museum, you certainly have your work cut out when it comes to seeing Oxford in a day – but it is possible. Start with this 24 Hours in Oxford guide.
Train departs from: London Paddington and London Marylebone
Average journey duration: 1 hour
Hassle-free option: Book this Oxford day trip from London
Read more: The Best Things to do in Oxford
Finding Oxford's Harry Potter Filming Locations
Canterbury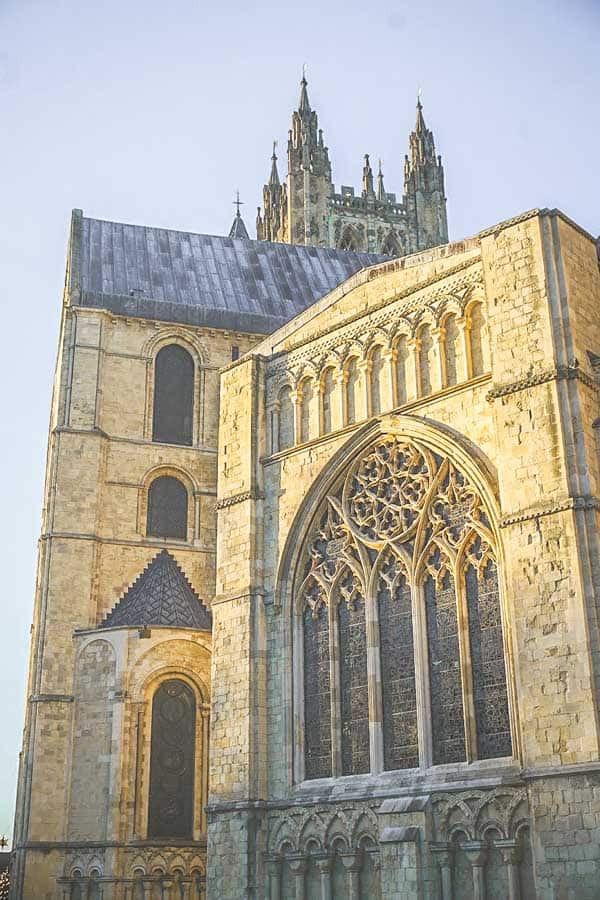 Canterbury has always been an important place to visit in the UK – it was the destination for many a pilgrimage in times past (hence its role in Chaucer's famous Canterbury Tales). It still deserves to be at the top of your list of days out from London today.
What's there to see? How about one of England's great cathedrals, ye olde English pubs and quaint little streets that look like they've been plucked straight from medieval times? Add to that a selection of cool museums and some scenic walks and you've got an excellent day trip in the making.
Train departs from: London Victoria and St Pancras International
Average journey duration: 1 hour from St Pancras, 1.5 hours from Victoria
Hassle-free option: Book this day trip to Canterbury and the White Cliffs of Dover
Read more: One Day in Canterbury Itinerary
Cambridge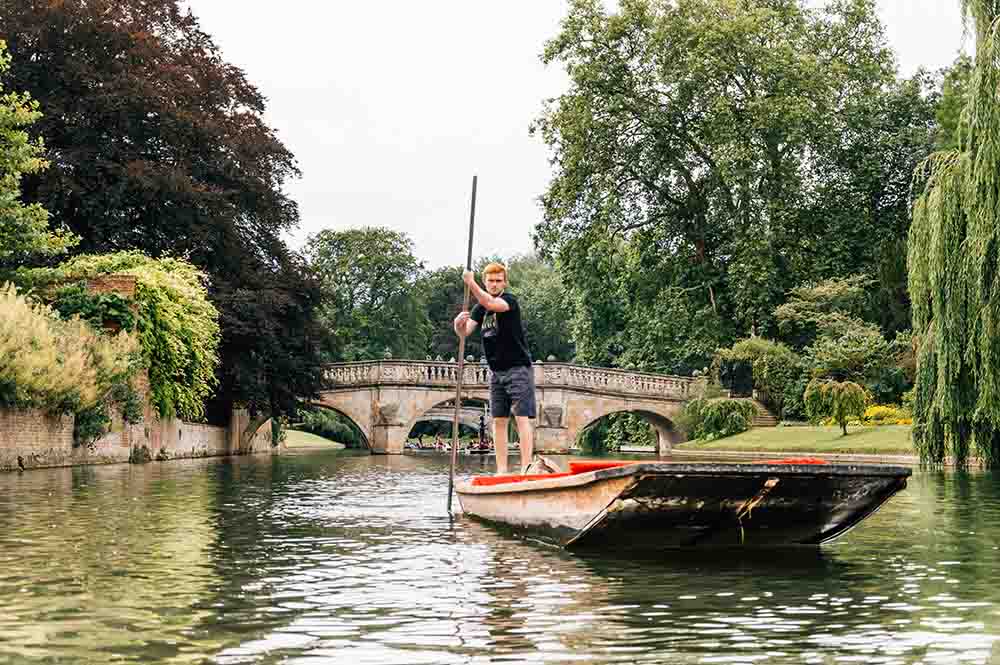 Cambridge is beautiful. This world-famous university town is another popular day trip outside London – and for good reason.
Visiting impressive colleges such as Trinity College and King's College (whose chapel you simply must see) would be enough to fill your day alone. But you should also take time to visit some of Cambridge's other landmarks – The Fitzwilliam Museum and Botanical Gardens among them.
If you're visiting in the warmer months be sure to hire a punt and indulge in the traditional pastime of gliding down the River Cam. Bonus points to you if you don't fall in or lose your pole along the way.
Train departs from: Kings Cross and Liverpool Street
Average journey duration: 50 minutes from Kings Cross, 1 hour 20 minutes from Liverpool Street
Hassle-free option: Book this London to Cambridge Day Trip
Brighton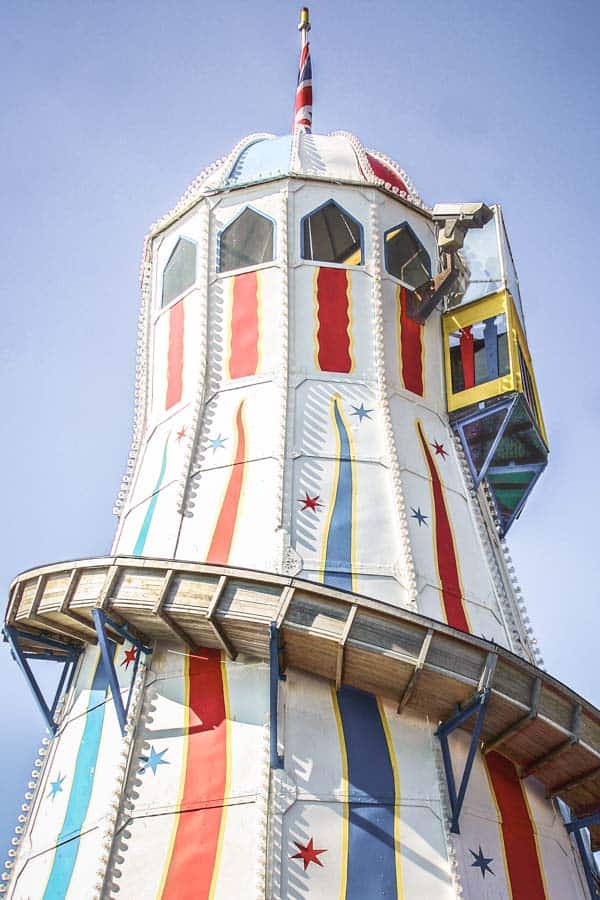 We think that Brighton is South East England's coolest beach destination.
First thing's first – the beach is pebble – so don't get your hopes up with dreams of golden sands. It's still perfectly good for plumping down on your towel and soaking a few rays of the rare British sun.
Away from the beach, Brighton's history as the seaside escape for the UK's rich and famous has left its mark.
Long rows of Regency houses, the long-standing Pier, not to mention the out-and-out fabulous Brighton Pavillion stand as testament to Brighton's colourful past.
There's a thriving dining and drinking scene – and a number of cool little independent shops clustered in The Lanes area. Just be sure not to have so much fun that you miss the last train home (this has totally happened to me).
Train departs from: St Pancras International (also stops at Farringdon, Blackfriars and London Bridge) and London Victoria
Average journey duration: 1 hour
Hassle-free option: Book a bike tour of Brighton (doesn't include transport to Brighton)
Read Next: 21 Brilliant Beaches Near London
Hampton Court
Hampton Court is one of the easiest day trips from London – easy transport connections and short travel time make it perfect for an impromptu trip.
Hampton is pretty much all about the palace – which was first built by the ill-fated Cardinal Wolsey before being pinched by Henry VIII.
All six of Henry's wives lived here at some point or another, before it passed through a number of hands and was finally opened to the public during the Victorian times.
Wonderful as Hampton Court's interiors are, we would recommend visiting during the summer months when the gardens are at their best (avoid the summer holidays if you can though, when it's always busy). Don't miss the maze, which is the oldest surviving hedge maze in the world.
Train departs from: London Waterloo
Average journey duration: 50 minutes
Hassle-free option: Buy your Hampton Court tickets in advance
Bath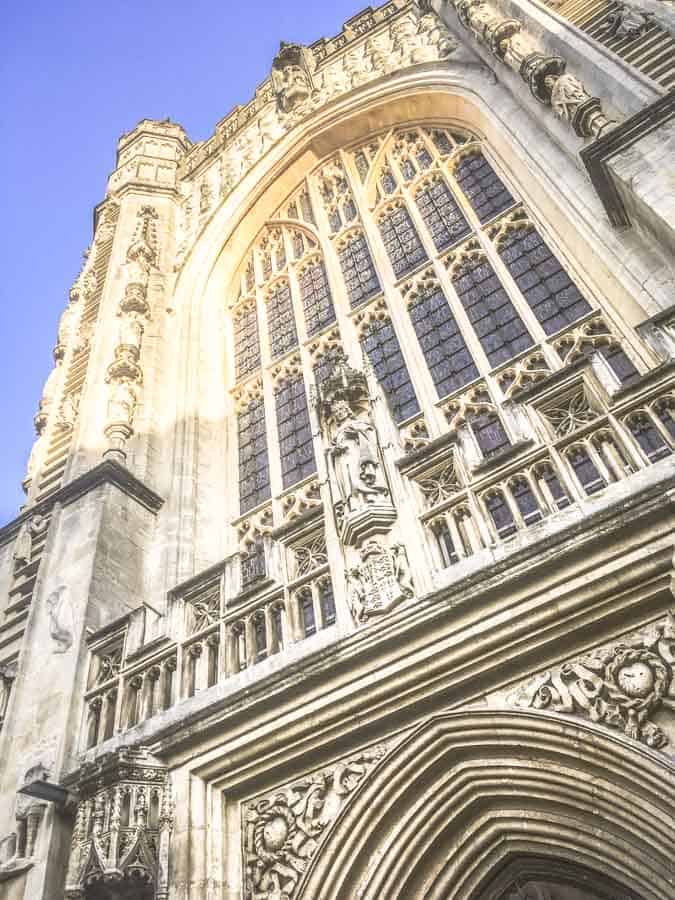 A trip to the Georgian spa town of Bath is like stepping straight into the pages of a Jane Austen novel (not surprising, seeing as she set so many of them there).
Jaunt around town, checking out the city's many historical sites. Start with the immersive experience of the Roman Baths (unfortunately you're not actually allowed to bathe there any more) and the Pump Room.
You can even "take the water" at the Pump Room – sipping on the supposedly restorative waters in the fashion of the hoi polloi of old.
We should warn you that the water tastes absolutely gross though.
Just across the road, Bath Abbey is one of the UK's most beautiful cathedrals – make sure that you take a look inside too, it's just as spectacular.
Small but entertaining, The Fashion Museum walks you through the catwalk of British fashion through the centuries.
Don't think that Bath's spa heritage is dead and gone – it's still home to more than its fair share of spas that are perfect for a spot of pampering.
The reasonably-priced Thermae Bath Spa is a popular option thanks to its rooftop pool and indulgent massages, while the high-end Gainsborough Bath Spa is the place to go when you really want to push the boat out.
Train departs from: London Paddington
Average journey time: 1hr 30 minutes
Hassle-free option: Book this Bath & Stonehenge Day Trip

Windsor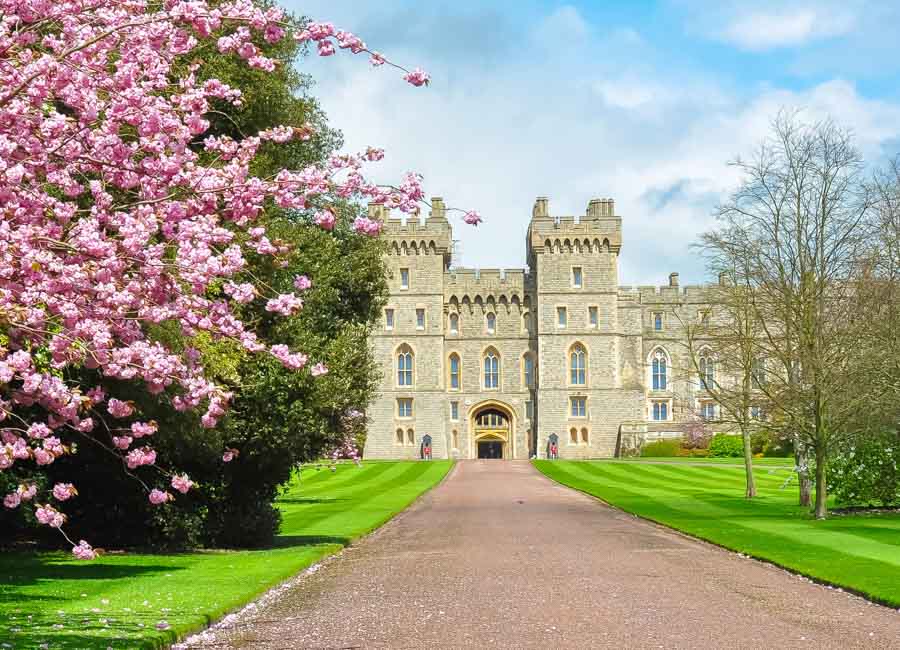 The fact that it's the home of the royal residence Windsor Castle means that Windsor's many other charms often get overlooked.
Windsor is well-known as one of the best day trips from London. Even so, many visitors disembark from the train, make a beeline for Windsor Castle, have a nose around and then head straight back home. It's a shame as Windsor is a rather charming riverside town that merits your attention.
Sure, you should start your visit with a look at the castle, which just so happens to be the oldest inhabited castle in the world. The State Rooms and beautiful grounds take some time to explore.
However, you shouldn't make the mistake of dashing home the moment that you are finished. Stick around to visit the Royal Windsor Racecourse and its more famous counterpart Royal Ascot Racecourse next door.
Or why not walk around the expansive Windsor Great Park then test your skills on the water rowing or kayaking along the Thames?
Train departs from: London Waterloo and Paddington Station
Average journey time: 50 minutes
Hassle-free option: Half-Day Windsor Day Trip and Tour
Read More: 15 Must-Visit Castles Near London
The Lake District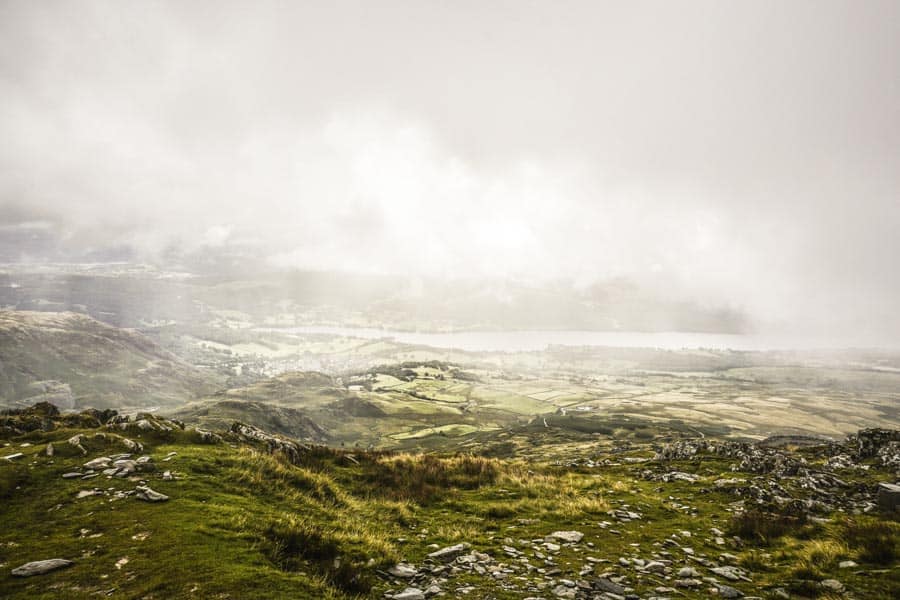 The Lake District is a long day trip from London but it's just about doable and worth the effort if you're short on time and can't stay overnight.
With its gorgeous green pastures, towering fells and chocolate-box villages, it's no surprise that the Lake District tops the list of Britain's beautiful regions. The fastest train to the Lake District takes around 2.5 hours to Oxenholme, so is easiest to tackle on a day trip from London.
Luckily, the area surrounding Oxenholme is ripe for exploration.
There are frequent buses to Kendal, a pretty Lakeland town with lots of cute shops and tea rooms. You can also catch a local train (or taxi) to Windermere – the most famous of the Lakes – the walks around the lake are superb.
As we have already mentioned – The Lake District is not close to London, so you will need to start early and come back late to make it worth the effort.
Don't even think about doing it by car either – you can just about do it by train but you're really much better off staying overnight if you want to drive. Or you can go the full mile and head off on a road trip to a few British national parks.
Train departs from: Euston
Average journey time: 2 hrs 45mins
Hassle-free option: A 10 lake day tour
Read more: Walking in the Lake District
York
Despite being pretty far from London, York is actually not a difficult day trip.
Trains take just a smidge under two hours and run frequently enough that you can just turn up and go.
The walled city is best-known for the Gothic masterpiece that is York Minster but, with more attractions per square mile than any other UK city, there's a lot to see here.
It's tough to cover it all in one day – start with York Minster, the fascinating Yorkshire Museum and York Castle Museum (which comes complete with a restored street of Victorian shops) then add in a few other spots if time allows.
Chocolate-lovers will want to head to Chocolate Story – where you can learn about York's important role in the history of British chocolate and, more importantly, gorge yourself on your own handmade chocolate bar.
Train departs from: King's Cross
Average journey time: 1 hour 50 minutes
Hassle-free option: See the best sights on foot
Lewes
Lewes (pronounced Lewis) often sits in the shadow of nearby Brighton, but there's a lot to charm in the county town of East Sussex on a one day trip from London.
The town itself is pretty, with a few spots like Lewes Castle, the remains of Lewes Priory and the timber-framed Anne of Cleves House to lure you in for an hour or two.
A surprising number of Lewes' medieval buildings have survived the test of time – there's history around every corner.
Personally, we think the spectacular walks in the area surrounding Lewes are also worth the trip. We recommend the six-mile walk to Glynde – there are a couple of steep hills but each step comes with views out over the South Downs.
You can extend the walk to Southease and back to Lewes if you're feeling really energetic – then quench your thirst with a locally-brewed pint of Harvey's when you're finished.
Train departs from: London Victoria
Average journey time: 1 hour
Hassle-free option: This is a DIY trip – but it's really easy
Read More: Fantastic Hikes Near London You Shouldn't Miss
Colchester
Colchester is Britain's oldest recorded town. With a long history that dates back beyond the Roman times, it was a Roman city and traces of that heritage can still be found dotted all over Colchester today.
Walking in the footsteps of the Romans, visit the remains of the Roman wall, as well as the Roman Circus – the only verified Roman chariot-racing track still standing.
Move onto Colchester Castle, which while not Roman itself, displays a few Roman mosaics and many Roman artifacts in the large Norman keep.
The castle is actually the largest Norman keep in Europe – testament to the fact that you can pretty much spy architecture from every single period in British history in Colchester.
Away from the past Colchester also happens to be the home of some very good tea shops. It would be rude not to indulge in a cream tea before you hop on the train back home again.
Train departs from: Liverpool Street
Average journey time: 1 hour
Hassle-free option: Book onto one of the frequent tours run by Visit Colchester
Whitstable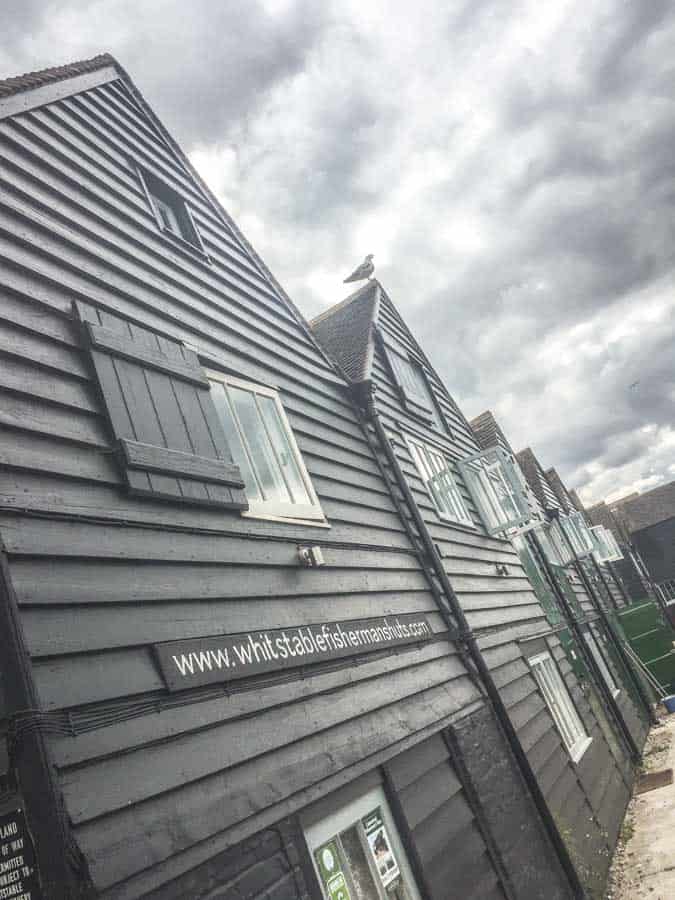 There haven't been nearly enough seaside towns in this guide to day trips around London – time to fix that. Where better to head to than Whitstable with its picturesque, cobbled streets and famous oyster eateries?
There's not a tonne to do in Whitstable – you can visit Whitstable Castle, but really, most of the appeal is wandering around the gorgeous town, seafront and harbour.
Seafood-lovers will be in their element – there's no better place to tuck into a pint of fresh prawns or guzzle down half-a-dozen oysters.
If you're really keen, time your visit for the annual knees up that is the Whitstable Oyster Festival.
Not only can you eat all the oysters you can ever dream of (20 is our personal best), but there's live music and markets selling local wares and wine.
Train departs from: St Pancras International, London Bridge and London Victoria
Average journey time: 1 hour 25 minutes
Hassle-free option: None – but it's a really easy trip
Henley on Thames
More than just the annual regatta that sees it burst into life, Henley on Thames is one of England's traditional market towns.
The best way to explore Henley on Thames is on a self-guided walking tour – be sure to stop by the River & Rowing Museum for a walk through the history of the famous sport.
It contains an immersive Wind in the Willows experience that's just as fun for adults as it is for kids – you're led through the eccentric world of Mr Toad, Badger, Ratty and Mole.
Henley also used to hold the dubious title of having more pubs per head than any other town in the south east. While those days are gone, the upshot is that there are still a number of cool little pubs for you to explore.
Train departs from: London Paddington, change at Twyford
Average journey time: 1 hour 10 minutes
Hassle-free option: Just hop on a train and go and explore
Margate
Margate's renaissance has been a marvel to behold. Once the darling of the British seaside, it had a bit of a slump before transforming itself into one of the UK's coolest seaside spots.
That transformation is complete – these days you're more likely to hear Margate being compared with Copenhagen than with any shoddy seaside town.
There's the Turner Contemporary of course, which turned heads when it opened in 2011 and is still doing so several years later.
Add to that an assortment of chic independent shops, contemporary restaurants and even a gorgeous tidal pool for a quick dip and you'll start to understand why it charms the pants off of so many people.
Train departs from: London Victoria and St Pancras International
Average journey time: 1 hour 45 minutes
Hassle-free option: Check out the Thanet Tourist Board's Page for Inspiration
Manchester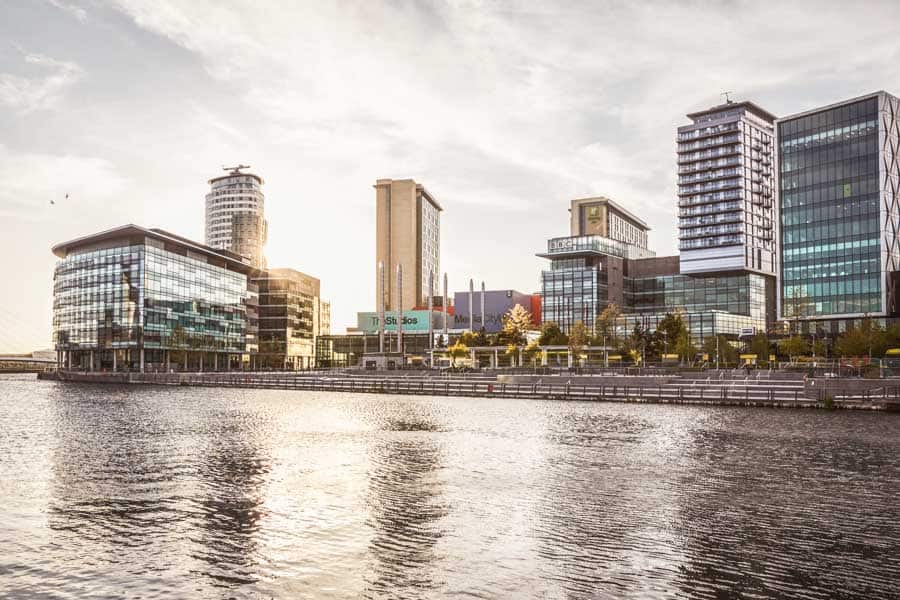 Manchester is the small city that packs a big punch. With a strong culture and identity (think the Industrial Revolution and Oasis and you're on the right track) a visit to Manchester is a breath of fresh air.
There's too much to see in one day – Manchester Art Gallery, Imperial War Museum North, a guided tour of the BBC, the Museum of Science & History among them. If you're a footie fan, a visit to Old Trafford is a must.
Seeing as you're short on time, we recommend stopping off at a few museums, visiting Manchester Cathedral and fuelling up from one of the city's cool eateries. Then, if you're so inclined, stay for a taste of Manchester's legendary nightlife before you head back home.
Train departs from: Euston
Average journey time: 2 hours 30 minutes
Hassle-free option: Book a private tour with a local (transport to Manchester not included)
Bristol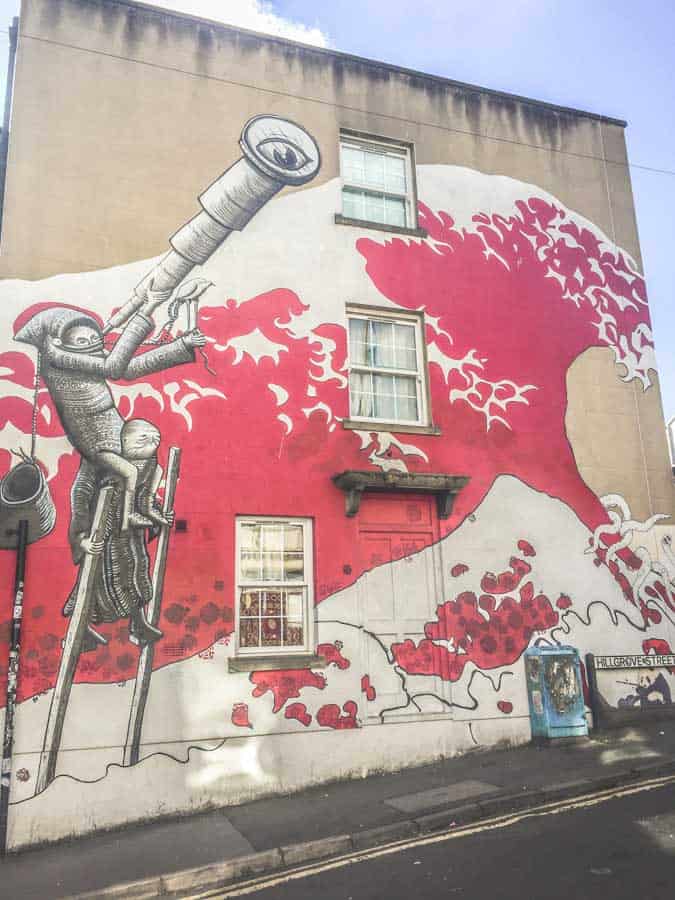 Bristol is one of our favourite cities. The chilled-out, easygoing city (which just so happens to be the largest in the southwest) is a brilliant day trip from London.
Bristol is a city of contrast – on the one hand, there are plenty of big landmarks to see – the Clifton Suspension Bridge, the SS Great Britain being two. On the other hand, a lot of the city's appeal is the cool and quirky culture it's fostered over the years.
A hive of street art, indie cafes (where you can guarantee you'll get a great flat white) and alternative music venues – Bristol is just so damned cool.
It's perhaps no surprise that one of the city's biggest claims to fame is that the street artist Banksy hails from there.
Train departs from: London Paddington
Average journey time: 1 hour 45 minutes
Hassle-free option: Book this Self Guided Tour
Lincoln
Although it was previously a bit far for a day trip, LNER has launched new trains to Lincoln after the success of their Lincoln Experience event, which was part of a Visit Lincoln week celebrating the city.
This is big news. It means that in just two hours you can escape London and make your way to the city steeped in Roman history.
The day trip alone is worth it for Lincoln castle and the picturesque grounds surrounding it, but you've also got plenty of shops, cafes, and pubs to make your way through in the city centre between museum hopping.
Train departs from: London King's Cross
Average journey time: 2 hours 19 minutes
Hassle-free option Book a guided walking tour of the city
Stonehenge
As one of the strangest day trips from London, a visit to the mysterious Stonehenge is a must for everyone. This is a rock formation that has puzzled historians for centuries.
How did the stones get there? Nobody is quite sure, but experts reckon that they were carried for over 160 miles, so they must be pretty special.
We highly recommend booking a guided tour of the site, so you get to hear about all the interesting theories surrounding the mystical Stonehenge – and you can ask any burning questions (trust me, you'll have a few).
Bear in mind that post-lockdown you need to book your entry time slot for Stonehenge well in advance, and remember to bring your booking confirmation with you.
Train departs from: Waterloo
Average journey time: 2 hours 15 minutes
Hassle-free option: A morning tour of Stonehenge with London transfers
Harry Potter Studios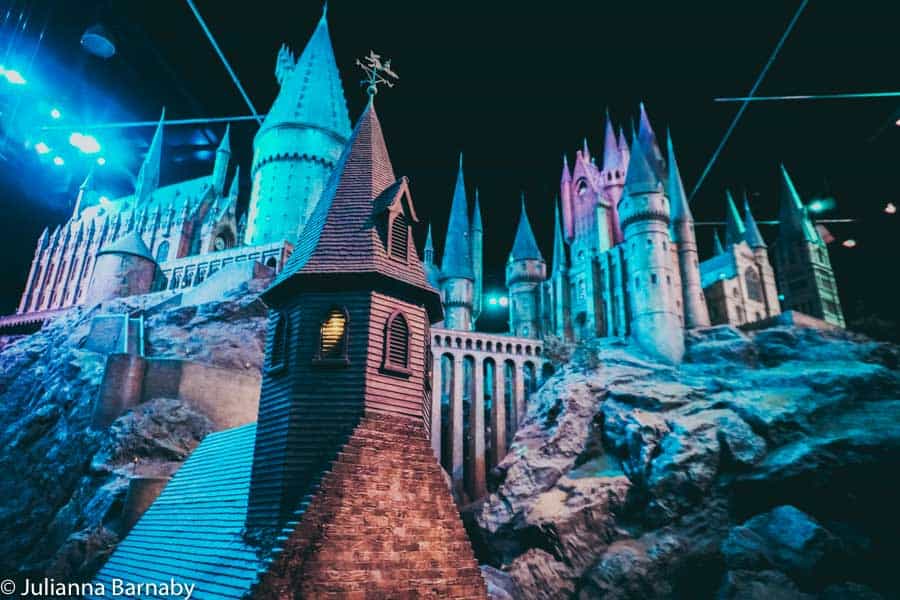 From the mystical to the pure magical – if you haven't visited the Harry Potter Studios yet, what are you waiting for?
This is one of the best family days out near London and whether you're a Potterhead or not, it's so fun to go behind the scenes of arguably the most popular franchise to ever exist.
If the idea of heading to a city and wandering aimlessly doesn't appeal to you, book yourself a ticket to the studios and experience Hogwarts for yourself.
If you want the full lowdown on the studio tour, including how to get there, tickets, and what to expect when you arrive, check out this article.
Train departs from: London Euston
Average journey time: 30 minutes
Hassle-free option: Entry tickets and London transfers all rolled into one
Cheltenham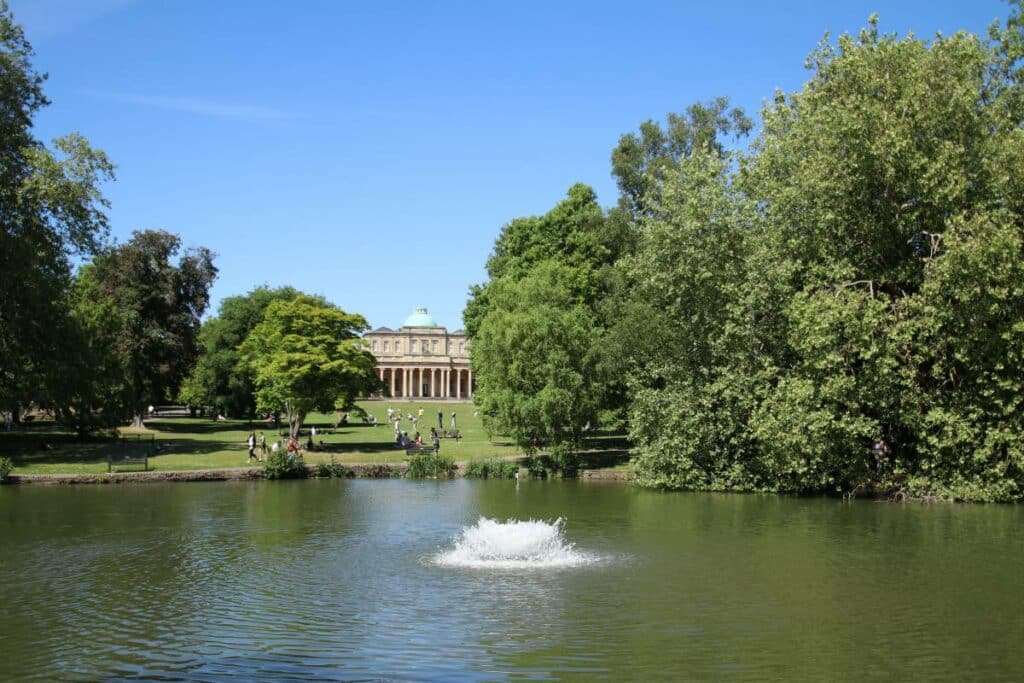 This old spa town is one of the prettiest in Gloucestershire and can be reached in around 2 hours from London. Cheltenham boasts Regency buildings in abundance, including the Pittville pump room which was incredibly important in Cheltenham's spa town history.
Famed for hosting both the Cheltenham Horse Racing Festival and the Jazz Festival, this historic town is incredibly lively during the summer months.
Don't get us wrong, it's equally beautiful in winter – but there's just something so magical about hanging out in Montpellier Gardens in the sunshine.
Make sure to visit The Wilson Museum for fine art and catch a movie at the Everyman Theatre – the ornate Victorian ceiling is divine.
Train departs from: London Paddington
Average journey time: 2 hours
Hassle-free option: Take a self-guided tour
Cardiff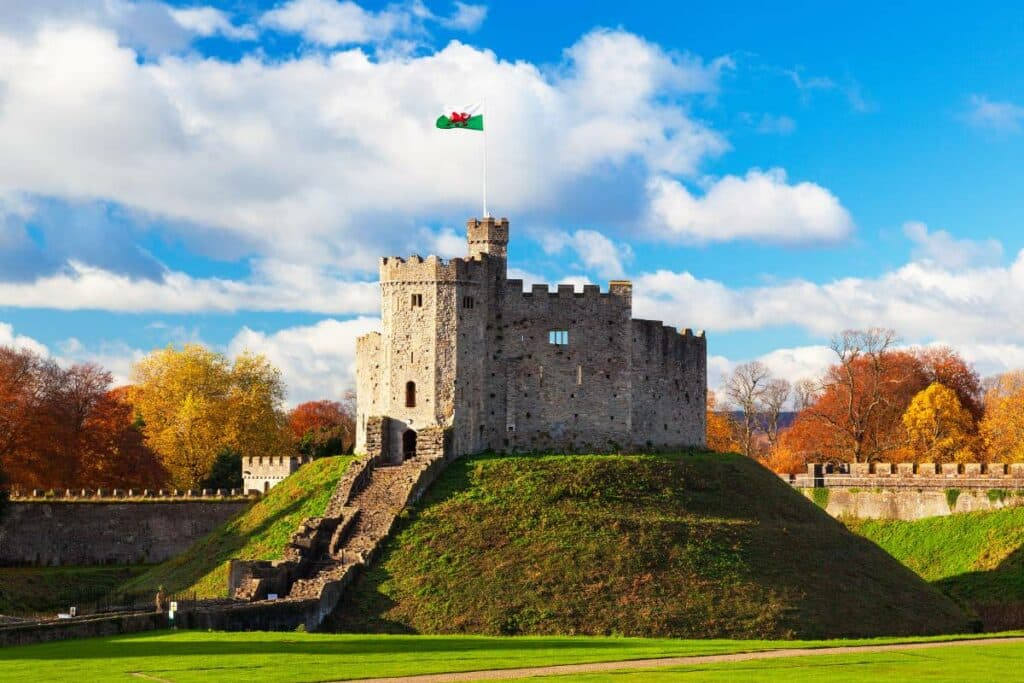 Explore two capitals in one day by taking a day trip to Cardiff. It's surprisingly easy thanks to the high speed train from London Paddington, and Cardiff Castle is beautiful and well worth the journey alone.
Other things to do in Cardiff include taking a trip to the famous Wales Millenium Centre – an arts centre which hosts plenty of live performances and workshops – and exploring the harbour nearby, as well as trying a famous Welsh Cake. Fabulous Welshcakes (opposite the castle) is our top pick for the best.
Train departs from: London Paddington
Average journey time: 1 hour 50 minutes
Hassle-free option: Take a day trip tour from London
Guildford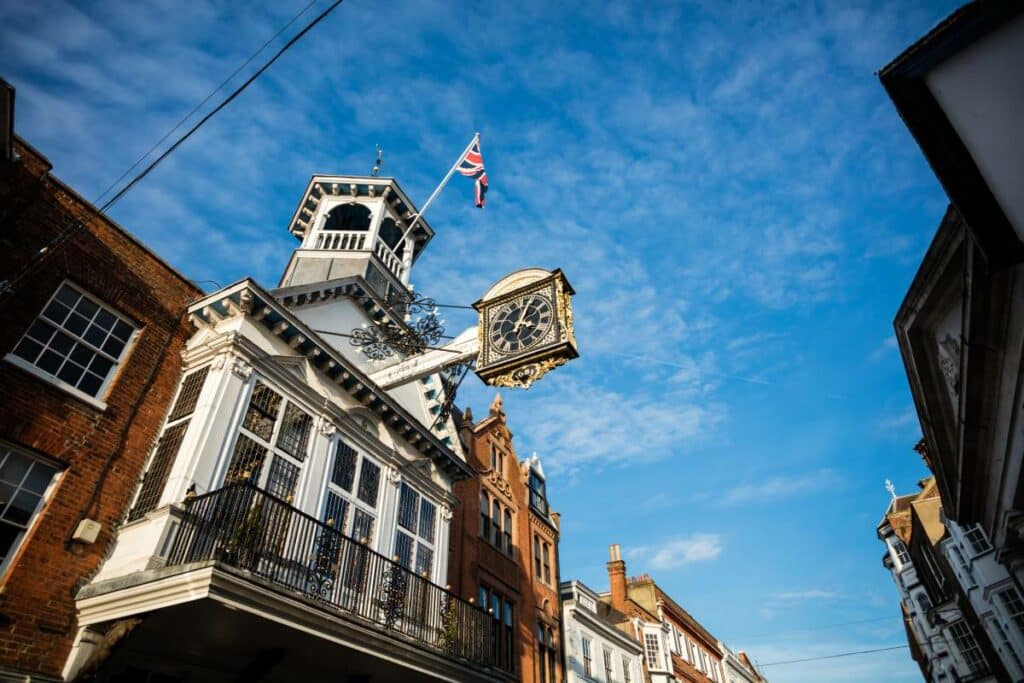 Guildford is a picturesque medieval town with a castle at its heart. It's a surprisingly quick day trip here from London and one we implore you to make – after all, it's one of our favourite places to visit outside London.
Nestled in the Surrey countryside, it may be small but this town certainly packs a punch when it comes to things to do. Not to mention it's filled with plenty of brilliant pubs for a well-deserved pint.
What to do? Our top picks include Guildford House, a 17th-century townhouse gallery with rotating exhibitions, hikes along dapdune walk, and a visit to the hilltop cathedral that boasts views of the town.
Train departs from: London Waterloo
Average journey time: 30 minutes
Hassle-free option: Take a walking tour
Day Trips from London by Car
Easy as it is to hop out of London on a train, some places are more suited to day trips from London by car.
The Cotswolds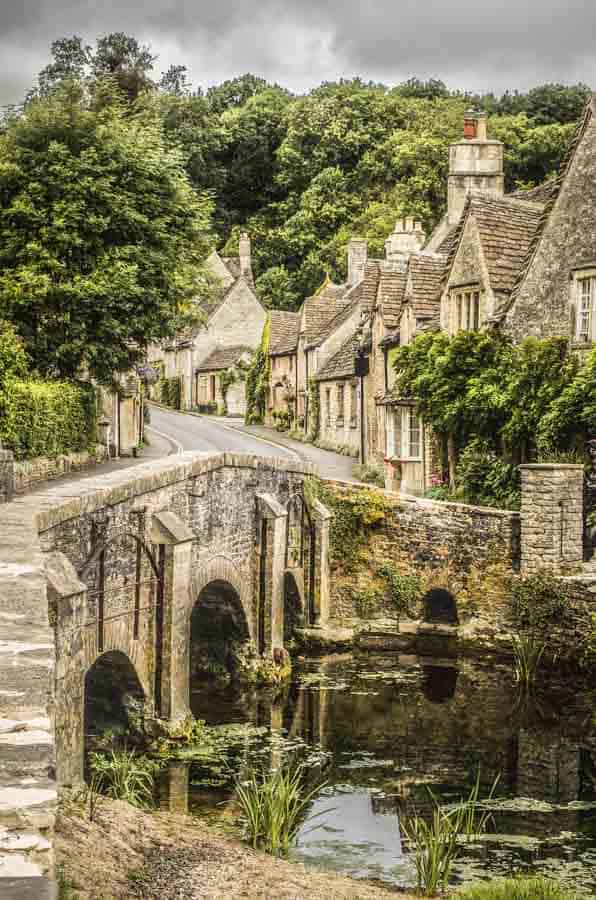 It's a rare event indeed when the words picture-perfect and Cotswolds aren't mentioned in the same breath.
The Cotswolds is the kind of England you find on the postcards – twee villages with thatched cottages in golden hues, rolling green hills, steaming piles of scones piled high with jam and clotted cream for your afternoon tea.
If it all sounds perfectly lovely, it is.
There's a reason that the Cotswolds find themselves on many a travel itinerary. Bibury and Burford are two of the prettiest villages- be sure to visit them during your trip.
If you want to see as many villages as possible, I'd recommend starting in Burford and finishing in Winchcombe, meandering through Northleach, Lower and Upper Slaughter, Moreton-in-Marsh and Chipping Camden along the way.
It's an easy drive, but it means you don't get much time any one spot.
Alternatively, you can narrow it down to a couple of villages and add in a long walk and some afternoon tea for a much more relaxed trip.
Average driving time from central London: 2 hours
Hassle-free option: Book this full-day Cotswolds four-village tour
Read Next: Pretty Spots You Have to Visit in the Cotswolds
Stratford Upon Avon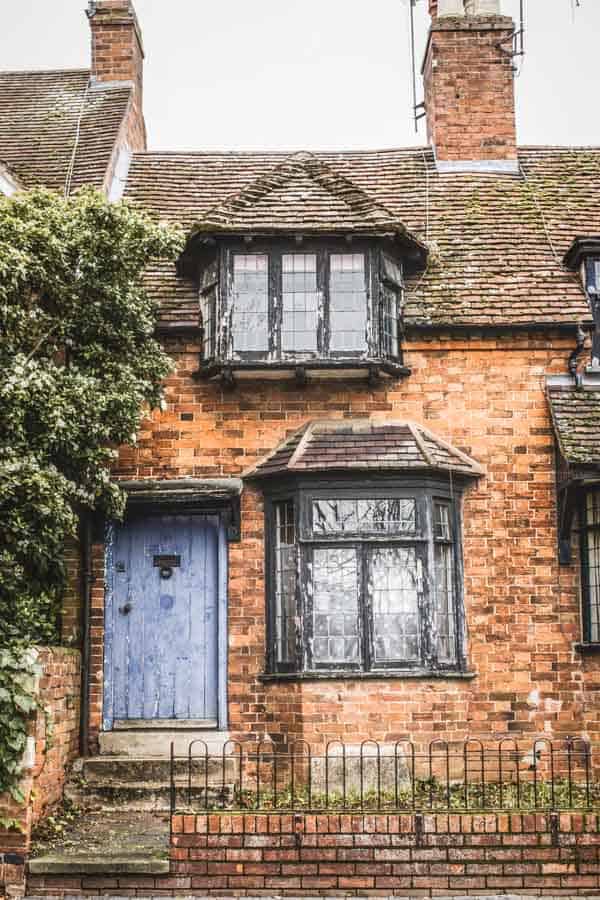 Stratford Upon Avon – the birthplace of Britain's famous bard, Shakespeare and a twee little Tudor town set around the River Avon.
The Royal Shakespeare Company's Theatre dominates the town – rightly so. There's always something fantastic to see on one of its several stages.
Away from the theatre, Stratford Upon Avon's Tudor architecture offers a glimpse into days of yore. You can visit Shakespeare's birthplace, as well as the home that he retired to after the bright lights of London proved too much.
His final resting place, Holy Trinity Church is said to be the most visited parish church in the country.
But Stratford isn't just Shakespeare – hop onto a boat and row along the Avon, go on a river walk out of town, hole up in an old pub for a pint or two and appreciate the sleepy appeal of this quaint little town.
Average driving time from central London: 2 hours
Hassle-free option: Book this full-day Cotswolds four-village tour
Seven Sisters Country Park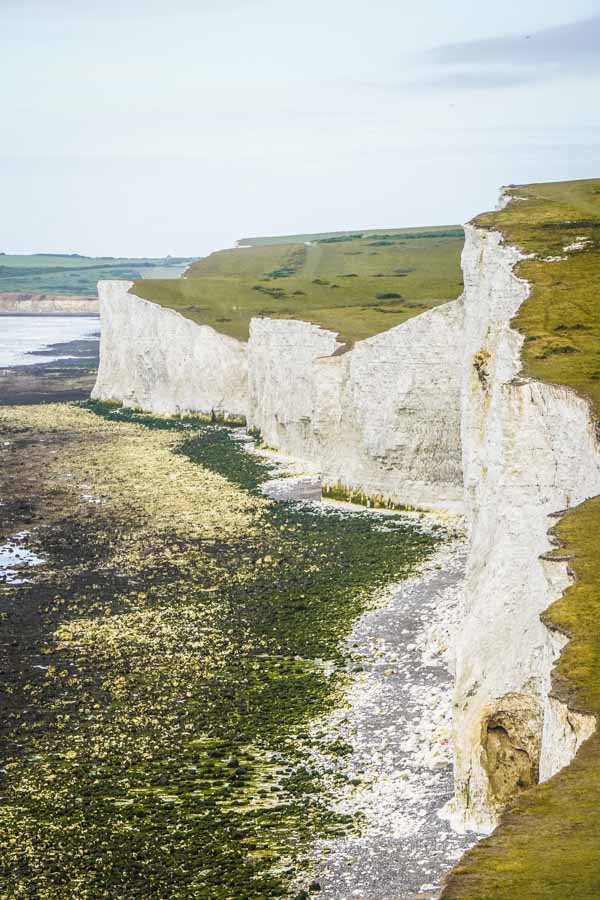 There are few landscapes as striking as the sight of the chalk faces of the Seven Sisters rising up from the coast.
These gorgeous cliffs form the focal point of the larger Seven Sisters Country Park, part of the South Downs National Park.
Strap on your hiking boots and set off on a walk along the Sisters for a refreshing day out from London. Park at the Visitor Centre (where you can also pop in to learn about the history of the country park) and take the path to Seaford Head View Point for the classic view of the cliffs.
Alternatively, why not tackle the part of the South Downs Way that runs through the country park and over the sisters themselves.
Average driving time from central London: 2 hours
Hassle-free option: Seven Sisters and South Downs day trip
The New Forest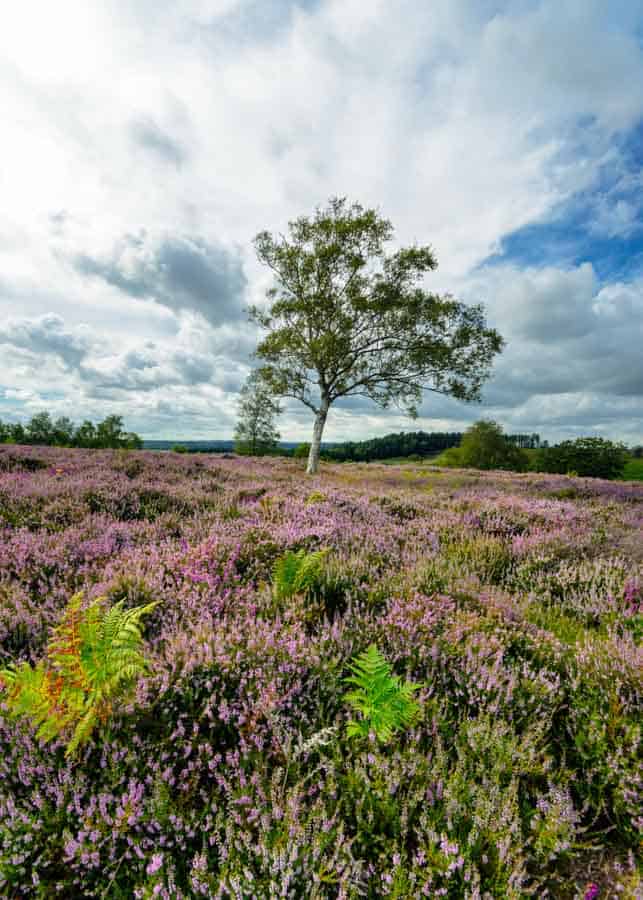 The New Forest might be less than 100 miles outside of London but it feels like a world away. It's the largest stretch of unenclosed pasture land and forest in the country and is famous for the wild ponies that roam across its lands.
In terms of attractions, The New Forest has surprisingly varied arsenal of things to see. Beaulieu, a vintage car museum, stately home and medieval monastery rolled into one is one such destination and worth seeing if you're not a complete petrolhead.
Still, a lot of the appeal is in getting outdoors and onto the many walking trails that crisscross the region. Be sure to wear some comfortable shoes.
Average driving time from central London: 2 hours
Hassle-free option: Train to Lymington or Brockenhurst and hop onto the New Forest tour bus
Leeds Castle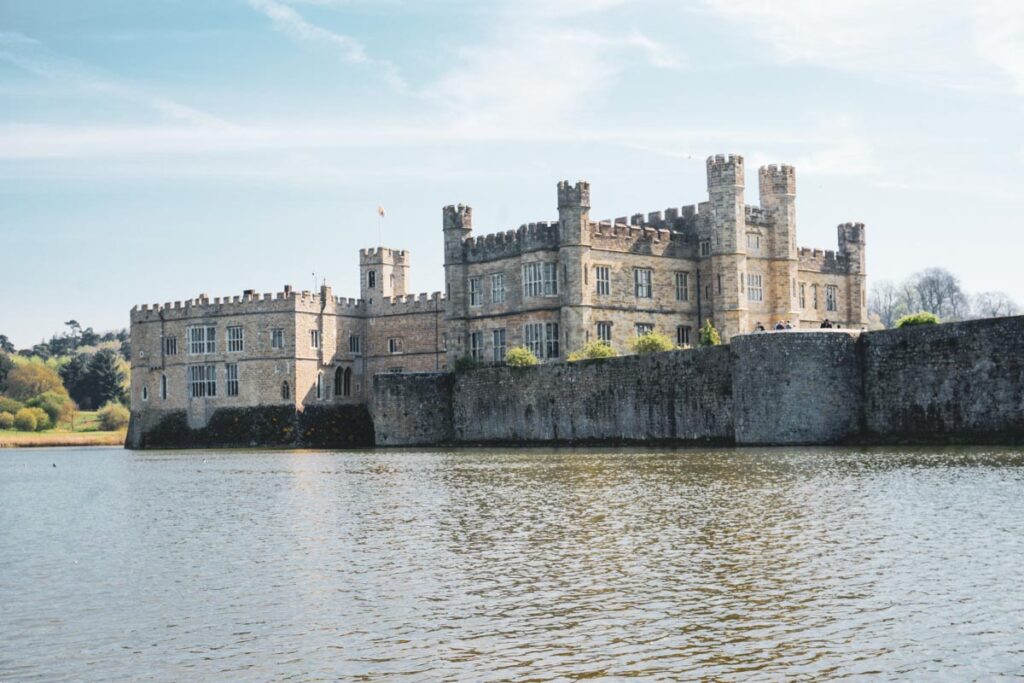 London has plenty of castles nearby that make for great day trips, and, despite its name, Leeds Castle is actually in Kent.
This castle is no stranger to royalty with 6 medieval queens previously residing here, and Queen Elizabeth I was even imprisoned at the castle before her coronation. If you fancy stretching the day trip into an overnight experience and live the life of a royal yourself (who wouldn't?) you can even book a place to sleep in the Maiden's Tower.
Humbly labelling itself as the "loveliest castle in the world", you've got over 900 years of history to uncover at Leeds Castle – if you can make it past the moat!
Tickets cost £28 for adults and £19.50 for kids, but you get a better deal if there's a group of you, which is definitely worth looking into.
Average driving time from central London: 1 hour 15 minutes
Hassle-free option: Tour Leeds Castle, Canterbury Cathedral and Dover with transfers from London
Highclere Castle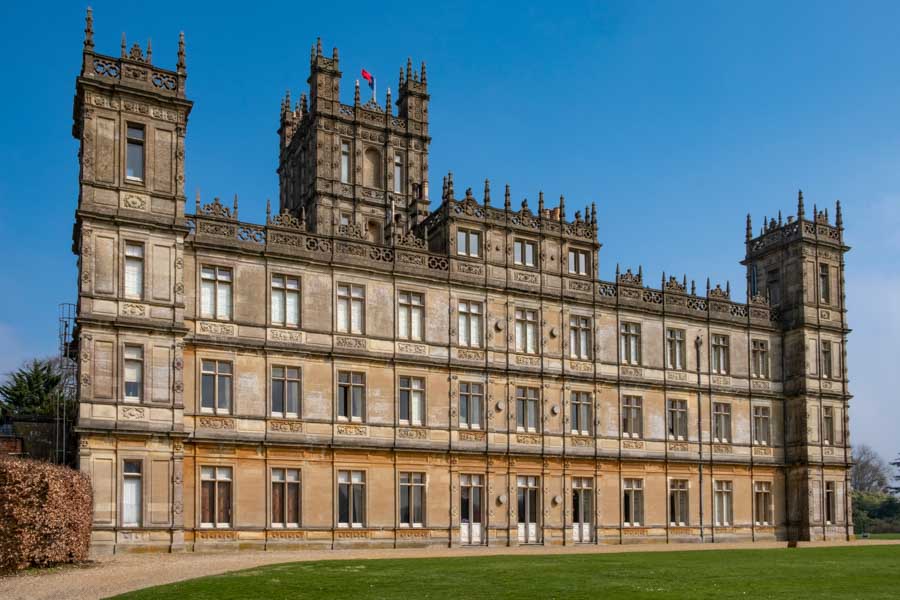 Yes, this is the Downton Abbey Castle. I can't guarantee that you'll run into any of the Crawley family while you're there, but I can promise you a brilliant day trip from London at Highclere Castle.
Take a walk around the grounds and make sure to snap some all-important insta pics of the Jacobethan facade, before you enter the castle and soak in all the history.
Admission tickets cost £24 for adults and £14 for children but check out the website as they host plenty of special events throughout the year, including Downton Abbey Tours and quaint Afternoon Teas.
Average driving time from central London: 1 hour 30 minutes Hassle-free option: Combine Highclere Castle with Oxford
Cirencester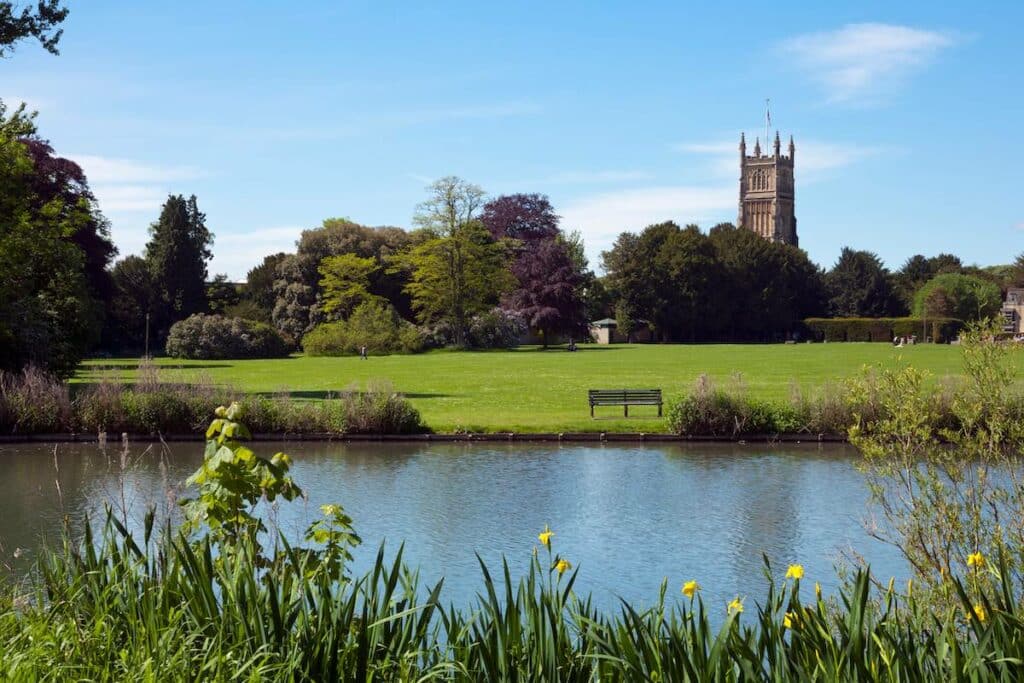 Looking for the best day trip from London? Technically Cirencester is in the Cotswolds, but we think it's so nice that it's worth us raving about it separately. It has, like many other English cities, a distinctive Roman history that you can explore in the Corinium Museum.
Cirencester is also great when it comes to shopping – it boasts plenty of independent boutiques and dreamy bookshops that you could spend an entire day exploring alone.
Cirencester Park is the perfect place to spend an hour or two if the sun decides to make a much-welcomed appearance. You might just catch a game of Polo here, too.
Average driving time from central London: 2 hours 15 minutes
Hassle-free option: There isn't one – though this is an easy DIY
So, there we are – 28 day trips outside London. We hope that you have found more than a few things to inspire your next jaunt out of the city.
PS: Looking for a longer trip? You'll want to scope out our guide to Weekend Getaways from London.
Practical Tips for Planning Day Trips Out of London
It's always worth checking your train times but you should be sure to do so if you are planning to do your day trip on a Sunday. Sunday train service is notoriously bad – with rail replacement buses, less frequent services or indirect connections often popping up to mess up your travel plans.
If you are travelling by train, try and book your tickets as far ahead as possible for the best prices. You should also consider whether it's worth purchasing one of the many railcards available if there are a few of you travelling or you plan to do several excursions within a short period of time.
Best London Day Trips: Map
Discover More Day Trips From London Guides
Love this? Save and share on Pinterest.