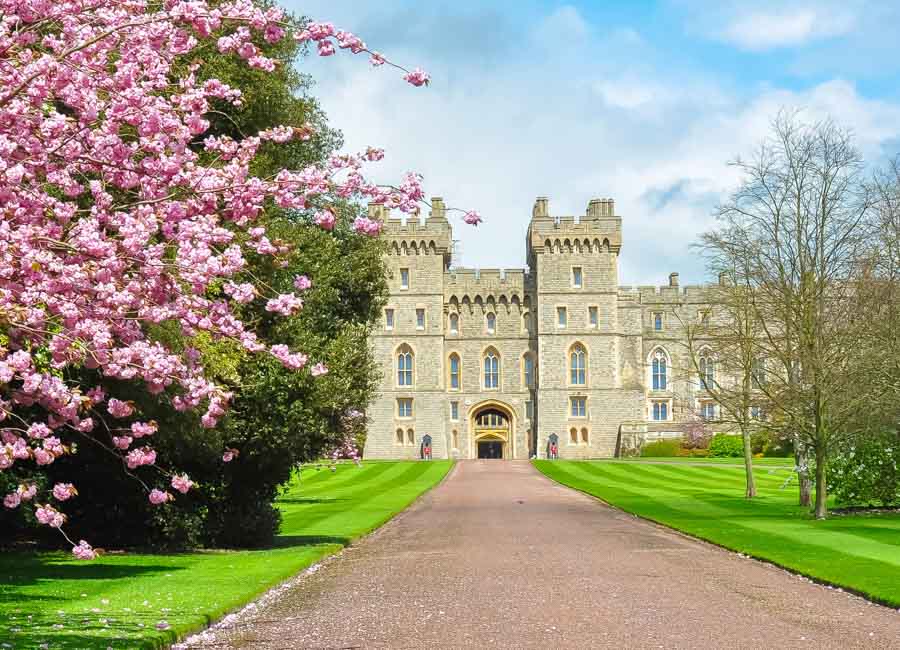 A step-by-step guide to exploring the best castles in and near London.
The regions surrounding London are filled with some of the UK's most impressive castles – and exploring them is a fascinating way to find out more about the history that has shaped these lands.
But first of all, you have to know where to look.
Here are the best castles near London (as well as a couple of London castles too) that you shouldn't miss – complete with details for how to get to each one. What are you waiting for?
Castles Near London
Bodiam Castle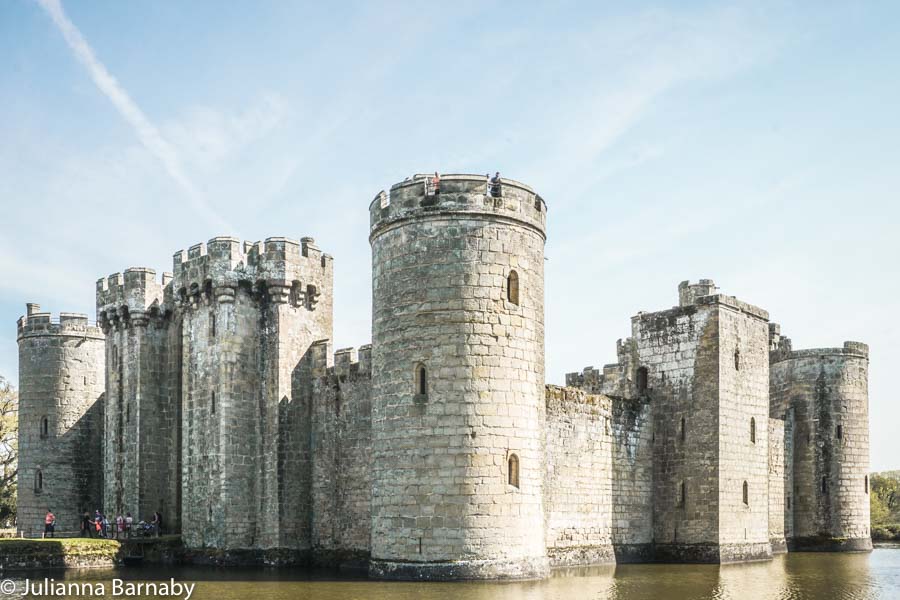 Everyone knows that the best castles have moats – and Bodiam Castle in East Sussex has a great one. The castle was built in the 14th century by Sir Edward Dalyngrigge, a celebrated knight of Richard II.
Today, it is one of the most beautiful castles in all of England. Romantics, historians and photographers are all likely to be totally besotted by the beautiful castle.
It also boasts expansive grounds which are full of walking trails where you can discover plenty of unique plants – and maybe a few cute animals like hedgehogs.
Tickets to visit Bodiam Castle are £9.80 (or £10.80 with gift aid). National Trust members are free.
The Castle is also the jumping off point for one of my favourite country walks near London.
How to get to Bodiam Castle: The easiest way to get to Bodiam Castle from London is to catch the Kent & East Sussex Railways (KESR) train to Tenterden. In the summer, there is a steam train from Tenterden to Bodiam Castle. You can also get the train to Robertsbridge or Battle, and get a taxi to the castle.
Read Next: Brilliant Day Trips from London
Hever Castle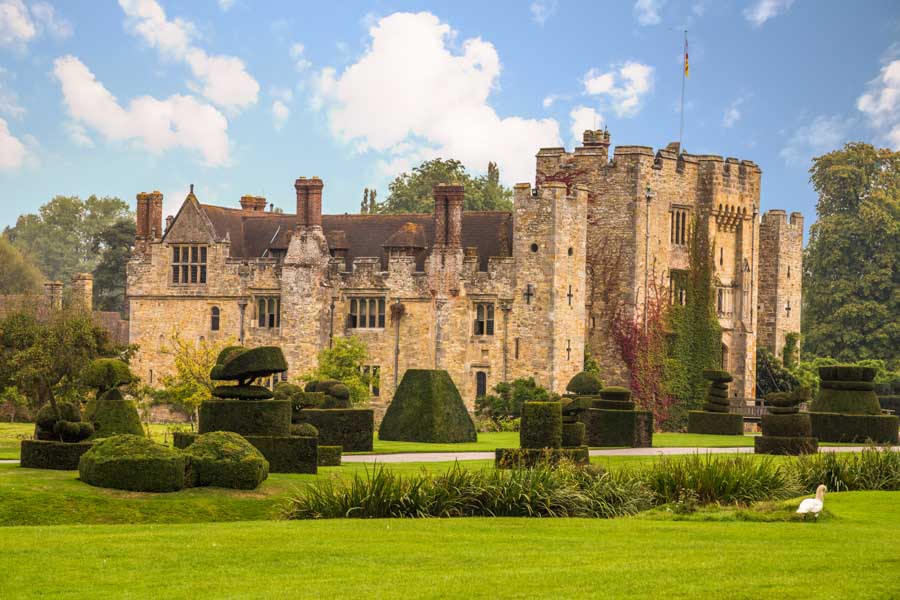 Beautiful Hever Castle in Kent is one of the most historic in England, having been lived in by not one but two of Henry VIII's wives – Anne Boleyn and Anne of Cleves.
It was originally built as a country house in the 13th century, but was later fortified and was the house of the Boleyn family for almost a century.
This link with the Boleyn family is one of the most interesting things about the castle, and there are several exhibits of documents and objects relating to the family and the Tudors.
There are also beautiful gardens, and even a new water garden which is great for kids (and kids at heart).
It's cheapest to buy entrance tickets online – it's £14.15 for the gardens, and £16.75 for the gardens and the castle.
How to get to Hever Castle: The easiest way to get to the castle is by car; if you don't have one, there is a train that runs from London Victoria or London Bridge. You can either stop at Edenbridge Town Station and get a taxi for the three miles to the castle, or walk one mile from Hever Station.
Highclere Castle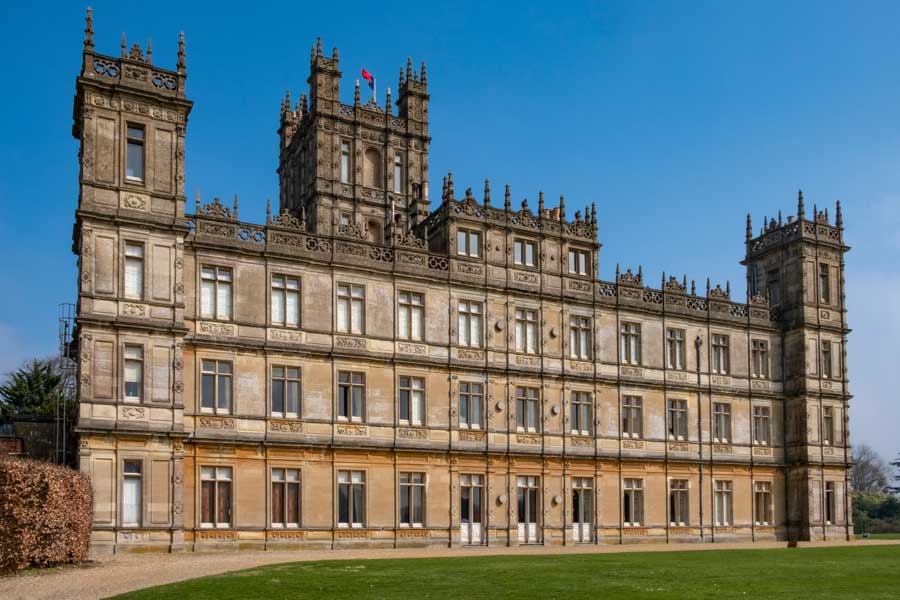 This is not just another beautiful castle around London – it's the setting for a little show known as Downton Abbey.
One look at the gorgeous Highclere Castle and it's clear why it was picked – it really is your quintessential grand English castle.
The estate itself is thought to date back from the 8th century, although most of what is on show today is from the 19th century.
As well as the beautiful castle, the grounds are also the perfect place for a country stroll, and there's an impressive collection of Ancient Egyptian artefacts as well.
The castle is only open on select days in summer, although the grounds are open year-round. You can check the website for public openings and special events. Ticket prices range from £7 for the garden only, to £23 for the castle, Egypt exhibition and gardens.
You can also do a Downton Abbey tour with lunch.
How to get to Highclere Castle: The easiest way to get to the castle from London by public transport is to take the train from London Paddington to Newbury. From here, it's about a 15-minute taxi ride (advance booking is recommended).
Herstmonceux Castle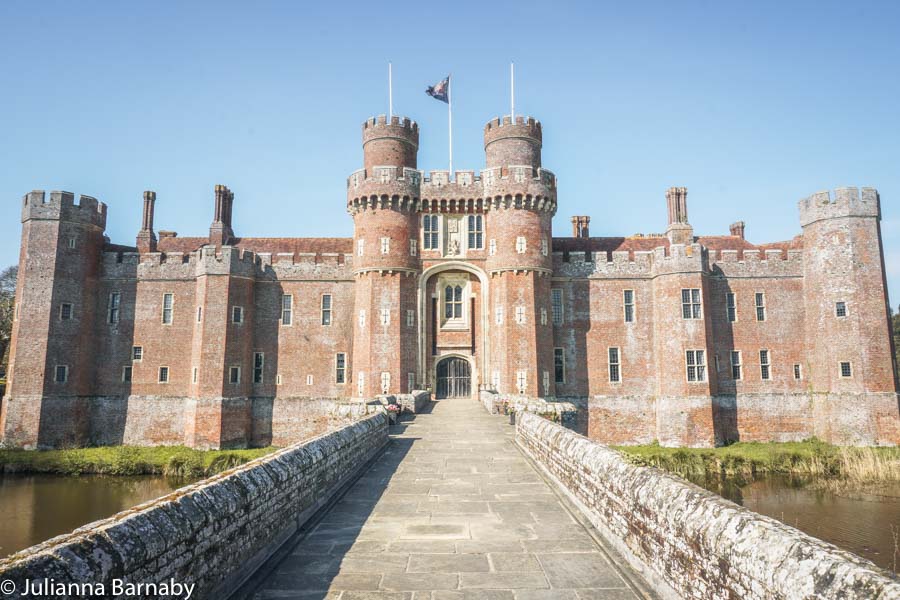 The imposingly beautiful Herstmonceux Castle is unique as it is one of the biggest and most significant brick-built castles in the UK.
Surrounded by a large moat with a bridge across, it is one of most beautiful castles near London. Honestly, this is my personal favourite – not only is it incredibly beautiful, but it's also much quieter than some of the better-known castles nearby.
As well as the impressive castle, the immaculate grounds are also gorgeous, with lots of walking and cycling trails.
It's also a hub for science, as it is home to the Herstmonceux Science Centre which, amongst other things, has a great collection of telescopes.
The castle is open from early March to early November. An adult entry ticket for the grounds is £6 and it's an extra £3 to tour the castle.
How to get to Herstmonceux Castle: To reach the castle by public transport, you can get the train from Waterloo to Polegate, and then get the 98 bus to Herstmonceux, where it's a short walk (or taxi ride) to the castle.
Rochester Castle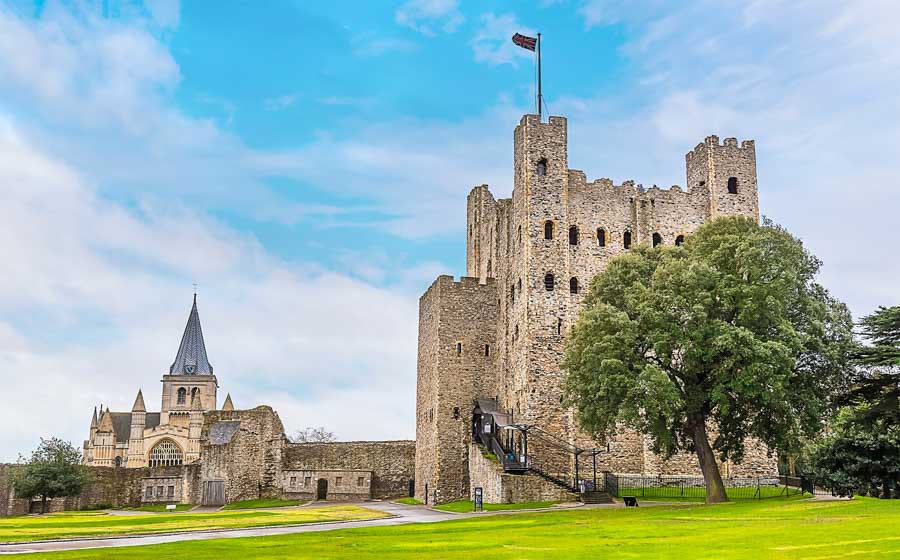 Although it is technically in "ruinous" condition, Rochester Castle features one of the best preserved 'keeps' (large towers) anywhere in the UK or France.
The keep was built in 1127, as the castle's location was of great tactical significance. As a result it was heavily fortified.
Nonetheless, the was sieged repeatedly. Most famously, King John lay siege to rebels held up in the castle; part of the keep was destroyed, and eventually starvation caused the rebels to surrender.
By the 17th century, the castle had fallen partly to ruin. It has been partly restored, and is one of the most beautiful castle ruins in England.
The castle is managed by English Heritage, and members get in free. For non-members, tickets can be bought online or at the castle. An adult ticket is £6.40.
How to get to Rochester Castle: The castle is located in Kent, near Rochester. There are frequent trains from London to Rochester, and then it's about a ½ mile walk to the castle.
Leeds Castle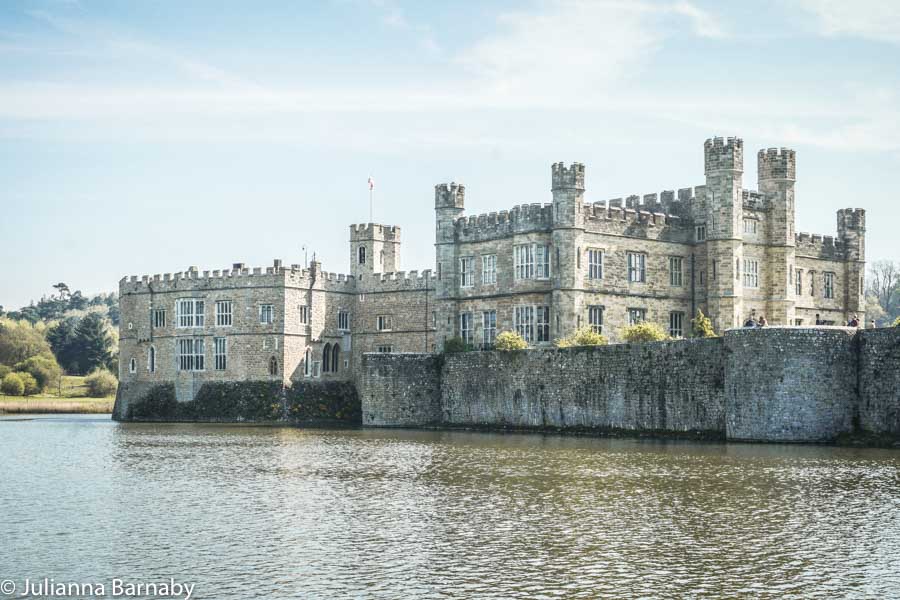 Leeds Castle calls itself "the loveliest Castle in the world", and I can see why. I don't like to play favourites, but this one is pretty special.
Floating in the midst of a lake, it's a gorgeous sight. Although there's been a castle on the grounds since the 12th century, most of what is on show nowadays dates from the 19th century.
It's been a popular filming location for decades – most recently featuring the much-loved TV series Doctor Who.
Entry tickets are £25 online (£26 at the gate), and entitle you to entry for a whole year. You can also stay overnight in a cottage or try "glamping", if you want a bit longer to soak up the peaceful atmosphere.
How to get to Leeds Castle: Despite its name, Leeds Castle is actually in Kent. You can get the Southeastern train from London to Bearsted Station – in summer, there is a shuttle from the station to the castle, while at other times you'll need to get a taxi.
You can also get the Nuventure no. 13 or Avura no. 13 bus from Maidstone. Or, another great option is to combine your visit with a tour of nearby Dover and Canterbury castles as well.
Windsor Castle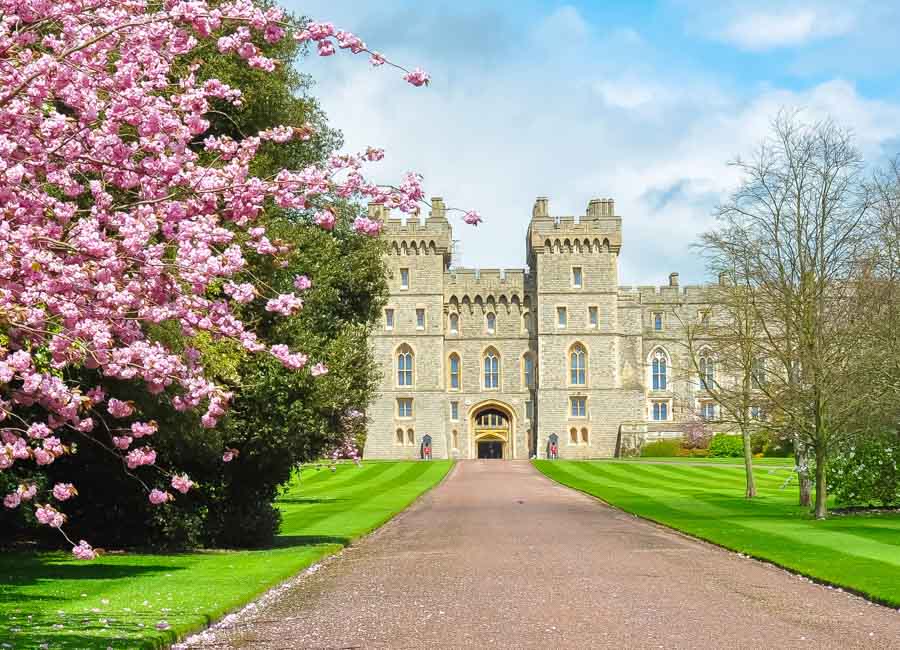 Windsor really is the castle to end all castles. It's the world's oldest, and largest inhabited castle – and, of course, the weekender of Queen Liz herself.
Visiting Windsor Castle allows you to take a peek into over 900 years of royal life, from William the Conqueror to the current young royals.
Plus, a visit really is the best way to appreciate the mammoth scale of both the castle – considered the pinnacle of Georgian architecture – and the grounds.
An adult ticket into the castle is £22.50 and can be purchased online.
How to get to Windsor Castle: It is easy to get to Windsor Castle from London. The most direct way is to get a train from Paddington to Windsor, but you can also go from Waterloo.
Hastings Castle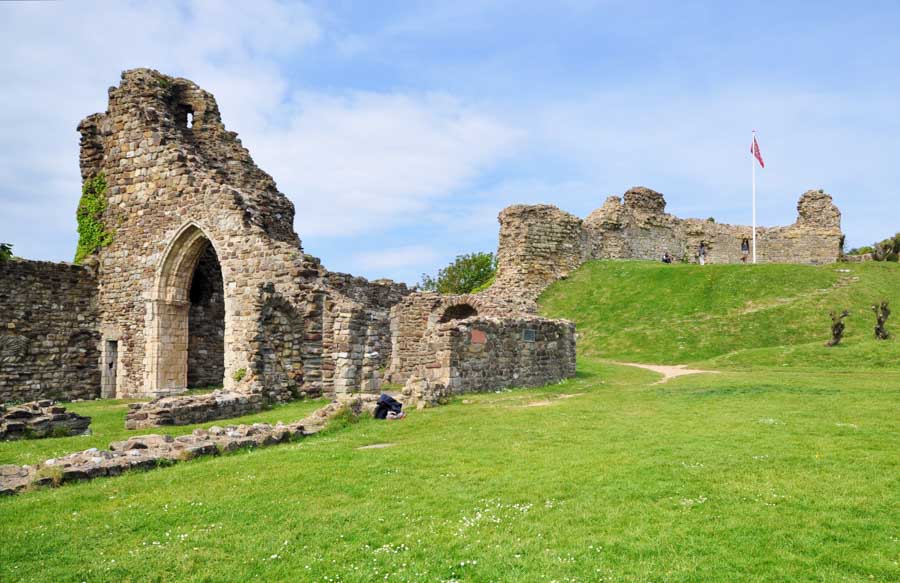 The ruins of the once-grand Hastings Castle are particularly beautiful thanks to their coastal location in charming East Sussex.
In fact, Hastings Castle was the first castle ordered to be constructed by William the Conqueror after the Norman Conquest of 1066. That castle was wooden, and eventually fell into the sea – sensibly, it was rebuilt in stone.
Over the years, the castle was battered by the weather and by armies, including during World War II. Today, it is largely ruined, but still has hints of its former grandeur.
The castle is open between April and October, and the entry price of £4.95 includes entry to the keep, the dungeon and the showing of a short film.
How to get to Hastings Castle: You can get the Southern or Southeastern train from London to Hastings, which takes just under two hours. They run frequently from London St Pancras and London Bridge stations.
Dover Castle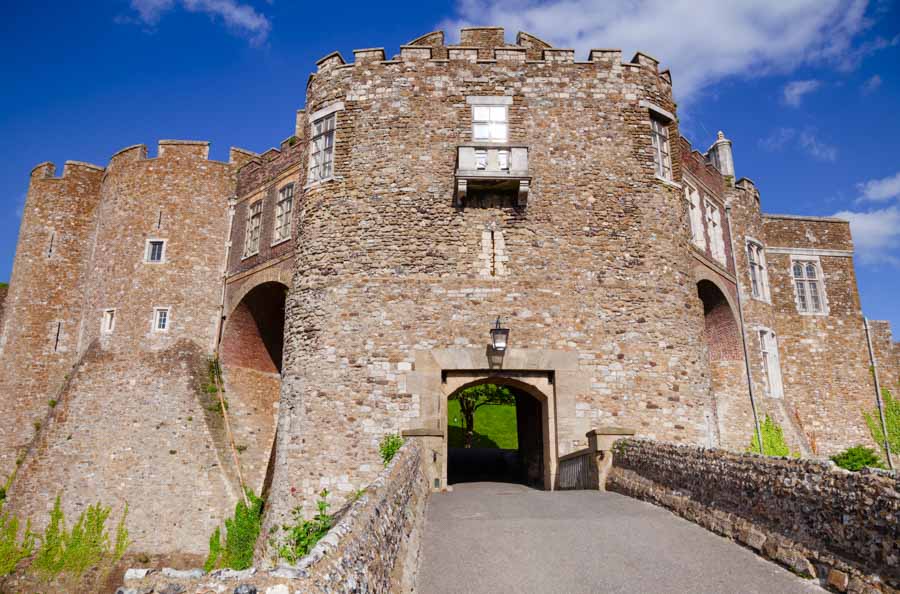 When it comes to impressive settings for a castle, it doesn't get much better than Dover Castle. Perched on top of the famed White Cliffs of Dover, it's pretty spectacular.
When it was built in the 11th century, it wasn't chosen for the views, but for the tactical significance of the coast. Dover Castle was known as the "key to England" as it was of such strategic importance.
Today, you can explore the Great Tower or even learn about the modern history of the Secret War Tunnels tucked away into the cliffside.
The castle is managed by English Heritage, so members get free admission. For others, the entry price is £19.40.
You can also combine a visit with nearby Leeds and Canterbury Castles.
How to get to Dover Castle: It's easy to get to the castle by public transport as long as you don't mind a little bit of a walk. The closest station is Dover Priory, which is about 25 minutes on foot away from the castle.
You can also get a taxi if you prefer. There are frequent South Eastern trains from St Pancras or London Victoria.
Arundel Castle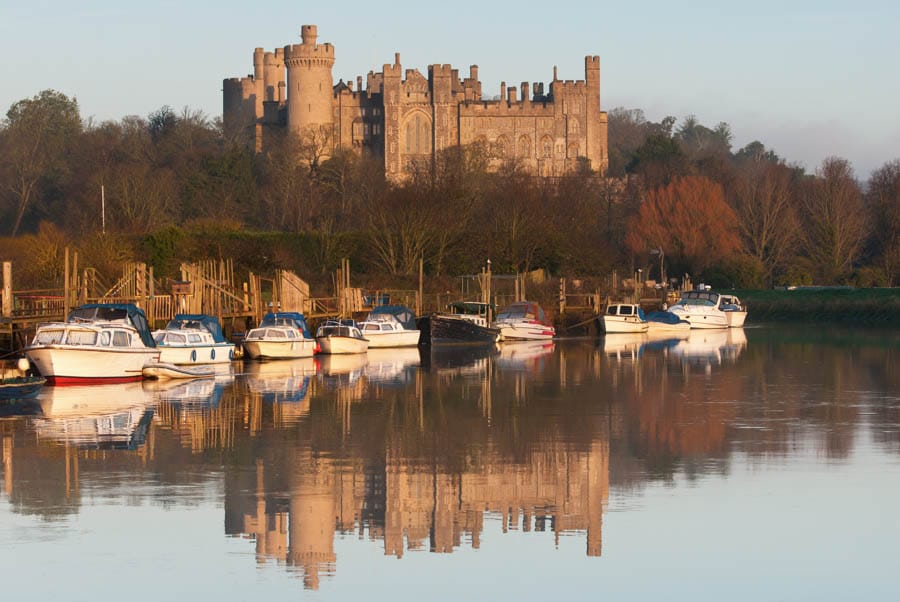 Arundel Castle is one of the most impressive castles around London. It was built in 1067 by the Earl of Arundel, the first person to be given a title by William the Conqueror.
The Castle was significantly damaged during the English Civil Wars, but has been painstakingly restored to be one of the best examples of a Medieval castle. Parts of the castle, including the keep, were part of the original structure.
The surrounding village of Arundel is also incredibly fairytale-like, making the entire scene like something out of a film set.
The castle is open from Tuesday to Friday, from April to early November each year. Tickets range from £13 to £22 depending on how many rooms you wish to see.
How to get to Arundel Castle: The Castle is located in West Sussex. There are frequent trains from London Bridge to the town of Arundel, where it is a short and picturesque walk.
Tonbridge Castle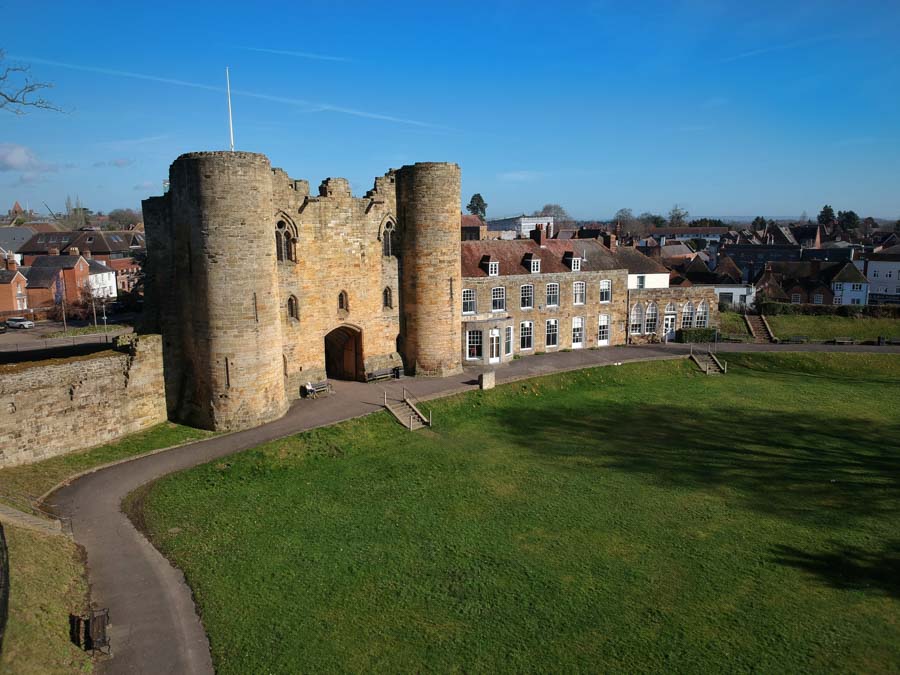 Tonbridge Castle is most famously associated with the de Clare family, English nobility who rebelled against the King in 1088.
The castle was besieged, and the family eventually surrounded – however they would eventually rise to be the most powerful family in the UK at one stage.
Eventually the costs of keeping up such a sprawling property became too much. By the 16th century, the castle was deserted. In 1793, a large mansion was built adjoining the castle, and life returned to Tonbridge.
Today, the castle is owned by the council and welcomes visitors to come and see what aristocratic life was like in England. There are also lots of walking trails in the gorgeous grounds.
How to get to Tonbridge Castle: It is open daily, and an adult ticket is £9. It's easy to get to the castle by train, as Tonbridge Station (serviced regularly by Southeastern Trains from Charing Cross or London Bridge) is a ten minute walk away.
Scotney Castle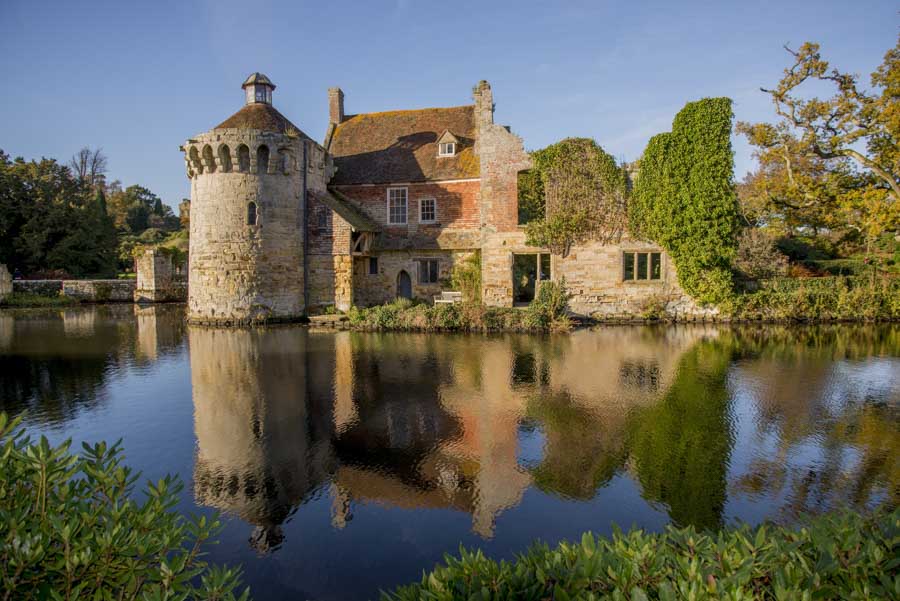 It may not be the largest castle on this list, but the 14th century Scotney Castle in Kent is surely one of the most picturesque and romantic castles near London.
Technically, it's a country house rather than a castle (castles are fortified, country houses are pretty), but it is nonetheless known as Scotney Castle.
With woodland on one side and a small lake on the other, it's incredibly beautiful. This is especially the case in spring, when it is covered in colourful blooms.
The castle is managed by the National Trust, meaning members can visit for free. For others, the cost is £14.20 (£15.65 with gift aid).
How to get to Scotney Castle: Getting to the castle is a bit tricky without your own vehicle. The closest train station is Wadhurst, 5.5 miles away, so you'll need to get a taxi from the station.
Guildford Castle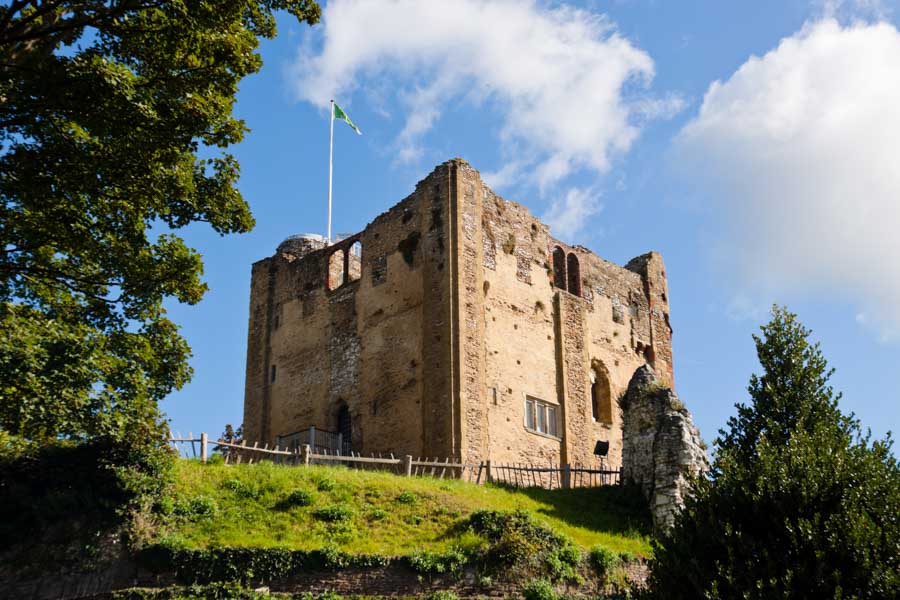 Yet another castle that can trace its links back to the Norman Conquest of 1066 is Guildford Castle.
Due to a lack of records, it is not clear exactly when or by who the castle was built, but it was almost certainly shortly after the Norman Conquest. We know that William the Conqueror built castles at strategic points all over England.
Guildford was one of these as it was a convenient stop between the capital and the south east coast.
Later, it served as the county prison for Sussex and Surrey, and was also a residence for some time.
Today, the castle is open to the public from March to October. The entry fee is £3.50, or you can visit the beautiful grounds for free.
How to get to Guildford Castle: There are frequent trains from London Waterloo to Guildford. The castle is walking distance from the station.
Oxford Castle
For a castle that's steeped in over 1000 years of history, take a trip to Oxford Castle and Prison and delve deeper into the dark history of this charming British city.
This really is one of the quirkiest castles near London. Feeling brave? You can even take part in a murder mystery evening here (it's said to be pretty haunted!) or get involved in an escape room to test your wits.
Adult tickets cost £14.45 and kids get in for less than a tenner, though it'll cost you extra if you want to get involved in any of the activities – there's also a great cafe serving up delicious treats in the castle courtyard that I highly recommend.
How to get to Oxford Castle: The easiest way to get to Oxford Castle is to hop on a direct train from Paddington to Oxford. After, it's a ten minute walk to the castle. If you want to drive, it'll take about 90 minutes to reach Oxford.
Warwick Castle
For a fun family-day out, you just can't beat Warwick Castle – it's one of the best in the UK.
You've got the historical bit: the 1100 years of history, the pretty grounds, and the falconry shows. But you've also got heaps of fun activities to get involved with – the Horrible Histories maze and the iconic Warwick Dungeons are particular highlights.
You can even make a weekend getaway out of it – book yourself a tent in the Knights Village and get stuck in with a Medieval glamping experience that the whole family will enjoy.
If you can, I highly recommend going to their Halloween event held throughout October – it's got all the creepiness of an old castle with the added fun of a live seance and the spooky House of Wax.
Book online for big savings on entry – adult tickets start at just £20 for a day of fun.
How to get to Warwick Castle: It might seem far, but in under two hours you can take a train from London Marylebone to Warwick. From there, it's less than a ten minute walk through the pretty town centre to the castle – you won't miss it!
Wallingford Castle
Head to Wallingford and you'll find the remains of a stunning castle overlooking the Thames.
This Oxfordshire castle dates back to the Medieval ages, and although lots of the stonework is now in ruins, it really is a gorgeous spot surrounded by flowers and greenery.
The best part? Wallingford Castle and its pretty gardens are free to visit, so pack a picnic and head over for a day of exploration.
How to get to Wallingford Castle: The easiest way to get to the castle is by taking a train from Paddington to Reading, and then taking the X39 bus to the Market Place. From here it's a short walk to the castle grounds. If you fancy driving, it'll take around 1 hour 20 minutes.
Rockingham Castle
Rockingham Castle is easily one of the prettiest castles near London, with the flower-filled grounds a popular wedding spot.
The castle has a long and interesting history – first ordered to be built by William the Conqueror, but later gifted to Edward Watson by Henry the 8th in 1544. Since then, the castle has been visited by plenty of royalty and Charles Dickens even used to perform his plays here.
The Norman castle often hosts a number of events including a food and drink fair, outdoor cinema dates, and tudor history days, so keep an eye out for this on their website.
Regular tickets cost £12.50, and kids can get in for £7.50 – though you can just visit the garden for a reduced rate.
How to get to Rockingham Castle: Located in Northamptonshire, it's a pain to get to on public transport – but well worth a visit if you've got a car and fancy making the two hour journey from London.
Colchester Castle
Colchester Castle is a beautiful Norman castle and museum which tells the story of the Roman and Norman Conquest. If you're after an educational day out (alongside some picturesque views) this is the spot for you.
There's plenty to do here – take a stroll through the grounds, picnic in the gardens, or head inside for a tour to learn more about the history of Colchester Castle.
Tickets cost £10.95 for adults and £5.95 for children, although they have some bundle options that are well worth it if there's a small group of you.
How to get to Colchester Castle: The easiest way to get here is to take a train from Liverpool Street Station to Colchester, then taking a short walk to the castle.
Castles in London
Tower of London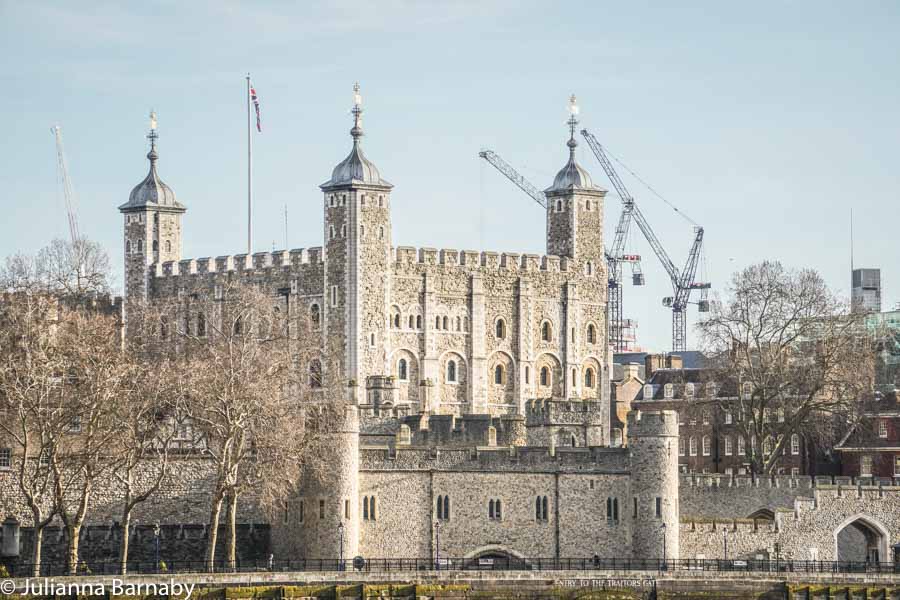 While it is today one of London's most famous and popular attractions, the Tower of London certainly didn't begin life that way.
In fact, when this London castle was built by William the Conqueror in 1078, resentful Londoners saw it as a symbol of his oppressive, well, conquering. They were not impressed.
Since then, the tower has had stints as everything from a royal residence to a menagerie. However, it was perhaps its centuries-long time as a prison that is the most well-known.
Some of the famous inmates who were "sent to the Tower" include Henry VIII's wife Anne Boleyn and subsequently her daughter, Elizabeth I (later Queen Elizabeth). More recently, the infamous gangster twins Reggie and Ronnie Kray were two of the last prisoners in the Tower of London.
Then, of course, there's the fact that its home to the mind-bogglingly valuable Crown Jewels.
With such varied history, it's no wonder it's such an iconic London attraction.
I'd recommend getting a ticket that allows you to skip the line as it can be enormous. With priority entry, the cost to visit the tower and Crown Jewels exhibition is £26.80 and tickets can be booked online. Without "skipping the line", the ticket is £24.95. Entry to the Tower of London is also included in the London Pass.
How to get to the Tower of London: Its central location makes it a breeze to get to on the Central Line – it's just a five-minute walk from the Tower Hill station.
Read Next: London Sightseeing Spots You Shouldn't Miss
Severndroog Castle
To learn about the quintessentially British idea of a "folly", I highly recommend a trip to Severndroog Castle near Greenwich.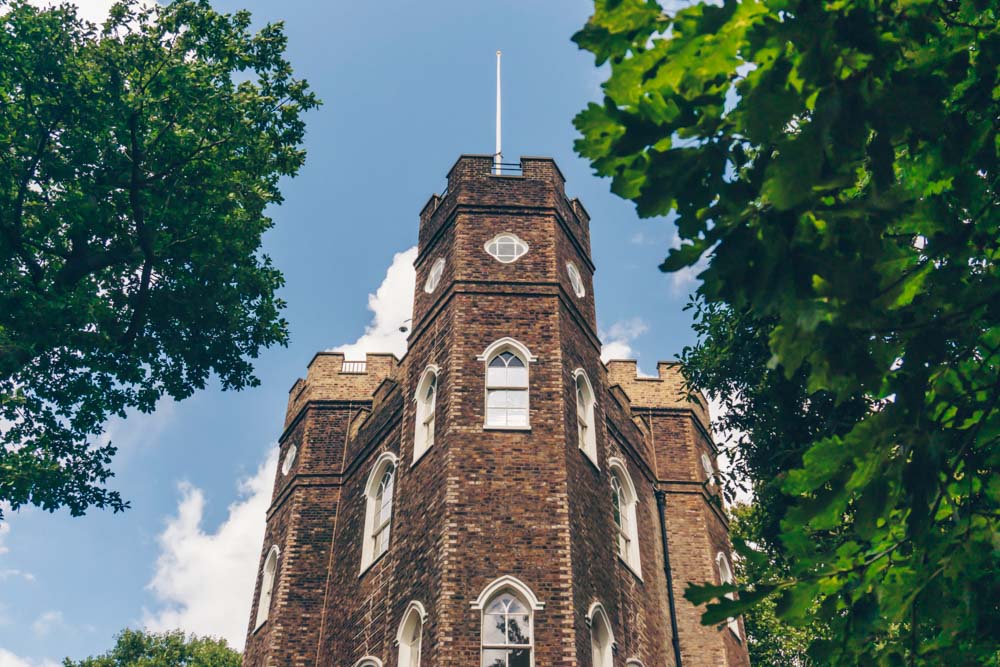 For those not in the know, a folly is an elaborate and ornate building that has no real purpose except to look interesting. As you do, when you're English aristocracy and the family coffers are overflowing.
Severndroog Castle is one such building, having been constructed in 1784. It was built mostly as a memorial to Sir William James, who commanded over a decisive English victory in Suvarnadurg, India.
By the late 20th century, however, the castle had fallen nearly into disrepair. A large grant and the enthusiasm of a group of local volunteers ensured it was saved and opened to the public in the early 2000s.
The castle is open on Sundays, and entry to both the castle and the surrounding woods (as well as a volunteer-led tour) is just £3.50 for an adult.
How to get to Severndroog Castle: The easiest way to get to the castle is to take the Jubilee Line to North Greenwich, where you can get the 486 bus which will drop you right near the entrance.
Read Next: Quirky Places to See in London
Castles Near London: A Handy Map
Love This? Save and Share on Pinterest
Looking for More London Guides?
Check these out…