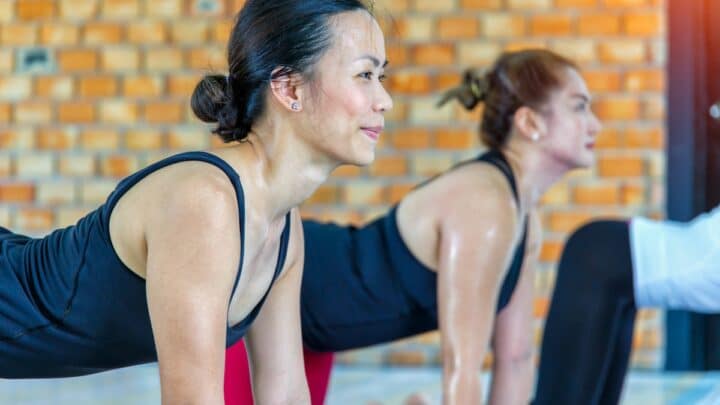 Looking to get your sweat on? These hot yoga classes in London won't disappoint. This city boasts plenty of excellent studios offering top-tier Bikram and hot yoga classes – these are our favourite.
What's the difference, you may ask? Bikram is a type of hot yoga with a strict order of 26 poses, performed during a 90-minute class at 40°C. Hot yoga is simply any yoga performed in a heated room.
We've rounded up the best hot yoga studios in London, so you can grab your towel and water bottle and get sweating. If you're looking to cool down afterwards, these gorgeous parks in London provide the perfect spaces to maintain your post-yoga zen.
10 Ultimate Bikram & Hot Yoga Studios in London
Hotpod Yoga
Multiple Locations
There's no better place to kick this guide off with than the unique Hotpod Yoga. What makes this studio so unique is its concept of doing yoga in an inflatable pod. The 37°C pod features ambient lighting and music paired with padded flooring to help you comfortably flow through your cat-cow poses.
You have a choice of five spots in London — including hot yoga near London Fields in the vibrant Hackney borough. Each studio has clean facilities fitted with showers and changing rooms and offers multiple 1-hour sessions every day.
Bikram Yoga London
This studio is the perfect fit for those wanting to do hot yoga in East London. Their two locations in Canary Wharf and London Bridge offer a range of different hot yoga classes. These include the classic Bikram yoga, inferno hot pilates (for a serious burn), and candlelit Bikram.
Bikram Yoga London has quite the following, so classes are often full. Try going during off-peak hours if you'd prefer a less crowded experience. Instructors Samantha and Divya are crowd favourites and worth booking for your first experience.
Hot Yoga South
Balham
The best kind of yoga studios are the ones that make you feel comfortable existing and moving in your body — even among a group of strangers. Whether you struggle to maintain a tree pose or you're an expert yogi, you'll feel welcome at Hot Yoga South in London.
This studio, situated in the Balham area, offers Bikram hot yoga, as well as warm yin yoga and super sweaty Inferno hot pilates. The instructors are all extremely knowledgeable and take care to help you achieve the poses in a way that suits your level of flexibility and balance.
Fierce Grace
Multiple Locations
With its quirky and edgy feel, Fierce Grace is like the rebellious member of the hot yoga family. Its mission is to combine ancient yoga principles with modern physiotherapy research, and make it accessible to all.
If you're looking to do hot yoga in Primrose Hill, London, their most beautiful studio happens to be there. They also offer hot yoga in Shoreditch, as well as in north and west London.
Expect an alternative and innovative environment, unlike any studio you've seen before – it's truly one of the best hot yoga studios London boasts.
The Yoga Quarter
Looking to practice the best hot yoga London offers? With its floor-to-ceiling windows and state-of-the-art heating system, The Yoga Quarter should be your first stop.
Visiting a yoga studio can feel quite intimidating, but the instructors at this place go out of their way to ensure everyone is comfortable. They've created an encouraging and safe space that accommodates every level of yogi.
Offering some of the top hot yoga North London has, the studio is super accessible. It's a mere 'downward dog and jump-through' away from the Holloway Road train station.
Yogahaven
As the name implies, this studio is a calming haven from the buzzing city life. This studio offers hot yoga classes in a clean, minimalist, and elegant space in Richmond and Clapham.
The attention to detail and attentiveness are what really sets this studio apart. You'll love the filtered water fountain, spacious locker rooms with hairdryers, and cruelty-free, natural products in the modern showers.
Besides their hot yoga classes, Yogahaven also offers workshops and sound bath classes. All the instructors have an evident passion for their work, but Sian, in Richmond, is one of our favourites.
Lumi Power Yoga
Hammersmith
If you're looking for an intimate yoga studio with a warm sense of community, you'll adore Lumi Power Yoga. They offer 40 weekly classes of all kinds, including Lumi Power Hot, Basics Hot, and Strong and Slow Hot yoga.
The studio, which is only five minutes away from Hammersmith Station, also offers workshops to help you master the 'crow' (our mortal enemy) and inverted poses. Above that, the equipment rental fees go towards their non-profit Lumi Foundation, which aims to provide free yoga in London to those who cannot afford it.
Hotspot yoga
Fulham
Another intimate studio offering hot yoga in London is Hotspot Yoga in Parsons Green. The studio provides a clean, modern space with fully mirrored studios and changing rooms kitted out with hairdryers.
They offer Bikram yoga classes of various lengths, along with aromatherapy "Yin + Tonic" and warm yin candlelit classes. Post yoga, get to know your classmates and instructors with a complimentary cup of herbal tea.
Sadhana Yoga & Wellbeing Studio London
This bright and welcoming studio offers some of the best Bikram yoga in the city of London. Sadhana Yoga hosts Bikram classes of various lengths to accommodate your endurance level and schedule. You'll also get to challenge yourself with warm vinyasa, pilates, and sculpt classes.
Have you got an ailment you've been trying to heal? The treatment rooms offer holistic therapies to help restore you to your best health. Savour a complimentary tea or cucumber water in their lounge area after enjoying their luxurious natural body wash in the shower.
Triyoga
Multiple Locations
Searching for Bikram yoga near King's Road? Triyoga has a studio in Chelsea and four other branches offering hot yoga near Central London, so you've got ample choices.
They heat the hot yoga classes with far-infrared panels. So you won't feel a blast of hot air around you, but will instead experience a general warmth. They also offer warm yoga and vinyasa classes in their bright, spacious studios and holistic healing treatments.
Practical Tips for Finding the Perfect London Hot Yoga Class
Many hot yoga studios offer discounted unlimited passes for first-timers. Be sure to ask about these to get a proper taste of the studio without paying hefty fees.
Some studios focus almost entirely on providing hot yoga classes. If you're keen on more variety, be sure to consider the excellent all-rounder yoga studios on this list.
Discover More Fitness Classes in London
Bikram & Hot Yoga Studios in London: Map