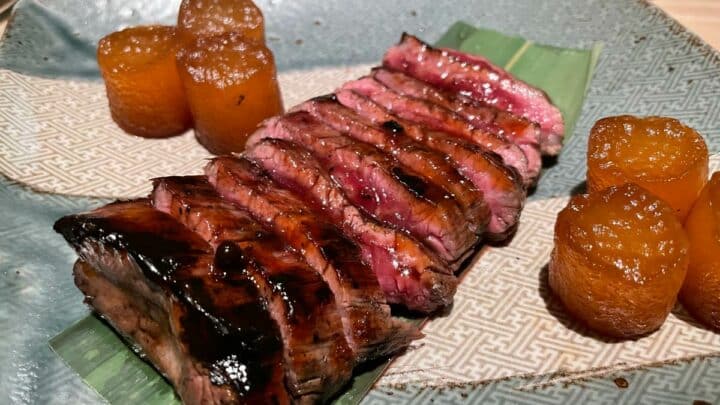 London's got a new kid on its sushi block. Read on for our review of Shiro.
Somehow the arrival of a new member of the Aqua Group (which boasts Aqua Shard, Nuevo and Kyoto, as well as Hutong) has passed relatively under the radar so far.
Which is surprising for a brand that runs some of London's most high-profile restaurants, and for the quality of the opening.
Shiro is a sushi and robata restaurant that's recently opened its London doors in Broadgate Circus, nearby to Liverpool Street Station.
The restaurant made its bones in Hong Kong where it grabbed attention with its crystal sushi creation – pieces of nigiri layered with a flavoured Cantonese jelly that belong as much in a photograph as they do on a plate.
It's now been imported, crystal sushi 'n' all, to London. We went to check it out.
Shiro – The Full Review
The Food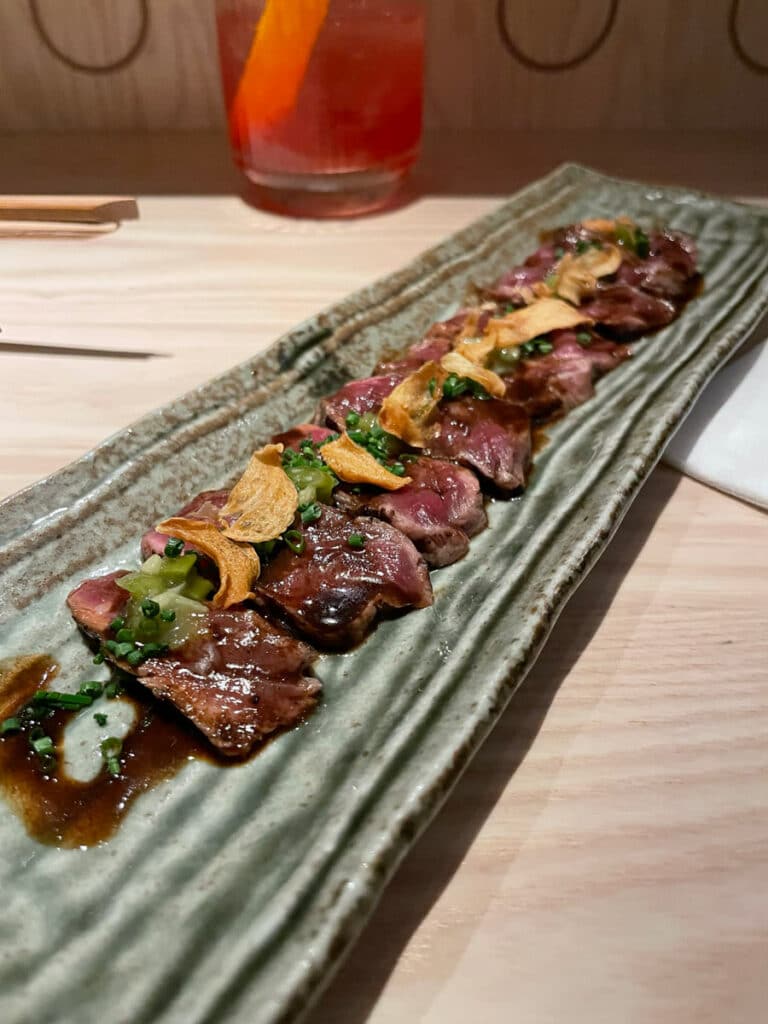 You'll find it hard to sit in Shiro with the smell of the grill in the air and not order something barbecued. You might then find yourself in a pickle because you most likely came here to try crystal sushi and you'll be wondering if you have space for both.
You do. Portions here aren't massive, and the menu can work to accommodate the several courses you'll need to make a good crack at it.
With that decided, we settled in for a four-course run-through that took a bit of back-and-forth fraught decision-making.
To save you the trouble of worrying about what you want but might not have room for, we'd say you must order the spicy tuna and salmon tartare and the soft shell crab tempura – though discovering how delicious the shrimp was later in the meal throws the crab order back into contention.
That shrimp was part of a chef's selection platter of sushi and sashimi that was the highlight of the meal.
To pick through each item on the plate would be a bit superfluous so we'll stick to the main take away points: the fish was super fresh and high quality, cut and prepared expertly, and served with an easily-recognisable nose for which fish should be on a plate together.
The sushi ranged from traditional nigiri to more modern-experimental stuff that was exciting on every bite. Yes, the crystal sushi was present and yes, it was delicious.
Does sushi need a layer of jelly? No. But it's beautiful so we'll give them a pass.
After the fish course came the meat off the grill. Our guest went for the Australian Wagyu bavette because how could you not? It was every bit as good as it should be and beautifully glazed with a sweet-peppery sansho sauce.
They'll ask you if you want some rice with it, if you're still hungry, say yes. Portions aren't big here but they don't need to be.
Shiro is the sort of restaurant where a vast amount of satisfaction is derived from eating delicious things, not stuffing yourself on them.
Our choice was a grilled kabayaki eel – a delicate fillet of fish with the same sansho glaze served in a hot stone bowl that crisps the edges of the eel's bed of rice. Everything should be mixed together as the waitress will tell you, but don't miss out on a bite of that eel solo.
They were out of the matcha tiramisu when we went so we opted for a black sesame fondant because there happens to be a member of our team that would pretty much crawl across the hot coals of hell to demonstrate his love for the dessert.
It was pretty nice. Sesame paste has a very unique silkiness to it. If you've really nerded out into the depths of regional Chinese/Japanese cuisines you may have a taste for it, but it doesn't beat molten chocolate in our books.
The Drinks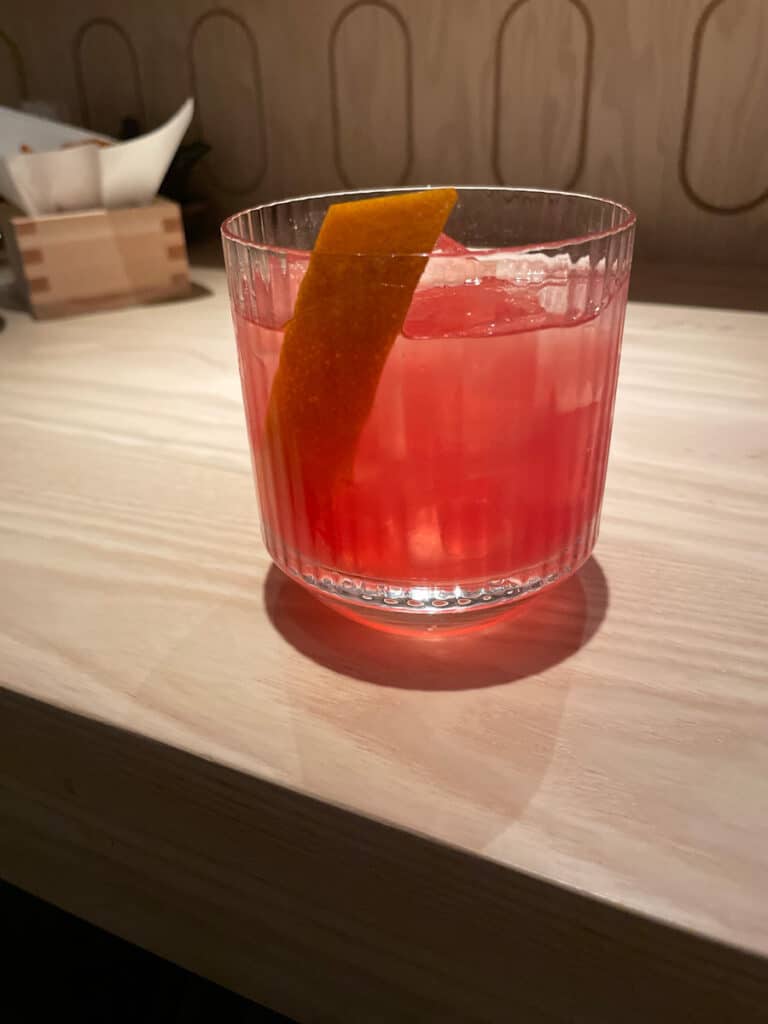 Cocktails at Shiro could be described as conservative. As much of the menu is given over to classic cocktails as it is their own creations – a small list of five that go under the moniker of "inspirations" and are actually considered twists on elements of the classic cocktails menu.
There's a wine list that won't disappoint but we knew we had to sample at least a couple of cocktails – for journalistic integrity of course – before we tucked into that. The Shiso Negroni and the Gekko both went down easily.
Fans of foamy cocktails will find much to love in the Gekko. Vodka, Sake, Lychee, crème de fig, Chambord, lemon. It's got a few quite complex things going on that make for a drink that has more than meets the eye.
Sherbert seemed a funny thing to add to a negroni until we tried it, but the Shiso Negroni made its new element right at home as a balance to the Campari's bitterness.
The Look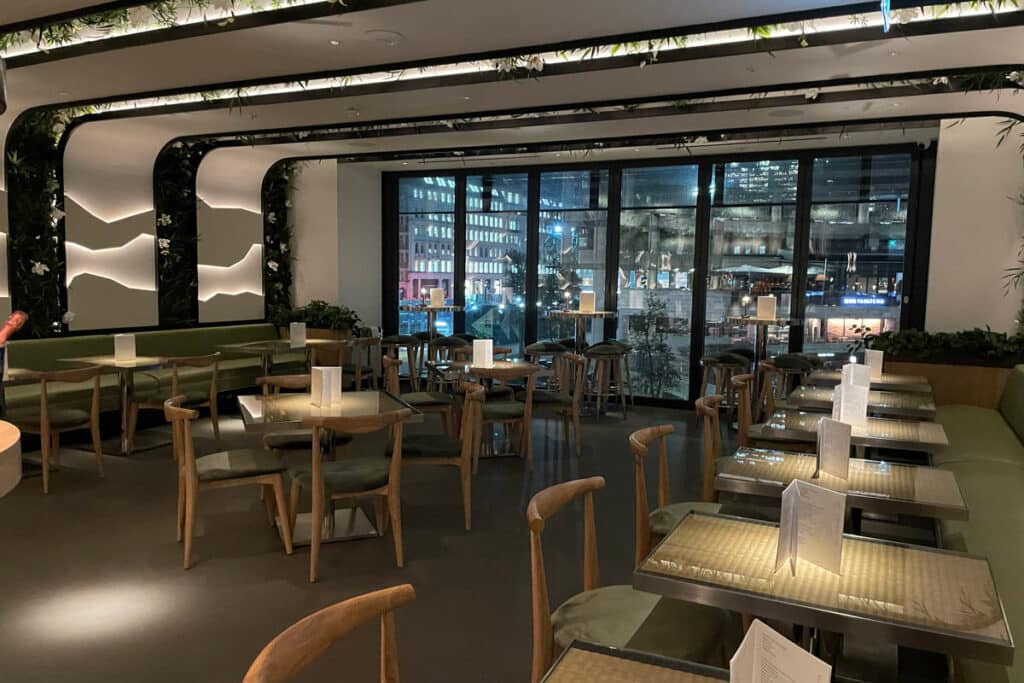 Shiro looks slick. The space is two rooms over two floors and downstairs – where most of the action is – seems to be the place to be.
Naturally, a bit more flare had been granted in that area. It's modern, highly modern, at points bordering what some super-stylish spaceship looks like in the minds of sci-fi directors that can't see much beyond the ultra-modern of their own era.
Walls are off-white and cut with curving lines of light. Ripples of metal hang from the ceiling and give a very abstract impression of the surface of water; though that's totally up for interpretation.
It's also probably unimportant. What you'll be looking at is the sushi counter – a long bar that sits between the robata and the section where the drinks are made.
Though it's not as theatrical as the kind of thing you get at an omakase sushi joint, it's hard not to let your eyes drift toward what the chefs are up to when you know the quality of the food that's coming.
Final Thoughts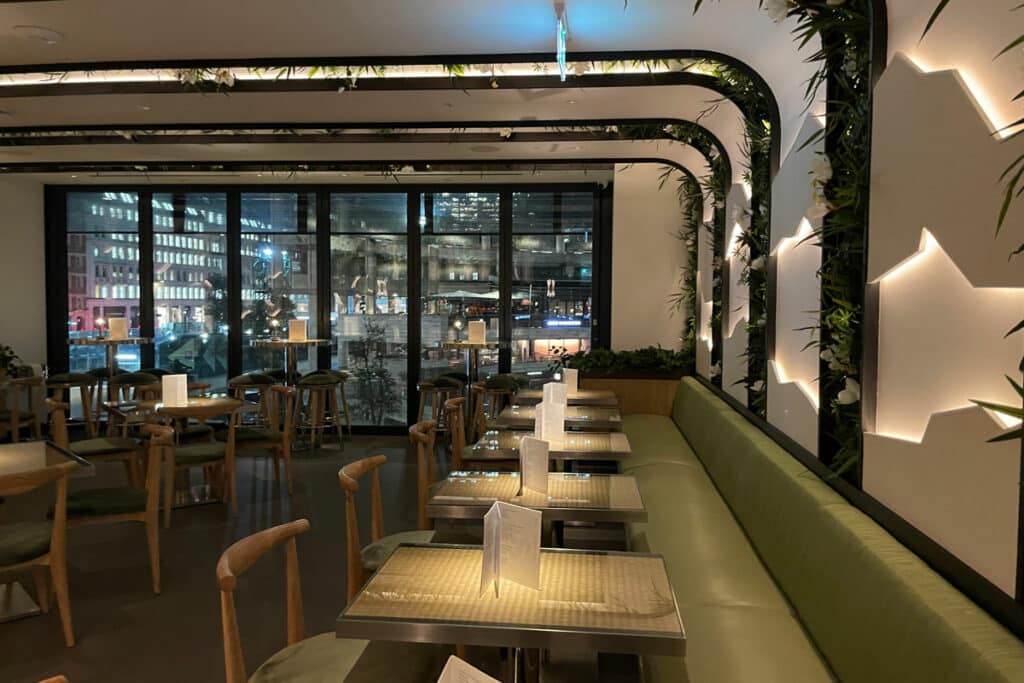 Shiro is an excellent sushi restaurant. It's also a very good robata.
The sushi, in particular, is worth making a visit for. Especially the more modern nigiri that add elements you don't see elsewhere.
But, let's be real – you're probably going to come here to get a taste of that crystal sushi. To be honest, it wasn't the best piece of sushi we ate that night.
It will look good on your Instagram though.
Shiro – Practical Information and Map
Price: £££
Address: 100 Broadgate, Liverpool St, London EC2M 2QS
Map
Review 4 / 5
Shiro - The Full Review
Shiro: The Full Review
Dining at Shiro is a delight. The restaurant boasts all the class expected of the Aqua brand with the delicious flavours to match.