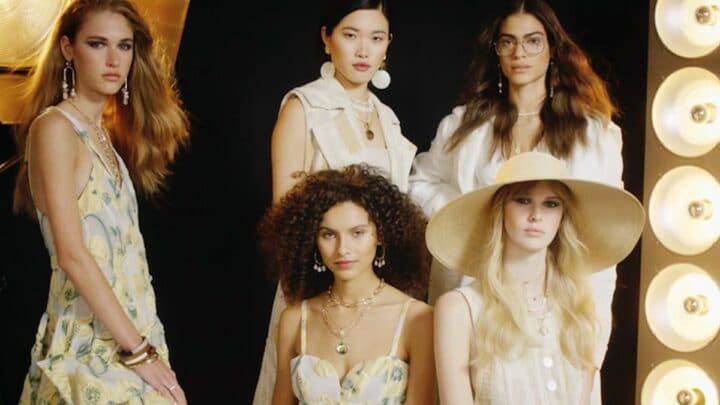 London Fashion Week 2023 is fast approaching – we've got the lowdown on the hottest designers and events hitting the city next month.
Running between Friday 17th to Tuesday 21st February 2023, the LFW calendar will be half digital and half IRL.
Catwalks and shows will be hosted at multiple locations across the city, including 180 The Strand and Browns East – bringing a range of sharp styles (and more than a few totally outrageous ones too) to London.
Alongside a jam-packed London fashion week schedule, there are plenty of free educational events, including talks and the completely digital discoveryLAB which blends art with fashion.
But which designers are the ones to look out for? And which shows can us regular Joes attend? Time for you to put your best foot forward with this guide to London Fashion Week 2023.
London Fashion Week 2023: Top Events
Paul Costelloe
Friday 17th
Womenswear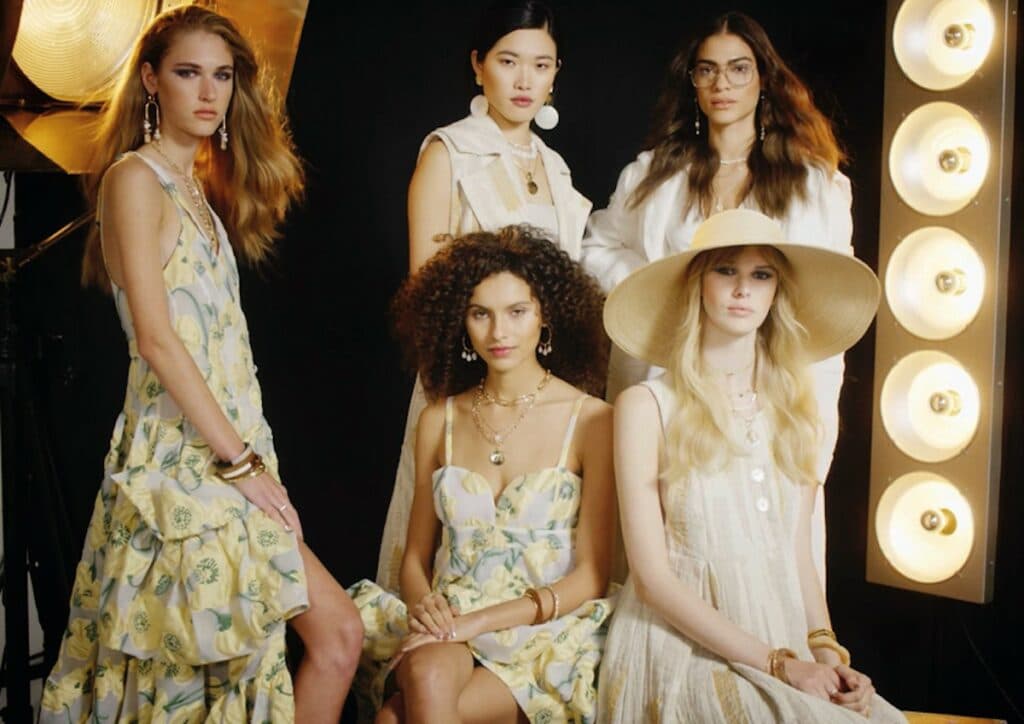 pioneer of London Fashion Week and a true icon, Paul Costelloe returns for his 38th year of LFW with an exciting womenswear presentation for 2023.
Costelloe began his illustrious career working at the Chambre Syndicale de la Haute Couture in Paris, and honed his craft when he was surrounded by the designers Emanuel Ungaro and Pierre Cardin during his time in the French capital.
The brand now creates a huge range of collections, from womenswear and menswear to bags and homeware.
Paul's Spring/Summer 22 womenswear collection focused on boxy shapes and classic tailoring, so who knows exactly what Paul's got up his (very fashionable) sleeve for AW23.
Invitation Only
Molly Goddard
Saturday 19th
Womenswear
No London Fashion Week timetable is complete without a show from the iconic Molly Goddard.
Known for her unashamedly eclectic designs boasting garish florals, tulle skirts, and bold use of colours – her Spring/Summer 22 collection was particularly luminous – seats at Molly's shows are highly sought after.
Invitation Only
JW Anderson
Sunday 19th
Women and menswear
A big event in the Fashion Week calendar is always the JW Anderson show. The Northern Irish designer's signature blend of chic and high-street regularly pushes the boundaries.
Never was that truer than the time he hosted a catwalk show in between sets of blinking slot machines and arcade games.
If you're looking for boundary-pushing catwalk shows and clothing that will inform the market, you'd better get pulling strings for an invite to this.
Invitation only
Atelier Zuhra Catwalk
Saturday 18th
Womenswear
Queen of the dressmaking world, the items that come out of Atelier Zuhara are regularly some of the coolest things to be seen at fashion shows.
They push boundaries without going so avant garde they wouldn't be able to work anywhere outside a very niche catwalk show. The designs often incorporate very stylish patterns and textures to achieve their luxe finish.
The Atelier Zuhara Catwalk show is open to attendance for anyone, so you can go get a taste of these wonderful dresses if you think it's your kind of thing.
Eudon Choi
Saturday 18th
Womenswear
Korean born and trained menswear designer Eudon Choi regularly shocks with his innovative shows of cutting edge fashion.
The clothes are sleek, and not as over-the-top as some of the items you'll find on the catwalks of London fashion week, and that's why we love them. There's nothing as stylish as the understated afterall.
His show is a regular reason for excitement at London fashion week, and is therefore invitation only.
Invitation only
AADNEVIK Catwalk Show
Sunday 19th
Womenswear
Designer pair Hila and Kristian Aadnevik launched AADNEVIK in 2013, bringing luxury occasionwear and intricately designed pieces to London. Their designs ooze femininity through luxe embellishments, soft layering, and romantic silhouettes.
They champion the concept of blending ready-to-wear with couture. Both designers and their styles contrast each other, with light and dark concepts working together harmoniously.
LFW 2022: Designers to Watch
POSTER GIRL
London Fashion Week 2023 will be POSTER GIRL's second.
You might recognise their form-fitting, cut-out dresses from the Instagram feeds of Dua Lipa, Kylie Jenner, and Selena Gomez, to name a few – it's safe to say that the brand has built up a cult following.
Between them, co-founders Francesca Capper and Natasha Somerville have cut their teeth at the likes of BVLGARI, Dior, and Vivienne Westwood… but POSTER GIRL looks set to debut some of their most innovative pieces yet.
Stephen Jones Millinery
Making his name on the London fashion scene way back in the seventies and the beginnings of street style, Jones has since become an icon of the millinery world.
His hats, made at his boutique Georgian townhouse-cum-workshop are sought after from the highest levels of fashionista stardom.
They've even found their way into the halls of the V&A, the New York Metropolitan Museum of Art and the Louvre. Even if you can't get your hands on one, you'll want to keep an eye on SJ's hats.
Yuhan Wang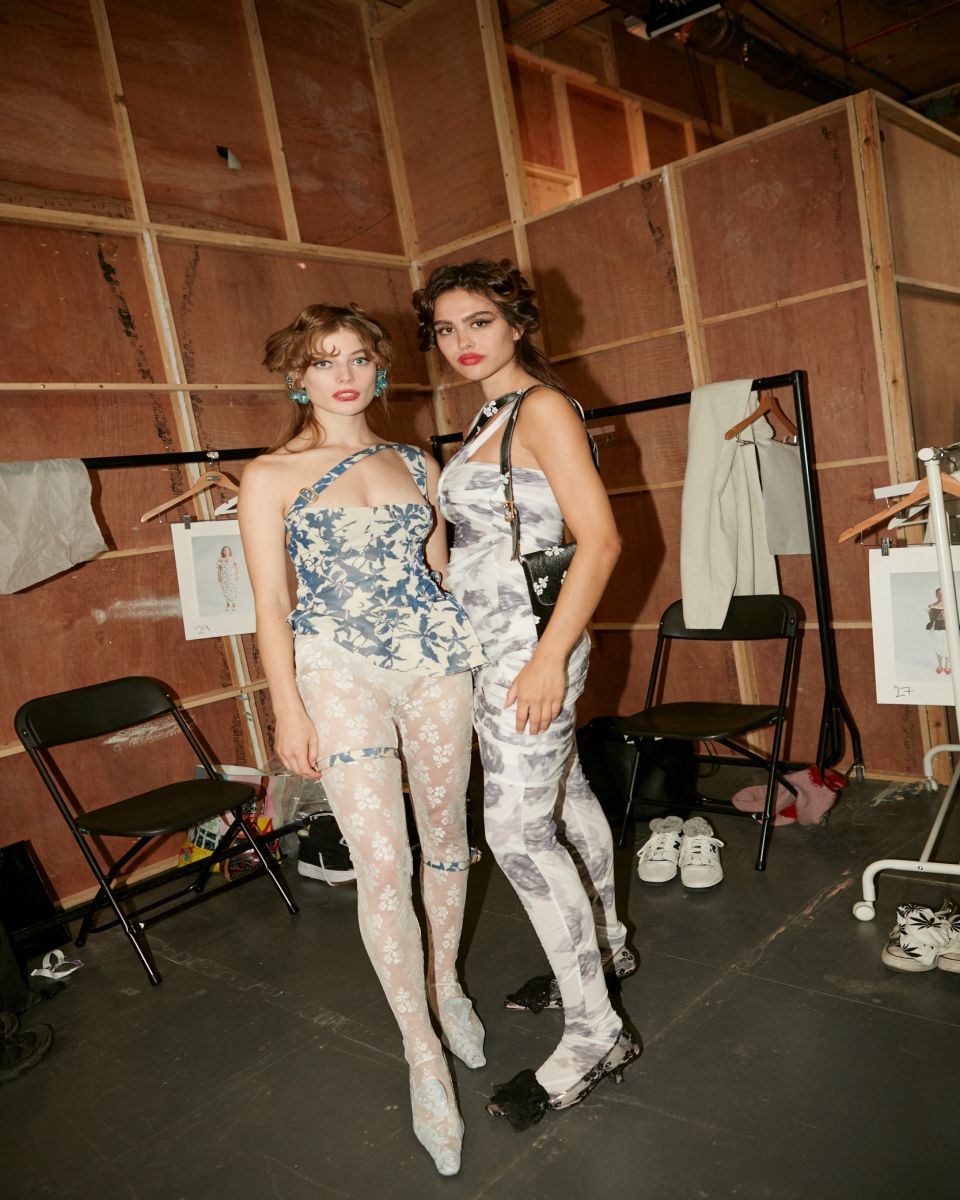 Known for her womenswear pieces that champion femininity through romantic nostalgia (think gothic florals, creamy lace, and waist-nipping tailoring), London-based Yuhan Wang is a designer to look out for over the next few years.
London Fashion Week: Practical Information
When is London Fashion Week?
London Fashion Week is running between Friday 17th to Tuesday 21st February 2023 – the designers will be showcasing their Autumn/Winter 2023 collections.
London Fashion Week is also running a city-wide programme of events which will see more than 200 brands and 400 events being held across the capital. You'll be able to snag designer discounts, restaurant offers, and attend exciting Q&A sessions and previews.
You can check out the city-wide offers and events here.
How to watch London Fashion Week
This year LFW is running as a digital-hybrid event, which means that many of the events are available for everyone to watch online.
Alternatively, grab your London Fashion Week tickets to some of the public shows by RSVP'ing through the links above.
Discover More London Fashion Guides