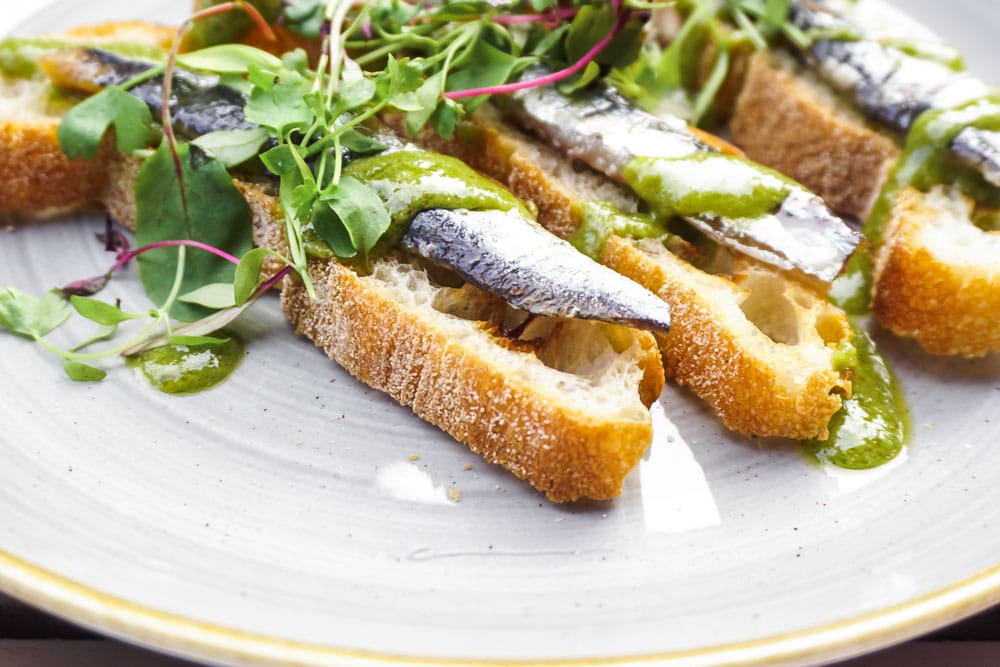 Looking for the best restaurants in Battersea? From delightful Spanish tapas to Italian gems, these are the places you need to dine at.
You'll find the best of both worlds in Battersea, with contemporary and traditional restaurants in abundance. Whatever craving strikes, there's guaranteed to be a restaurant serving up a little bit of what you fancy.
Battersea is marked by its unmistakable rejuvenated power station along the River Thames – in fact, with its beautiful views, it's one of our favourite spots to dine in the capital.
Read on to discover the best restaurants in Battersea.
Best Restaurants in Battersea
Nutbourne
££
For locally sourced ingredients and a sustainable dining experience, Nutbourne restaurant is one of the best places to eat in Battersea. Nutbourne focuses on a farm-to-fork cooking approach in their zero-waste kitchen.
They have a selection of vegetarian and meaty dishes available for diners and offer up what might just be the tastiest Sunday roast menu in Battersea. We also recommend dropping in for Mussel Fridays for fresh seafood paired with local white wine.
Nutbourne's charming restaurant and guilt-free, sustainable meals make for a great dining experience.
Tapas Brindisa
££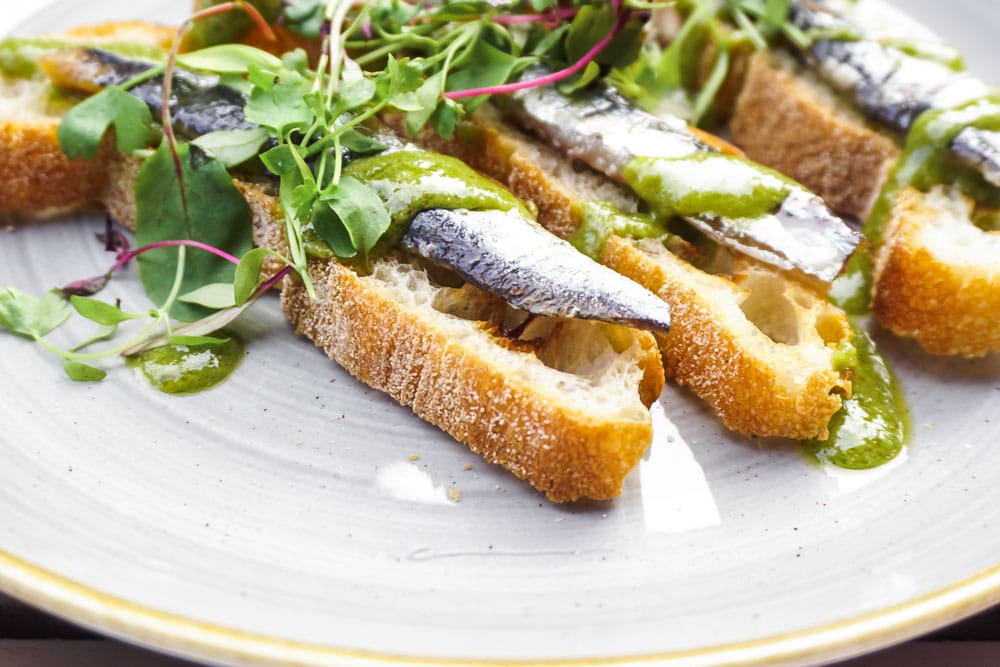 This Battersea Power Station restaurant delivers a punchy combination of Spanish flavour and culture. Tapas Brindisa in Battersea is a family-friendly restaurant on the banks of the River Thames.
The restaurant's open theatre-style kitchen brings pleasant liveliness to the dining area. Tapas Brindisa's bar is the best place to be for an aperitif with a view, though for a more intimate setting, guests can opt for private dining.
Visit Tapas Brindisa with a hungry group – their Spanish tapas menu is ideal for sharing and swapping. We adore the huevos rotos, a hearty mix of eggs and potato, as well as the ultra-crispy patatas bravas.
Wright Bros
£££
Started by a pair of brothers-in-law with a shared love of oysters, Wright Bros restaurant is all about sharing the sea's best produce with London. After meeting one of the top oyster farmers in France, the Wright brothers developed a passion for the delicacy.
They went from supplying oysters to farming oysters and eventually to cooking them after opening up the first Wright Bros. There are currently three Wright Bros restaurants in London, but we especially love the one in Battersea.
Here you'll find the finest oysters prepared in various styles, along with seafood platters and surf and turf served 'the Wright way.'
Humble Grape
££
With a selection of over 400 sustainable wines, the Humble Grape Wine Bar serves some perfectly paired and delicious food. We rave about this fabulous bar and restaurant often, but it's for good reason.
Whether you're in the mood for something light or on the verge of hangry, you'll find something to love on the Humble Grape's sustainable menu. Their selection of fish, meat and vegetarian boards is the perfect option to share with a group.
The Crown
£
Head down to The Crown pub in Battersea for a good old-fashioned greasy burger or a not-so-greasy plant-based alternative. If you're wondering where to eat in Battersea,
The Crown is a great place to catch a sports game with friends or pick up a burger on your way home.
One of London's top five burgers lives here. Try the cheekily-names 'juicy b*stard' burger if you stop by. Pair that with some loaded fries and a pint of craft beer and you'll certainly understand the reason it's lovingly named that..
Tip: The Crown offers a lovely 20% off to all NHS workers, as long as you have your ID badge to prove it.
London House
£££
No list of the best restaurants in Battersea is complete without Gordon Ramsay's London House.
The menu at London House boasts a wide selection of traditional and internationally inspired dishes, think hearty pies and pasta dishes.
Besides that, it's known for being a standout family and dog-friendly restaurant in Battersea. A short walk from the area's magnificent park, London House is open seven days a week for lunch and dinner – with three group menus available, ranging from £45 to £55 per person.
Mien Tay
£
Family-run Mien Tay restaurant in Battersea serves authentic cuisine from South-West Vietnam. Inspired by the Delta that flows through the region of Mien Tay, this restaurant serves fresh food with a warm welcome.
Open seven days a week for lunch and dinner. Mien Tay is the best place to get traditional Vietnamese food in Battersea.
Try their seafood hot pot or the pho with sliced beef – or, order multiple dishes and share with friends to sample a bit of everything.
Banana Tree
££
With nine locations dotted around London, Banana Tree restaurant offers a delicious pan-Asian menu and happy hour specials that you shouldn't miss.
Specialising in a combination of Thai, Malaysian, Singaporean, Vietnamese and Indonesian flavours, there's sure to be something you'll love on the Banana Tree menu. This restaurant in Battersea is a popular lunch spot for locals, with their veggie spring rolls proving very popular.
San Gennaro
£
San Gennaro offers diners home-style Napoli pizza and pasta. This Italian restaurant in Battersea uses a combination of local produce and the best ingredients straight from Italy to create their traditional dishes.
Their thin-base Napoli style sourdough pizza – offered with a variety of traditional toppings (no pineapple here, we're afraid) – is a hit with locals.
Primarily a pizza joint, there are only a few pasta dishes on this menu, but enough to fill a pasta-shaped gap in your stomach.
Other Places to Eat in Battersea
Holy Cow
£
While it's not a sit-down restaurant, Holy Cow offers fresh and fragrant Indian food to take away or deliver to your door. This Holy Cow branch opened its doors in 2006 and continues to serve authentic Indian food near Battersea Park.
Diners can order online or by popping into the restaurant. Holy Cow has an extensive menu of traditional vegetarian and non-vegetarian dishes, though if you're looking to try a spicy speciality, give the Aloo Tikka Chaat a go – the creamy sauce perfectly combats the heavy spice.
Sushi Café
££
If you're looking for a Japanese restaurant in Battersea, head down to Sushi Café on Battersea Park Road.
Two best friends with a passion for Japanese cooking opened this restaurant. They each dedicated two years of their lives to perfecting sushi rice and had over ten years of experience before starting their venture.
Along with an extensive list of sushi, this restaurant offers bento set meals, udon and ramen meals, and a selection of grilled fish and chicken dishes. You can also enjoy their buffet-style menu, where you get 90 minutes to scoff yourself silly for £20 per person.
The Lighthouse Pub
££
The Lighthouse Pub is the perfect place to grab some food – and a drink or two. This pub stocks all the popular brands of beer but also gives back to the community by serving local beer from small breweries.
Designed to feel like home, the Lighthouse Pub serves delicious home-style meals inspired by international cooking. Take, for example, the delicious Korean burger that delivers a flavourful kick.
The Lighthouse also boasts a very popular Sunday roast menu, which is high in demand – make a reservation via their website well in advance.
Battersea High Street Market
£- ££
This small market might just be the spot if you're looking for somewhere to eat that offers more variety than most Battersea High Street restaurants. To experience the best of Battersea, visit the High Street Market, which is open every Saturday and Sunday.
Here, amongst the friendly faces and welcoming atmosphere, you'll find an array of fresh produce, locally and internationally sourced preserves, cheeses and meats, drinks and delicious baked goods.
Practical Tips and Map for Exploring The Best Battersea Restaurants
If the weather is sunny (we can hope!), opt to pick up something tasty from your favourite restaurants near Battersea Park and head over to the park for an al-fresco feast.
Evenings and weekends can get busy at places to eat in Battersea. You should make reservations in advance, especially if you're dining with a group.