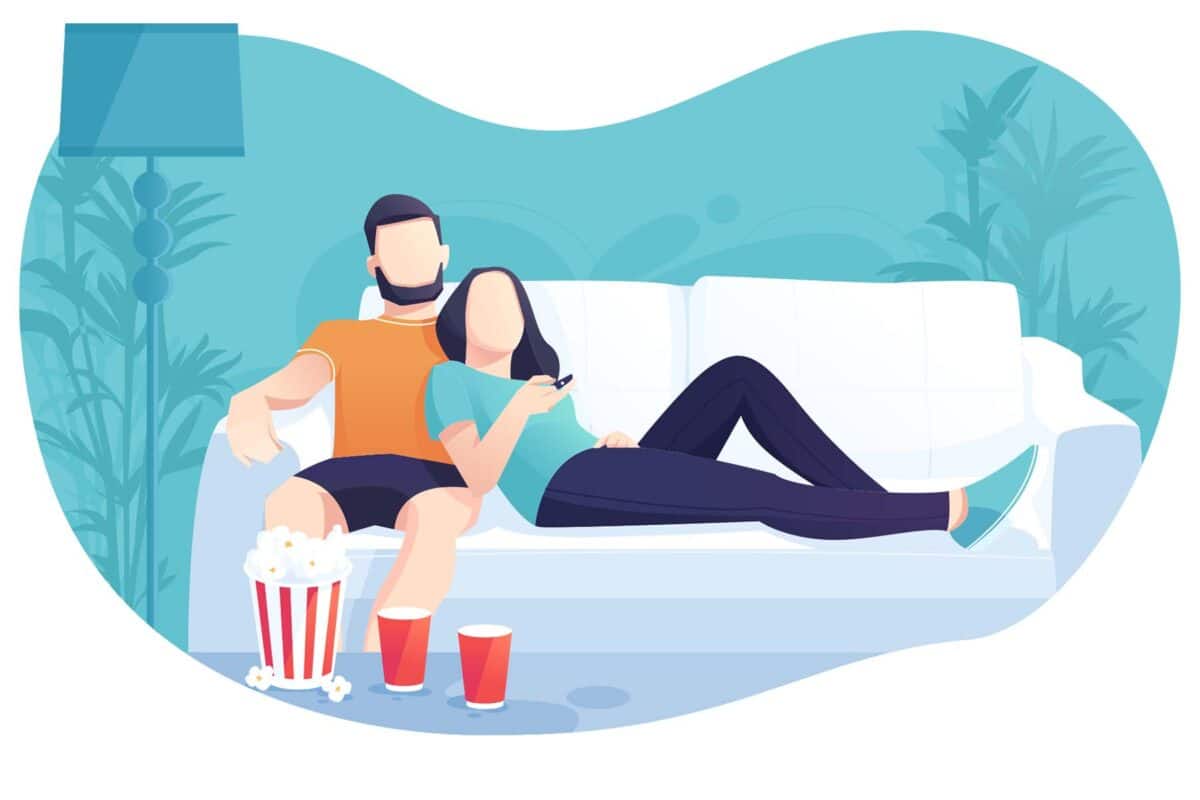 Looking for the best things to do in lockdown London this week? Here's where to start.
Brilliant Things to do in Lockdown London This Week
Nubya Garcia: Barbican Concerts on Demand
Until 24th Mar 2021
London jazz maestro Nubya Garcia's stellar concert at The Barbican was one of the rare highlights of 2020. Now you can watch the city's rising star take to the stage to perform her debut album SOURCE with the Barbican's Concerts on Demand service, which launched on the 9th February. Expect freeflow jazz with Caribbean, Latin American and Afrobeats overtones come together in Garcia's unique style.
Catch Some Brand New Theatre: Good Grief
15th February – 15th April
In an age where in-person productions are pretty much impossible, it's refreshing to see a brand-new play released to our screens. Good Grief – a romantic comedy about the complexities of grief – stars Sian Clifford (of Fleabag fame) and Nikesh Patel (Artemis Fowl). Witty, sharp and irreverent, it promises to be a lockdown hit.
Valentines Meal Kits at Home
Valentine's Day is nearly upon us. Roll eyes, vomit in mouth. Still, it's an excuse to do something a bit special, and one upshot of 2021 is that something special doesn't involve you being surrounded by a million other couples having their "special evening" too. Instead, seize the opportunity to get a blow-out meal delivered to your home and feast like a king – with not a rose-wielding tout in sight. There's still time to order from Smokestak, The Wright Bros, The Northall at The Corinthia, Claude Bosi, Luca and Vinoteca
Celebrate LGBT+ History Month with the Tate's Queer & Now
February 2021
Celebrate LGBT+ History Month with the Tate's Queer and Now Festival, which brings together queer artists and activists from around the world to explore queer culture as an international community. Members of the queer community are also invited to "Queerate" works form the Tate's collection to provide insight into their personal meaning and provide an alternative viewpoint to mainstream interpretations for a new gallery on the Tate's website.
Feast on Posh Pancakes on Pancake Day
Gone are the bog-standard pancakes of our childhood, the pancakes of today have evolved into fluffy, pillowy affairs doused with decadent toppings and unctuous sauces. What's not to love? Still, it's rather a lot of faff to make them at home, which is where pancake kings Where the Pancakes Are come in – whizzing their indulgent pancake meal kits (choose from bacon and maple, salted caramel and banana or lemon and sugar) to your door. Beware that your laziness comes at a price – of £45 to be exact.
Liven Up Your Evening with Disco Yoga
11th February 8pm
There are few things that aren't elevated by a bit of disco… and it turns out that yoga is no exception, at least that's what the folks at Disco Yoga say. Work your way through a selection of energising yoga sequences to the backdrop of banging disco classics. Sequinned leotards optional.
Immersive Raves at BBL Club
It's early 2021, a time when the idea of going to a real-life club feels like an alien concept. Spending the night packed into a crowd of strangers breathing all over you at will? Pass me the smelling salts.
Luckily the inventive folks at BBL Club (pronounced Bubble Club you know) are here to save us from the sharper end of the social boredom stick with banging immersive raves from some of the best DJs streamed straight to you. With a lineup that includes Fat Tony, Eats Everything, Grafix, Heartless Crew and Fred V, it's one way to inject a little life into sad old February.
Savour a Freshly-Pulled Pint
"Help me Superman, I haven't had a decent pint in months and I'm gasping" – Anon.
This excerpt from a completely true and not at all made up member of the public shows the real plight we're all going through right now.
Help, is however, on the way. The Forest Road Brewing Co have started delivering freshly-pulled pints to people's doorsteps in a van they've designated as the Tactical Beer Response Unit. It's completely contactless and you can choose from not one but three beers – their Posh Lager, Work IPA and Easy Pale Ale.
That's the good news… the bad? It's currently limited to E2, E5, E8 and E9 postcodes (for now).
Watch Monuments at the Donmar Warehouse
From 9th February
Born in the wake of the anti-racism protests of last year, the Donmar Warehouse's new project Monuments looks at how the complicated legacy of the British Empire continues to shape contemporary London. Watch 12 multi-racial young Londoners explore their experiences of everyday racism in a bold short film led by Sara Aniqua Malik.
The Kindling Hour
24th February – 30th May.
First came Plymouth Point, then came The Mermaid's Tongue and now, The Kindling Hour promises to be Swamp Motel's most ambitious immersive theatre production yet. No, it doesn't start until the 24th February but the previous two productions were so popular you're going to need to grab your spot quick.
Thrusting you into the centre of a chilling underworld, your task is to bring down the London Stone Consortium through a series of clues and weird encounters with unusual characters.
Take a Korean Cooking Class
Daily, except Mondays
With so many people taking the opportunity to learn a new skill during lockdown, there's never been a better time to try your hand at a new cuisine. This 90 minute cooking class from a South Korean food and travel journalist walks you through the basics, flavours and techniques of Korean cooking, as well as helping you create your own Korean feast to munch at home.
LAST CHANCE: Learn About Coded Bias on Barbican Cinema on Demand
Until 12th February
In a society that's increasingly reliant on technology to function, this document raises the question about what we should do when technology gets it wrong, when technology is coded in such a way that isn't fair or equitable?
MIT Media Lab researcher Joy Buolamwini's discovery that most facial-recognition software frequently misidentifies women and darker-skinned faces shook the technology world and highlights an important modern day civil rights issue – particularly in the increased use of facial recognition by police and security services around the world.
Watch online with the Barbican's Cinema on Demand – there's also an accompanying screen talk with the director and other prominent voices in the technology field. It's a brilliant watch and raises interesting questions about the role of AI and corporate power in today's world.
Peter Pan Afternoon Tea from the Shard
Afternoon tea connoisseurs will know that The Shard is no stranger to a themed afternoon tea, but they have outdone themselves with their magical Peter Pan-inspired afternoon tea. Created in partnership with Great Ormond Street, venture to Neverland and your favourite characters whilst stuffing your face with delicious treats. Magic, food and charitable causes = all the yes.
The Hunt is Afoot – Online Immersive Sherlock Holmes Adventure
27th January – 10th March
At the beginning of the first lockdown, things to do in London in lockdown were mostly restricted to watching Netflix and crying into your takeaway. No more. If there's one benefit from the repeated lockdowns of the past year, it's that folks have become really quite inventive at upping the entertainment stakes.
Step into the shoes of the nation's favourite detective with a Sherlock adventure from the comfort of your home. The Case of the Hung Parliament is an immersive whodunnit from Les Enfants Terribles – the very same folk behind the Olivier-nominated Alice's Adventures Underground.
It kicks off with a grisly beginning: the Home Secretary, Foreign Secretary and Lord Chamberlain have all been found dead – hung on their birthdays. It's up to you to solve the case before others meet their untimely end.
Catch the Twenty Twenty Films from the Young Vic
Available from 6pm 28th January
Initially planned as a series of plays, the groundbreaking collaboration between the Young Vic, Blackfriars Settlement, Certitude and Thames Reach – three local community organisations in Lambeth and Southwark has led to the creation of three short films: Tapestry, Even at Our Age and Home(body), each woven into the stories of their local communities. Catch them online (and free of charge) from 6pm today.
Scope Out Raphael's Cartoons at the V&A
From 25th January
Missing your cultural fix? Delve into the V&A's newly-released online offering of digital content about the Raphael cartoons. The cartoons are one of the greatest Renaissance works of art here in the UK, a series of tapestries created by Raphael for the Sistine Chapel, before being brought to the UK in the 17th century.
Created to celebrate the transformation of the Raphael Court awaiting the public after the national lockdown lifts, the digital series offers viewers a chance to learn about the history and making of the cartoons. Nab the opportunity to see them in unparalleled detail.
Dip into the British Museum's Arctic Culture & Climate Exhibition
Now – 21st February
We haven't been able to see the British Museum's seminal exhibition, Arctic: Climate & Culture in person for much of its four-month run. Luckily, the museum has moved the exhibition online in a series of enlightening videos on YouTube, raising discussion about focuses on the debilitating effects climate change is already causing in the Arctic – at the fastest rate in human history.
Objects from the British Museum's Arctic collection, accounts from indigenous peoples, tools, clothing and other exhibits are brought together to tell how Arctic peoples have adapted to changing temperatures in the past and the mounting difficulties of confronting the extreme weather caused by change.
It's a compelling look at what it actually means to deal with the ever-closer future of an ice-free Arctic through the eyes of the people who live there.
Colour in a Gigantic Map of London
Dreaming of exploring London? Well, now you can… kind of. House of Cally's gigantic colouring map of London is a meticulously hand-illustrated map of London – complete with all its fabulous landmarks and local 'hoods. All that's left for you to do is add the colour.
Scoff London's Most Delightful Brownies
With each batch handmade in NW London, Den Bake Shop's brownies are a thing of unctuous, chocolatey gooey beauty: in other words, the exact thing you want to land on your doorstep when it's grey and rainy and you can't leave your house.
These aren't just any brownies either. Delights such as salted caramel and almond, double chocolate and orange and vegan-friendly hazelnut feature on the menu. The toughest part is choosing which one to go for (hint: bag yourself a mixed box so you don't have to).
Neon Naked Life Drawing
Daily
Compose your own colourful neon life drawings at home with this cool one hour tutored class. Neon painted life models sit, ready for you to transpose to paper and create your very own work of art. Forget fuddy duddy hyper-realism and explore a range of different techniques and processes to draw the models, experimenting with colour, light and shape for an art class like no other.
Delve into the Weird World of Viktor Wynd
February 14th and 28th
Some of you will be familiar with Viktor Wynd – the provocative figure behind Viktor Wynd's Museum of Curiosities in Hackney. If you're not: here's a 101 – Wynd is an experimental artist and curator whose works and collections focus on the weird, sometimes occult facets of outsider art.
Just the person you want reading your bedtime stories then – which is exactly what he's doing in his series of fairy tales, ballads and lullabies with musician Sam Lee.
The programme ranges from Grim Tales from the Brothers Grimm to Erotic Tales from the Arabian Nights with 50% of donations going to Crisis to Help the Homeless.
Indulge in Sketch's Afternoon Tea At Home
We may not be able to head to the sumptuous rooms at Sketch for their decadent afternoon tea, but all is not lost.
Order one their MMmmm… Afternoon Tea boxes and you can indulge in your very own afternoon tea ritual at home – without the fuss and bother of having to prepare it all from scratch.
Bonus points for what is probably the most beautiful culinary art you'll get to devour at your own table. Rest assured, it's just as tasty as it looks.
Indulge in a Vegan Feast from The Cinnamon Club
The Cinnamon Club stepped up to the plate with London-wide delivery early in the first lockdown and have been doing no small part in bringing joy and flavour to London's tables ever since. This month is no different, with Executive Chef Vivek Singh creating a vegan cook at home feast kit that is, quite simply, a delight. The menu, which spans more courses than we're able to count, stars warming dishes like Grilled Aubergine with Sesame Tamarind Crumble, Spiced Lentil, Tomato and Pepper Soup and Chargrilled Pineapple with Stem Ginger and a Quinoa Crumble.
Learn to Crochet
With more people learning a new crafting skill than ever before, there's never been a better time to pick up your hook and learn to crochet.
Not quite confident enough to set off on your own? Tea & Crafting's instructional workshops will have you crocheting that new blanket in no time. The class includes all the tools and materials you need delivered to your door and walks you through some of the most popular crocheting stitches you'll need to get started.
Go For a Winter Walk (In Your Local Area)
Cosy walks in your local area are about as exciting as it's going to get for outdoor activities this month. Don't diss them – London is packed with brilliant walks ready for you to wrap up warm and explore on two feet.
From a circular walk around Richmond Park to the Jubilee Walk down the bank of the Thames, you'll want to check out this guide to the best walks in the city – complete with maps for each route.
Get Ginned
If you missed my piece on the London gin distilleries collectively holding up the gin delivery mantle during lockdown part one a) how could you? b) go and read it now.
TLDR version? There are lots of brilliant indie gin distilleries in London who you can support by ordering gin. Order gin, drink gin, get ginned. Rinse and repeat.
Get Cultured AF With The Royal Opera House at Home
Get cosy on the sofa and take your pick from the Royal Opera House's vast offering of ballet and opera broadcasts – available for streaming for the first time as part of their #ourhousetoyourhouse programme.
The programme features a selection of free broadcasts from the archives, live pay per view performances and cultural highlights appearing on the Opera House's own platform, as well as additional appearances on Netflix, the BBC, YouTube and more.
With family favourites such as Christopher Wheedon's production of Alice's Adventures in Wonderland, classics including Puccini's La Boheme and The Nutcracker (of course) – it promises to be a very cultured January.
National Theatre at Home Membership
Ongoing
I don't know about you but the National Theatre pretty much single-handedly brightened up my lockdown part I Thursdays last year – just part of the reason why their new National Theatre at Home platform is so exciting.
For £9.98 a month or £99 a year, you get unfettered access to their vast roster of plays to watch from the comfort of your sofa. The current lineup includes the brilliant production of Othello with Adrian Lester and Rory Kinnear, Corialanus with Tom Hiddleston and a bold reimagining of Chekov's Three Sisters set in Nigeria.
Taylor Wessing Photographic Prize
Going digital for the first time ever, the Taylor Wessing Photographic Portrait Prize exhibition at the National Portrait Gallery is just as powerful as ever.
Hop online and take the opportunity to see each work and learn about the artists in the exhibition's virtual gallery space. The winner was announced a couple of days ago – I won't spoil the surprise though – check it out yourself.
Curator's Tour of Artemisia at the National Gallery
Much as you like to ponce about and pretend you know everything about art, it's unlikely that you know as much about the art at the National Gallery's Artemisia exhibition as the curator, Letizia Treves.
Join Treves as she takes you on a 30-minute online tour of Artemisia, delving into the violence and drama of the exhibits within and revealing the fascinating story of the artist as she goes.