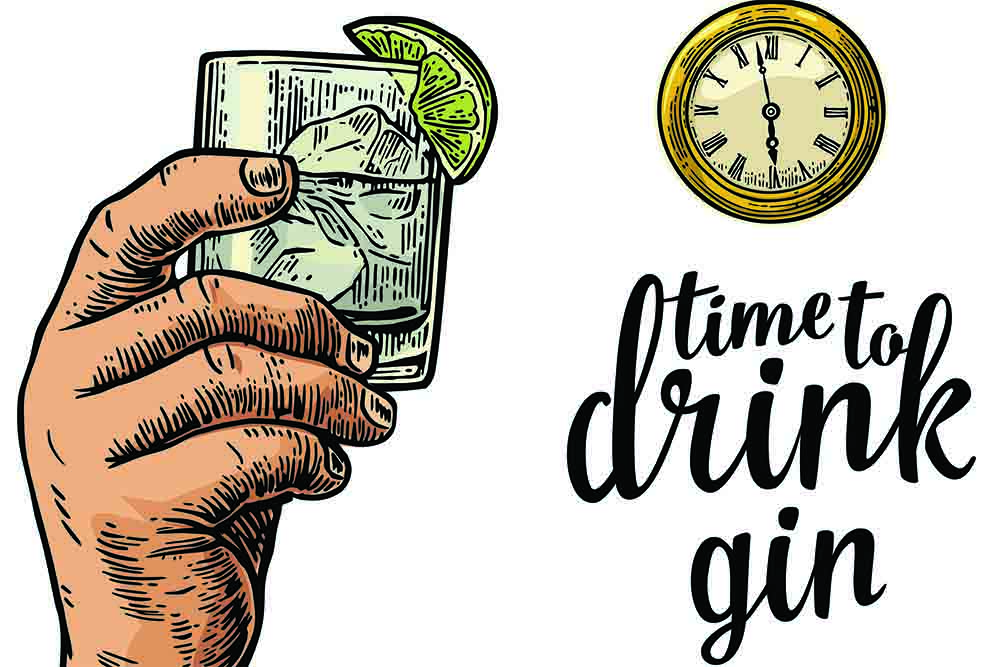 You might not be able to frequent your favourite pub or bar at the moment, but that doesn't mean that you can't enjoy the best of London's gin scene – these craft distilleries are offering gin delivery in London (and beyond).
With a wealth of independent distilleries, now's the perfect time to fill your cabinet and support small business at the same time.
As a long-established gin lover, I've watched as independent small-batch distilleries have mushroomed all over the city in recent years with distinct pleasure.
After all, what's better than gin? Small-batch, craft distilled in, that's what.
Luckily for us, many of the city's distilleries are fuelling our love affair by offering gin delivery across London.
It would be *rude* not to take advantage of it. Here's where to start.
The Best Gin Delivery in London
Sacred Distillery
Credit: @
Sacred Spirits
I'm not going to lie, I bought a bottle of Sacred Distillery's Old Tom at the beginning of lockdown and it has played no small part in perking up my evenings during these torrid times.
You know that when a scientist starts making gin, it's going to be good – which is exactly what happened when founder Ian Hart started producing gin in the noughties in his home in Highbury, where they still distill to this very day.
Organic botanicals meet well-thought out and balanced flavours for the kind of quality gin you could only have dreamt about two decades ago. I'm sold.
Delivery: Nationwide (and free)
58 Gin
Credit: @
58 Gin Ltd
58 Gin have elevated the small batch distilling to another level. Ever fancied yourself as something of a gin connoisseur and want to take things to the next level?
You can order their Make Your Own Gin package where they'll create a custom-made gin to your specifications.
You heard me right – they will make and deliver custom-made gin to your home.
It's £99 for a package, which includes two bottles and a message from their master distiller. As if we needed more of an excuse to get ginned.
Delivery: Nationwide
Hayman's Distillery
Credit: @
Hayman's Gin
Christopher Hayman, the chief distiller at Hayman's Distillery has quietly been shaking up the gins produced by this fifth-generation London-based family distillery.
I guess having 150+ years of gin expertise at your fingertips is no bad thing.
Sure, you'll find some of the classics like a London Dry and the increasingly popular Old Tom, but they also offer the chance to try more unusual fare.
Try the Gently Rested gin, which takes the 19th century practice of selling gin from the cask and runs with it, briefly ageing the gin in a Scotch whisky cask.
Delivery: Nationwide
Sipsmith
Credit: @
Sipsmith Gin
Sipsmith put the G-force back into gin (did that work? I think it worked) way back in 2008 when they single-handedly started the small batch distilling craze we see together.
Two childhood friends decided to found a gin distillery but discovered, to their horror, that an antiquated law from 1817 prevented them.
Did they let it stop them? Obviously no – they petitioned, campaigned and bugged the necessary people until the law was changed.
The rest is history, and I think I speak for all of us when I say we're all grateful.
Delivery: Nationwide
Half Hitch London
Credit: @
HALF HITCH Gin
Located in Camden Market, Half Hitch makes the kind of gin that makes you sit up and pay attention.
Often using obscure and difficult to find ingredients like Malawian black tea, it's safe to say that this isn't your standard gin.
Owner Mark Holdsworth spent fifteen years working for Bacardi before setting up his own distillery – the result? Expertly-distilled but adventurous tipples you can really have some fun with.
Delivery: Anywhere in mainland UK
East London Liquor Company
Credit: @
East London Liquor Company
Gin will always be the number one drink (don't argue with me, I'm right) – that said, sometimes it's nice to have a bit of choice.
That's where the East London Liquor Company comes in – sure they make gin (very good gin I might add) but they also make other tipples including vodka, rum, coffee liqueur and whisky. Basically, everything you need to keep cocktail hour fuelled up and running ad infinitum.
Delivery: Nationwide once a week – order before 9am on Wednesday to be included in the week's batch. Local delivery on Thursday, collection on Fridays.
Mother's Ruin
Credit: @
Mother's Ruin
It's hard to believe, but there was a time when people thought that gin would be the ruin of society (our bitter 2020 selves will laugh at that, for real).
Declamatory notices denounced it as a MOTHER'S RUIN, turning normal upstanding citizens into reeling degenerates at the merest sip.
Today Mother's Ruin is a small distillery in an old World War II munitions factory in Walthamstow cranking out a deliciously drinkable Old Tom Gin alongside a few other flavoured delights like Sloe Gin and Damson Gin.
Delivery: Nationwide – free to customers in E17, E15, E11, E10, E9, E7 and E5
Portobello Road
Credit: @
Portobello Road Gin
Portobello Road is the gin from London's gin-themed hotel (yes, really). It's a fitting location for a distillery – the pub downstairs is one of London's best-preserved gin palaces.
Not content with creating one award-winning gin, Portobello Road now boasts six gins in its collection – though the punchy, upfront Old Tom is the one I can't stop drinking.
Delivery: Nationwide
London Distillery Company
Credit: @
Dodds Gin
I ummed and ahhed about whether to include the London Distillery Company in the list. On the one hand they've just been bought out by a company in Buckinghamshire and are no longer distilling in London.
On the other, their Dodd's Gin and Kew Gardens gins are some of the best gins I've ever had the pleasure of drinking, and they are delivering to London – who am I to quibble?
Delivery: Nationwide
Practical Tips for Imbibing Gin at Home
Want to taste gin like a pro? The first step is to ditch the tonic, ice and garnishes and taste the gin neat then dilute with some water for the second tasting.
There are a lot of different opinions about which glass is best for sampling gin – whichever you go for, make sure it's sparkling clean so nothing interferes with the flavours and aromatics of the gin.
Gin should be tasted at room temperature – both extreme heat and cold can affect the flavours.
Smell first – swirl the gin and smell it from a couple of inches away.
Taste the gin neat first and then diluted with water – both will help you pick up the flavours and botanicals of the gin.
Just get ginned. It's lockdown and you deserve it.