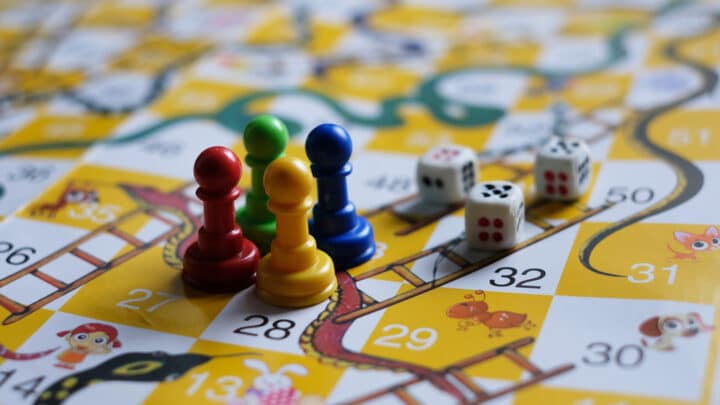 Looking for the best board game cafes in London? Unleash your competitive streak at one of these brilliant spots for gaming.
What once was a nerdy pastime has become rather cool in recent years, if the number of gaming cafes popping up in the capital is anything to go by. With expansive games libraries and custom-built tables, board game cafes make it easy to play pretty much any game you can imagine.
Whether you fancy a slice of cake as you play Catan, or something stronger as you battle it out in Dungeons and Dragons, these London board game cafes have got you very much covered.
Best Board Game Cafes in London
Draughts
Draughts boasts two London locations – though, if we had to choose, we would head to the Waterloo offering located underneath the station in the Leake Street graffiti tunnel.
Both are among the best board games cafe London has to offer, with more than 1000 games spanning Exploding Kittens and ObamaLlama (yes, that's a real game – we checked) to Monopoly and DungeonQuest.
Food-wise, expect plenty of small plates and tacos at both locations, with a few heartier burger options to help you recuperate after a really intense gaming session.
Price: Gaming admission is £6 per person.
The Ludoquist
A Croydon institution, The Ludoquist has been supplying locals with their board game fix for years.
With an almost overwhelming selection of games to choose between, from family puzzles to eccentric board games from the far reaches of Japan, you're spoilt for choice at The Ludoquist.
This London board game cafe also knows what's up when it comes to snacks, offering bowls of sweets and chocolate to graze on as you make your way around the board. If you fancy something heavier, we can vouch that the pizzas are particularly delicious. Yes, we will be ordering the Hawaiian.
Price: £6 per person during peak hours, £3 for off-peak sessions.
The Library Pot
We'd make a bet that The Library Pot is the best board game cafe in London. Not only do they have a wide selection of games but they offer meet-ups for solo players and special events where you can learn how to play classics such as Mahjong.
Food is an eclectic mix of curries, burgers, and snacky bits – their veggie katsu curry is particularly popular amongst gamers.
Price: £5 per person per session, plus a minimum charge of £10 per person on food and drink.
Tanuki Gaming
Tanuki Gaming is the best board game cafe the capital has to offer, with Badger Badger next door responsible for fuelling gamers with yakitori and beer.
From the hottest new releases to classics, as well as a whole host of card games, you'll be dying to return to Tanuki Gaming for a rematch. The friendly staff are also on hand to solve any raging arguments disputes, as well as giving you the lowdown on how to play.
This London games cafe even allows dogs, so bring your four-legged friends along for an epic gaming session.
Price: £5 per person per session.
Bad Moon Cafe
With its ultra-cool interior and huge games library, Bad Moon Cafe brings all the good vibes. From family favourites like Bananagrams and Monopoly to Catan and Warhammer, you've got plenty of options to choose from.
Bad Moon has 15 custom-built 6×4 gaming tables, which are perfect for those huge fantasy games (like Warhammer). Not only that, but the tables have customised terrain to match each game perfectly.
Pizza and beer are the main cafe offerings here, though there's a few hot drinks to choose from should you need a mid-morning pick-me-up.
Price: £15 per table per session – for up to three people. £5 per person after this.
Loading
Multiple Locations
With locations in Stoke Newington and Peckham, as well as another stellar branch in Brighton, Loading is the top board game bar London offers, with a wide selection of games and an even better selection of cocktails. Because nothing quite fuels competitiveness like a margarita.
Though not content on just having more than 80 board games to choose from, Loading also offers retro arcade games and modern gaming consoles, so you can booze as you thrash your friends at FIFA.
Rogues Quarter
Kentish Town
If it's variety you're after, you won't get bored at Rogues Quarter in North London. Specialising in Wargaming, the cafe boasts huge 8×4 tables and even hosts Magic The Gathering events throughout the year.
Whether you want to flex your skills in 7 Wonders or use your creativity in Hive, this board game cafe in London is filled with an abundance of games to sink your teeth into.
But what about the food? You won't be disappointed with the food offerings, either. With any four tapas plates for £13, you and your pals can snack as you duel. Or, take on the nacho mountain if you dare.
Price: Board game hire costs £5 per person for three hours.
London's Board Game Cafes: Map
Discover More London Cafe Guides