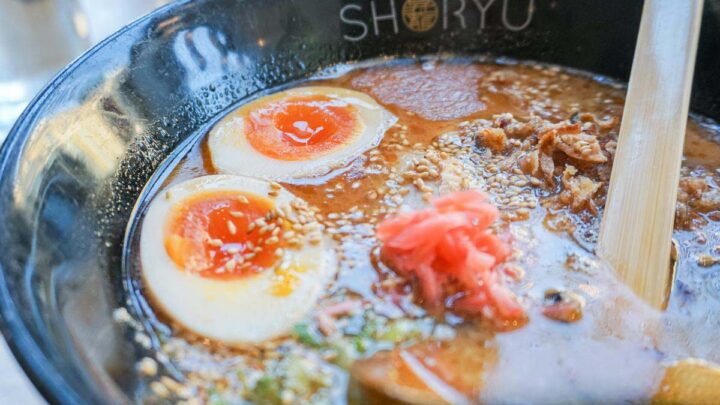 Ready to order your next takeaway? These are the best takeaways you should order in London right now.
Ok let's be honest, we've all ordered that takeaway we had high expectations for and in reality it was flavourless and a huge disappointment– but don't worry these takeaways are bursting with flavour and will have you grinning from the first bite.
Whatever cuisine you're in the mood for from Chinese, Indian to Caribbean and Georgian food, they're sure to satisfy those taste buds.
Fingers at the ready, let's get ordering.
London's Best Takeaways
Little Georgia
Hackney, Islington
In the mood for traditional Georgian food? Little Georgia delivers delicious homemade Georgian dishes straight to your door.
To start you should sample a cold starter, Nigvziani Badrijani- aubergine rolls with walnut filling, followed by a hot starter, Khachapuri- traditional cheese bread stuffed with a blend of cheese and a fried egg on top– step aside pizza it's all about the Khachapuri now.
From the mains, Khinkali, savoury pork and beef dumplings and Ajabsandali stew are packed with Georgian spices and you can order yours from Little Georgia directly.
Yard Sale Pizza
Various locations
One of the most ordered London takeaways is pizza, it's no secret that we do love a gooey wood fired slice.
Yard Sale Pizza started out small, out of a little oven in a back garden to be exact, and grew slice by slice into North, East and South London locations, it's that good.
It'll be hard to choose between the New Porker, Sloppy G and Holy Pepponi that's for sure but with a little help from friends we're sure you can share.
Vegans fear not, Yard Sale Pizza's vegan menu has Texas VBQ, American Not and Herb Your Enthusiasm.
Its Pizzas are handmade and hand delivered only through Yard Sales in house delivery service.
Lahore Kebab House
Whitechapel
Cooking up a storm since 1972, Lahore Kebab House is somewhat of a London institution– if you've not had this takeaway yet you best get ordering.
This award-winning kebab house has grown from a small diner to a well-known family restaurant, once you've tasted the Chicken Tikka Roll you'll know why.
From Daal Chicken, Chicken Kebab Curry to Chilli Paaner and Lamb Samosas, Lahore has all the authentic Punjabi favourites and they're just a few clicks away for home delivery.
Chilli Tuk Tuk
Finchley, King Cross
Award winning takeaway, Chilli Tuk Tuk is passionate about serving you the very best and authentic Indian cuisine.
The family who run Chilli Tuk Tuk restaurant even travelled to India and met with top class chefs to create its award winning menu– sounds like you're in for a spicy treat.
All curries are unique and cooked individually meaning you get the very best tastes and flavours with no additives or food colouring, just straight up fresh Indian food.
Bollywood Masala, Kashmir Rogan Josh, Onion Bhaji, Tuk Tuk Wings and a classic Mango Lassi are all calling your name.
Zing Zing
Islington
Modern Chinese takeaway Zing Zing packs all the flavour without any of the nastys. Zing Zing Boasts MSG free-food, and only uses clean ingredients for a high quality wok fresh Chinese takeaway.
Its menu has all your favourite Chinese classics like Beef in Black Bean Sauce and Chicken Chow Mein. Zing Zing's menu also has a modern take and includes some inventive creations including Mongolian Chilli Beef and Firecracker Chicken.
There's an extensive vegan and vegetarian selection too so nobody needs to miss out on Zing Zing's amazing flavours– Firecracker Cauliflower, Sweet Sesame Tofu and Szechuan Aubergine are all sure to zing your tastebuds.
L'Antica Pizzeria da Michele
Marylebone, Soho
L'Antica Pizzeria da Michele is one of Naples most famous pizza restaurants and it has two locations for a pizza takeaway in London.
L'Antica Pizzeria's original pizza restaurant in Naples is so famous that it once featured in Eat Pray Love with Julia Roberts– well if she likes the slice then so do we.
From five generations of master pizza makers every single slice here is not to be missed. From Truffle Focaccia, Napolenta to Calabrese and forget everything you knew about the Margherita being plain– it's the most popular gooey pizza on the menu that you must order.
The Good Egg
Soho, Stoke Newington
All-day restaurant, The Good Egg serves up a Middle-Eastern inspired menu using sustainable and ethically sourced ingredients and it is one of London's tastiest takeaways.
In the mood for brunch at home? The Babka French Toast is not to be missed, handmade babka steeped in spiced custard and topped with seasonal toppings.
From the grill, Chicken Shawarma and Merguez Kofta are doused in spices and served with couscous pickled slaw and tahini.
Vegan and vegetarian eaters are spoilt for choice at The Good Egg, choose from the vegetarian Shakshuka, Vegan Kofta and the veggie Boureka Plate to name a few.
28 Well Hung
Shoreditch, Southbank
Looking for a guilt-free sustainable takeaway? 28 Well Hung is the best healthy takeaway in London for both you and the planet.
With an ethos on keeping a connection with the farmers and creating an ethical and sustainable supply the menu features meat and veg plates.
Bavette Steak Chimichurri and the dry aged 28 Steak Burger all pack a meaty punch and you should order them.
From the veggie selection try the Smoky Aubergine with harissa tahini and crispy shallots and smoked mac n cheese for some feel good takeaway food.
Poppie's Fish & Chips
Camden, Soho, Spitalfields
Poppie's is a proper East End fish & chip shop run by Pat 'Pop' Newland who has decades of experience in the fish & chip shop game.
Poppie's channel's 1950s vibes with retro memorabilia, music and of course traditional fish & chips. The fish here is perfectly flaky and wrapped in crunchy batter and the pillowy chips are fluffy on the inside.
Fish suppers eat your heart out, cod, skate, rock, haddock, plaice there's not a fish you can't get here. All fish is cooked in non-alcoholic batter and ground nut oil, it's also one of the best halal fish and chip shops in London too.
Leggero
Soho
If you're gluten free, Leggero should be your next pasta delivery. It's the first Italian restaurant in London that is completely gluten free and is also suitable for vegans and vegetarians.
Nestled in the heart of Soho, Leggero is carb heaven. Nduja Ravioli, Homemade Vegan Cannelloni and Carbonara are all calling your name on its menu.
There's also sweet treats to order like the New York Cheesecake and Dark Chocolate and Cashew nut Brownie, both of which are vegan and gluten free.
Shoryu
Various location
Popular street food dish, ramen is just what you need on a chilly day, after a night of drinking or as your next takeaway, slurring away watching Netflix.
Shoryu hails from Hakata in Japan and brings with it a sizable ramen menu from, Shoryu Ganso Tonkotsu to the specials, Miso Wafu Chicken and Chicken Katsu Curry Ramen. You must try a side order of Chicken Karaage, it's like fried chicken on steroids– it will blow your mind and you'll be hooked from your first bite.
Shoryu pioneered Hirata Buns in London– stuffed with char sui or chicken karaage, and we're grateful, they're the succulent fluffy buns of goodness we didn't know we needed.
The Guava Kitchen
Forest Hill
Plant based eatery, The Guava Kitchen is the best vegan takeaway in London for breakfast, lunch and dinner.
This vegan kitchen with a tropical twist is imaginative and creative with its offerings and it's good for the planet as well as your hungry belly.
Fancy a vegan Sunday roast? The Guava Kitchen's Carribean Big Vegan Roast has all the trimmings. The Guava Burger with house made bean burger and caramelised onions is a good dinner choice, and it's served with crunchy sweet potato fries.
There's a deli counter for cold and hot sandwiches as well as healthy smoothies and freshly pressed juices for the perfect lunchtime takeaway.
Coqfighter
Various Locations
When talking about the best takeaways in London, it'd be hard not to mention Coqfighter. Inspired by Korean fried chicken, the owners of this restaurant were stumped by the lack of high quality fried chicken in London.
After pop-up kitchens for friends, London went clucking mad for Coqfighters mouthwatering K-Wings and fried chicken burgers.
There's a series of delivery kitchens dotted around London for you to order Honey Ginger Buffalo burgers, Laksa Butter Wings and on the bone fried chicken drizzled with miso butter gravy.
Esarn Kheaw
Shepherds Bush
Esarn Kheaw is family-run and serves up authentic North East style Thai cuisine for dine-in and takeaway.
Cooking up a storm for over 25 years, Esarn Khew's menu is extensive with Thai spicy soups, Thai curries and seafood dishes.
The aromatic smells from its Tom Yum Chicken soup are tempting and the Panang Beef Curry is fragrant and spicy– you can order yours straight from its website.
Babur
Forest Hill
Babur has been cooking up India's finest dishes for 37 years and is a much-loved takeaway by Londoners.
Offering two delivery menus, the restaurant delivery menu boasts restaurant quality food– or order from the Babur to go menu for a traditional Indian takeaway, either way you're in for a spicy treat.
Tempered blue crab meat dumplings, Kasundi King Prawns and Seared Gressingham Duck sound tempting from the restaurant menu and you should order them now, it's the best Indian takeaway in London.
Carrots & Daikon
Kentish Town
Vietnamese comfort food is even more comforting when delivered straight to your door. Carrots & Daikon is a snug, family-run deli serving fast, fresh and flavourful Vietnamese food for dine-in and takeaway, you just need to call up and place your order for collection or evening delivery.
The Banhi Mi selection is dreamy with Honey Caramelised Pork, Wok-Seared Beef and Sesame Garlic Tofu on the menu.
If you're in the mood for a comforting soup dish, order the Raw Beef Flank or Chicken Pho– they're slurping good.
Tasty Jerk
Elephant & Castle
In the mood for an authentic Caribbean takeaway? Tasty Jerk's menu is inspired by its head chef's grandmother's traditional home-cooked recipes.
Bringing the Caribbean to your home, its signature Jerk Chicken dish is marinated to perfection and you must try it.
There's plenty of meat, fish and a selection of vegan dishes and freshly pressed made to order juices also available to order for takeaway too.
Beigal Bake
Brick Lane
One of London's most legendary bagel spots, Beigal Bake on Brick Lane is a 24-hour bakery serving hungry Londoners 24/7– order bagels from its app straight to your door.
Beigal Bake's traditional Jewish-style filled bagels are stuffed with Smoked Salmon and Cream Cheese for a delicious breakfast choice or Chopped Herring for a lunch bite and peanut butter or nutella for a dessert bagel.
Its infamous signature Salt Beef Beigel is deliciously salty and chewy, and completed with vinagerary gherkins– it's not to be missed.
Dumpling Shack
Spitalfields, Canary Wharf
If you've ever visited China you'll know that the most elite Chinese street food is of course dumplings.
Dumpling Shack offers a takeaway service from its Spitalfields and Canary Wharf locations– dumplings and noodles in just a few clicks, yes please.
Dumpling Shack has spent 3 years perfecting its Shengjianbao, soup dumplings from Shanghai and wonton soups and noodles. The chefs take regular trips back to China to learn and be inspired, you can really be sure you're getting the very best Chinese takeaway in London.
Practical Tips for Finding Your New Favourite Takeaway in London
Check if you can order directly from the restaurant, you may avoid delivery fees and food tends to be better cared for this way
Best Takeaway Restaurants in London: Map
London's Best Takeaways: Read Next