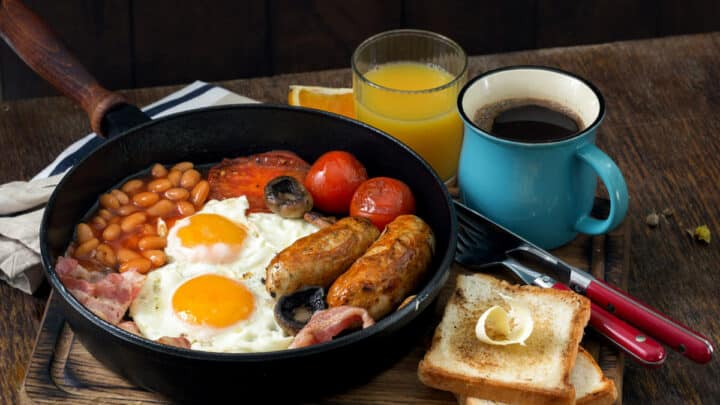 Searching for the very best full English breakfast in London? Look no further than these fry up spots.
Is there anything better than a good ol' proper fry up? Nope, didn't think so. But where has the best crispy bacon, succulent sausages and all the fried eggs with sourdough toast for yolk dipping?
We've picked some of the very best fry up spots in London from old school British cafes to swanky full English breakfasts with a view.
These are the best places to get your morning brekkie fix.
Where to Find the Best English Breakfast in London
Regency Cafe
Regency Cafe is a bit of a London institution and it would have been a massive disservice not to mention when talking about the best English breakfast in London.
Serving up hearty plates of the good stuff since 1946, Regency Cafe's old-school breakfast is a must try if you haven't had the pleasure already.
This no-frills cafe has been the backdrop for films such as Rocketman and Layer Cake, probably because its iconic gingham curtains and art deco exterior make for a cool film set.
Of course, Regency Cafe's full English breakfast serves up all the trimmings like black pudding and a big portion of baked beans.
Duck & Waffle
For busy Londoners who need somewhere to hang out at any hour of the day, head to Duck & Waffle.
The highest 24-hour restaurant in London opens its doors all day long Monday through Friday and they just so happen to serve one of the best English breakfasts in London.
Sausages, dry-cured bacon, field mushrooms, crunchy hash browns, roasted tomatoes and eggs cooked however you like them.
A trip to Duck & Waffle isn't just about the incredible breakfast though, this fancy restaurant is 40 floors up the Heron Tower.
We can't think of a better place to eat breakfast and watch the sunrise over the London skyline.
The Wolseley
The Wolseley is a glamorous place to enjoy a full English. Its art deco interior compliments its excellent full English breakfast that's definitely a little more fancy than your average fry up.
The English comes with poached, fried, or scrambled eggs, and the usual suspects, baked beans, mushrooms, bacon, sausage and indulgent black pudding.
To wash it all down, The Wolseley has all kinds of breakfast drinks like freshly made juices, teas and of course, coffee.
Polo Bar – 24 Great British Cafe and Bar
Have you ever reached the end of your night out and thought, I could really devour a full English right now? Well, Polo Bar has you covered.
This great British cafe in Bishopsgate does a mean fry up that is sure to satisfy your full English cravings.
The full English breakfast here is loaded, so you best come hungry.
The plate is piled high with eggs, bacon, and even a sausage wrapped in bacon with a side of chips all swimming in beans – mouth drools.
Terry's Cafe
Is there anything better than a proper English breakfast? By that we mean, no fuss, no fancy decor, just a damn good ol' greasy fry up.
Terry's Cafe near Borough Market serves up the best classic British plate featuring all the good stuff you'd expect to find on a fry up.
This classic, family-run community cafe is like stepping back in time, red and white gingham table cloths line the tables with flags hanging from the ceiling, and the walls are adorned with black and white photos of Londoners past.
Riding House Fitzrovia
The Riding House Fitzrovia specialises in comfort food, so it's no wonder it serves one of the best full English breakfasts in London.
This modern European restaurant is a relaxed and welcoming place to enjoy your morning brekkie filled with hanging plants, bare brick walls and attentive staff – everything you need in the AM.
From 8am, Riding House sizzles up full English breakfasts with a little more pizazz than your average fry up – think confit tomatoes and BBQ baked beans.
Not a meat eater? The veggie full English has some off the cuff offerings too like grilled halloumi, potato and smoked piquillo pepper hash browns.
Parlour
Parlour is a relaxed gastropub serving hearty British cuisine, and of course that includes a British favourite, the full English breakfast.
Parlour understood the assignment and have not messed around, The (no subs) Full Parlour Breakfast follows the English breakfast down to a tee.
It's all cooked to absolute perfection, you won't be disappointed with your bacon, eggs and beans here.
Parlour also serves The Half Nelson, described as the less intimidating version, this means a smaller portion size or you are allowed to be fussy and substitute your bacon for an extra egg.
The Breakfast Club
We couldn't not mention The Breakfast Club, the clues in the name as to why this restaurant frys up a delicious full English breakfast.
The Breakfast Club knows how to ignite that warm fuzzy feeling in the pit of your stomach with a hearty English breakfast.
With locations dotted all over London, there's more than one full English option to choose from here.
If you want to go all out, The Full Monty has every full English ingredient including black pudding, hash browns and dunkable yolks.
Then there's the Greasy Spoon, which is more like a normal sized full English breakfast, and Veggie Spoon has the best veggie sausages you'll ever taste.
Beck's Cafe
Just a short walk from Holborn station is Beck's Cafe, a well-loved restaurant by locals and alike.
This British cafe is quite popular, so you can expect to queue, but we always think this is a good sign.
Inside the cafe, red and white table cloths line the tables and the blackboards behind the counter are chalked with plenty of specials – but you're here for one thing only.
Becks Cafe serves up one of the best fry ups in London, with really generous helpings of black pudding, sausages, bacon and fried eggs with lots of toast to dunk in to your yolks.
Cafe Boheme
Located in the heart of Soho, Cafe Boheme is the perfect refuge from the busy streets of London.
The late-opening bistro happens to plate up one of the most reasonably priced full English breakfasts in London.
Cafe Boheme offers its full English in a half or full plate, we love this for that moment when you're just not that hungry but have a real hankering for an English breakfast.
Whatsmore, veggies can also enjoy a full English breakfast here too.
This bistro's decor is eccentric with a mosaic floor and red leather seats, it suits all sittings, be it breakfast, lunch or dinner.
Bill's Baker Street Restaurant
Bill's Baker Street Restaurant in Marylebone is a good choice for an English breakfast in London.
What sets this breakfast spot apart from the rest is that in its Traditional Breakfast you'll get not just any sausage, but a Cumberland sausage, it's the little added extras that we love about this restaurant.
There's also an option for a vegan English breakfast in London here too, The Plant Plate has vegan bacon and cumberland sausage as well as scrambled OGGS.
This breakfast spot is calm and inviting with low hanging lights, intimate booths and vibrant colours, exactly the vibe you want to start your morning right.
Practical Tips for Feasting on the Perfect Full English Breakfast in London
Come with an empty belly, these fry ups are hearty and plates are piled high
Time your full English breakfast with the sunrise time if you're dining at Duck & Waffle – you can thank us later
London's Best Full English Breakfasts: Map
If You Just Can't Get Enough of Breakfast