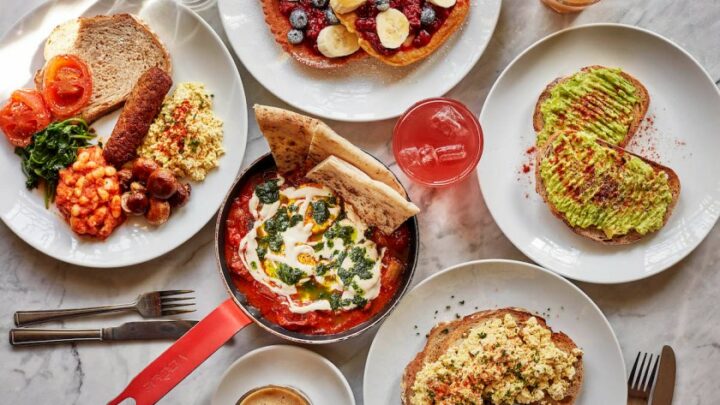 Looking for the best vegan breakfasts and brunches in London? We've got you covered.
It's no secret that vegan food has, in the past, been a little bit lacklustre – we remember the days where most menus only offered a single, measly dish in terms of plant-based options.
But whether you're a long-term vegan or are just trying something new this January in London, the capital's array of brilliant vegan restaurants are shaking things up.
These are the vegan brunch spots you need to hit up….
Best Vegan Brunches in London
Farmacy
Available on weekends between 11am and 4pm, the brunch available at Farmacy in Notting Hill has established itself as a little bit of a cult classic in recent years.
From a plant-based Benedict served on gluten-free waffles to buckwheat flour pancakes, drizzled in berry compote, seasonal fruits, coconut yoghurt, and maple syrup, Farmacy proves that a brunch menu lacking meat and dairy does not equal boring.
Wash down with a salted caramel mocha for the ultimate indulgent brunch.
Pssst… Farmacy also does a brilliant vegan afternoon tea that you should definitely check out.
Gallery Cafe
Bethnal Green
Popping into St Margaret's House is worth it alone for the charity-led art exhibitions, however, the addition of Gallery Cafe and the delicious array of vegan brunch options on offer make it even more so worth your time.
Brunch runs all day, all week – so there's no need to drag yourself out of bed at the crack of dawn and slog it over to Bethnal Green before 10am.
The full English comes with all the trimmings, while the superfood bowl is a yummy potion of puffed quinoa muesli with berries, nuts, coconut yoghurt, and chia seeds.
Miranda
Crouch End
Brunch has never looked so good than the one on offer at Miranda.
A staple for vegans in London, this modern cafe offers healthy, plant-based alternatives to standard brunch options – think pancakes and eggs rancheros made with vegan eggs and cheeze, alongside the likes of (fake) meaty burritos and a Seitan New York Reuben sandwich.
The sharer menu is just as impressive – who says nachos and dumplings aren't for brunch?
Cafe Van Gogh
Brixton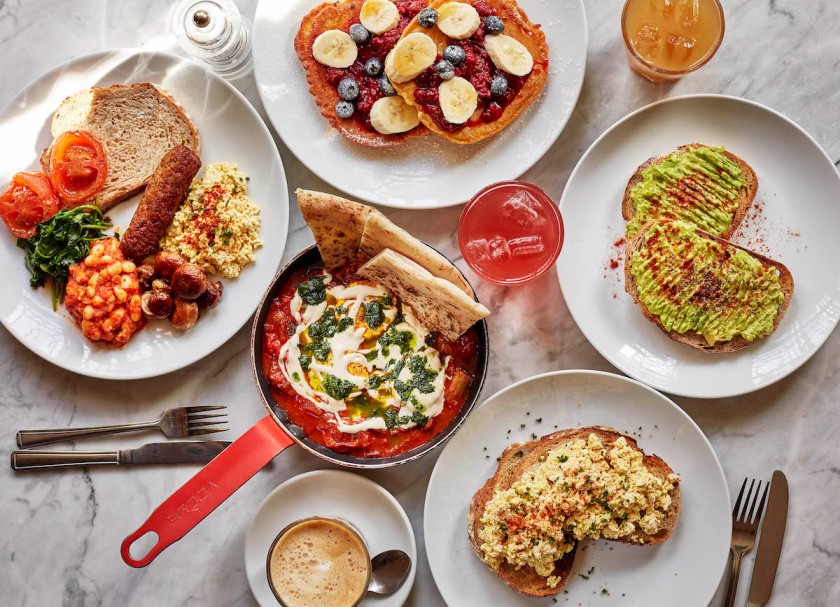 Serving the community AND a cracking brunch? It could only be Cafe Van Gogh.
The cafe's brunch menu is served on Saturdays and is decently priced, delicious, and 100% vegan-friendly. The aubergine and red pepper shakshuka is the standout dish – though order the full English if you're feeling particularly hungry and you won't go too wrong.
Order the batata harra potatoes on the side and thank us later.
Unity Diner
Whitechapel
No guide to excellent vegan brunches in the capital would be complete without Unity Diner.
Not only is the food at Unity Diner 100% vegan, but everything from the straws to the containers are sustainable – making this the best vegan breakfast East London has to offer.
Unlike some of the other plant-based joints in London, this restaurant serves naughty, American-style dishes, rather than focusing on purely healthy and wholesome food. Opt for the lobster roll – a cheeky take on the mushroom variety – and the dirty fries to share. Or not.
Wulf & Lamb
Multiple Locations
Wulf & Lamb manages to snag two of the capital's best vegan brunch spots with its Chelsea and Marylebone locations. This is fine dining, without an ounce of steak or caviar in sight.
The Morning Scramble – ackee with herb roasted datterini tomatoes, mushrooms, spinach, and peppers on toasted sourdough – is a firm favourite amongst diners, though the basic millennial in us loves the avocado and beetroot hummus toast.
The matcha latte (we'll take almond milk over oat, don't judge us) is divine. Though you can opt for something a little bit stronger if you fancy.
The Canvas Cafe
Throughout the week, the cafe's breakfast menu is impressive, but on the weekend, The Canvas Cafe serves up the best vegan bottomless brunch London has to offer (at just £25, too). A bold claim, we know. But the cafe is well-worthy of this title.
The Brick Lane bagel is a reasonably priced cream-cheese laden carb offering, though the hot sausage and pickle option is just as tempting. It's criminal to visit and not order the savoury bacon and red pepper pancakes (even if it is to share).
Make a pit-stop here for a tasty vegan brunch in Shoreditch, before heading to nearby Brick Lane.
Oliveira Kitchen
Shoreditch
Ethical food in a stunning restaurant, Oliveira Kitchen needs to be at the top of your list when it comes to London vegan spots. The restaurant claims that its motto is to correct a "societal mistake with food production" and take food back to the organic fare that our grandparents would have eaten.
But aside from this (admittedly, a little stuffy) description, Oliveira Kitchen serves up a toothsome brunch. Though the breakfast cocktail menu is equally brilliant – we'll be diving straight into the breakfast martini.
Pssst… the restaurant caters to adults-only – leave the kids and opt for a cute little brunch date.
The Gate
It's safe to say that Marylebone's The Gate restaurant has helped to pioneer vegan/vegetarian food in London throughout the past few years.
While the brunch menu is on the smaller side (there are plenty more options for vegetarians, though), it's no less impressive. Between 10am and 4pm on the weekends, you can get your hands on the likes of avocado toast and berry pancakes alone are worth the visit.
Best Vegan Breakfasts in London
WAVE (We Are Vegan Everything)
By the same folks who run Cupcakes and Shhht (an excellent vegan restaurant in London) this restaurant is an adorable, Ibiza-esque spot. Grab something to go from the counter, or pull up a chair and chill out at WAVE in Hackney.
The classics are covered: avo toast, berry pancakes, and breakfast rolls all make the cut. Artichoke penne is a more unusual addition to a breakfast menu – don't let that put you off though, it's delicious.
Plants by De
If you're looking for something a little bit more indulgent, Plants by De is the brainchild of vegan food writer-turned-influencer Ella Woodward.
Her beautiful, plant-fronted restaurant serves up exquisitely crafted dishes all day, though the breakfast is our particular favourite.
The roasted wild mushrooms and smashed avocado on sourdough is a pimped-up take on avo toast, while the blueberry pancakes drizzled in dark chocolate sauce are so naughty they're nice.
Kin Cafe
With options including breakfast burritos bursting with sweet potato and tofu scramble, and basically whatever you want on toast: tofu, avocado, mushrooms etc. Kin Cafe is a solid choice for those looking to chow down on vegan grub in the capital.
A beer-battered Bloody Mary, an organic Aperol Spritz, and a classic Mimosa are among the breakfast cocktails on offer.
The Fields Beneath
Kentish Town
Who knew that Kentish Town was home to the best vegan breakfast London has to offer? We did. The Fields Beneath also probably had a pretty strong inkling.
The adorably-titled cafe is a cosy, community-focused spot with a stellar (and ever-changing) menu – the cafe also focuses on organic wine, great coffee, and, would you believe it, plants.
Head there for brunch and leave with a new plant baby.
Balance
Proving that health-conscious doesn't mean bland, Balance serves up an explosion of flavours in their generous breakfast menu.
The crushed avocado and sunblush tomatoes on toast offers a zingy alternative to the much-loved classic, while the vegan burrito is a hearty dish sure to set you up for the day.
Get the (surprisingly delicious) Immune Booster smoothie, a concoction of kiwi, apple, avocado and spinach – we promise it tastes better than it sounds.
Practical Tips for Booking Your Vegan Brunch in London
Vegan Breakfasts & Brunches in London: Map
Looking for More Things to Do in London This January?