Looking for the best hot chocolates in London? When it comes to indulgent sips, London is a city that delivers – inviting you to tuck into steaming cups of the good stuff topped with lashings of cream, milk and other deliciousness.
Ready to discover? Look no further than these ten decadent destinations.
Where to Find the Best Hot Chocolate in London
Dark Sugars
£££
Dark Sugars' hot chocolate is something to write home about. This Bethnal Green institution is famous for its innovative chocolate truffles, but their decadent and rich hot chocolate is the real treat.
It's not a stretch to say that Dark Sugars has one of the finest hot chocolates in London. It's deeply layered, not too sweet, and crowned with a generous serving of white and milk chocolate shavings.
If you want a texturally-forward, flavorful, grown-up chocolate experience that you won't forget for a long time, you need to check out Dark Sugars.
Apple Blue
£££
You should definitely pay Apple Blue in Balham a visit if you're in the mood for a superior cup of hot chocolate. This pastry house serves a variety of yummy desserts, but their hot chocolate is the stand-out offering.
For one thing, it's made out of dark chocolate, which gives it a more adult flavour. In addition, the slight bitterness of the dark chocolate is expertly balanced with a giant marshmallow right on top.
You'll get dark and milk chocolate and marshmallow in every delicious sip.
Chin Chin
££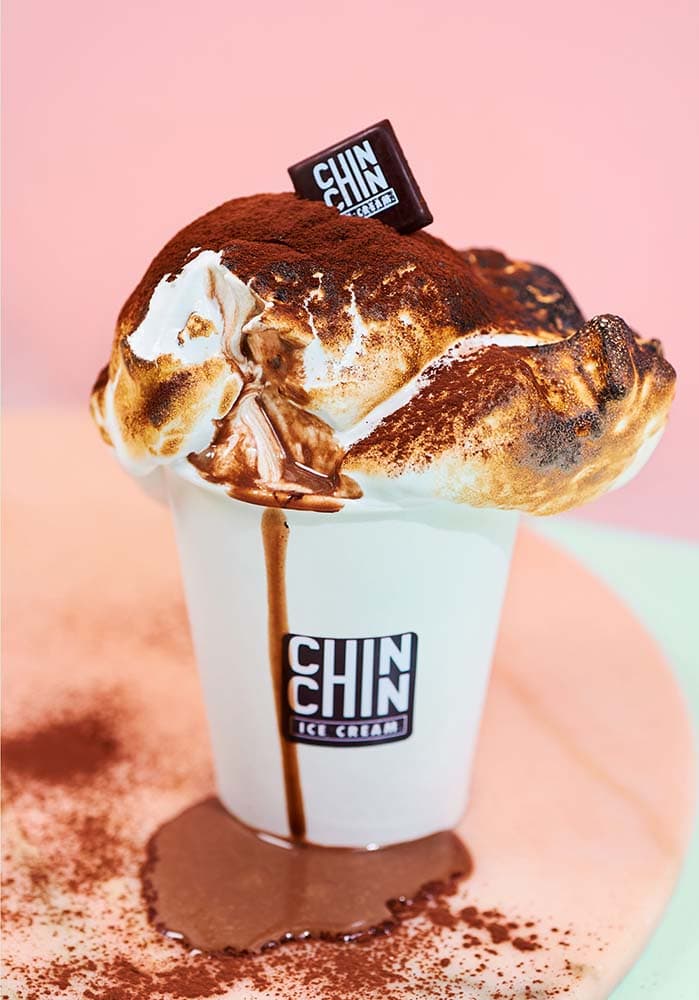 Camden Market's Chin Chin is widely respected for thinking outside the box when it comes to their ice cream combinations and inspired desserts. Their hot chocolate is another imaginative tour de force that you must try next time you're in the area.
Chin Chin's hot chocolate is thick, and creamy, topped off with a huge pile of marshmallow fluff. The fluff is lightly toasted with a blow torch for a lovely finishing touch.
Hotel Chocolat
££
Right near London Bridge, you'll find one of the best hot chocolate bars in London. This innovative cafe specialises in unique solid chocolates and hot chocolate.
You won't find standard fare here, but you might just fall in love with their new spin on a classic hot chocolate. The secret to their success is in the process.
At Hotel Chocolat, they blend hot milk and chocolate shavings for a creamy, chocolatey base. Then, they add in chocolate cream and top the whole thing off with more shaved chocolate.
Mamasons Dirty Ice-Cream
£
If you want to sample hot chocolate that you've never tasted before, head to Chinatown. Mamasons Dirty Ice-Cream specialises in Filipino desserts and ice creams. Their take on hot chocolate uses ube, a purple yam common in Filipino cuisine.
Ube might seem like a strange base for hot chocolate, but it totally works. The drink itself is beautiful and has a gorgeous blend of white hot chocolate and ube. It's all topped off with a generous serving of marshmallows.
Angelina
£££
Angelina's hot chocolate is a French-based treat available right in the heart of London. Enjoy a creamy, decadent preparation made out of several different types of cocoa beans. The style is simple, and each sip is rich and nuanced.
You can buy their Old Style Hot Chocolate to make at home, either in powder form or as a liquid.
Ruby's Violet
£
Ruby's Violet near King's Cross is a funky and fun ice cream parlour where you can get a great cup of hot chocolate served in a regal golden cup. The presentation is part of the fun at Ruby's Violet, although the flavour is the real star of the show.
Their hot chocolate comes with a piece of delicious almond brittle, and every sip is full of rich, deep, premium chocolate flavour.
Said London
££
If you want the best Italian hot chocolate in London, Said London in Soho is the ideal spot to find it. Said London offers authentic, traditional takes on hot chocolate in a variety of different sizes.
If you can, save room for some of their other sweet treats, like chocolate strawberries or fresh and gooey brownies. Said London is a great place to spend the afternoon with friends, especially on a cold day.
Copperhouse Chocolate
£
This Chapel Market gem is one of the best chocolate cafes in London. Copperhouse Chocolate is a vegan chocolatier, but vegans and omnivores alike will love all of their offerings.
Their chocolate is all ethically sourced, and each one has a different flavour profile, and their hot chocolate reflects that. There's lighter, sweet hot chocolate from Madagascar, and caramel-tinged hot chocolate from Colombia, among many others.
You can also get your hot chocolate spiced up with nutmeg, chilli, cloves, or cinnamon, or have it "Masala Mojo" style with nine different spices. If you're in the mood for something a little fruiter, get their "Raspberry Dream" for a bright, berry kick.
Rococo Chocolates
££
Rococo Chocolates in Belgravia serves up solidly good hot chocolate in London, and with several different locations, there's bound to be one near you. Rococo Chocolates is most famous for their handcrafted, artisan chocolates, but it's their liquid hot chocolate that really has people raving.
Rococo Chocolates has been around since the early 1980s and is known for experimenting with different flavour profiles and elevating chocolate-making styles. Their hot chocolate is an excellent example of this commitment to excellence.

It starts with a deep chocolate base made of premium dark chocolate shavings and cocoa powder. Next, you can add either hot water or piping hot milk to the mix, with a little sugar depending on your sweet tooth.
The result is a nuanced and tasty cup of chocolate that tastes like anything but a commercial blend.
Best Hot Chocolate in London: Mapped
Looking for More London Food & Drink Guides?