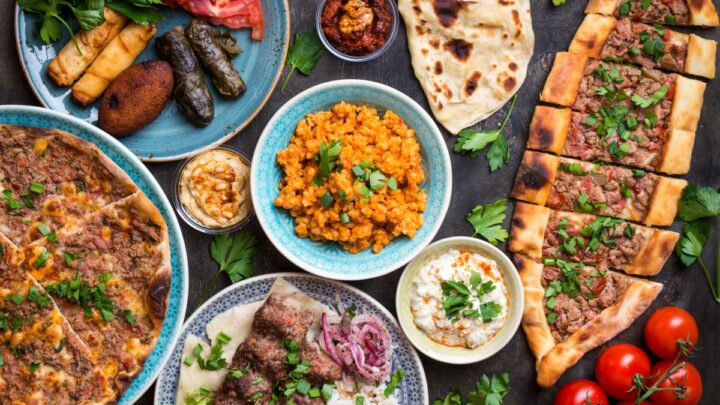 Ready to discover the best restaurants in Crouch End? We've compiled a handy guide to the best eats in the area.
Settling on the perfect place to eat can be a real challenge. Your stomach's rumbling while you frantically google the best eateries around and come up with a thousand different results, each one further away than the last…
Thankfully, Crouch End has a selection of fabulous restaurants that boast some of the best food in London, but how do you know which ones are worth visiting?
That's where we come in – we've compiled a guide to the best restaurants that Crouch End has to offer. Some fancy, some quirky, and some perfect for a quick bite to eat. Ready?
Best Restaurants in Crouch End
Paesan
££
When it comes to Crouch End Italian restaurants, Paesan offers a delectable selection of pasta dishes, each cooked in a range of authentic sauces.
The menu is inspired by the many districts of Italy, from the northern hills of Trentino to the bustling streets of Sicily in the south.
Their emphasis is on seasonal produce, with the menu changing to fit the season.
We adore the Casareccia pan Santo, with nduja, pancetta, black cabbage, and briciole (in fact, we're drooling just thinking about it now). Add to that the zucchini fritters on the side and you've got yourself some very happy taste buds.
TOOTOOMOO
£
TOOTOOMOO is an extremely affordable Pan-Asian restaurant located in the very heart of Crouch End. Their combination of Malaysian, Chinese, Japanese and Thai influenced cooking creates a varied and delicious Asian fusion menu.
The focus of the restaurant is on bringing together ancient methods and modern cooking techniques, to really give each diner a unique and original taste of Asian cuisine.
Our advice? Pass on the ramen and opt for the spicy rendang or Thai green curry, with some BBQ pork bao to start. The cocktail menu is well-worth exploring, too.
La Fabrica
££
A modern Spanish restaurant with a host of different tapas dishes, each more intricate than the next.
The chefs at La Fabrica use a carefully designed technique, known as vacuum cooking, to create succulent and tender dishes like their slow cooked beef cheeks.
We also recommend their creamy cod croquettes, or the Spanish chickpea stew for those eating a plant-based diet.
La Fabrica really offers the sensation of dining at an authentic Andalusian restaurant as they replicate the best of Spanish fine dining.
Kalimera
£
Exciting and vibrant Kalimera is a Greek restaurant that endeavours to keep up with the modern Greek culinary scene.
Its founder, Telemaque Argyriou, is passionate about Greece and its history, particularly the history of meze and Greek cuisine. That's what makes this one of the best restaurants Crouch End has to offer.
The three-course set dinner is extremely brilliant value for money at just £19.50 per person, with dishes including the likes of a chicken/lamb/halloumi souvlaki platter, basil tzatziki, and an orange sponge cake with pistachio crumble.
Kalimera has also now opened its very own food truck, in an innovative move to infuse classic street food and gourmet meze. The signature Kalimera hot sauce is a popular accent to any dish and is sure to leave your taste buds tingling.
O's Thai Cafe
££
For somewhere a bit different, O's Thai Cafe really emphasises the lively nature of Thai dining through the use of round, family style tables. And, of course, large group bookings are encouraged!
With a glass fronted dining area and a direct view of the iconic Crouch End clock tower, O's Thai Cafe has light and airy decor, which perfectly juxtaposes the spiciness of the cuisine.
The cafe's mantra is flavourful food served without fuss or hidden extras, and they really mean it – rice comes at no extra cost and there is no cover or service charge for tables of five or less.
Bistro Aix
£££
If you're looking for a romantic spot for a first date, or to celebrate an anniversary with your partner, look no further than Bistro Aix. French cuisine has never been so accessible than with Aix's fabulously curated menu.
Moules Frites is a classic option that has been perfected throughout the years, though we adore the rump of lamb with thyme sauce, glazed turnips, carrots, and a gratin dauphinois.
An incredibly extensive wine list is available, with a range of wine from the diverse regions of France.
Banner's
££
Funky and fun, Banner's offers hearty Jamaican food brimming with classic jerk spices. Dishes such as the Jamaican jerk chicken and the Caribbean goat roti are guaranteed to have you happy dancing in your seat.
Their recipes are beloved by local patrons and even some who aren't so local, as Bob Dylan himself visited Banner's in August of 1995. And they won't let you forget it – a commemorative plaque marks the spot and customers can even reserve the very table that Bob sat at while dining there.
The Meghna Tandoori
£
Established in 1982, The Meghna Tandoori prides itself on both its mouth watering recipes and excellent customer service. Don't be deceived by the simple (ok, quite tired) looking interior, the dishes are excellent.
Their chefs use traditional Indian cooking techniques and ingredients to create spicy and flavourful dishes. Of course, their menu provides a handy guide as to how spicy each dish is, so any palette can enjoy their wonderful fare.
The restaurants 'All You Can Eat' buffet runs every Sunday and offers a wide selection of their most popular dishes at incredible value for money – the chicken karahi and pistachio-adorned murgh pista are two of our favourites.
Other Places to Eat in Crouch End
Cafe Beam
££
Cafe Beam is a family owned spot in Crouch End serving up delicious Middle Eastern eats.
Their brunch dishes are inspired by the idea of a Kavathi house – which is where families and communities gather to eat breakfast every morning in the Middle East.
Turkish eggs are a highlight, though we cannot resist their indulgent buttermilk pancakes topped with berry compote, bacon, salted caramel, maple syrup, and honeycomb butter.
With the best ingredients sourced and family values made a priority, this restaurant knows how to bring people together in the best way – with good comforting food and a pleasant, friendly atmosphere.
Cannon's Fish and Chips
£
Cannon's Fish and Chip Bar is a good old fashioned chippy with a twist – they use rapeseed oil, which has half the amount of saturated fat of any other oil, and they recycle it for biofuel.
Their outstanding fish is sourced and delivered daily from Scotland, while the potatoes used are British seasonal potatoes, to give their customers only the freshest of ingredients.
As a policy, all of their meat is cooked separately from fish and vegetable produce. Cannon's has also invested in the latest frying technology as they strive for quality and consistency with every dish served.
Quality dishes and environmentally conscious? This is why it's the best fish restaurant Crouch End boasts.
Practical Tips and Map for Exploring The Best Crouch End Restaurants
Crouch End has a diverse community, which is reflected in the restaurants in this guide. Make sure to try out new cuisines – you might just find one you love.
Discover More Things to Do in Crouch End