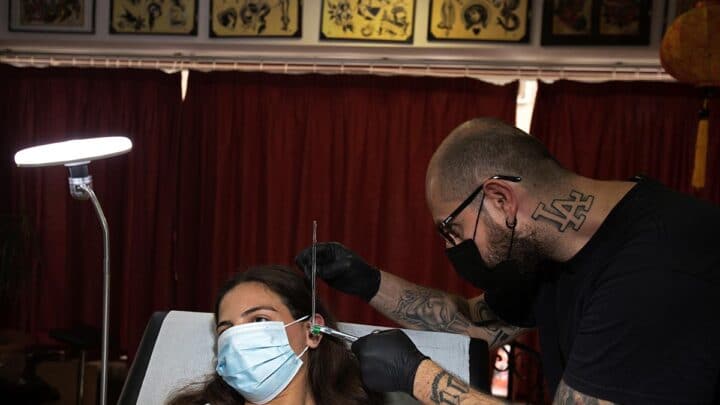 Whether you're looking for the perfect positioning on a stacked ear, or you're after something a little more revolutionary, these cool London piercing studios are the places to visit.
We've chosen London's best piercing shops, along with a guide with top tips for what to look out for when you're choosing the perfect piercing shop.
Best Piercing Shops in London
Maria Tash
Maria Tash has not one, but two locations in the city: one is in Regent Street, and the other is on Brompton Road. Both are almost guaranteed to be booked out well in advance.
The fact that Maria Tash runs two of the hottest jewellery shops-come-piercing studios in London needs little explanation. An A-list favourite (Rihanna has been known to frequent), it's established a reputation as the place to go if you're looking for something eye-catching and perfect placement.
Maria Tash does accept walk-ins, although the waiting area is often packed.
The jewellery that is offered here is more on the pricey side, but it's worth it.
Sacred Gold
Looking for the perfect place to get one of the best ear piercing in London? Sacred Gold boasts the largest collection of BVLA jewellery in Europe. They have two locations: one in Kings Cross and one in Soho.
Each studio is designed to look like it is from the 1920s. In that vein, Sacred Gold cultivates a comfortable and luxurious experience.
Sacred Gold offers bespoke ear piercings to give you that one-of-a-kind piece of jewellery you've always wanted. They walk you through the whole process to help bring your vision into reality.
Astrid and Miyu
Multiple locations
Astrid and Miyu have eight locations in London and one in Manchester. They are not only a piercing shop, as they also offer tattoos, wielding, and engraving services.
Astrid and Miyu offer 20-minute appointments, and cannot be recommended enough for having some of the most divine ear piercings in the capital.
There is an online lookbook where you can pick a style of ear you want and have it pierced precisely that way.
Lark and Berry
Lark and Berry is unique in that their diamonds are obtained ethically. The shop has had sustainability on its mind since it opened in 2018.
If you're looking to get a piercing in Central London, then Lark and Berry is for you. It's located on George Street in Marylebone.The staff are all experts in ear curation.
Like many of the shops in this guide, the jewellery at Lark and Berry is sold separately, but appointments are free. Lark and Berry has built an impressive reputation thanks to its many famous customers, including Taylor Swift and Ellie Goulding.
The Alkemistry
The Alkemistry has two London locations that offer piercing services. One is in the Harvey Nichols building, and the other is on Floral Street in Covent Garden.
The owner, Kirstie, created The Alkemistry to be a piercing studio that celebrates women. The result is a piercing experience like no other. The Alkemistry offers various packages that can include a complimentary goodie bag, soothing drinks pre and post-piercing and check-ups.
Love Hate Social Club
The Love Hate Social Club sits on Portobello Road, close to Portobello Road Market. Like many piercing shops, this vibrant spot also offers tattoos.
The Love Hate Social Club uses luxury jewellery pieces from high-end sellers like BVLA. With only high-quality jewellery available, their priority always lies in ensuring that any piercing will look fantastic and also heal better.
Their piercing appointments are free, though the jewellery itself is not. Though they usually require appointments, they will accept walk-ins on slow days.
Tada & Toy
Tada & Toy specialise in demi-fine, sustainable, and ethical jewellery for all their customers. Located on Portobello Road, they are neighbours to the Love Hate Social Club.
Tada & Toy offer original pieces that are both durable and original. Each piece of jewellery is a blend of minimal Scandinavian and bold Indian aesthetics. They also provide stackable, matching sets of earrings and cuffs so you can sparkle no matter the occasion.
Each appointment is 30 minutes and costs ten pounds. The piercings are extra. You can choose between titanium or solid 14-carat gold piercings.
Maria Black
Located in Selfridges, the Maria Black jewellery shop has a welcoming atmosphere where you can browse with confidence to discover your new look.
With original pieces and lab-grown diamonds, Maria Black offers a creative and ethical alternative to other jewellery shops.
Maria Black uses professional piercers to help choose the best earrings and give the safest piercings for you. They accommodate bookings and walk-ins.
Dinny Hall
Multiple locations
Dinny Hall has six locations spread throughout London. The Convent Garden location hosts events for ear piercing using their luxury items. You can choose between Dinny Hall's selection of ear piercing studs or hoops in three kinds of gold: solid, white, or rose.
It is very difficult to get into a Dinny Hall piercing event by walking in from the street. To book these events, you must put down a £10 deposit. Earrings start at £70, though the piercing itself is free.
Practical Tips for Choosing a London Piercing Studio
Choosing the right piercing shop is a process that takes research and patience.
One crucial step to take is to thoroughly read customer reviews (and not just those posted on official websites).
Here are some additional tips to pick a piercing shop in London on your own:
Avoid places that use piercing guns – and they should never be used anywhere other than on an earlobe.
Look for proper hygiene practices
Research staff qualifications
Know age restrictions for different kinds of piercings.
Piercing Shop London: Map
More Cool Things to do in London