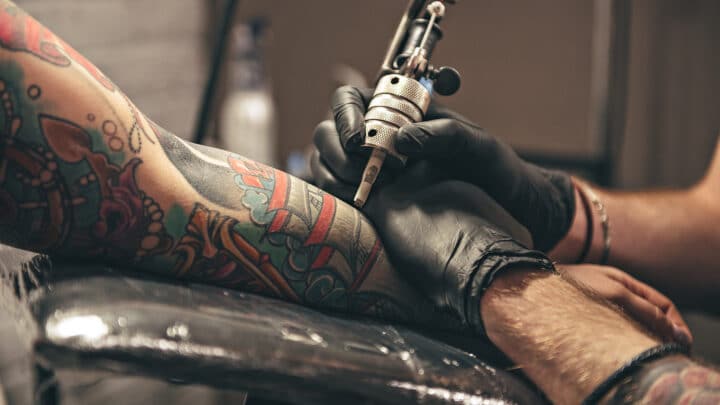 Looking for the best tattoo shops in London? Whether you're totally covered in body art or if you're looking for a comfortable spot to get your first tattoo, London is filled with cool studios and talented artists.
Got a design in mind? These are the best places to get inked in the capital…
Best London Tattoo Studios
South City Market
Boasting a huge cult following, South City Market is, without doubt, one of the best tattoo shops in London.
The studio itself is super stylish – think industrial minimalism with a healthy dose of neon lighting and greenery. They've nailed the perfect balance of comfortable and cool.
With around 20 tattoo artists working at this super stylish studio, you're in safe hands. Kamil Arthur is a particularly incredible artist and an absolute wizard of fine line and micro-realism (we've even been tattooed by him, and we're obsessed with the result), and be sure to hit up Charlotte Glatt if you're after intricate floral tattoos.
Frith Street Tattoo
Soho's famous basement tattoo parlour has been going for nearly 20 years, and it's safe to say that they have well and truly mastered their craft. Whether you want to opt for a small first tattoo or fancy getting a tribal full-sleeve piece, the talented artists are on hand to help.
Stefano C's best work is his colourful Japanese-style tattoos depicting deities and animals – a favourite is an above piece on Fudo.
Nick Mayes is an occasional resident at Frith Street and his work, particularly the skulls, are ridiculously popular – he gets booked up very quickly so you'll want to plan ahead if you want the chance to be tatted by him.
Vagabond Tattoo
We know you shouldn't judge a book by its cover, but the moment you step into Vagabond Tattoo Studio on Hackney Road, you know the tattoos are going to be incredible.
The contemporary tattoo parlour boasts plenty of talented artists, though, we have to admit that we are head over heels in love with Tuesday Tattoos' designs – you can't go wrong with dreamy linework interspersed with florals.
Though, on the opposite end of the spectrum, we also adore Chloe's macabre work – the gothic mythology-inspired pieces are so fun.
Femme Fatale
If you're heavily invested in the tattoo scene, it's likely you'll already know who Grace Neutral is. She's not just one of the best tattoo artists London has to offer, but she's taken part in plenty of documentaries, exploring beauty standards across the world.
Her hand-poked tattoos are intricate, neat, and high quality, so it's no surprise that her Femme Fatale parlour is one of the most famous in the capital – churning out everything from tiny, barely-there pieces to huge cartoon designs covering entire limbs.
Feeling wild? Walk-ins are available on the weekends, so head down for a spontaneous inking session.
Storyville
Who knew that hidden away in East Dulwich was one of the best tattoo shops in London? Storyville sure did.
The studio couldn't be further from intimidating, husband and wife Nick and Clare have created a welcoming space that, with its garden terrace, resembles a cosy cafe more than an inking space.
Nick's famed for championing the bold and colourful, his pièce de résistance being tribal Japanese designs. Though, if you're after an animal (for some reason he tattoos a lot of swallows, so bear that in mind when choosing your design) Andrew will be able to sort you right out.
Sang Bleu
Sang Bleu is Dalston's hip inking joint that welcomes walk-ins and hosts worldwide talent. With other studios located in LA and Zurich, it's no wonder that their London tattoo parlour is so darn cool.
Whatever kind of design you're after, there's an artist on hand – from cutesy linework and floral motifs to bright full-colour pieces.
Antoine's pieces are unlike any we've ever seen before – his arty faces are designed to look just like brush strokes on the skin. He has a particular penchant for ladies' faces and animals and we wouldn't dream of going to anyone else.
No Regrets
No Regrets have one aim: to tie art and tattoos together. And, like their many tattoo shops across the UK, their cool London studio does just that.
While there are plenty of mediocre tattoo shops in London that will simply take a design and replicate it without so much as a consultation, No Regrets' artists work with you to come up with something that is completely tailored to what you want.
Whether you want movie stars or pets inked on you forever, Alex Noir's realism is truly fascinating, and Pietro Idle's guest tattooing spots always fill up very quickly due to his faultless shading and details-work.
Sticks Not Stones
After the daintiest hand poked tattoos in one of the cutest East London tattoo shops? Charlotte from Sticks Not Stones is your gal.
Based in The Gossamer City Project in Cambridge Heath, her adorable studio is a vision of pastels and neon lights – basically, it's a millennial dream.
Charlotte's tattoos are equally aesthetic, the likes of florals and celestial line work being her speciality.
She's a pro at making sure you're comfortable, which is particularly great if you're a tattoo newbie – we couldn't think of anyone better to give you your first tattoo.
BLÆC
Despite the black name, BLÆC's studio is bright and white.
Getting a tattoo by an artist that has worked with Banksy? We think you'll agree, that's pretty cool. Jamie has had years of experience in illustration, which has transposed perfectly into his careful designs.
We also love Oscar's micro-designs; you'll be hard-pressed to find someone that tops his attention to detail.
Good Times Tattoo
As the name suggests, Good Times Tattoo takes the stress out of getting inked, likening it to "a deep spiritual meditation with buzzing needles". Which we absolutely love.
Owner Nikole has hand-picked a talented roster of tattoo legends who each bring something unique to the studio. You're in safe hands.
Nikole has been tattooing for over 30 years and her striking Japanese full-body pieces prove popular, while Eszter's mandala tattoos are impressive – pick literally anything from her flash book of designs and you won't go wrong.
Woo-ah London
We have long lusted after Korean tattoo work, and the barely-there portraits and dragons by Woo-ah London are absolutely mesmerising. Woo-ah's studio brings the best of Seoul's tattoo artists to London on rotation.
This style of tattoo is certainly not for everyone, though the ultra-thin line work makes it perfect for anyone looking to dip their toes in the tattoo pool – or if you're looking for a touching tribute to a pet, this should be your first port of call.
This adorable Moomin by Sogeum is too good to be true. See why we love it so much?
The Circle
Reflecting the eclectic nature of Soho perfectly, The Circle is an excellent piercing and tattoo studio in Central London.
Maybe it's the nostalgia talking, but we're already planning out our next tattoo and it's with this incredible artist.
We're completely obsessed with her tattoo of Mr Burns as a pastel mermaid (yes, the one from The Simpsons) – infusing classic tattoos with a hit of pop culture is something we can absolutely get involved with.
However, if your style is a little bit more traditional, hit up Davide. There's no other way to say it: his dot work is perfection.
Fulham Tattoo
Usually we would warn against going to any spot that celebrities have endorsed out of principle, though Fulham Tattoo is an exception to this rule. This shop is over 40 years old, making it one of the oldest tattoo parlours in the capital (and one of the best).
Ed's Sheeran's colourful arm pieces? Done at Fulham Tattoo. How about David Beckham? He's also been inked here. It's no surprise, given how brilliant the artists are.
Max's work is our favourite; he's well versed in pretty much everything from delicately shaded florals to bold lettering, though his portraits are sublime.
Practical Tips Before Choosing Which London Tattoo Parlour To Get Inked In
Look around before you commit to a London Tattoo Studio. Consultations with artists should be free and there's no obligation to choose their design. Remember, this tattoo is going to be on you for the rest of your life, you want it absolutely perfect.
Are Tattoos Expensive in London?
It depends on the studio. As a general rule, you'll be paying more in London than anywhere else in the UK, but it's true that you pay for what you get. We think it's worth spending a little bit extra on a high-quality tattoo.
Do I Need to Tip a Tattoo Artist in London?
It's not obligatory to tip your tattoo artist, but it's nice to give them a little extra money if you're happy with the piece. Tattoo artists have had a tough time over the last couple of years and your support means everything.
Discover More London Guides