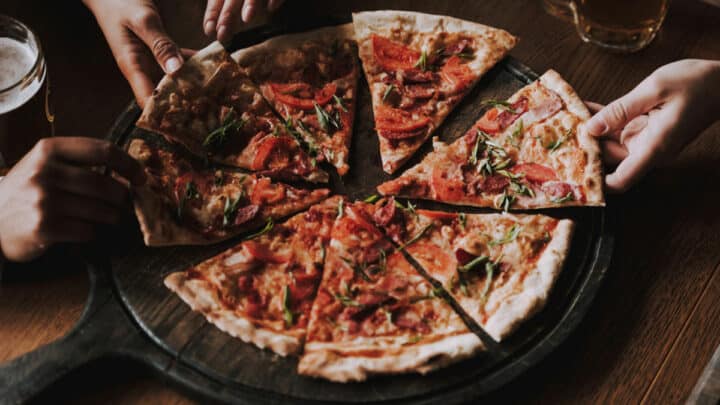 Discover the best restaurants in Clapton with this food-lover's guide. Here's where to dine in this cosy Hackney neighbourhood.
East London has become a little bit of a foodie paradise in recent years, making an impact with its innovative cafes and restaurants.
Clapton is no different, home to some inventive restaurants which have snowballed in popularity.
Here are some of the best restaurants in Clapton.
Best Restaurants in Clapton
My Neighbours the Dumplings
££
Offbeat restaurant My Neighbours the Dumplings specialises in handmade Chinese-style dumplings and small plates.
Think dumplings are boring? Allow this funky restaurant to challenge that. The reviews speak for themselves – prepare to be wowed. The menu is compact, and you can order via a tick-box-style menu, which is a fun novelty.
This quirky venue hosts events like dumpling workshops and Mahjong nights. They even have their own shop and merchandise, with a sublime range of expertly crafted sauces, dumpling making kits and other goodies.
The atmosphere matches the quirky interior with plants and lanterns throughout. Easily one of the coolest restaurants in Clapton and the wider area.
The Square
££
One of many Lower Clapton Road restaurants, The Square is a Mediterranean and European restaurant with a relaxed vibe and wonderful menu of creative dishes. Open from 10 am daily, the breakfast menu is sublime, with egg dishes, granola and of course, a Full English and veggie equivalent.
For lunch, you'll find a fresh selection of healthy salads, burrata, falafel, halloumi and numerous flavour-packed dishes – all perfect for recharging. Dinner brings a fine selection of seafood and tasty meat dishes, including duck, venison loin and braised lamb.
All in all, The Square delivers impeccable cuisine with a gourmet touch and a whopping international wine list. Prices are reasonable, and the service is top-notch.
Lucky & Joy
££
Clapton has more than its fair share of quirky restaurants and cafes, and Lucky & Joy fits right in. This is a laid-back, unpretentious Chinese diner with a compact menu of truly authentic dishes, from noodles to ribs and fish. .
They also have a lunch menu with banging Banh Mi and unique cocktails with a Chinese twist, like the Szechuan Negroni. Fantastic hospitality and authentic food; the name says it all – you'll feel lucky and joyous in Lucky & Joy.
Sodo Pizza Café
££
Consider yourself a pizza connoisseur? Add this next spot to your list.
Sodo Pizza Café is known for its leftfield pizzas with jazzy names, like the Top Boy and Jon Bon Chovy. Their venue in Upper Clapton, just a short walk from the station, is one of our favourites.
It's not just pizza, though – a brunch menu provides delicious baked eggs, and there's an impressive wine list too. You'll even find a small selection of cocktails.
The pizzas are undoubtedly the headline act, however, and they're inexpensive for quality sourdough pizzas.
Clapton Table
££
One of Clapton's most popular restaurants, Clapton Table, serves Mediterranean and Middle Eastern brunch and dinner.
The rustic interior suits the robust but carefully-crafted menu, featuring Middle Eastern and Mediterranean dishes like kebabs, pasta and Greek salad and comfort food like burgers.
The menu is extensive, which is perfect for big groups, as it guarantees everyone will find something they like.
The breakfast and brunch menu is equally special, with a stunning range of classic and healthy breakfasts, delicious tortilla wraps and four types of eggs on toast.
Dom's Place
££
Clapton is bursting with fantastic Turkish and Mediterranean restaurants.
Dom's Place serves burgers, wraps, mixed grills, wings and kebabs. Meats are grilled to perfection, and chips and salads are seasoned with mouth-watering spices. It's straightforward and totally tasty, and the venue is super laid-back and welcoming.
Competition for the best Turkish cuisine in Clapton is super-hot, but Dom's Place is definitely one of the spiciest contenders. It's a bit of a local institution.
Venerdi
££
Venerdi (meaning Friday in Italian) is a stellar Italian restaurant on the bustling Chatsworth Road.
The menu is authentic Italian – not just your average pizza and pasta – with classic starters like arancini, beautifully crafted pasta, risotto and original mains like salmon and pollo alla Milanese (breaded chicken cutlets). And let's not forget expertly prepared pizza.
Venerdi boasts a relaxed interior, warm atmosphere, massive wine list and attentive, friendly service. An excellent Italian restaurant suitable for singles, couples, groups and families.
Yard Sale Pizza
££
Yard Sale has earned a fantastic reputation across London, with multiple locations, including one on Lower Clapton Road.
If you're a pizza fan, you won't need much convincing to head here or any of Yard Sale's venues across London.
We know – pizza in London is a crowded market. Yard Sale stands out by combining top-quality slow-cooked tomato sauce and Fior di Latte mozzarella with eclectic toppings like roasted aubergine, Sicilian sausage and tender stem broccoli.
There are loads of meaty pizzas, less meaty pizzas, non-meaty pizzas and even three vegan pizzas to choose from. You can't go far wrong.
Pivaz
££
With its beautiful blue and pink exterior, Pivaz is a Turkish-Mediterranean oasis located on Chatsworth Road in Lower Clapton.
Yet another of Clapton's many Mediterranean restaurants, Pivaz offers an impressive selection of dishes, from meze to seafood to grilled meats. Check out the specials, which include meat moussaka and minced lamb iskender.
It's a meaty menu, but the veggie section looks excellent, with veg moussaka and halloumi kebab, among other dishes.
If you're looking for breakfast or lunch, Pivaz has an enormous selection that spans everything from a Full English to omelettes and shakshuka. If you're there before 4 pm, check out the "Sexy Plates" and "Sexy Cake Plates".
La Mela
££
Just a little outside of Clapton, in Homerton,.you'll find La Mela – another fabulous Mediterranean restaurant with a super-diverse menu. You'll find dishes of Spanish, Italian, Greek, and Turkish inspiration.
The venue is large and airy, with a generous terrace and garden area. There's plenty of space, and you're welcomed for tea, coffee and drinks as much as you are for food.
Open as early as 8 am, the breakfasts are sublime and attract rave reviews. Lunch and dinner are represented by stacks of healthy and veggie options, burgers, and small meze plates for sharing.
This restaurant consistently receives top-drawer feedback, hence why we're pushing the boundaries of Clapton to include it.
Other Places to Eat in Clapton
Le Merlin
££
Le Merlin is a fantastic authentic crêperie. Crêpes comes in two forms: sweet (crêpe) and savoury (galettes). This lovely little restaurant serves both – and they might be as close as you get to genuine French crêpe as you get in London.
The galettes feature incredible toppings, like ratatouille, Toulouse sausage, cheese and onions, smoked salmon and fondue.
You're spoiled for choice with the sweet crêpe, with all your classic toppings like Nutella, sugar, lemon and caramel.
Who knew crêpe could be so deliciously flexible?
The Crooked Billet
££
The Crooked Billet is a popular gastropub located in the heart of Clapton. The satisfying menu mixes British and European classics, from burgers and fish and chips to sausages and colcannon and gnocchi primavera.
It's a compact menu, but the food is outstanding, with fantastic presentation. There's a massive beer garden, too, with benches, booths and heated seats.
Drinks are extensive, with cask ales, wine and plenty of beer and cider on tap. A lovely gastropub with restaurant-quality cuisine and a warm atmosphere.
Practical Tips for Exploring The Best Clapton Restaurants
If you're searching for an excellent Turkish or Mediterranean restaurant, the Clapton food scene seems to have many options. La Mela, Pivaz, Dom's Place, Clapton Table and The Square are all superb.
Most Clapton restaurants are either north of the station or south, in Lower Clapton. You'll also find some east on Chatsworth Road.
Clapton station is only on the Overground, but there are plenty of buses heading to, from and around the area.
Clapton Restaurants: Map
Best Restaurants in Clapton: Read Next