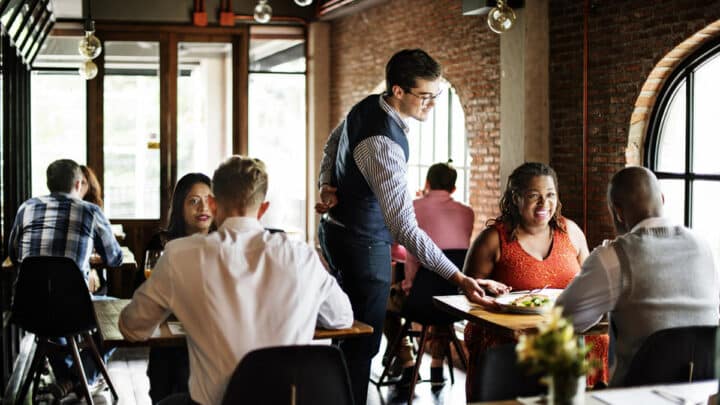 Hackney is one of the coolest areas of London, and it has a banging food scene to match. Discover the best restaurants in Hackney with this handy guide.
Trust us on this one – Hackney is an underrated haven for foodies. This East London neighbourhood continues to evolve with plenty of different dining experiences popping up each month.
So, should you find yourself with a rumbling tummy in East London, here's where you need to hit up…
Best Restaurants in Hackney
Cafe Cecilia
££
Irish head chef Max Rocha has gone out of his way to bring elements of his native Dubliner roots to the streets of East London with the chic neighbourhood bistro-style restaurant, Cafe Cecilia.
The sage and anchovy fritti has become one of East London's worst-kept culinary secrets, with its tasty, light tempura providing all sorts of oily, salty, moreish ness.
We also love their Guinness Bread starter with creamy butter spread on top, the Globe Artichoke and gorgeous Vinaigrette, and the Onglet, served with some of the best chips found anywhere (and a wonderful peppercorn sauce).
The prices are outstanding value for what is a fine dining treat!
The Picklery at Little Duck
££
Dalston Lane plays home to The Picklery at the Little Duck, a fermenting kitchen and wine bar. The menu changes fortnightly to ensure only the finest seasonal ingredients are used in their kitchen.
To give you an idea of what you can expect from this beautiful, intimate restaurant, we scoffed Wigmore and pickled radicchio before embarking on a journey with Gnudi, Romana courgettes, pecorino and mint garnish. All of which were delicious.
Oh, and make sure you've got some money left over to buy some of their pickled jars to take home and add a delightful flourish to your home cooking.
Shankeys
£
Shankeys in Homerton is one of the rarest of rare culinary birds, a restaurant fusing the best Irish and Indian tastes together to provide diners with an unlikely taste treat, the likes of which you're unlikely to find anywhere else.
We love their chaat potatoes, crispy cubes of potato, silky-smooth inside and soaked in a stunning turmeric and poitin butter. This is one of several examples of the wholesome, colourful fayre that looks like it's been cooked by your Great Grandma, right down to the floral crockery.
With wholesome small plates available for less than a tenner, we love their fish tea – ginger and cardamom-infused cod chowder – light, flavorsome and a stunning delight.
Hackney Coterie
££
Situated in Hackney Downs is a charming wine shop and bakery that doubles as one of the best Hackney restaurants, serving lunch on Saturday and dinner Thursday through Saturday with a £20 two-course menu and a third course for an additional £4. Great value!
Hackney Coterie currently serves some of the finest seafood dishes in East London, with their Monkfish main particularly appetising. We're big fans of their celeriac, nameko mushroom and brillat savarin small dish, while their Pork Katsu is divine.
If you're after a snack starter, go for the crispy potatoes and crab, two for £6. A top-class delicacy packed full of crunch and flavour, probably our favourite culinary combo.
The Sea, The Sea
£££
This Haggerston eatery brings the sexy to East London's restaurant scene, a place where every seafood connoisseur simply must visit. As you enter The Sea, The Sea, you walk past uplit glass pickle jars full of fine ferments into a room surrounded by bubbling tanks known as "the lobster hotel."
The restaurant has just 14 seats at the chef's table, offering a unique opportunity to be close up as you watch Executive Chef Leo Carreira cook your fish.
Feeling fancy? You can hire the entire restaurant for a private dining experience like no other with your friends and family while enjoying the best seafood dishes arguably anywhere in London, never mind Hackney!
El Ganso
££
El Ganzo is a beautifully rustic Spanish-influenced restaurant that brings the charm of the streets of Madrid or Sevilla to downtown East London. El Ganso, translated as "The Goose," is popular with Spanish speaking locals, which helps to give it a further seal of authenticity.
The traditional Spanish tapas dishes come with a modern spin from the Anglo-Spanish breakfast served daily to the evening tapas menu that provides charcuterie, seafood, meats, vegetarian dishes and picky plates in one beautifully curated spread.
We were seduced by the Salmon tartar and the Huevos Rotos, runny eggs served over fried potatoes, onions and chorizo. Totally yummy.
Silo
£££
Sustainability and zero waste are the watchwords at Silo, a restaurant in a refurbished canalside former industrial space, now serving up some of the finest, most elegant dishes in East London.
All food is sourced with the elimination of waste in mind. Silo trades directly with farmers using reusable delivery containers and choosing zero-waste ingredients. Any leftover food is deposited for composting, thus closing the fully-sustainable loop.
And what about the food? Their 6-course tasting menu is pricey but entirely understandable, £65 per head. It's expertly curated and provides diners with an exquisitely presented set of dishes that somehow taste even better than they look.
WAVE
££
WAVE stands for We Are Vegan Everything and is the brainchild of best mates Cait and Soph.
Their passion for vegan cuisine and minimalist homeware motivated them to set up a comfortable oasis where they can eat and enjoy vegan food that even the most staunch non-vegan will adore.
This space is perfect for midweek or weekend lunches for friends that love a long, lingering lunch of veg-based bowls, snacks and shakes. We loved their Golden Roasted Salad, while the roast cauliflower in coronation sauce looked incredible.
If you're there for brunch, pick up a Brekky Bowl, in which the mushrooms thrive with juicy goodness.
Caribbean Kitchen
£
Sitting on the side of Mare Street in South Hackney is one of the area's best taste treats, Caribbean Kitchen. All your West Indian favorites are served here at prices that won't break the bank.
Lunch boxes are made up and cost less than fiver, incredible value in London. Jerk pork, jerk chicken, curried coat, chickpeas in coconut milk, rice-n- peas, fried plantain and genuine Jamaican patties are on the menu here.
Caribbean Kitchen also offers cookery lessons in many of their signature dishes, meaning you can wow friends and family in the comfort of your kitchen.
Morito
££
Morito on Hackney Road brings North African and Spanish-influenced tapas to the heart of the East End. Regular readers of this site know how much we love our tapas, and Morito nails it – regularly making it into our guides.
This might be a small eatery, with fewer than 20 seats, but it's worth elbowing your way through crowds to get a table. A taste explosion awaits.
You won't be disappointed when the food arrives, with small plates packed with intense flavours. The menu changes regularly – but whatever does come will be delicious. We promise.
Casa Fofo
££
Casa Fofo on Sandringham Road is a stunning fine-dining restaurant with one of the most unique interiors anywhere in East London, with suspended veg from the ceiling and backlit pickle jars adorning shelves throughout.
The seven-course tasting menu comes with a specially paired wine and costs £39 per head, which, given the outstanding quality of the food, and more than frugal portion sizes, is terrific value. The dishes are all accompanied by complementary sourdough bread and petits fours to keep you ticking over.
For an intimate, quiet culinary treat, you'd have to go a long way to beat that of Casa Fofo's incredibly delicate, seasonal fayre.
Nest
£££
Nest is a cosy restaurant serving seasonal platters of no-choice tasting menus. This exclusive neighbourhood gem serves its tasting menu over nine dishes, with a single cut of meat used across each menu.
Of course, there's a vegetarian-friendly menu for non-meat eaters, and each menu comes with far more than just the meat option.
For example, a micro-sized muffin piled high with chopped-up devilled egg, or "potato, onion, and barley," which came in a broth but was as far from a soup as you could imagine.
This charming eatery is a must-book in advance treat with highly skilled dishes, the menu changing every six weeks, and a cool low-fi Ska / Latin funk soundtrack.
Other Places to Eat in Hackney
Randy's Wing Bar
££
After thriving as a pop-up in and around East London for several years, Randy's Wing Bar finally got a permanent spot in the Olympic Park next to the canal in Hackney Wick. Their chicken wings are literally served by the dozen and are beyond tantalising.
You'll get messy, whatever you choose, and we swear by the BBQ-sauce-slathered Kansas-style wings or the Korean-style Gangnam (dance not obligatory).
This is a great location to catch summertime rays in a deckchair on the grassy waterside bank while licking your fingers clean after you're left with the bony remains of what are, simply, awesome wings.
Temple of Hackney
£
Temple of Seitan became London's first Vegan chicken shop, giving East London's growing meat-free crowd access to one of the world's finest culinary guilty pleasures: greasy, crispy fried chicken.
Seitan is a meaty-style vegan substance made from wheat gluten, which provides diners with a genuinely fantastic meat-free alternative to chicken, with all of the traditional chicken shop atmosphere that bursts forth upon the streets of London.
Diners can try gluten-free soya nuggets and a range of vegan sides alongside vegan wings and legs. Seitan is tougher than tofu and less stringy than chicken – even if you're not a veggie, we think you will love this.
Practical Tips for Exploring Hackney's Best Restaurants
Hackney is a vibrant area in East London with excellent transport links to destinations across North London, East London, and Central London.
Hackney Central and Hackney Wick stations are on the London Overground Line that links Stratford with destinations in North London, including Islington and Hampstead. Meanwhile, London Fields and Hackney Downs stations are on the mainline of Liverpool Street, heading towards Seven Sisters, Tottenham, Enfield, and Cheshunt.
Several bus services operate within Hackney, taking passengers to various destinations across East London and Central London.
We strongly advise that you contact the restaurants to make a booking before turning up. Many are relatively small and exclusive places, meaning booking is essential, while others with seating available for walk-ins often get busy quickly.
All restaurants will cater to special diets and allergens. While most things are marked on menus, don't hesitate to ask your waiting staff if you're unsure.
Hackney Restaurants: Map
Hackney Restaurants: Read Next