Candlelight concerts are totally… lit? But where do you find the best ones, and how should you know what's on? Here's what you need to know.
Whoever came up with the idea of dressing a stage in candles and playing beautiful music on it deserves a pat on the back. We salute you. So does the rest of London. They can't seem to get enough of them.
Luckily there's plenty on. With all that choice we thought it best to do what we do best and curate a guide of what you should be looking out for on the candlelight concert scene.
Read on for the best candlelight concerts in London.
Candlelit Concerts in London
The Regulars
Candlelight
Citywide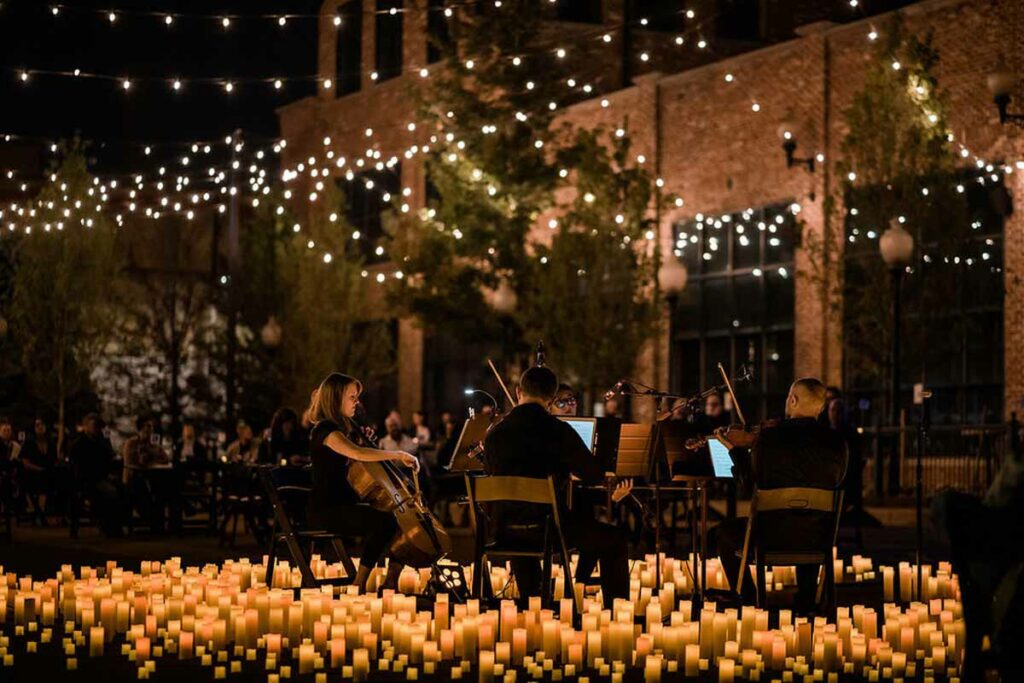 Candlelight are the big boys when it comes to this type of thing. They're operating in over 100 countries and hold concerts in London basically every weekend.
Their shows are always noteworthy, not least for the spaces they take over to put them on, but also because of the variety of music they perform.
Fancy listening to sci-fi soundtracks in candlelit Southwark Cathedral? How about a classical tribute to Beyonce? At the time of writing their upcoming schedule has both of those. The show we're most excited about, though, is a candlelit rendition of famous Studio Ghibli movie scores.
Their events are always listed on Feverup.
You can see the full upcoming schedule here
Concerts by Candlelight at Freemasons' Hall
Incredibly famous pieces of classical music might be nice things to see performed by candlelight, and at Freemasons' Hall, in the heart of Covent Garden, you can see just that.
They've got the Belmont Ensemble and Trafalgar Sinfonia performing regular shows of classics by big names – Beethoven and Mozart are two that jump out right away – and they also do some other fun nights like Magnificent Movie Music and Dickensian Christmas Carols.
To see the full spread of events, and book yourself a ticket check here
Musicals by Candlelight
Covent Garden
Another fixture in the candlelit scene are Musicals by Candlelight, and we think you're gonna love this one. If you couldn't tell from the name, these folk cover songs from your favourite musicals.
They've got a bunch of concerts coming up over the next few months, all being played in St. Paul's Church in Covent Garden, a stone's throw from where the musicals would have been/are being performed.
To see some dates and book yourself in for a concert, check here
Chopin and Champagne by Candlelight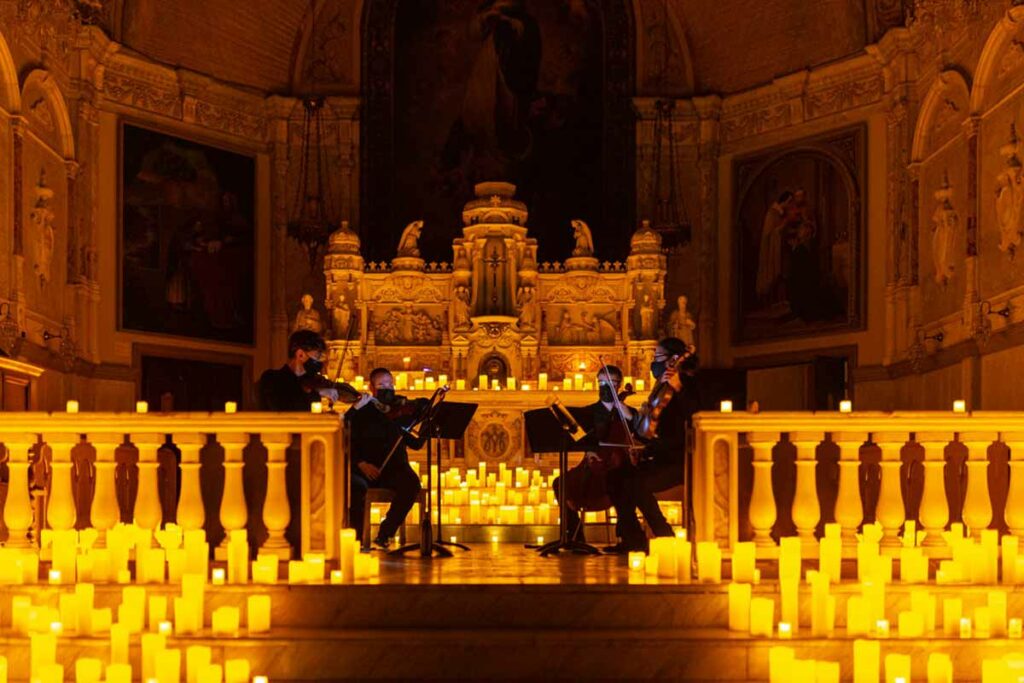 If you weren't sold on this one by its name alone, then you're a lost cause. The 1901 Arts Club in Waterloo puts on monthly concerts of Chopin with a combined champagne reception. The shows are timed so that you can enjoy them pre or post dinner.
Pianist Warren Mailley-Smith will be playing an ever changing programme of Chopin's classics, and all you have to do is sip champagne and enjoy. There's a complimentary glass with each ticket. Try not to quaff it all before the show starts.
They're taking a break in December and January, but will resume normal service in February. Grab tickets here.
The Not-So Regulars
Rock Orchestra
Citywide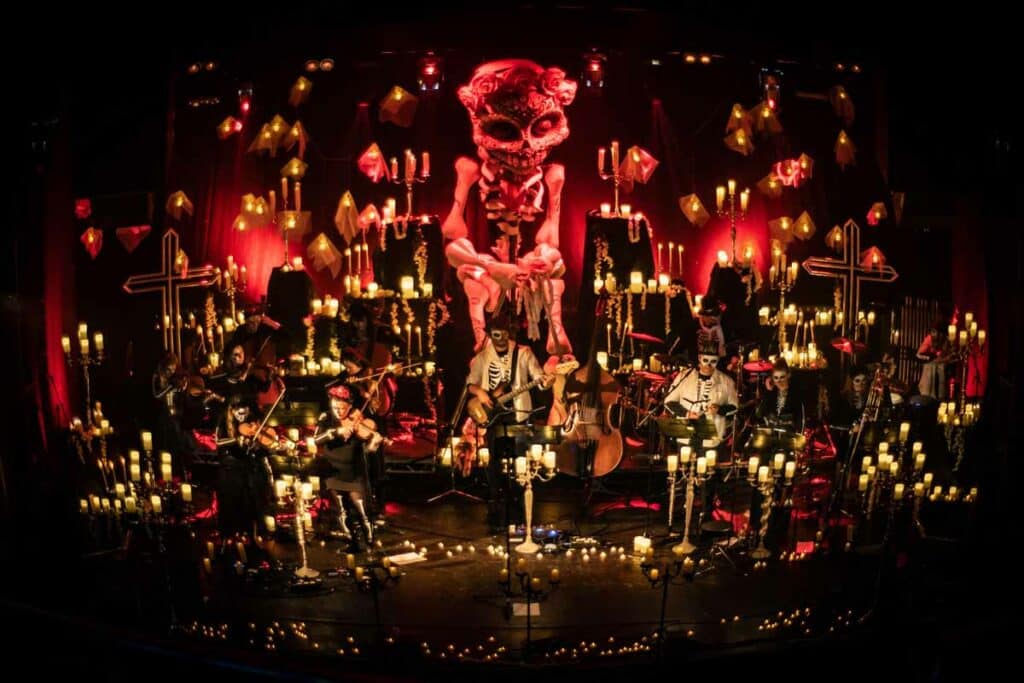 An absolute must-see if you're looking for candlelit concerts in London, the Rock Orchestra does classical with a twist. They take music from the rock and metal worlds and transpose it to classical.
It doesn't stop there. They then dress up in skeleton masks and creepy-looking outfits while they rock out – and they do it all by candlelight of course. The result is eerily spectral but like nothing else going on in the city at the moment.
They tour the country and are breaking into Europe, but still make it back to London on a semi-regular basis. You should keep your eye on them. Seeing AC/DC, Metallica, and Queens of the Stone Age with this new brand of dark classicism is not one to miss.
Check for tickets and book here
Other Upcoming Candlelight Concerts in London
Vivaldi's Four Seasons by Candlelight
Coming up with dates on the 26th of November and the 27th and 29th of December 2022 are a series of candlelit recitals of Vivaldi's Four Seasons by the Trafalgar Sinfonia. The venue is the beautiful St. Martin-in-the-Fields – quite the home for a show like this.
That's the same orchestra that performs at Freemasons' Hall, as mentioned above, these concerts will be a chance to see the performance of this historic piece of music in a new setting.
The Lark Ascending by Candlelight
Piccadilly
If you're a fan of classical music you'll want to see the devastatingly beautiful Lark Ascending by Ralph Vaughn-Williams with the added magic of candlelight dapple.
This one-off concert is coming to St. James Piccadilly on the 27th of December. The piece is performed as the finale of a concert that sees Pachabel's Canon played, as well as a rendition of Chopin's Piano Concerto no.2 by Warren Mailley-Smith (now we know why they're taking a break at the 1901 Arts Club).
Practical Tips for Nabbing a Seat at One of London's Candlelit Concerts
You can find most of what's going on for candlelit concerts on Feverup, or just by googling for what's on.
You need to keep on top of what's going on in order to get the best seats. If you look far enough in advance you'll have the pick of the litter, though there are usually enough seats going that you don't need to worry too much.
Concerts by Candlelight in London: Map
Candlelight Concerts in London: Read Next