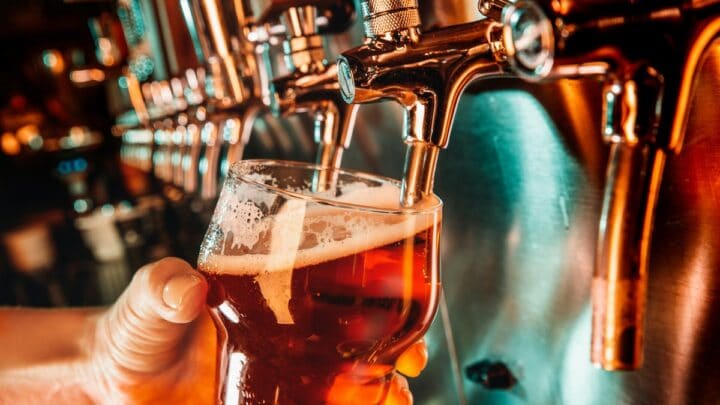 Looking for the best pubs in Old Street? Look no further than our guide to all the best places to get your next pint.
Tucked away in a cosy corner of Shoreditch, Old Street has no shortage of places to find a drink. But with that many pubs around, it can be tough to find the best ones to visit.
That's where we come in. We've drank at a fair few Old Street pubs over the years and have got the total lowdown – from the after-work drink pubs to pubs with the best grub.
Ready to discover the best Old Street pubs?
The Best Pubs in Old Street
The Angel
Situated along City Road is one of Old Street's best local pubs. The Angel is a neighbourhood hangout for post-work drinks, boozy lunches and everything in between.
You'll often find after-work revellers sprawled out into the streets standing under hanging flower baskets, and sipping on cold beers and inventive cocktails. But this place also has a lot to offer in terms of food, and you know that food is always on our minds.
The Angel surpasses our pub grub expectations. Forget your bang-average bangers and mash, how would you like yours with crispy tobacco onions and red wine jus?
The Three Crowns
Right next to Old Street station is a historic Shoreditch pub just waiting for you to order your next pint.
The Three Crowns is any craft beer lover's heaven. With an impressive 18 craft beers on tap, your taste buds are sure to be kept thoroughly entertained.
If you're looking for pubs near Old Street that know how to serve food beyond pub grub, then you should look no further. This pub is also a sort of burger joint.
Ted's burgers are inspired by flavours from around the globe – we especially love the sound of a Beef Brisket Burger with a side of Popcorn Chicken Mango Mayo.
The Reliance
Built from the remnants of the previous owner's sail barge of the same name, The Reliance is a two-storey pub with ever-changing beers and live music.
It's one of the most traditional pubs around Old Street and, despite its cool origins, is ridiculously unpretentious. Something that can be hard to come by with the surrounding trendy neighbours.
Better yet, the ground floor bar opens up its sliding doors in the summer months to an airy terrace. While upstairs is a quieter room where you won't need to shout to hear your mates drunk talk.
Prince Arthur
For one of the best pubs near Old Street station, head to the Prince Arthur. This is a cosy neighbourhood pub that we think you'll like.
Nestled in the backstreets of Old Street, this boozer still has its original frontage. Don't just judge this book by its pretty cover – you'll always find a delightful selection of rotating ales and other usual pub drinks.
But the most impressive thing about Prince Arthur has to be the food: Authentic Italian fresh pasta is made daily by Head chef Ciccio. Only one type of dish is made per day using local produce from Hoxton market. The dishes may change, but it's always served with fresh focaccia – yum.
Gibney's London
Do you know what's better than just an average boozer? An Irish one. Hailing from Dublin, Gibeny's London is bringing you the very best Irish charm to the East End.
Swing by here for Guinness, live music, and comedy. Whilst Guinness is an obvious choice at an Irish pub, we think Irish whiskey is also the way to go at Gibney's. The menu is extensive and it's sure to set you up for the live music acts.
Up-and-coming artists regularly play at Gibney's and we think those are the best type of nights here. Expect this Old Street pub to be lively until the AM.
The Fox
The Fox is a traditional East End pub. Except you're greeted by a lot of foxes in the form of wall art and bathroom tiles inside. This pub is a cosy place to hang out on a cold winter night, with a roaring fireplace and a warm and relaxed atmosphere to go along with it.
If you're feeling peckish, grab yourself some fried chicken by The Coop. It comes in the form of Cajun Chicken Burgers, The Coop Burger, and a selection of fried chicken wings.
There's plenty of craft beer to quench your thirst – some is even gluten-free, which can be hard to come by, so we applaud The Fox for this.
The Fox is always showing major live sports events too, so don't forget to hang out here and watch your favourite teams.
The Whitecross Tap
On a side street just off Old Street, you'll come across The Whitecross Tap.
If you like to pair your beer with pizza then this is the place for you. The Whitecross Tap has a variety of pizzas on the menu, including the infamous Pizza Cone.
Every great pub has an outstanding drink selection, obviously. Well, at The Whitecross Tap, both beer and gin drinkers are well catered for. From the 16 craft beers on tap to your choice of over 100 gins, we're certain you'll find something you'd like to sip.
Old Fountain
Eating, drinking, and relaxing are three of our favourite things, and that's exactly what you can expect at the Old Fountain.
The best thing about this pub is how it can feel like two pubs rolled into one. Downstairs is very distinctly an old British boozer serving award-winning real ales.
But upstairs is a little more stylish. An outdoor terrace pays homage to its hipster surroundings. Wooden benches, plants and maybe (probably) some bearded people drinking craft beers.
If you love Sunday roasts – and who doesn't? – Old Fountains served plates piled high with a Yorkshire bigger than your head balanced on top.
The Bricklayers Arms
The Bricklayers Arms is an old-school East End alehouse.
This corner pub is a former hipster hangout, but now it's gone back to its roots. And we love it. Inside, the rooms have been knocked through so it's just one huge space.
This place is perfect if you're in the mood for an ice cold pint and a relaxing atmosphere. Expect all the classic pub offerings, as well as an excellent selection of spirits, gins, and softs.
The Artillery Arms
The Artillery Arms is a quintessentially British pub, and that's why you should visit.
If you need more convincing: It's bursting with character both inside and out. You'll often find beer drinkers sprawled outside and standing next to this unmissable black-painted corner pub.
There are always regular ales on tap, as you would expect from a proper British boozer. If you're here with friends make sure you check out the board game selection. It's the best way to spend a lazy weekend afternoon here with a beer and pub grub.
Old Street Pubs: Map
Old Street Pubs: Read Next