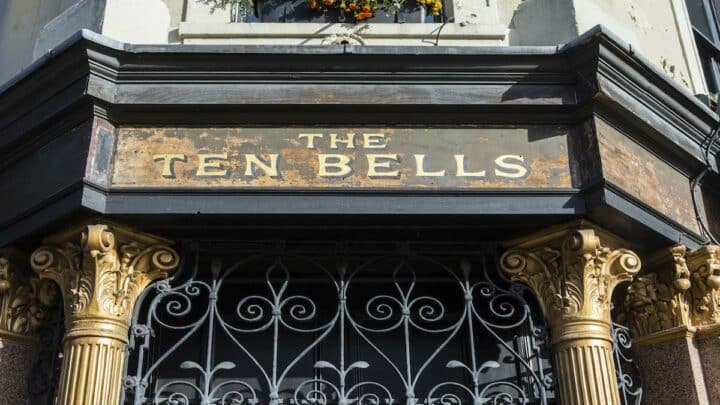 Looking for an East London watering hole? Look no further, we've chosen our pick of the best East London pubs for you to visit.
There's so many pubs to choose from in East London, it can be a little daunting knowing where to go. It's such a diverse place with watering holes offering the latest craft beers, live music and waterside pub gardens – there's even a choice of over 100 gins in one pub (identity soon to be revealed).
That's why we've chosen our pick of the best pubs in East London – all you have to worry about is which pint you're ordering next.
The Best Pubs in East London
The Shacklewell Arms
Dalston
The Shacklewell Arms is one of those pubs that suits every kind of pint from the after work pint to all out pint with live music.
This Dalston pub is not all about the pints though, The Shacklewell Arms' Lebanese inspired menu is full of delicious light bites like Baba Ghanouj, Labneh and the sweet Knefeh.
A visit to this East London pub is best when there's a live music event happening, The Shacklewell Arms's calendar is usually packed throughout the week.
The Ten Bells
Shoreditch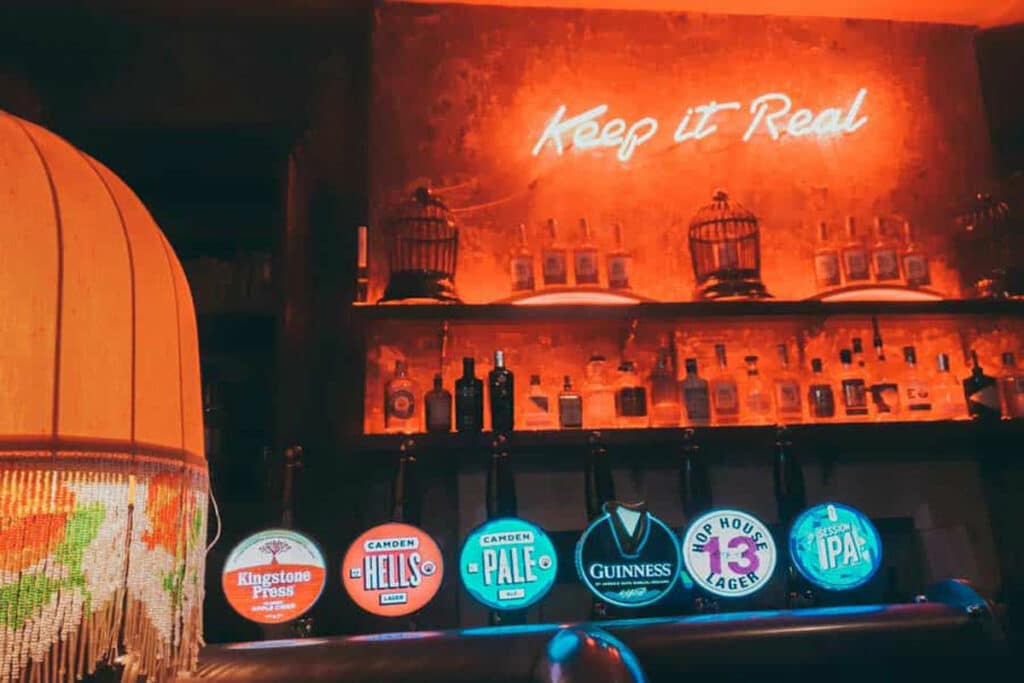 If you're looking to visit one of the most historic East London pubs, then The Ten Bells is where you should go.
You'll find The Ten Bells in Spitalfields, and it's not just any boozer, this pub has been around since the 18th Century. The Grade-II listed pub even has ties to The Jack Ripper, but we think locals love it for its community feel.
Spread over three floors with various bars and places to hang out, there's a spot for everyone's vibe at this East London pub.
The Owl & Pussycat
Shoreditch
Located near Shoreditch High Street, The Owl & Pussycat echoes old school heart and soul with good vibes, drinks and food.
Its food menu is packed full of hearty pub favourites, sharing boards and nibbles served for lunch, dinner and late night supper.
This East London pub has everything time of the day covered whether you're looking for somewhere to work from with a lunch and coffee menu or a pint in a dog friendly, heated and covered beer garden.
Chesham Arms
Hackney
The Chesham Arms is a friendly Vicotrian pub in the heart of Hackney and it's dog friendly so make sure you bring your furry friend.
This East London pub is all about great beers and comfort food – you can order Yard Sale Pizza straight to your table.
Come winter or summer, Chesham Arms suits it all. Hang out in the huge pub garden complete with ambient lighting in the summer or get cosy by itws two fireplaces in the winter months.
The Royal Oak
Bethnal Green
Take a stroll down Columbia Road and you'll find The Royal Oak – Bethnal Green's best loved pub.
This East London pub features interiors dating back to 1923 and has been used for a number of TV and filming backdrops including the Kray twins film and 90s sitcom Goodnight Sweetheart.
The Royal Oak offers British staples with a twist paired with pints or a glass of wine as well as a selection of moreish bar snacks and an impressive selection of beers on tap. Stop by on Sunday for Royal Oak's infamous Sunday Roast and seasonal menu, you won't be disappointed.
The Grapes
Limehouse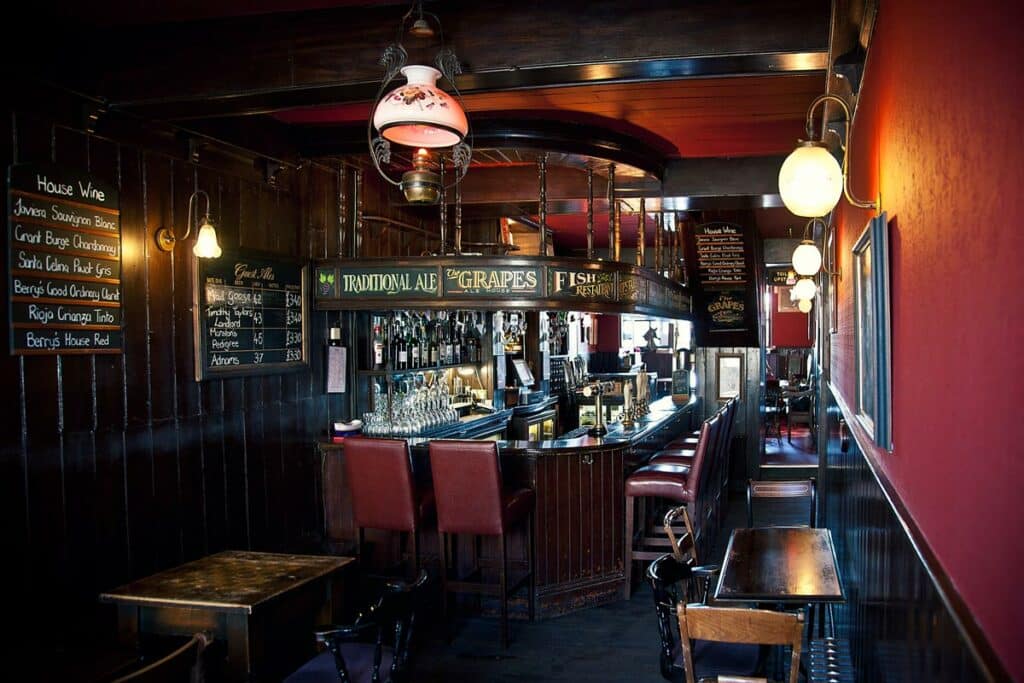 Fancy lunch or dinner and drinks sat by the river? The Grapes is a traditional 16th Century pub waterside pub that's been a Limehouse mainstay since 1966.
Overlooking the Thames, The Grapes is one of the oldest pubs in East London and even Charles Dickens was once a patron.
There's plenty of tasty pub grub like The Grapes' famous fish and chips as well as pies and roast dinners on the menu.
This East London boozer is best for chilled weekend days, good views and even better food and drinks.
The Kenton
Hackney
The Kenton is nestled in Hackney and is loved by locals and East London visitors alike. The pub is traditional and decorated with antiques and collectibles and from the outside it's pretty unmissable, free standing and yellow painted.
This pub has plenty of seating choices as well as a beer garden that's good for year round use with heaters and blankets.
Revellers mostly come here to watch the sports, enjoy a few craft beers and Yard Sale Pizzas.
The Wenlock Arms
Old Street
The Wenlock Arms is a traditional 19th Century ale house near Old Street serving an ever changing selection of cask ales, keg beers and real ciders from around the British Isles.
If you're a beer lover this traditional East Londen boozer is your haven with 10 cask ales and 10 keg lines all served alongside pieminister pies, baked camembert, toasties and vegan sausage rolls.
The best time to visit The Wenlock Arms is on the weekends, you'll find live entertainment with a piano and a whole lot of boozy dancing.
Hand of Glory
Hackney
Hand of Glory is a pub brought to you by Jaguarshoes Collective. Located next to Hackney Downs elevates traditional pub food with its Bun & Grain Shack serving up food influenced by Balkans and London. You must try the brioche buns with fries either dirty or clean or on Sundays a traditional Sunday Roast.
Hand of Glory's bar features a selection of countryside ciders from the UKs best independent brewers. There's also a constantly rotating menu of real ales, rustic Bloody Marys and home brewed Seven Deadly Sins.
The Prince Arthur
Dalston
Dalston's The Prince Arthur pub is a classic traditional pub by design with wood polished woods and taxidermy heads surrounded the boozer.
There's plenty of draught beers and real ales on tap at The Prince Arthur as well as a delightful cocktail menu featuring the bitter Prince Arthur Royale and a fruity Reggae Rum Punch.
This pub's compact food menu is also worth a mention, cheese boards, Lamb Neck and Charred Onion and Herb Salad and the Sparkenhoe Fonduta are all delicious choices.
The Hungerford Arms
Whitechapel
The Hungerford Arms is an old school East End watering hole with a sense of community. You'll find this is one of the best pubs in East London with plenty of entertainment including a pool table and a classic jukebox.
Located on Commercial Road, this hidden gem has plenty of beers on tap that are best enjoyed watching all of the major sporting fixtures on one of The Hungerford Arms' many screens and there's also live music events at this East London pub.
Old King's Head
Shoreditch
Dubbed the friendliest pub in Shoreditch, Old King's Head is a family-run boozer that's a retreat from the busy Silicon Roundabout.
As well as being the friendliest pub, it's also the cheapest pub in the area. Old King's Head serves breakfast and lunch including full English breakfasts, breakfast bloomers and pancakes with bacon and maple syrup.
For lunch there's steak and cheese sandwiches, ham, egg and chips and tasty gourmet burgers.
Howl at The Moon
Hoxton
An independent neighbourhood pub in Hoxton, Howl at The Moon is a fashionably updated Victorian pub with wooden floors and big windows.
It's the best gastro pub in East London serving proper food and booze with a wide selection of craft beer on rotation.
Howl at The Moon shows all the sports on the big screens and has plenty of live music events to attend.
You'll also find plenty of food and drinks deals here as well as a beer garden for the summer months.
Princess of Wales
Clapton
You can't beat an East End riverside pub, and that's why we love Princess of Wales in Clapton.
This Victorian pub with a gastro menu is dog friendly and is just a short walk from Lea Bridge station. The main draw here is its beautiful beer garden overlooking the river and extensive beer and wine selections.
You'll find plenty of classics on the menu here like the cumberland sausages, chicken, ham hock and Lancashire blue pie and beer battered fish and chips. There's also a Sunday roast with all the trimmings and lots of gravy.
Hackney Tap
Hackney
Hackney Tap is a 19th Century pub with modern twists and traditional charm. Located in the historic Hackney Old town Hall, serves up pints and with gyozas.
All gyozas are handmade with plenty of delicious fillings like pork and kimchi, chicken, veggie and pork and chive.
Gyozas pair perfectly with Hackney Tap's beers, you'll find this East London pub is all about its beers with a sizeable selection of cask and keg ales to choose from.
The Birdcage
Stoke Newington
This delightful Stoke Newington pub, The Birdcage, has a lot to offer when it comes to food, drink and friendly pub vibes.
From bottomless brunches to Sunday roasts you're sure to find something you like at the Birdcage.
There's also plenty of craft beers on tap including local beers and guest ales as well an impressive selection of gins – over 100 to be exact.
This East Londer boozer also shows all major sporting fixtures and hosts events like Oktoberfest.
Pub On The Park
Hackney
On a corner of London Fields, Pub On The Park is just a few minutes walk from Hackney Empire and Hackney Picture House which makes it the ideal meeting place before a show or gig.
It's one of the most warm and welcoming pubs in East London, serving up delicious pub classics, barbecued food and an unmissable roast on Sundays.
Pub On The Park has seven big screens and is the best place in East London to watch all major sporting events with a few pints.
East London Pubs: Map
East London Pubs: Read Next