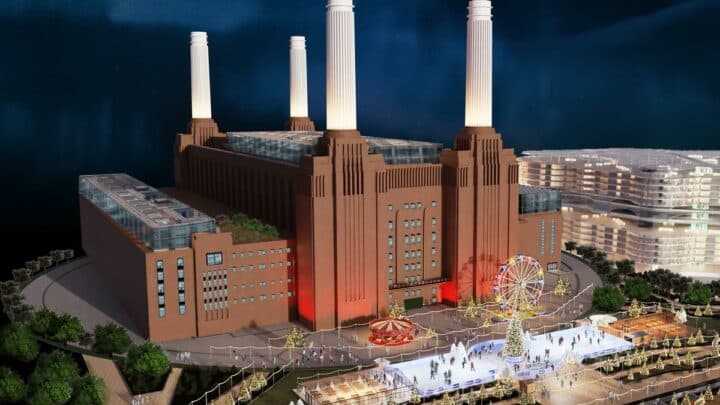 Glide is the three-rink skating experience opening in Battersea Power Station. Excited? Here's what you need to know.
With winter on the way there's lots we're excited for. The markets, the hearty food, and of course, ice skating.
As it happens there's a new kid on the block. In an area that's already pretty hopping.
Yep, Battersea is weighing in big time, with a pretty ambitious open-air rink right under the newly-refurbished power station.
It comes from the people behind the hugely popular rinks at the Natural History Museum (R.I.P ) and Hyde Park's Winter Wonderland.
And they've named it: Glide at Battersea Power Station.
Whether you'll be gliding or sliding is up for debate, but it all sounds pretty cool.
Glide Battersea: So What Can You Expect?
Well certainly none of that fuddy-duddy rectangular rink nonsense, the folks at Glide are pretty clear about that.
The "rink" at Glide is actually three rinks linked together, with a giant 30ft Christmas tree in the middle for good measure.
Obviously there's also the Power Station as a backdrop. Not bad all things considering.
And just imagine how the lights will glitter off the river…. sounds like a perfect date spot.
There are also plenty of reasons to bring the family in tow… including a family ticket bundle, but more about that below.
They even have those super cute penguin skate aids. You know, those things the kids can hold onto so they don't slip over and get a face full of ice like us adults who have to brave it hands free.
There's also plenty for the adults to enjoy too. Other than watching each other falling all over the ice that is.
The newly-opened Power Station has a mountain of food and drink options. Le Bab, Where The Pancakes Are, Poke House to name a few.
Off the ice there'll also be fairground rides, vintage ones for that matter. (We're hoping that means classic and not just plain old. We're sure it does.)
Glide Battersea Power Station: Practical Tips & Map
When Does The Fun Start?
The rink will open on the 10th of November at 6pm. It'll run right over the festive season and into the new year, closing on the 8th of next year. (2023 for all you late comers.)
How Do We Get Tickets?
Tickets are already on sale here. Prices range from £12 to about £17 for an adult depending how prime-time the slot you're booking is.
The time slots are about 50 mins each.
You can get that family bundle we mentioned about which knocks your price down a fair bit. To around £15 each.
Getting There
The rink's a short walk from (you guessed it) Battersea Power Station tube stop.
The other option would be to take an Uber boat along the river and hop off at Thames Clipper pier.
Failing that, you could always just point yourself in the direction of the power station's chimneys and start walking
Glide, Battersea: Map