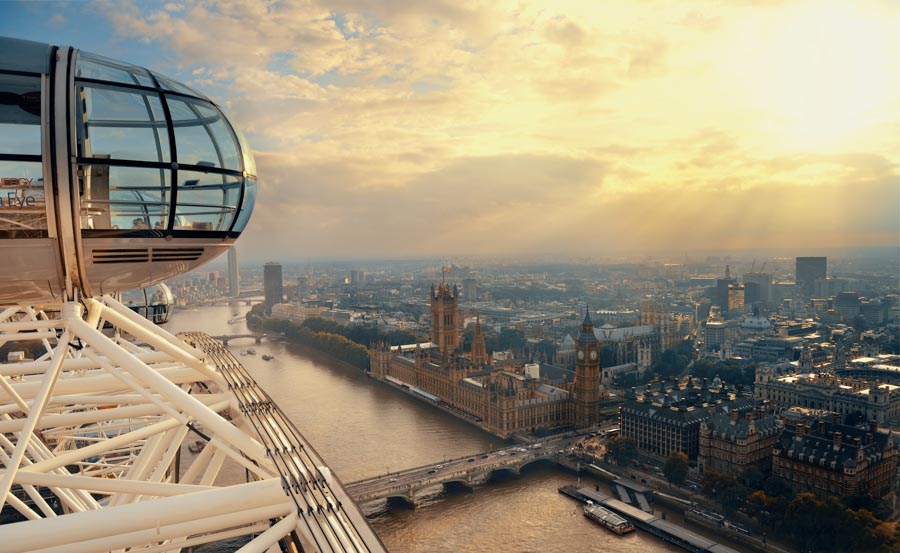 The London Eye has graced London's skyline for over two decades – but how much do you really know about the city's famous observation wheel? Here are 23 London Eye facts for all you curious wannabe know-it-alls.
Ah the London Eye. We have a bit of a soft spot for London's tortoise-paced observation wheel. It's an iconic bit of London's skyline and a must-hit spot for any lovers of London.
One of our team even worked there before uni. She still regails us with tales of the ragtag team of part-time actors, dancers, people working to fund their year abroad living in the money drain that is London.
Geeky to the core, fact spouter that she is, she'd never miss an opportunity to tell people some obscure fact about the big wheel they were just about to get onto, and it turns out nothing's really changed there.
She still loves telling people all the weird and wonderful facts behind the London Eye so here are a few for you.
Enjoy… and yes, we guarantee that one of these will come in useful during one of those awkward conversational moments in life we all face from time to time.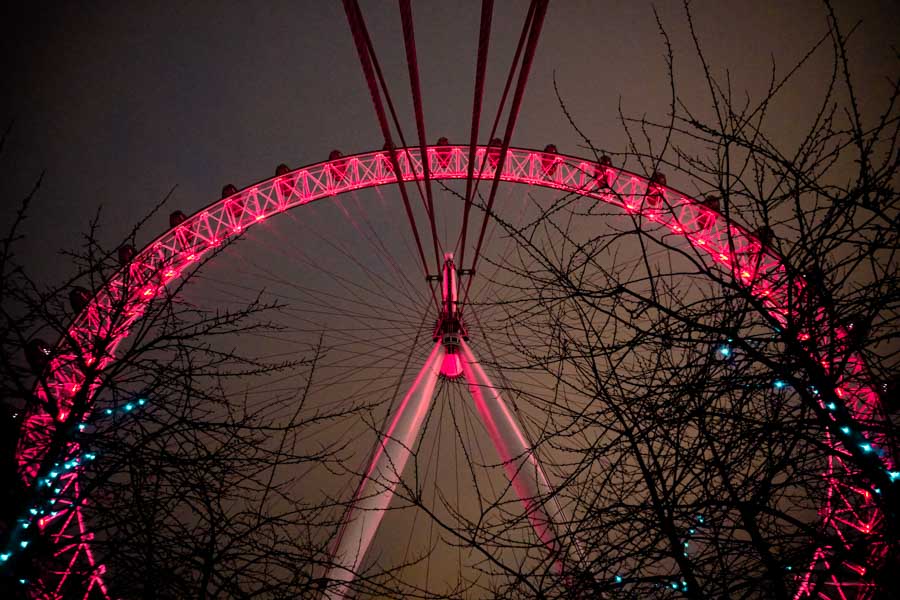 23 Interesting London Eye Facts
The London Eye is not a traditional ferris wheel.
Although the London Eye is often called a ferris wheel, experts disagree. Instead, it's a "cantilevered observation wheel" – with a mouthful of a name like that, it's no wonder so many go with "ferris" instead!
So, what's the big difference? Well, the London Eye is supported by an a-frame only on one side, and the climate-controlled capsules don't hang down like a traditional ferris wheel.
Ferris or no, it's Europe's tallest wheel.
Whether it's a ferris or cantilevered observation wheel, it is Europe's largest wheel. Specifically, if you're wondering how big the London Eye is – it's a pretty dizzying 135 metres. That's an interesting London eye fact, however it used to be even more impressive.
Yup, when the London Eye was built, it was the tallest wheel in the world. Unfortunately, it's dropped a few places and now lags behind wheels in the USA, China and Singapore.
Read Next: Sightseeing in London – 39 Unmissable Spots
It's not London's first Big Wheel.
The Eye isn't the first London Ferris Wheel. In fact, the first great wheel over London Town opened way back in 1895 as part of the Empire of India Exhibition.
In its time, more than 2.5 million passengers rode the wheel, but it was demolished in 1906. Despite its popularity, it would be almost a century until Londoners got the thrill of another big wheel in the capital!
A husband and wife team designed the wheel for a competition.
A team of architects worked on the London Eye (well, you'd want to be very confident before taking people 135 metres above the city). However, many consider it was mainly husband and wife team David Marks and Julia Barfield who built the London Eye (or at least designed it).
They originally submitted the design for a competition back in 1993, but it was initially rejected (along with all the other entries – ouch). It took seven long years and plenty of resilience, but the design finally came to life as the Millenium Wheel in 2000.
It might be the Millenium Wheel, but it missed the party.
The Millenium Wheel was supposed to celebrate the changing of the millennium (makes sense), but things didn't go quite to plan.
Turns out assembling thousands of tonnes of steel and glass in the midst of one of the world's great cities is slow going. While technically the wheel was opened on New Years' Eve in 1999 (how convenient), due to safety concerns, the public was not actually allowed in it until March 2000, long after their New Years' hangovers had worn off.
What's with the name?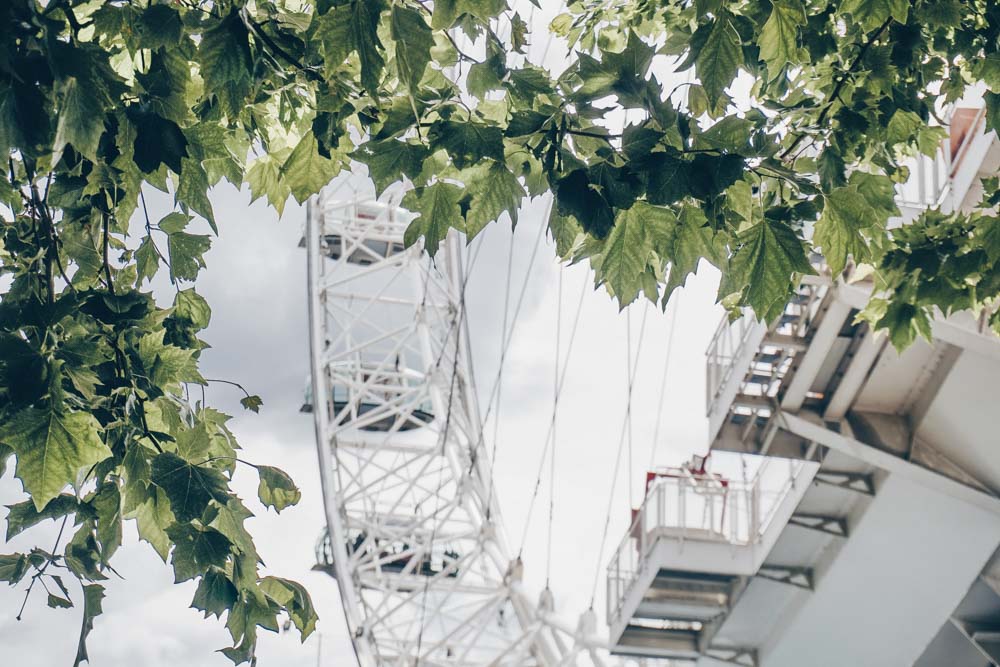 The Millenium Wheel, the London Eye… it's already confusing, and yet they're just some of the monikers the wheel has sported over the years.
Others have included the Merlin Entertainment London Eye and the EDF Energy London Eye, although let's be honest – they never really stuck. Since 2015, the London Eye's official name (you know, the one that's used when it's in trouble) has been the Coca Cola London Eye.
The 32 capsules of the London Eye represent London's 32 boroughs.
There are 32 pods on the London Eye – enough to hold about 800 people, or roughly 11 London double decker buses worth. It's not just a convenient number, however – but a subtle nod to the city of London.
In total, there are 32 London boroughs such as Hackney and Camden. Each one is represented by a fabulous London Eye capsule. Aw.
Read Next: Cool and Interesting Facts about London
But they're numbered 1 – 33, with no unlucky 13.
If you get to the London Eye and see capsule number 33, don't yell at me in the comments about my erroneous London Eye facts and figures. Trust me, there are only 32 capsules.
The reason for the discrepancy is pure and simple superstition – there's no capsule numbered 13. To be fair, I don't think I'd want to be 135 metres above London in the unlucky 13th capsule… so maybe it was a wise move.
One of the capsules is named after Queen Elizabeth
While there is no number 13 capsule, there is a very fancy Coronation Capsule. Yup, Big Ben isn't the only icon to have been renamed in honour of our beloved Queen Liz.
In 2015, one of the London Eye's capsules was renamed the Coronation Capsule to celebrate her sixty years on the throne (now, that is impressive fact).
The London Eye receives more annual visitors than the Pyramids of Giza or the Taj Mahal.
The London Eye takes the crown as London's most popular paid attraction, attracting over 3.5 million visitors every year.
That's way more than other attractions like Stonehenge and the Taj Mahal. It's also many more than the Pyramids of Giza — the London Eye might be younger, but it's even more popular.
It was transported in piece by piece by barge down the Thames.
The London Eye weighs over 2,100 tonnes in total. In order to place it on its iconic riverside location, it needed to be shipped piece by piece down the Thames. It was then assembled, and gently lifted up into position over a week. Another tidbit of London Eye information is that it used the same technology that's usually used to set up oil rigs in the North Sea.
When you put it like that, it's no wonder it took so long!
It was only supposed to be temporary
Despite all the effort that went into erecting the London Eye to see in the new millennium, it was actually only meant to be a temporary building.
Within only a couple of years, it was impossible for Londoners to imagine the skyline without it (and, I suspect, the city to imagine life without that good tourist money). So, in 2002 it was granted a permanent permit to reside near the South Bank.
But the Southbank Centre nearly vetoed it!
It's move from temporary gimmick to permanent attraction did ruffle some feathers, though. In particular, the Southbank Centre was not too plussed, as part of the London Eye overhung their property.
They sued, and for a moment the London Eye's future looked in doubt. Luckily, money always talks and they ended up reaching an agreement where the London Eye pays a cool £500k annually for the privilege of overhanging.
The wheel has hosted more than 500 weddings, and more than 5000 proposals
The London Eye is a pretty popular place to go and get hitched. So far, there's been at least 5,000 proposals in the London Eye's capsules. While nothing stops someone from getting down on one knee in the public capsules, many opt for a fancy private experience.
To really go all out in the name of love, you can also join the 500+ couples who've been married in the London Eye. They even turned the whole thing pink to celebrate the first civil union hosted there back in 2005!
It lights up on Valentine's Day — and books up way in advance.
As one of the most romantic destinations in the city, there's plenty of love around the London Eye all year-round. Things really get turned up a notch on V-Day, however.
Last year, the London Eye was lit up bright pink and red way into the night, as loved up couples made their way around. Those looking to splurge could be found in romantic private capsules, complete with bubbly and chocolate.
Apparently the cool £470 price tag didn't put many lovers off… it was booked up months in advance! So, not ideal if you're looking for a last minute gift.
It also celebrates other weddings
The London Eye doesn't just celebrate the love of those who got engaged or hitched in the capsules. It also lights up for other occasions and love stories… like big Royal Wedding of William and Catherine in 2011.
Yeah, the London Eye really loves the Royal Family.
The wheel doesn't go that much faster than a tortoise.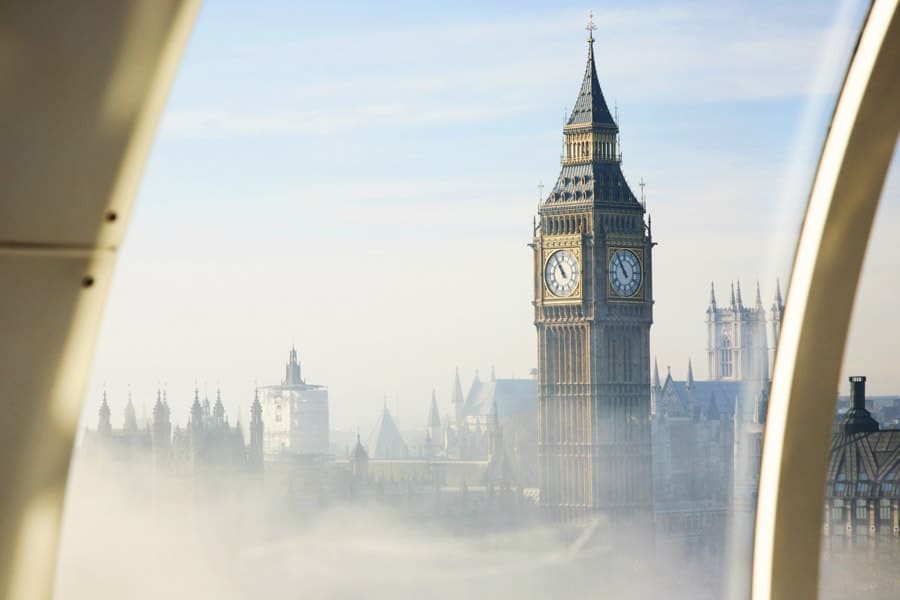 Don't you worry if you're not a fan of thrill rides – the London Eye actually goes really, really slowly. In fact, in a race with tortoise – the London Eye would only just come out on top.
The capsules move at the le-e-eisurely pace of 26 centimetres per second. That's about twice as fast as a tortoise at full speed. You certainly don't need to worry about whiplash.
The wheel moves so slowly, it doesn't need to stop to let people on and off.
In fact, the London Eye moves so slowly that it generally doesn't need to stop to let people on and off. Of course, it can stop for people with mobility requirements.
There's none of that stop-and-start business of most ferris wheels, just a constant loop around taking in the fabulous views.
In one year, the wheel travels the distance from London to Cairo.
Even though it goes really slowly, the London Eye still covers a lot of ground over a whole year. If you added up the distance that it travels annually, it would be about the distance from London to Cairo.
On a clear day, you can see Windsor Castle from the top of the Eye.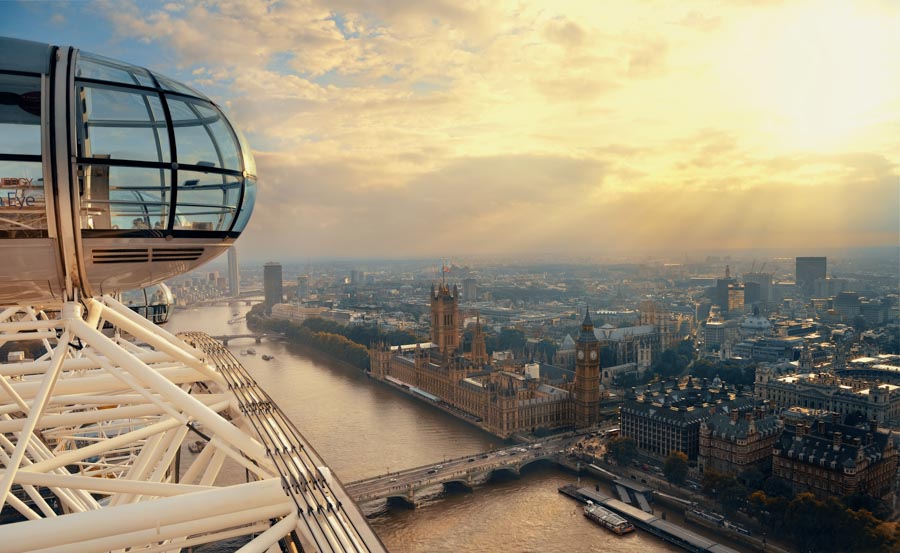 From the London Eye's height of 135 metres (or 443 feet, if you're wondering how tall the London Eye is in feet), you can see up to 40 kilometres in all directions.
On a really clear day, you can even spot Windsor Castle off in the distance. Be sure to keep your eye out for the Queen and her corgis.
The circumference of the wheel is 1,392 feet
Yep, the London eye is pretty massive. If you unfolded the wheel and laid it out flat it would be nearly 500 metres long (424.2816 to be precise).
That also means that if you take the circumference and stand it up straight, the London Eye would be taller than the Shard that stands at 310 metres tall.
One of the cables snapped during construction
Ok, so don't let this fact put you off visiting one of London's most iconic landmarks, but one of the cables snapped while they were putting the Eye together.
It happened as they tried to lift the thing onto its A-frame. Not to worry, it was replaced and no cables have broken in the operation of the wheel since. It's totally safe, we promise.
All of the oil on the London Eye is biodegradable
As you can imagine a moving structure as massive as the London Eye requires a lot of oil. We were glad to find out that the good people that run the Eye make sure that all that oil and grease does no harm to the environment – especially important with the Thames right there beneath it.
And they don't stop there. The same rule applies for all their cleaning products too.
London Eye 101: Things You've Always Wanted to Know About the Millennium Wheel
How Long Does it Take for the London Eye to go Around?
The London Eye moves at the leisurely pace of about 0.9 kilometres per hour. This means that a trip all around the London Eye takes about 30 minutes in total.
Why Was the London Eye Built?
The London Eye was built to celebrate the new millennium in 2000, although, as mentioned, it kinda missed the party. That's why it was originally known as the Millennium Wheel, and only became the London Eye back in 2011.
Why is it Called the London Eye?
The London Eye's name is fitting given the frankly amazing 360 degree views you get from it. While it's not London's tallest observation point (that award goes to the Shard), it really does give you an amazing panoramic 'eye' over London.
How Many Pods Are There on the London Eye?
There are 32 pods on the London Eye – even though they're numbered 1-33 skipping unlucky number 13.
Looking for more obscure London knowledge and geeky fun? Read Next: