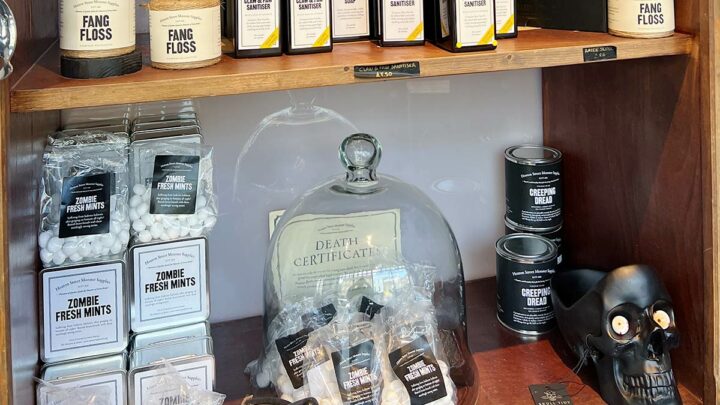 Discover the curiosities of Hoxton Street Monster Supplies – a shop like no other.
Throughout its history London has been home to many subcultures: you probably know all the spots for punk clothing, streetwear and the latest underground music. But do you know where to go for monster supplies?
If you're not a vampire, werewolf, spriggan, banshee or Bigfoot, this article might not be for you. But then again you might – or rather, should – be quite interested in the things a monster needs to get by.
Venture down a street in Hoxton Street to find all the supplies a monster could ever need under one roof.
Sure, Hoxton Street Monster Supplies brands itself as targeted at monsters, but even a human might find something they'll be into if they keep an open mind (brain jam anyone?).
Best of all? Profits from this mysterious store go directly to charities helping human kids in London.
What is Hoxton Street Monster Supplies?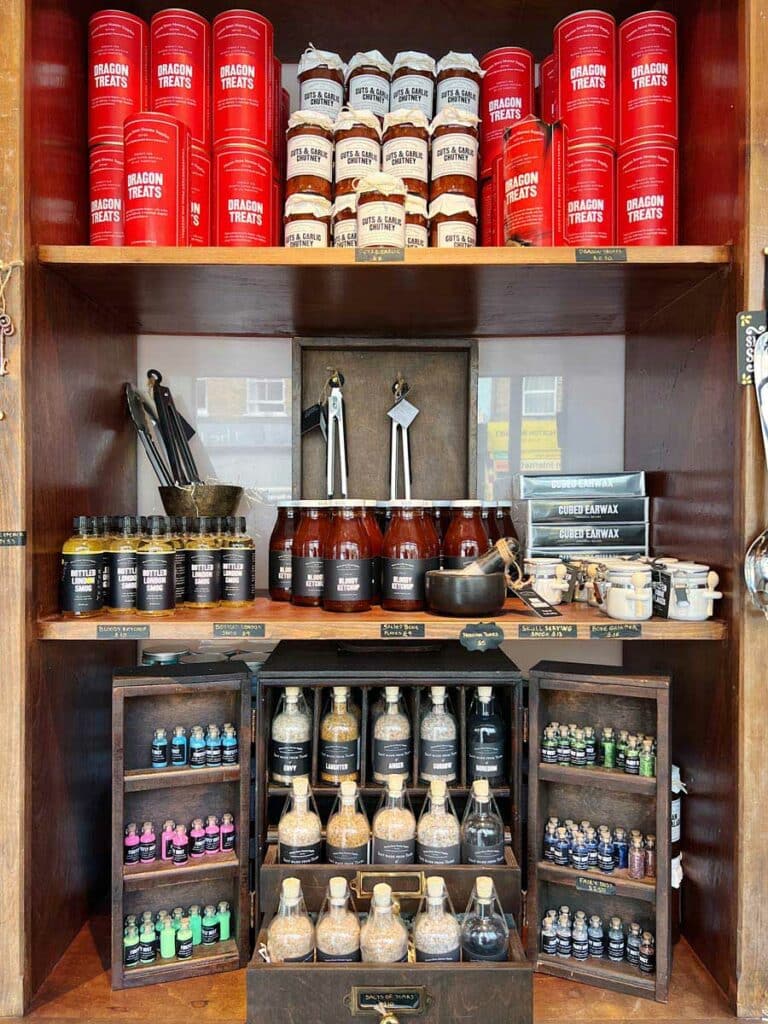 OK, little secret. The stuff here isn't really for monsters. If you hadn't worked it out yet, they don't exist. Sorry to be that kid on the playground.
Hoxton Street Monster Supplies is real though. And apart from being very imaginative, is also a store well worth a visit.
They sell all sorts of stuff with a fun monster twist. That brain jam we mentioned above. Real jam, minus the brains (we hope).
They've got chocolate human hearts that look disgustingly convincing, bloody ketchup and tins of creeping dread. What's in it? Your guess is as good as ours.
The packaging is really well done, convincing, and looks quite like something He Who Must Not Be Named would have hanging around on his shelves.
Their repertoire doesn't stop at edibles. They've got stock for all your lifestyle needs as well:
Notebooks, skull-shaped spoons, broomstick pencils, paw and claw hand wash.
What's cooler than that?
Well, maybe the fact that all the profits from this place go to charity. Appropriately for a store with such an imagination, that charity is the Ministry of Stories.
They support London children to develop new skills and realise their creative potential through writing workshops and one-on-one mentoring.
A noble cause if ever we saw one.
Why Go?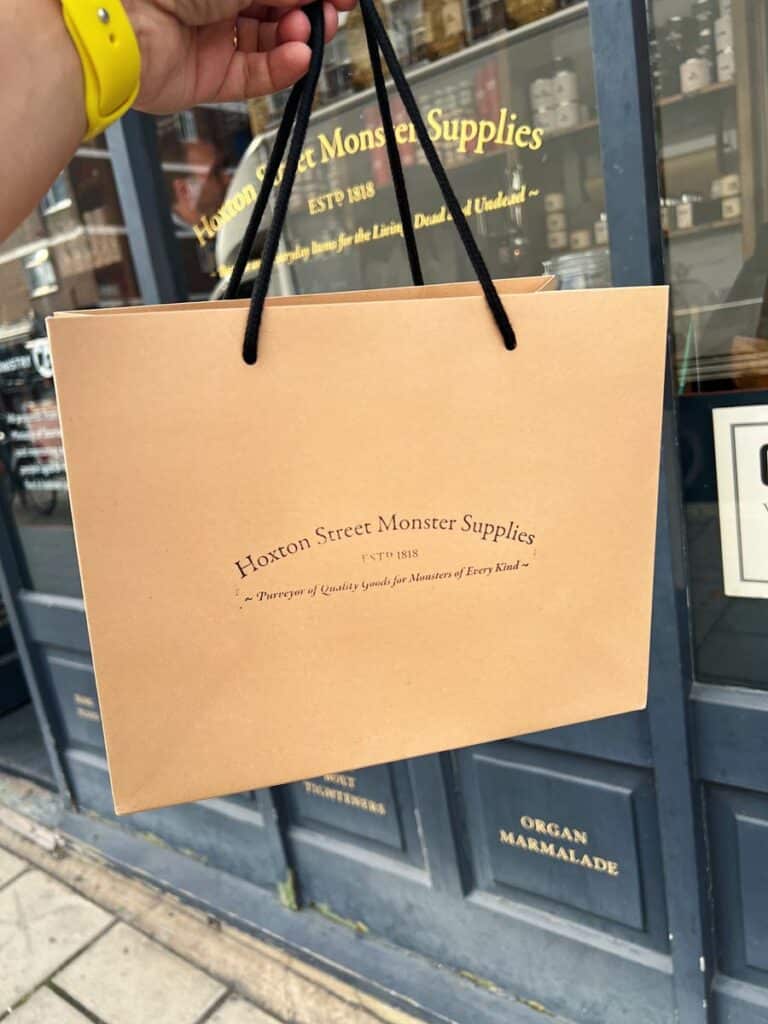 The fact that any money you spend there is going to benefit the lives of kids who could use a bit of a leg up is probably reason enough.
You might also want to swing by for one of their Gothic Fiction Writing Workshops, where you can write stories surrounded by all that funky merchandise for inspiration.
The events are ticketed, and all the money goes to the charity.
But other than that a trip to Hoxton Street Monster Store is just a real good laugh.
They don't pull any punches when it comes to the gags, as you might have guessed from the things they sell.
And the store leans hard into the theme, right down to little licensing notices on the shop door, explaining that they are, when it comes to selling monster supplies, acting perfectly above the law.
It's probably got to be pointed out that the stuff you can buy here would make very original gift material – something we're constantly on the lookout for.
Imagine the look on your loved one's face when they unwrap a packet of toasted bone chunks.
Or a jar of thickest human snot for that matter. Looks like we've got Christmas sorted.
Practical Tips for Visiting Hoxton Street Monster Supplies
Hoxton Street Monster Supplies: Website
Check that it's open. They only open three days a week. You can see when and why below.
Chat to the staff. They are super friendly and totally not as scary as you might think someone working in a monster supply store might be.
If you have any questions or just want to find out a bit more about what they do, they'll be more than happy to explain.
Opening Times
Hoxton Street Monster Supplies relies on volunteers to staff its store, and therefore doesn't open every day of the week. These are their opening times.
Thursday 1pm-5pm
Friday 1pm-5pm
Saturday 11am-5pm
Closed Sunday – Wednesday
If you want to volunteer, you can read a few testimonials and do so here
Hoxton Street Monster Supplies London: Map
Hoxton Street Monster Supplies: Explore More Magical Places in the City