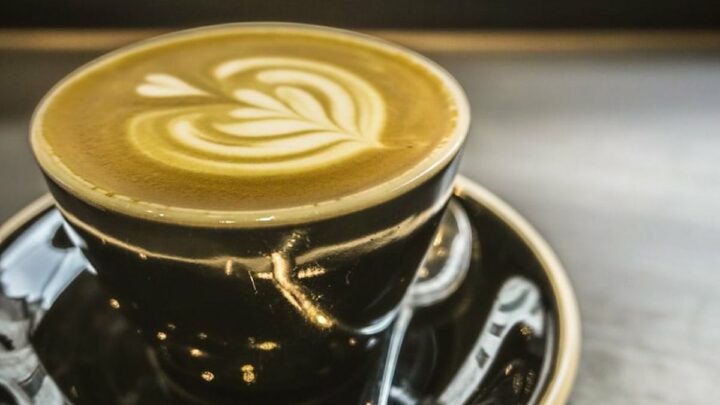 ​​Looking for the best coffee shops in Covent Garden? We've got you covered with our Covent Garden cafe guide. The best brews and chill spots for those who are fussy about their coffee.
There are plenty of cafes these days that are willing to charge a lot of money for a substandard coffee. Totally unacceptable. Covent Garden is packed with cool things to do – but you have to choose your cafes carefully.
Don't fall for tourist-bait mediocrity: here are the best cafes in Covent Garden – beautiful spaces serving stellar coffee (and some rather tasty eats).
Best Cafes in Covent Garden
Monmouth Coffee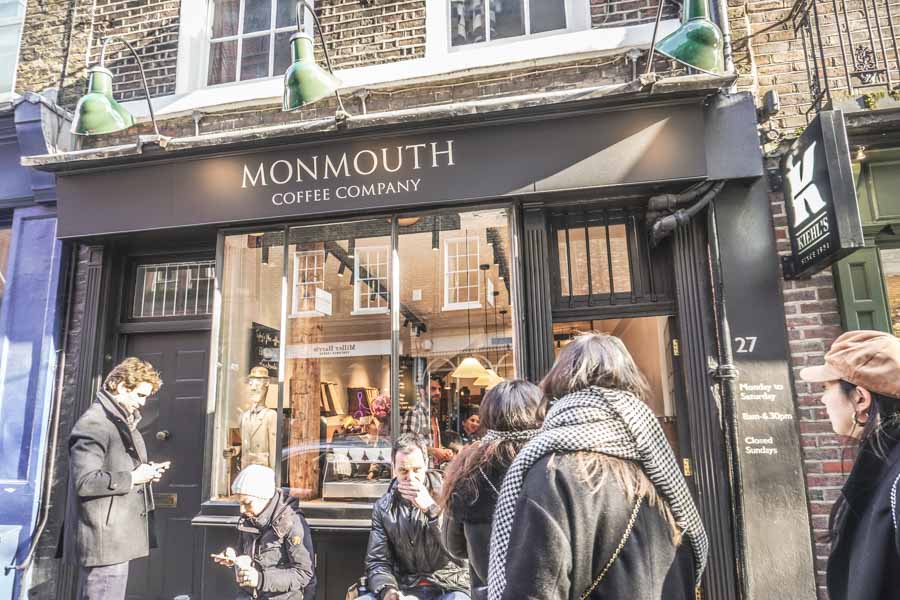 Monmouth Coffee is a longstanding hotspot on Covent Garden's coffee scene. This cute and cosy cafe is just as concerned with where the coffee's been sourced as it is with how it tastes.
Rather than working with huge companies, Monmouth Coffee carefully sources their beans from smaller producers all over the world. They make sure that not only does the coffee taste great, but that it's been ethically produced, too.
What's more? Monmouth has its own roasters – being able to roast their own beans on the premises means that they can focus on creating the perfect cup.
In the area? Visit the gorgeous London gem Neal's Yard, which is just around the corner.
Poetry Cafe
Coffee and poetry are a match made in heaven, and doesn't the Poetry Cafe know it.
Rather than encouraging a splash and dash approach – much of the pleasure of popping into Poetry Cafe is enjoying your hot drink with a side of poetry.
That totally explains why it's not unusual to see most visitors enjoying their cuppa with their head buried in a book.
There's also a delicious vegetarian menu if you're in the mood for something a little more substantive. Light meals, cakes and flapjacks are on offer by day, and everyone is welcome.
By night, the cafe (which is run by the Poetry Society by the way) comes alive with an impressive calendar of poetry-focused events including book launches, spoken word poetry nights and live music gigs.
It's a creative hub first and foremost, but also one of the best coffee shops near Covent Garden.
Read More: Brilliant Places to See in Covent Garden
Fabrique
We dare anyone to take a good look at Fabrique's decadent cake display and not end up with their mouth watering. Who doesn't love an eyeful (well, a mouthful) of delicious treats – I'm talking cakes, cinnamon rolls, freshly baked sourdough…
The first Fabrique actually opened in Stockholm, Sweden, but it wasn't long before Londoners decided they needed their delicious cinnamon rolls a little closer to home. They now have two premises in London, including their Covent Garden cafe.
Of course, everyone knows that a pastry is best accompanied by a delicious coffee (or a tea, after all, this is England!) so that's on offer, too.
Everything is good, but you really can't miss those cinnamon rolls, known as kanelbullar in Swedish.
Covent Garden Grind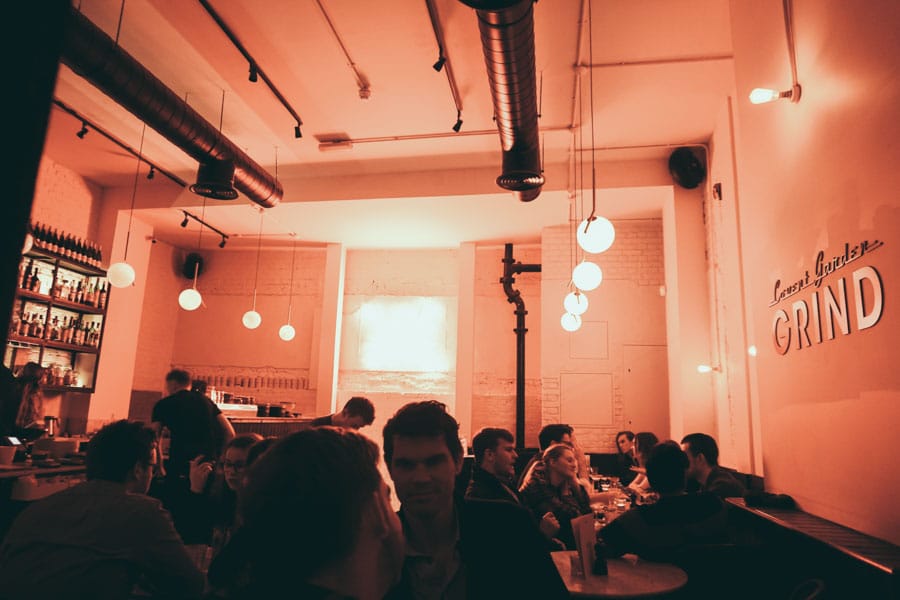 Coffees and cocktails? Yes, please! Hello, Covent Garden Grind.
We were thrilled to hear when the Grind chain added a cafe near Covent Garden to its ever-growing list of locations. We've always been a big fan of the Shoreditch cafe and it's great to see them expanding across London.
Located on the famous Maiden Lane, this coffee shop/ restaurant/ cocktail bar is a favourite of both locals and visitors alike. It's got a laid back atmosphere with bohemian decor, as well as a great menu of hot drinks, juices and tasty meals.
Its roasts are inspired by (arguably) the coffee capital of the world – Melbourne, Australia – and the espressos are particularly delicious.
There's never a bad time of day to stop by Grind, but it's especially known as one of the best brunch cafes in Covent Gardens.
Read Next: 20+ Brilliant Bars in Covent Garden
The Black Penny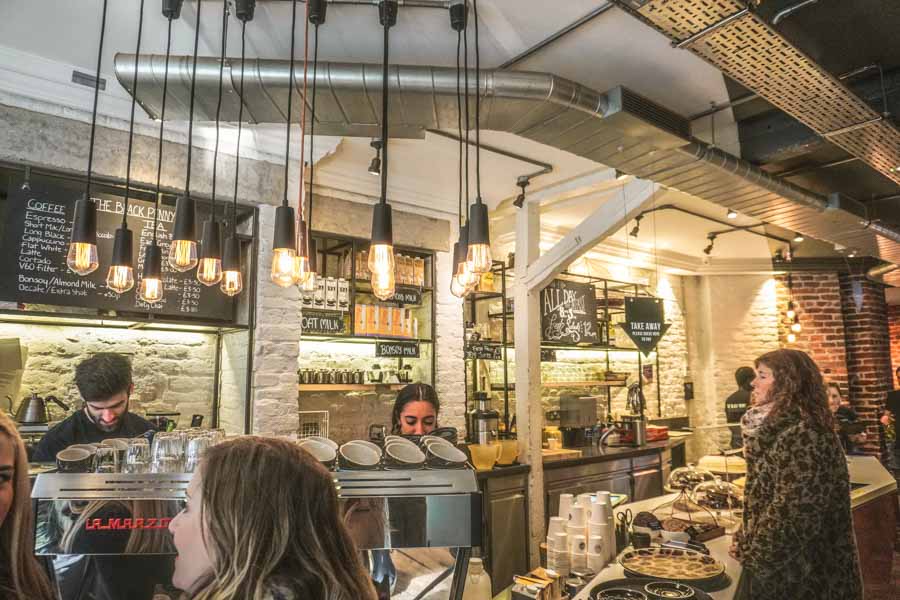 The Black Penny is a cool little cafe with a rather quirky concept.
The name is drawn from the concept of "Penny Universities", a 17th century event where people would pay a penny to be admitted to a venue to enjoy something to eat and drink, while passionately debating social and political issues.
True to its name, the Black Penny has a 'seminar pit' where there is a calendar of events including lectures, poetry readings and music. The idea is that you have your coffee and learn something new. Intriguing right.
To be honest, even if you're not up for the learning side of things, their coffee is banging and their brunches are some of the best in town. Win win.
Nordic Bakery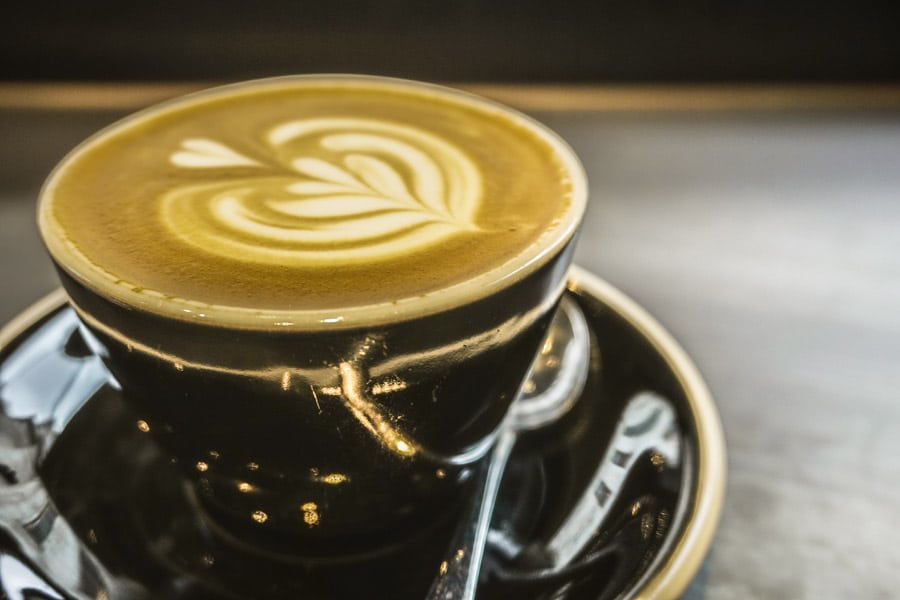 The Nordic Bakery is a little oasis of Scandinavian simplicity in the midst of bustling Covent Garden.
It's a simple idea. Serve up exceptional coffee with some tasty baked treats like cinnamon rolls and rye breads in a gorgeous minimalist setting that's true to the cafe's Scandinavian roots
If you are looking to sit down and enjoy a meal, then there's a menu of traditional recipes that heavily feature the delicious dark rye bread.
There is also a selection of little treats to enjoy, such as the tasty dessert chokladball which is (you guessed it) a ball of chocolate mocha that is then rolled in coconut. Yum.
The Espresso Room
Although the Espresso Room brand has grown to be one of the most well-known in London, it has remained true to its simple values. It offers simple, delicious food alongside some of London's best coffee.
It doesn't hurt that it's located in a super cute setting, with brightly coloured wallpaper and tiles, and a natural wooden coffee bar.
The staff are real coffee aficionados, so every cup is poured to perfection. That said, you could never accuse them of being 'coffee snobs' – by contrast, it's one of the most welcoming coffee shops in Covent Gardens.
Notes
Why choose between coffee or wine, when both are on offer at Notes.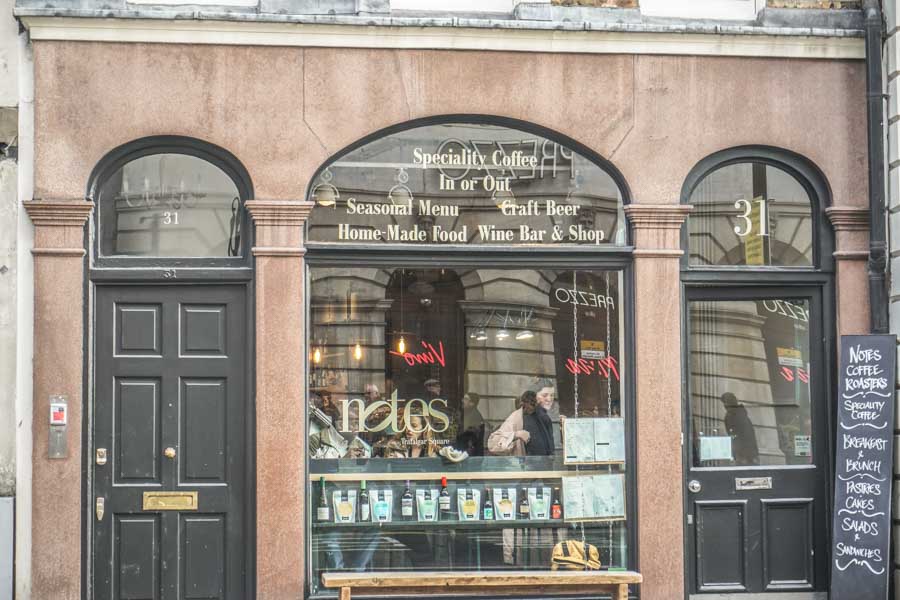 London has never shied away from some more unique offerings, and the coffee shop/bookstore/wine cellar/CD shop Notes is certainly that. It refuses to choose between good things – it just offers them all and still manages to be one of the best Covent Garden coffee shops.
Many blends are roasted in-house, from beans sourced directly from farmers and producers to ensure they are paid fairly for their produce.
There's also a menu of light bites to eat such as sandwiches and croissants. Don't forget to check out the bookstore before you leave!
Lundenwic
This minimalist-chic cafe doesn't need to rely on out-there decor to bring in customers. The food and coffee speak for themselves.
When it comes to coffee, Lundenwic is a fabulous choice. Some of the best coffee in Covent Garden, each cup is poured to perfection by the friendly and welcoming staff.
Some coffee shops focus on the dark stuff, adding in the food as a mere afterthought. Not so at Lundenwic. The menu takes simple classics (such as sandwiches) and turns them into absolutely delicious creations.
You'll never be able to enjoy a standard egg and mayo sandwich again…
There's also a great display of delicious cakes for those with a sweet tooth – the only difficulty is choosing which one you want.
Abuelo
Abuelo describes itself as "Australia meets South America", in the heart of the English capital. Intriguing? Yes. Delicious? Absolutely.
Abuelo is the Spanish word for 'grandfather', and it's not just this coffee shop's name but also its ethos. The Covent Garden cafe is designed to look and feel like stepping into a family home, making you feel immediately relaxed and welcomed.
There's a long table that's reminiscent of your family's dining room. It's there to encourage strangers to meet and talk, making Abuelo as much about the experience as the coffee.
So where's the Australian connection? Well, the cafe is owned by the pair behind some of Melbourne and Sydney's best cafes – so there's a heavy dose of friendly Aussie charm in the mix, too.
Coffee Island
With an adorable origin story starting on the Greek island of Pathos, Coffee Island has quickly managed to insert themselves into plenty of brilliant coffee scenes across the globe.
The Covent Garden location opened in 2016, and since then Londoners have flocked to Coffee Island for their daily dose of caffeine.
Not only is this London cafe modern and stylish, but it still feels cosy and intimate – sipping a coffee here feels like a real treat.
The owners have worked hard to establish direct relationships with specialty growers in countries such as Brazil, Nicaragua, and El Salvador… So it's guilt-free, too.
26 Grains
Incredible oatmeal and equally-tasty coffee – what else could you possibly need from a Covent Garden Cafe?
Tucked away in Neal's Yard, this Scandinavian-inspired breakfast restaurant has coffee options to boot – Macchiato, Cortado, or even a simple Batch Filter Brew. Go wild with a matcha latte or a seasonal option if you're feeling brave.
If coffee isn't your thing, the ginger hot chocolate is another deliciously warming option
Coffee Shop Covent Garden: Map
Covent Garden Coffee Shops: Practical Tips For Finding The Perfect Coffee
The UK's coffee culture has developed quickly in the past few decades. Here's what you should look for in the perfect coffee.
When you are tasting coffee, you should be thinking about a few things. The aroma, sweetness, acidity, mouthfeel, balance and overall flavour.
Coffee is best when it's been roasted recently. Try and find places that buy freshly-roasted coffee (or roast it themselves) and it shouldn't be older than two weeks at the very most.
Any coffee shop worth its salt should be able to tell you where its coffee comes from. Traceability is a very good thing, particularly for ensuring your coffee comes from ethical sources.
We know that it looks a bit weird when you see baristas weighing out the components for your cuppa but it means a consistent (and generally better) cup as they can get the quantities just right.
Looking For More Covent Garden Guides? Check These Out…