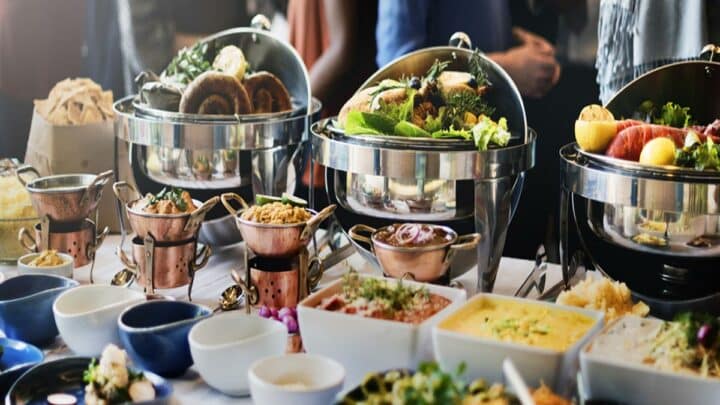 Looking for buffet restaurants in London? Fill yer' boots at one of these brilliant London buffet spots.
Is there anything worse than looking over at your mate's plate of food and feeling an overwhelming sense of food jealousy?
We know the feeling. There's nothing worse than ordering wrong, regretting it and peering longingly at another plate of food.
Craving an all-you-can-eat buffet with zero limitations and incredible food? Want to eat without judgement until you're so full of goodness you'll roll out of the restaurant with a huge smile on your face?
Well, that's where London's best all-you-can-eat buffets come in.
There's a slight myth that if you go for the buffet option, it's not as tasty. That's why we've curated the ultimate buffet guide to the top food where no corners are skipped.
Tuck in!
The Best Buffets in London
The Ned
Bank
Let's kick things off with the best buffet London offers, and that's at The Ned. It's not cheap, but boy is it worth it. The jaw-droppingly stunning building is a renovated bank (you can even see the original vaults downstairs!)
There are a few different options to choose from, but 'Ned's Feast' is one to write home about. It includes as much food as you like and a delicious glass of prosecco on arrival.
The menu changes from week to week, but you'll be guaranteed unlimited oysters, lobsters, and a full Sunday roast with all the trimmings, brunch dishes and salads. The roast is incomparable to others, and it's very rare you'll ever get unlimited oysters or lobsters.
The unlimited cheese, profiteroles, and pastries also make for an incredible feast if you've got any room left by then.
Preto Victoria
Now for the meat eaters out there, say hello to the ultimate unlimited spit-roasted meat from a Brazilian Churrascaria barbecue, carved right at your table.
Long skewers of meats are walked through the restaurant and carved at your table right in front of you, along with a bar of delicious salads and sides that you can enjoy as much as you like.
The key here is to pace yourself, 15 different types of meat will be bought around the room, and ultimately you can have as much as you like… but there is such a thing as too much meat, so go easy.
We love Preto, and with its great location we'd rate it as one of the best meat buffets in central London.
222 Vegan Cuisine
West Brompton
London's Vegan restaurants are popping up by the day in London, and 222 is seriously special – because it's cheap!
Turns out you don't have to break the bank to eat delicious vegan food, and you can even eat an unlimited amount of it.
222 is a fully plant-based restaurant that serves sustainable meals seven days a week, but lunchtime is the only time their buffet takes place. So, head down there and enjoy a guilt-free all-you-can-eat buffet and stock up on those tasty veggies.
Gaucho
Multiple Locations
Gaucho's weekend banquet is like no other buffet in London. One of the biggest tables you'll ever see with ridiculous amounts of food and drink with some funky tunes playing in the background by their DJ.
You can really eat however much you want, including brunch dishes, steak and eggs, and burrata on sourdough all served up with an awesome line-up for tasty alcoholic cocktails (yes – all unlimited!)
It's not the cheapest in London and the 90-minute time limit makes it feel a little rushed, but it must be one of the most enchanting buffets in London. Keep in mind, it's a Saturday deal only from 11 am to 4 pm.
Bala Baya
When it comes to all-you-can-eat restaurants in London, Bala Baya has the best middle eastern offerings.
The process goes as follows: you'll begin the epic culinary adventure with a spread of the entire mezze menu (Harissa and pitta, beef hummus – the lot). After that, you'll already start feeling pretty full, but you'll also be offered a brunch main dish and three desserts.
We know you're probably thinking this isn't exactly "buffet" style, but the amount of food you'll ingest along with the ridiculously good price makes it one of the deals in London for middle eastern buffets.
Don't knock it till you try it!
Jones & Sons
Dalston
Gillet Streets' Jones & Sons in Dalston has a menu to die for. It truly takes British food to a next level, especially if you're a brunch lover.
There are a few things to remember when dining at this wonderful establishment, and the first is that your table cannot have a second course unless they've finished the first. The top tip here would be to make sure you leave any slow eaters at home.
Once you've finished your first course, you can expect unlimited plates of brunch dishes as well as an option of adding alcohol to the mix!
This is one of our favourite unlimited food options because the price with alcohol is very affordable and makes for a great afternoon with friends or family. Remember to book beforehand, these guys get booked up very fast.
Ping Pong
Who knew that one of our favourite Chinese restaurants for dim sum, tasty cocktails and delicious teas has an all-you-can-eat side to it?
The 'Lazy Sumday's' are the perfect hangover-cure or Sunday blues killer with all-you-can-eat buns and dumplings. We're talking unlimited dim sum (not privy to just Soho, this is for all the branches! We just prefer the Soho one).
Lazy Sumdays is available every Sunday and Monday Bank Holiday and you can even upgrade your day with a bottle of bubbly for just £10. And if you're feeling extra sassy, there's a bottomless cocktail option to go along with your unlimited dim sum.
It doesn't get much better than that.
Eastway Brasserie
Liverpool Street
Ahh, Eastway Brasserie – it doesn't get much prettier than eating in this absolutely stunning stained glass dome ceiling. The Hotel, Andaz, is a grade II-listed building with a breakfast ballroom of dreams.
A full English breakfast spread, delicious fresh croissants and fresh fruit are laid out to fill up on with tasty juices and coffees. There's also cereal, cheeses and all that you expect from an excellent breakfast buffet.
It's always a special way to start the day at Eastway Brasserie, and we highly recommend it.
Mandarin Oriental
If you're looking for the ultimate all-you-can-eat breakfast buffet, then look no further than the Mandarin Oriental's breakfast.
The continental buffet is a beautiful selection of freshly baked croissants, Danish pastries, fruit muffins and homemade jams as well as hot options if you so choose.
The gorgeous selection of food is probably the most Instagrammable breakfast you'll find in London, along with the stunning setting being right by Hyde Park in Knightsbridge.
We recommend heading there first for a bit of fuel and then hitting up some shops along Knightsbridge before ending up in Hyde Park for an afternoon drink at the Café.
Inamo
Multiple Locations
The problem with sushi restaurants is that we're always left wanting more… well not with Inamo where it's totally unlimited.
Inamo lets you feast on an unlimited supply of dishes (not just sushi, you can choose from an exceedingly lengthy menu).
With branches both in the West End and Camden, you've got plenty to choose from. There are 30 sushi, dim sum, and tapas options to choose from with salmon tataki, dragon rolls and a bunch of tasty meat options too.
The only slight downfall is that you only have 90 minutes to eat all your food, so don't snack on any bread beforehand and make sure you turn up raring to go at this brilliant buffet in central London.
Sushi Cafe