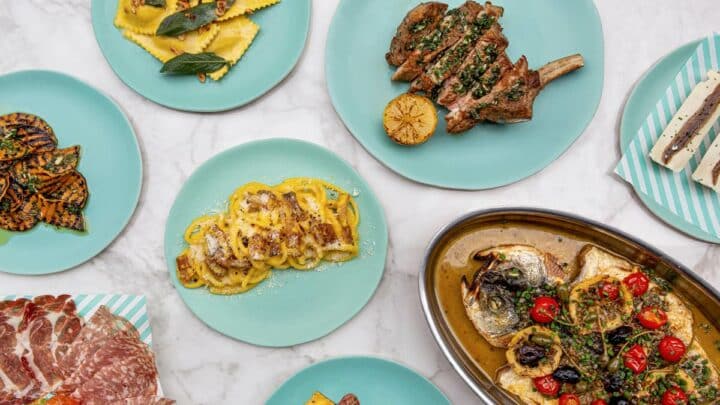 Discover the best places to eat at Bloomberg Arcade – London's coolest foodie hotspot with a fascinating history.
Words by John Rogers
Food is an intrinsic part of London life, and finding the latest culinary hotspot is a badge of honour for any Londoner.
Sure, there are the likes of Borough Market and Maltby Street… But have you heard of Bloomberg Arcade?
No? Allow us to lift the lid on this brilliant foodie spot.
This stunning modern complex hosts a range of different places, offering a satisfying choice of just about every cuisine you care to imagine. From dirty burgers to minimalist Japanese fare, and from Scandinavian delights to massive 20" New York pizzas.
In other words, the Bloomberg Arcade has you covered.
Whether you're meeting up with pals after a long day in the office, fancy something quick after roaming around London's best tourist sights, or even need something to wow a special someone on a hot date, this is where to go.
Let's dig in!
Bloomberg Arcade: Food Guide
Lina Stores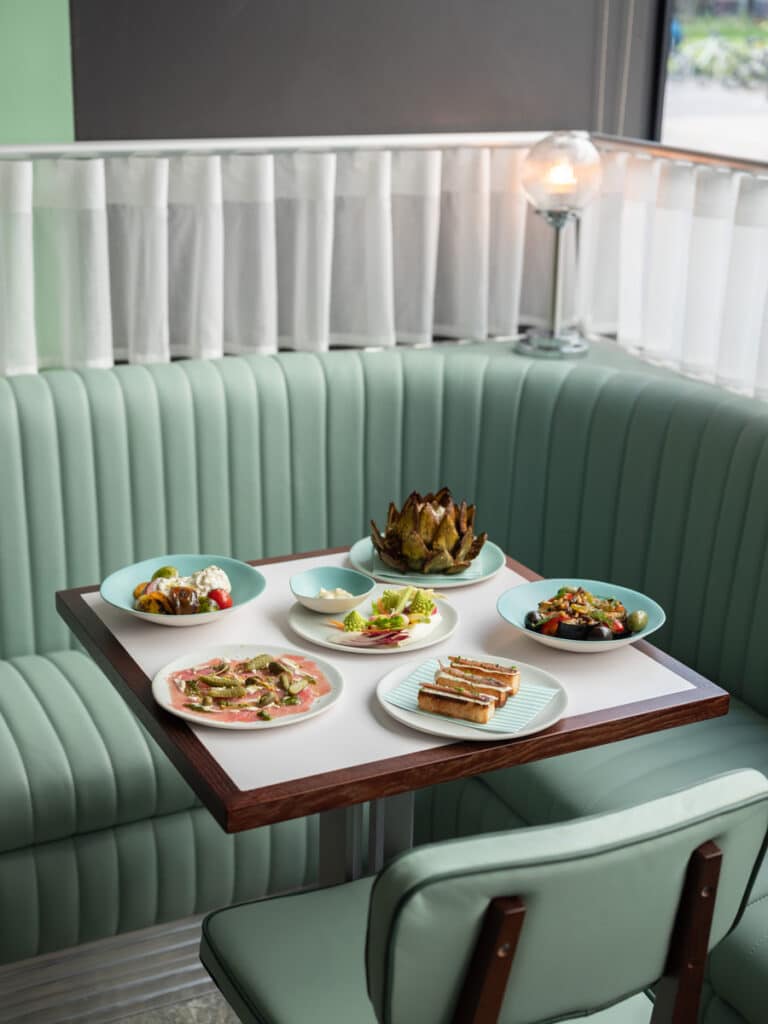 Potentially our favourite foodie spot at Bloomberg Arcade is Lina Stores. What happens when you slap authentic Italian cuisine inside a Scandi-style restaurant? Well, something pretty magical actually.
Lina Stores has a couple of locations across the capital, but it would be rude to pass up a plate of the good stuff while at Bloomberg Arcade.
Sip a delicious aperitivo as you chow down on the likes of Linguine con Sugo di Pollo Scappato (linguine, chicken agrodolce, celeriac, sage, black truffle) and a toothsome slow-cooked duck pappardelle.
Poké House
This unique take on traditional Hawaiian Poké changes seasonally to provide diners with the finest mid-Pacific culinary experience, albeit in the centre of London's business district.
No matter – their healthy, fresh, and, most importantly, sustainable, fish menu fuses the best of East Asian flavours. We're talking about the likes of kimchi, miso, ginger, and sriracha, with stunning seafood in your choice of their four signature bowls.
Caravan
No matter the time of day, a trip to Caravan is a must. This craft coffee and cocktail bar-come-restaurant is the perfect place to go if you're not sure what you fancy.
The menu changes often thanks to a stellar rotation of chefs, but incredible global cuisine is always on the cards.
Oh, and the suntrap terrace is a dreamy place for casual drinks with pals.
Ekta Nordic Kitchen
Fans of Scandinavian cuisine, we beg you to search harder for an authentic taste of the Nordics outside of IKEA's meatballs. Ekta combines just about the best from each Scandinavian country under one roof.
Dishes to try include their breakfast smørrebrøds, which consist of rye bread topped with boiled eggs and curried herring – an eye-watering way to begin any day – and their stunning smoked elk loin served with pickled green strawberries.
Trust us, don't knock it until you've tried it.
Brigadiers
This Indian restaurant is far removed from your average curry house. While traditional Indian favourites abound, such as bhajis, samosas, and tikka masala flavours, Brigadiers combines the best Indian tastes and flavours with their unique BBQ stylings.
If you can find a spot in Brigadiers on a Sunday, their wood-roasted Goan suckling pig is a must-have.
As well as food, diners can play pool, use personal beer taps and whisky vending machines and even ask for a private croupier to assist them in a game of Blackjack or Poker. Quite the culinary experience, if you ask us.
Homeslice
Homeslice provides one of the more informal dining experiences in the Bloomberg Arcade with its open invitation for diners to get their fingers messy trying to guide their huge pizza slices toward their intended goal.
Their huge, NYC-style slices cater to appetites that might find their 20" pizzas a little bit intimidating, particularly when heaving with BBQ beef brisket, cauliflower cheese, spiced lamb with savoy cabbage, and even sumac yoghurt on top.
House wines begin at just over a fiver a glass, while the range of cocktails and craft beers means there's something for everyone, no matter what your tastes.
Bleecker Burger
Bleecker Burger is another culinary experience that will require plenty of napkins to be on hand with their simple yet mouthwatering range of burgers that ooze with 45-day aged grass-fed beef and overflow with cheese.
A perfect (and quick) option for anyone passing through and wanting something fast yet filling, their range of shakes provides the ideal accompaniment to this commitment to the burger cause.
The History of Bloomberg Arcade
For anyone who fancies knowing a little bit more about the Bloomberg Arcade, read on.
Roman Origins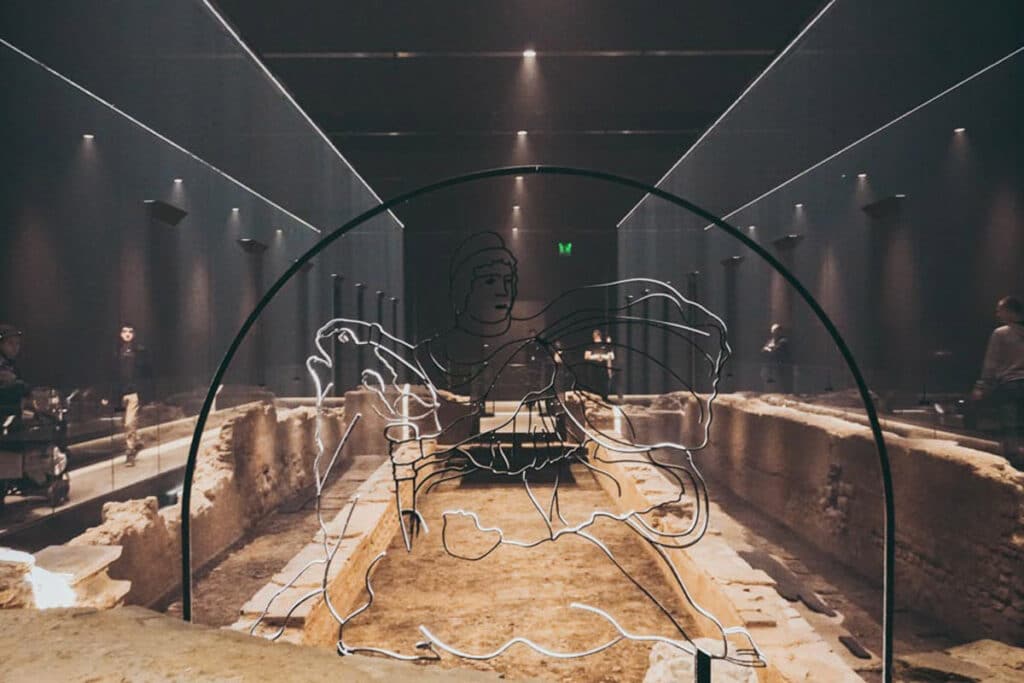 The history of this London foodie hotspot is a fascinating one. The site where the arcade stands was home to the London Mithraeum, known as the Temple of Mithras, Walbrook.
Before the building of the temple, the site was a river (the Walbrook), upon which Roman settlers first established the settlement of Londinium in around 47 CE and marked the outer boundary of the territory.
In the mid-3rd Century CE, a temple thought to have been dedicated to Mithras, a Roman mystery religion, was built. An early rival to Christianity, worshippers of Mithras met in underground temples, such as the one on the site of the river.
In the 4th Century CE, the site was rededicated, most likely to Bacchus, before eventually becoming abandoned and lost, buried among the foundations of the increasingly sprawling City of London.
Bloomberg's European HQ and the Arcade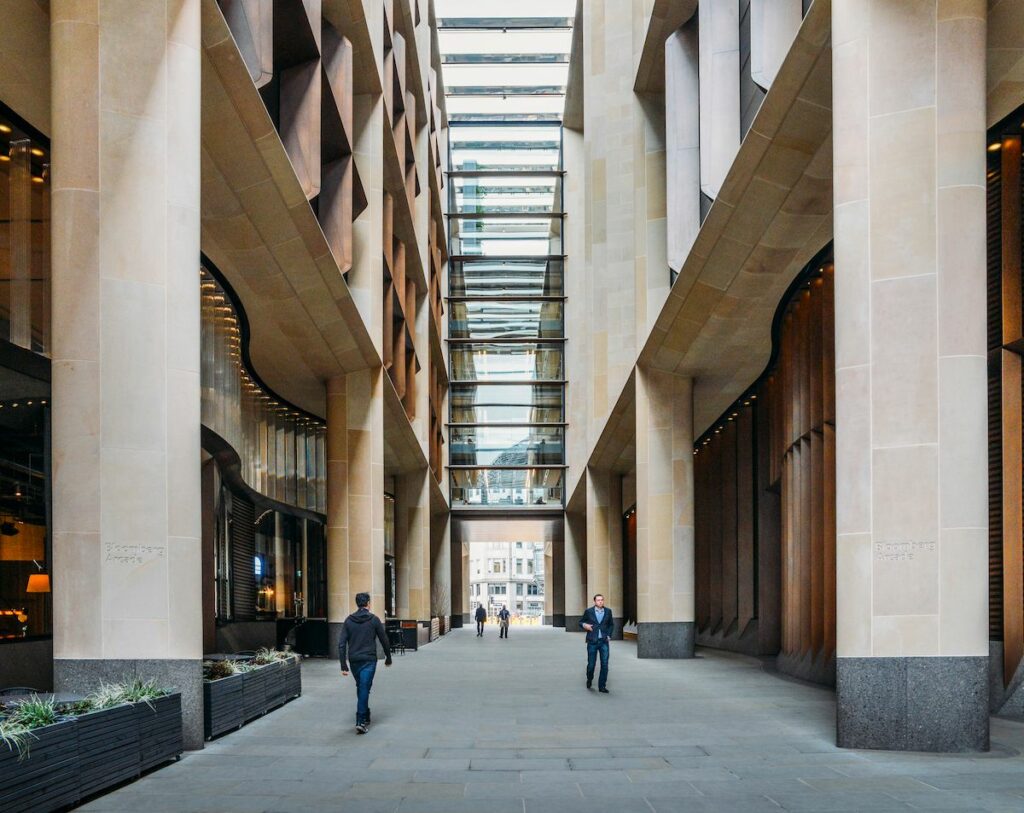 Fast forward thousands of years later (you do the maths) and the site was squabbled over by freeholders Legal & General and Metrocacesa.
Enter Michael Bloomberg. Yes, the tech giant.
Bloomberg purchased the Walbrook Square project in 2010 and decided to restore the Mithraeum to its original site as part of their plans for the company's new European HQ. The temple remains are now open to the public seven metres below the current street level beneath the new Bloomberg building.
Read Next: Our Guide to the London Mithraeum
A Foodie Haven
Sitting between the two constituent sandstone buildings that comprise Bloomberg's European HQ, the arcade finally opened in October 2017 after costing a whopping £1 billion to create.
Today it's one of the coolest places to dine in the capital.
Bloomberg Arcade: Practical Information
Bloomberg Arcade can be found on Queen Victoria Street, a few minutes' walk from Mansion House and Cannon Street Underground stations on the Circle and District Lines. Travellers from Bank or Monument stations have access to the arcade directly from the stations.
As always, we recommend booking a reservation at any of these popular eateries as they get busy very quickly, particularly considering its proximity to some of London's top attractions.
The arcade is the perfect stop for tourists visiting nearby St Paul's Cathedral, Monument to the Great Fire, Bank of England, or strolling along the north bank of the River Thames and hunting out brunch, lunch, or dinner.
Bloomberg Arcade: Map
Bloomberg Arcade: Read Next