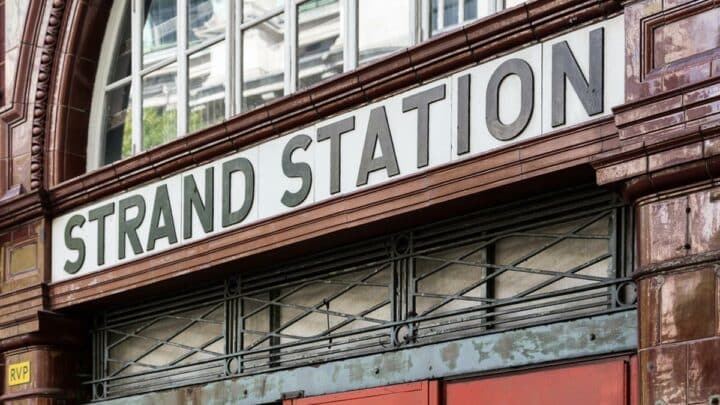 It's time to discover the secrets of Aldwych – one of London's most prolific abandoned tube stations.
Words by Sam Jean
Of London's 40 or so abandoned and disused tube stations, Aldwych is undoubtedly one of the most famous – quite literally – as it features in numerous films and TV, including blockbusters like Atonement, Sherlock, and V for Vendetta.
Aldwych was open for just 87 years before being closed and cast into darkness on the 30th of September 1994.
But, to be fair, Aldwych Station never really got rolling, with just 600 average passengers per day – a tiny fraction of nearby stations like Charing Cross and Leicester Square.
So, what happened to this ill-fated tube station? And what secrets hide in its decaying tunnels and walkways? Let's take a look…
Why Visit Aldwych Station?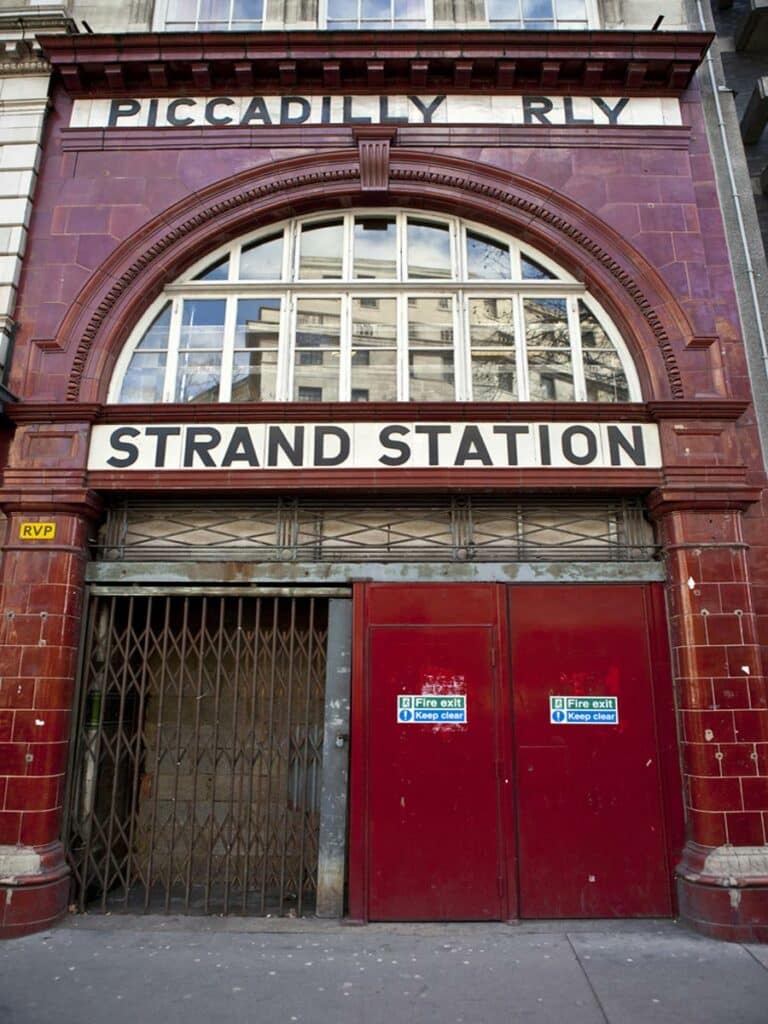 You may (or may not) know that London has quite an affliction for abandoned tube stations – but Aldwych Station is one of the most prolific.
Better yet, unlike many of the capital's abandoned stations, you can actually visit this one by joining the London Transport Museum's Hidden London Aldwych station tour. This gives you a rare opportunity to explore the depths of London's underground network.
Tour Aldwych Tube Station
The only way you'll gain access to Aldwych without being part of a filming crew is with a guided tour by the London Transport Museum. The LTM's Hidden London tours take intrepid Londoners and tourists to the deepest, darkest vaults of the city.
The tour of Aldwych is comprehensive, showcasing the station's extensive ticket hall, original lifts, abandoned platforms and creepy dark tunnels, staircases and walkways.
As well as the station's brooding atmosphere, there's plenty of vintage snap-worthy electrical equipment on show, signposts from the 80s and 90s, underground adverts from the 70s and 80s, and educational photo boards installed by LTM.
An unforgettable experience for history fans, urban exploration enthusiasts, and anyone else looking for unique experiences in the capital.
A Famous Filming Location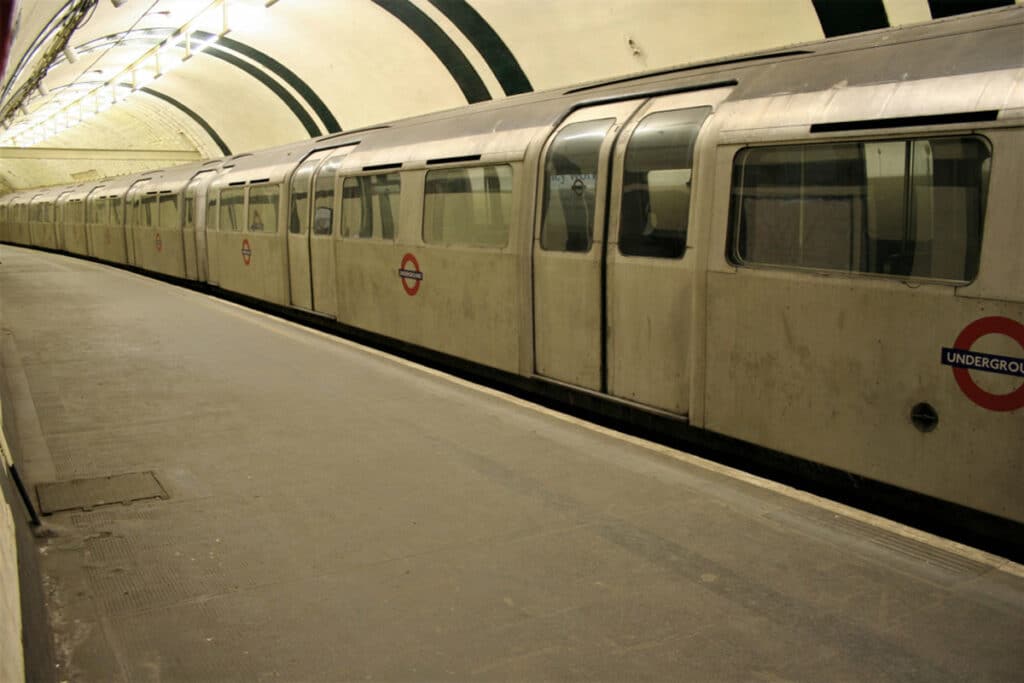 Since Aldwych tube station was self-contained and only opened at peak hours, it was already a popular filming site before shutting down.
After it closed in 1994, TFL started to rent out the station as an "exclusive location" for film crews, the occasional art exhibit, and even private events. Think it'd be a cool place to host your next birthday party? You'll need to pay an eye-watering £3,000 per hour for the privilege.
Still, it's pretty cool – the likes of V for Vendetta, Skyfall, and The Darkest Hour have all been partially filmed here.
In addition to its impressive filmography, Aldwych has hosted music videos from bands like The Kinks, Madness, and The Prodigy's Firestarter – watch the video and you'll notice immediately.
Once you set foot inside the station's atmospheric staircases and corridors, you'll instantly understand why its industrial aesthetic inspires filmmakers. While Aldwych doesn't have the same haunted reputation as other abandoned tube stations, you wouldn't want to be stuck there alone at night, that's for sure.
On that topic, if you're a horror fan but haven't seen Creep yet, it's well worth a watch before you embark on one of the London Transport Museum's guided tours.
Explore Wartime History
Despite being a commercial failure, Aldwych underground station played a valuable role in WW2 by sheltering around 2,500 people throughout the Blitz.
On 22nd September 1940, the line was officially closed, and Aldwych was fully converted into an air-raid shelter with facilities such as offices and a canteen.
The shelter extended 320 yards to the next station, Holborn. Aldwych even hosted a music concert by the Entertainments National Service Association (ENSA) and became a symbol of London's resistance to German bombing.
The History of Aldwych Station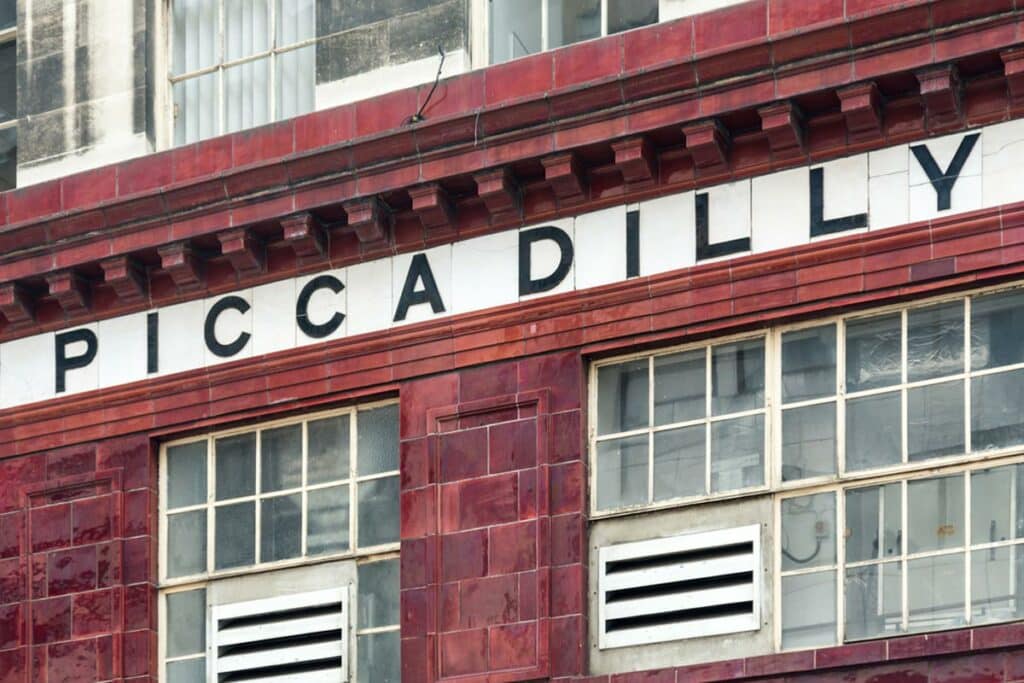 The history of Aldwych is a little bit of a muddle. For starters, it wasn't even called Aldwych until around a decade after it opened. Aldwych was formerly named Strand, which led to confusion as Charing Cross station was also called Strand at the time.
To confuse things a little more, the station names Charing Cross, Embankment, Strand, Aldwych, and Trafalgar Square were all used to describe four stations in that area at some point.
Their names were swapped, chopped and changed several times in what has been dubbed the "Charing Cross/Strand/Embankment conundrum".
If you visit the station today, you'll see the name Strand at the front of a rather unassuming red-brick facade. When the station was closed in 1994, the council removed the canopy bearing the name Aldwych.
The Origins of Aldwych Station
Aldwych resulted from a complex amalgamation of different construction projects managed by three different railway companies. At the time of construction, London's tube lines were largely independent of each other.
We can trace plans for Aldwych back to a proposal submitted by the Great Northern and Strand Railway company, which proposed the Strand tube station that later became Aldwych.
That company was taken over by the Brompton and Piccadilly Circus Railway, who obtained permission to build new tunnels and routes from Picadilly Circus to Holborn.
Eventually, the Great Northern, Piccadilly, and Brompton Railway was established – the foundation of the modern-day Picadilly Line.
Aldwych station was cut off from the line as the designers intended it to be the terminus of the former Great Northern and Strand Railway. Construction began in July 1902 and was essentially complete by late 1906. Though it was officially opened on 30th November 1907.
Aldwych Never Really Got Rolling
The original designers believed Aldwych could serve London's growing theatreland.
However, the station's low popularity became immediately apparent, and the service was reduced to a single train as early as March 1908. Just months later, the late-night theatreland train service ceased.
Then, in 1917, ever-dwindling footfall saw the station shut its second platform and terminate its Sunday service.
Aldwych did enjoy a moment or two in the limelight – though not always for the right reasons. In the 1919 heatwave, the station was described as one of the coolest spots in London. One newspaper called it a "refreshing oasis".
In 1922, Aldwych suffered yet another blow when the booking office closed its doors. Bizarrely, tickets were sold and issued in the lifts. Then, on 9th August 1927, a homemade bomb was detonated in the station, though it caused no injuries.
Into the War
On 22nd September 1940, around a year after Britain declared war on Germany, the Picadilly Line from Holborn ceased.
The station and approximately 320 yards of the tunnel were converted into an air-raid shelter and fitted with a canteen, first-aid station and offices. Between 1,500 and 2,500 locals could apply for tickets to shelter there at night during the Blitz.
Aldwych became one of London's headline air raid shelters and frequently appeared in newspapers as a symbol of the "Blitz Spirit". Music events were held on the platform, and a famous staged photo of children sleeping across the tracks became a propaganda statement that the city's children were safe.
Though the station's fate was practically sealed after the war, London's rail companies used the platforms to experiment with new train equipment and lighting. Aldwych plodded on for some 40 years.
The Present Day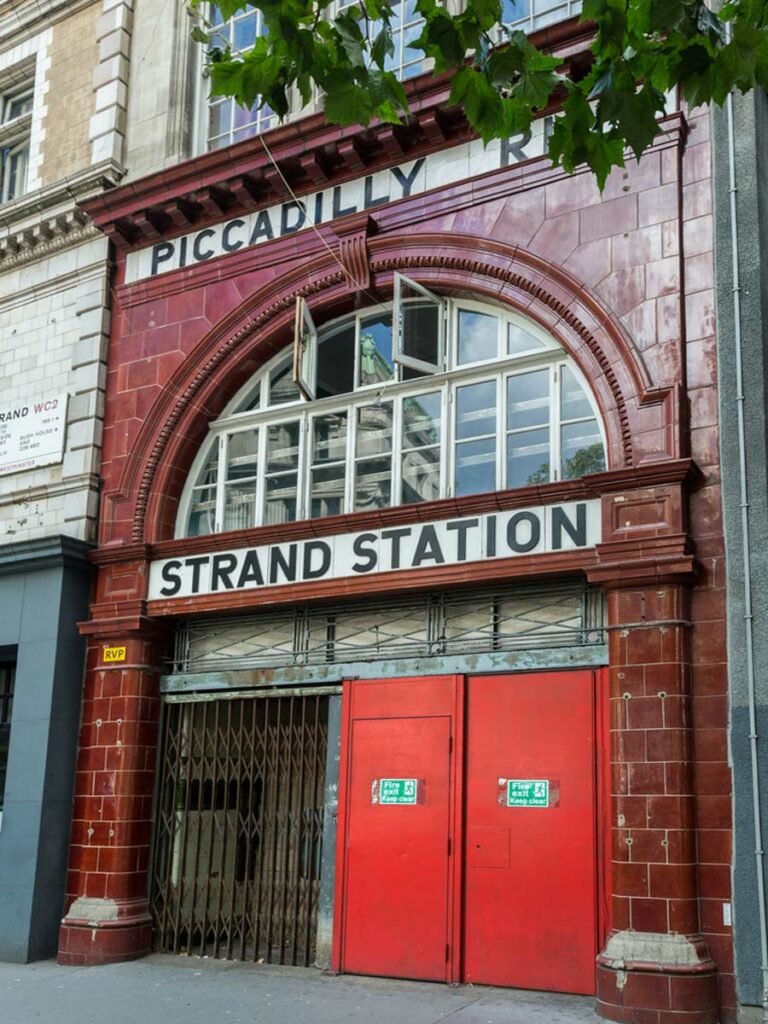 From the 50s to the 80s, there were numerous proposals for redeveloping and adapting Aldwych, but none were successful.
Then, in 1994, the council decided to replace the original 1906 lifts. However, the refurbishment was set to cost some £3 to £5 million – too excessive for a station that only received approximately 600 daily visitors. For comparison, busy stations see some 100,000 people a day on average.
Eventually, Aldwych was cast into the darkness. The last public train left Aldwych on the evening of the 30th of September 1997.
Though, Londoners did gain something from Aldwych's closure – an awesome abandoned station and film set that is sure to serve for years to come.
Aldwych Station: Practical Information
Address: Aldwych Station, Strand, London, WC2R 2NE
Opening Times (For the guided tour): Weekdays 17.05, 19.00. Weekends 10.05, 12.00, 14.40, 16.35.
Tickets: £44 / £39 concessions
Aldwych Station: Map
The Hidden Secrets of Aldwych Station: Read Next