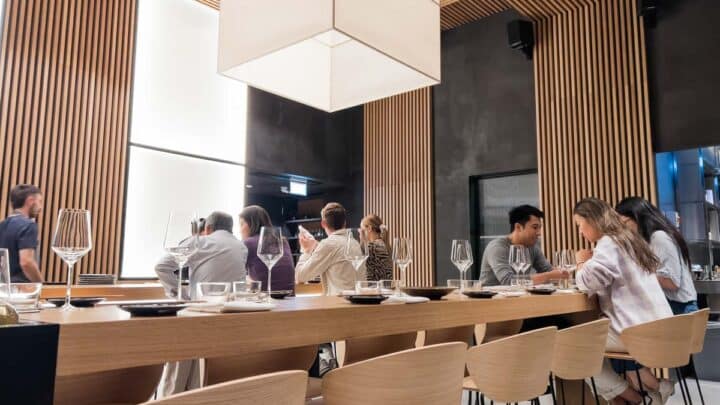 Looking for the best restaurants in Vauxhall? Look no further than these culinary delights.
Vauxhall is best known for its vibrant bars, but what about its restaurants? Oh, they certainly measure up and there's every type of cuisine to choose from too.
From Korean, Italian and Japanese to Portuguese, these are the Vauxhall restaurants you need to be eating at pronto.
Ready to dine?
Best Restaurants in Vauxhall
Evernight
££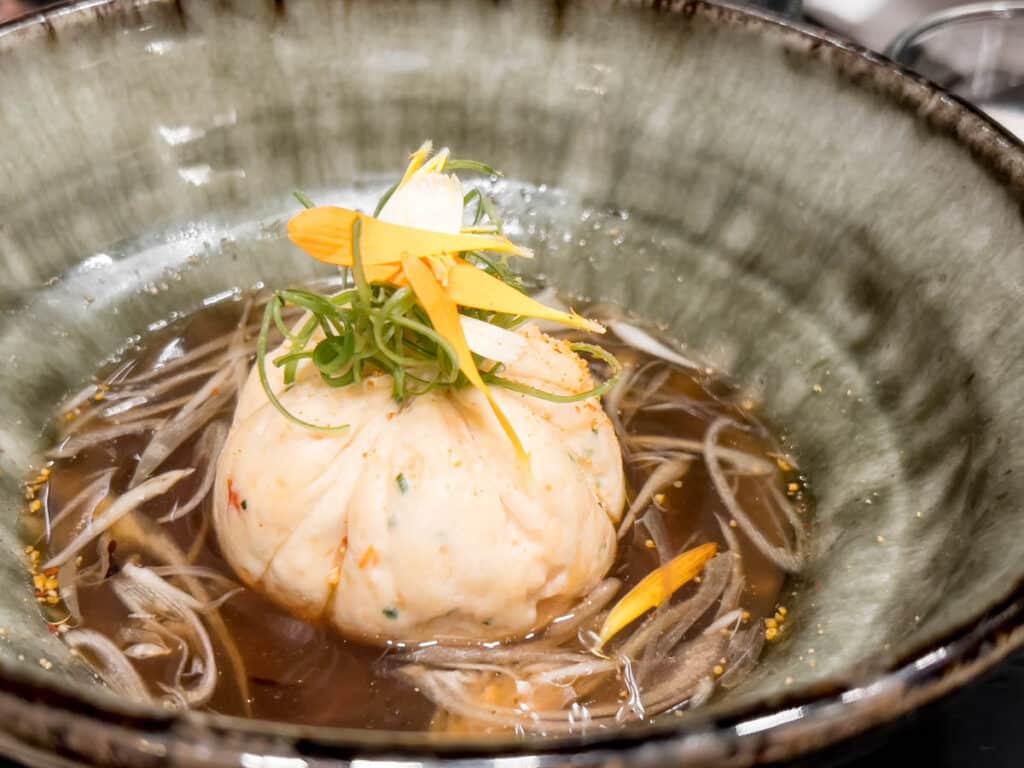 Even though this izakaya is not technically in Vauxhall, but in the trendy up and coming district of Nine Elms, we felt we had to include it – it's easily one of the best restaurants near Vauxhall.
From the food presentation, location and decor, and just how modern and sleek it is, we love everything about Evernight.
They follow a traditional approach when it comes to Japanese decor, light woods and a calming atmosphere to match.
The menu may be small, but every dish is cooked with care and perfection. We've got our eyes on the Chicken Karaage, Aged Sea Bass and Trout Sashimi, not to mention the Crab Dumpling, Suimono, and Cockles.
The list of traditional sake and shochu is extensive, featuring some of Japan's favourite brands.
That can be a daunting new world at times, but the staff here are super friendly and will be happy to recommend.
Pico Bar & Grill
££
If you're looking for a lively dining experience, Pico Bar & Grill is just the restaurant for you.
This waterfront restaurant in Vauxhall is a vibrant Portuguese bar and grill that forms part of the railway.
Being a Portuguese restaurant it was mandatory to have a European-style outdoor seating. Pico's might just make you feel like you've made the jump from Southern London to Southern Europe (kind of).
Tapas is a must at Pico Bar & Grill, because you wouldn't visit Portugal without ordering it, the same rules apply here.
Pico pizza will also satisfy those holiday cravings with seafood, tropical and meat feasts pizzas to choose from.
Cottons Vauxhall
££
Bringing you a little taste of the Caribbean, Cottons Vauxhall is all about exotic vibes and tropical food.
It makes sense that Cotton's has a riverside location on the south bank, you can at least try and pretend you've taken a trip to the sunny island then.
Everything is colourful and vibrant inside Cotton's and you can't help but feel instantly happy when you step foot in the space.
But never as happy as when you take your first bite of Cotton's homemade curried mutton.
The jerk chicken is also excellent, slow roasted with pimento and spices, but this Caribbean restaurant has so much more to offer than the classic dishes.
Creole Grilled Mahi and the mixed seafood platter with crispy squid and red bream fillets also deserve an order.
Dirty Burger
££
Under the arches in Vauxhall is a burger hangout spot that you'll want to check out.
Dirty Burger's burgers are not dirty, obviously, but they are filled with every kind of burger topping that you might only reserve for cheat day – good thing cheat day is whenever you decide, right?
This rustic burger joint has indoor and outdoor seating, but it really doesn't matter where you sit, you're here for the juicy burgers.
Go hard or go home, The Signature Double Dirty Burger is everything you need sandwiched between a burger bun: two beef patties, mustard, mayo, iceberg lettuce, gherkins and tomato with a side order of crinkle cut fries
It's the only way to go.
French Tacos Vauxhall
£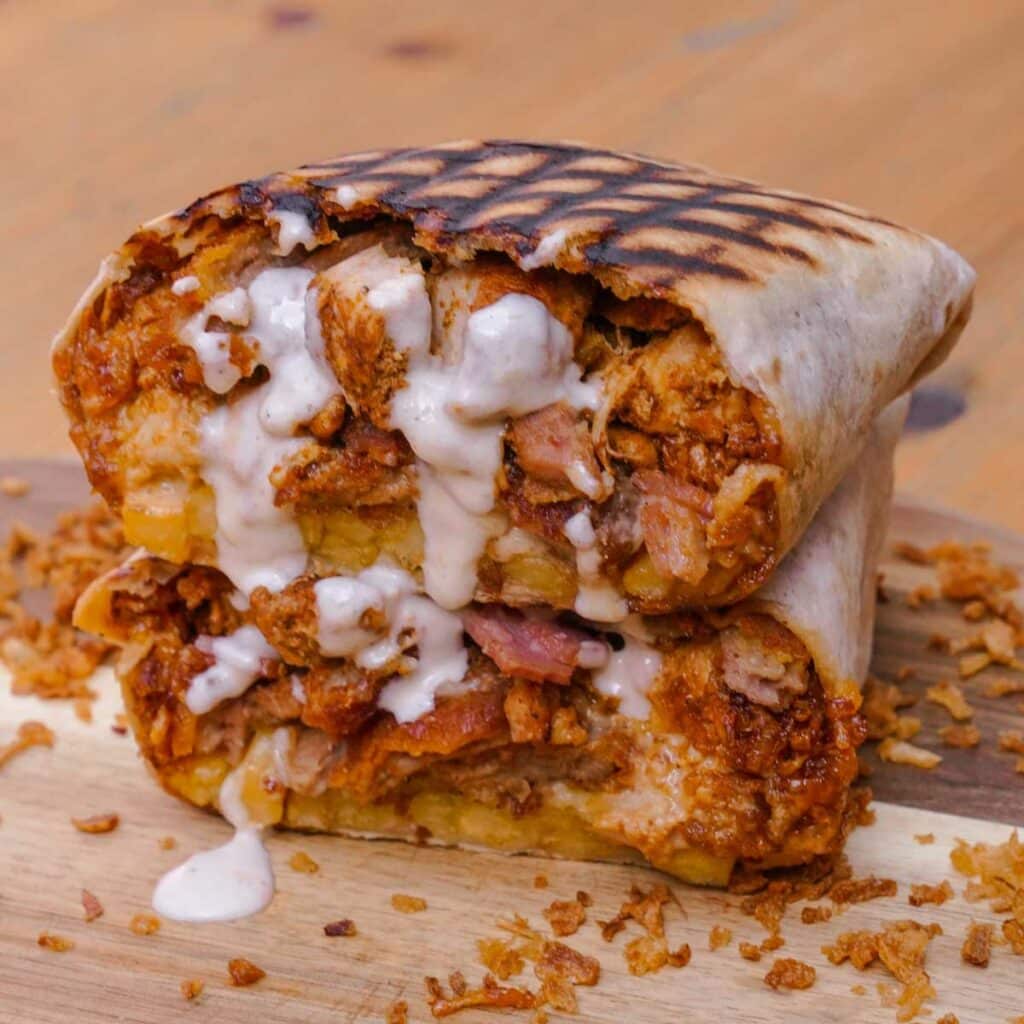 In the mood for French tacos? What even is a French Taco?
It's a tortilla wrap pressed like a panini in a square burrito shape. Huh? Mind blowing, we know.
Wait till you see what's on French Tacos menu.
At French Tacos you can build your own. Choose one, two or three meats, marinated chicken or Cordon Bleu look promising. French Tacos are always topped with chips and melting cheese sauce so good you'll be back for more after your first bite.
If like us, you judge a place on its side dishes, giant cheesy onion rings, cheesy fries, mozzarella sticks and cheesy jalapeno balls all get the nod of approval.
You'll find French Tacos Vauxhall nestled inside Vauxhall Food & Beer Garden, below the railway arches of Vauxhall.
Vine Bar London
££
Did someone ask what's the best Italian restaurant Vauxhall? That award has to go to Vine Bar London, it's really like stepping foot into little Italy here.
Red and white chequered tablecloths dress the tables, with roses in vases, it's the ultimate place for date night in Vauxhall.
Red walls incite more romantic Italian charm, married with amazing smells from the kitchen.
This Italian restaurant knows exactly how to serve up all of our favourite Italian classics like carbonara, bolognese, lasagne and a whole load of gnocchi offerings.
As for the wine, you're in for a real Italian treat, with a sizable menu and big pours.
Daebak
££
Along Kennington Lane is a delightful Korean restaurant in Vauxhall, with lots of authentic dishes we know you're going to like the sound of.
Daebak knows a thing or two about Korean staples, think Korean fried chicken, rice dishes and of course, lots of slurping good noodles.
With lunch and dinner seating, Daebak should be on your list of things to do in Vauxhall.
The little eatery even has seating like you'd find in Korea, intimate booths made for sharing or dining alone.
The Coriander
££
Whether you've been for a few drinks along Kennington Lane or you're simply just looking for a good curry in Vauxhall – we've got just the place for you.
The Coriander, located on Kennington Lane, is a modern curry house and bar serving the very best Indian and Bangladeshi food around.
The intimate restaurant is certainly one of the best Indian restaurants in Vauxhall with mood lighting and skylights.
The coriander serves everything from biryanis to tandoori dishes and of course there's lots of mango lassis to be had too.
The Waterfront
££
With a name like The Waterfront, it'd be odd if it wasn't on the waterfront. Well, it is. And it's one the best waterfront restaurants in Vauxhall.
Good job it does indeed live up to the expectations, head here for fine dining, cocktails and an inviting patio.
This international restaurant serves everything from burgers and steaks to seafood and sushi, so no need to worry about limited choices here.
The views from The Waterfront are the perfect backdrop for lunch or dinner, to watch the boats during lunchtime or see the city lights by nighttime.
Brunswick House Restaurant
££
Located on Vauxhall roundabout is the delightful Brunswick House Restaurant, housed inside an antique-filled Georgian mansion.
There's plenty of places to hangout in this charming Vauxhall spot, from the restaurant to the cafe and bar, all of which are adorned with chequered floors, and antique clocks.
As for the food, well, that's grand too. There's almost too much to think about when looking at the menu, so take our word for it that you really can't go wrong with anything.
Brunswick House Restaurant is certainly a place where wine lovers will feel content, as well as a single bottle wine list, the rare by-glass list is the perfect opportunity to try new wines.
Other Places to Eat in Vauxhall
The Black Dog
£
This independent pub shouldn't be missed if you're touring Vauxhall for a drink. They do a spectacular job of sourcing casque ales, craft and world lagers
Their selection of the above rotates regularly, as does their well-planned wine list. And if that wasn't quite enough to get you through the door, know that the food hits some pretty high notes too.
Head chef Yoshi Yamakawa was with the team at the opening of the Black Dog. He plys his trade upon an ever-changing menu of pub classics with a Spanish/European edge.
He's really put the place on the pub-grub map. If you're lucky enough to be there when the rarebit is on, you'll know why.
Practical Tips for Exploring The Best 10 Restaurants
Some of these restaurants have limited seating, check if you can book in advance to avoid disappointment
Dirty Burgers and French Tacos are best for lunch in Vauxhall
Vauxhall Restaurants: Map
The Best Restaurants in Vauxhall: Read Next