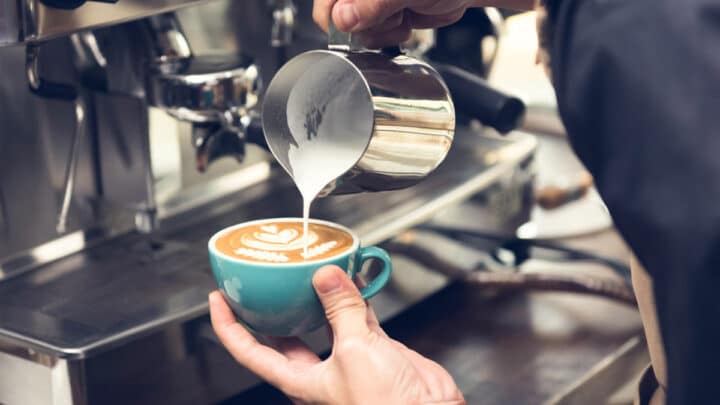 In Battersea and looking for a coffee? We've got you covered with this guide to the best cafes in Battersea.
With the arrival of the new Battersea Power Station revamp and one of London's nicer parks, plus a Peace Pagoda and a few beautiful riverside walks to choose from, you're probably going to be finding yourself down in Battersea a little more often these days.
But where should you go to recharge, or find a delicious vegetarian meal? All questions that bug the intrepid London explorer.
Not to worry. Our guide of all the best spots in Battersea for coffee and a bit of light lunch has got you covered.
Best Cafes and Coffee Shops in Battersea
Kapihan
The Philippines doesn't jump to mind when you think about countries whose names are given to glamorising the origin of coffee beans.
Their climate, however, is ideally suited for certain types of beans, and the folks behind Kapihan are all about getting that news out there.
Their Filipino coffee makes for an excellent cup. The sleek cafe is drenched in natural light, the ideal setting for slow sips.
What you will be secretly bowled over by though, is the baked goods. Kappihan turns out some Filipino cakes that are wildly good.
They also do a very good adobo at the weekends, but you have to ring ahead and pre-order.
Vibes
Vegetarians and vegans will find much to love about the menu of meat-free lunch and breakfast options at Vibes. The food is tasty and feels like it's not going to do you much other than good – which is usually the sign of genuinely wholesome food.
You'll be drinking a range of smoothies if you don't want to sample the coffees and teas they have on offer. But, whatever you're having, the cosy back room of the cafe is a nice place to spend an afternoon.
Doppio Coffee Warehouse
Half coffee equipment shop and half espresso bar, Doppio Coffee Warehouse is the sort of place that serious coffee nerds will get a kick out of.
You can tell it from the items on sale in the store. Sleek cafetieres, all sorts of barista equipment, the kind of coffee machines that look like they could write off a car in a head-on collision.
A store for people serious about coffee does mean one thing: seriously good coffee. Doppio offers an array of beans from around the world in blend or single-origin brews.
You can't go wrong with any of it, and if you really like what you're drinking you can take a bag home with you.
Pear Tree Cafe
If the pub is for getting rowdy, cafes are for chillin'. By that logic, the delightful pondside location and the setting of Battersea Park means the Pear Tree Cafe ticks all the right boxes.
They do a decent menu of brunchy bits – golden-looking scrambled eggs on toast, avocado incorporated into breakfast items in various ways. You know the deal.
Then there's a lunch menu with heavier items that runs until 3pm.
Other than the regular coffees, you'll find a menu of beers, cocktails, prosecco and champagne that will be particularly suited to a sunny day on their outside seating.
Social Pantry Café
Anyone with an ear to the ground of sustainable hospitality will probably recognise the name Social Pantry.
They run catering services, consult on how to make businesses in the food industry more sustainable, and own a couple of restaurants and cafes around the city. Social Pantry Cafe on Lavender Hill is one of these.
They take the ethics of sustainability and translate it into a super-nice unpretentious coffee shop with a killer selection of things to eat. Naturally, all the ingredients are fresh which makes the excellent cooking that comes out of their kitchen taste even better.
Cafe Blanca
Sometimes breakfast must be big and greasy, laden with enough bacon and sausages to stop a heart – as well as a hangover. When that time comes, we like to head to Cafe Blanca.
They do a killer full English that can be dialled down to include green things or items with less fat content if you please.
The big windows and corner location also make Cafe Blanca an excellent spot for a bit of people watching, as well as providing bountiful natural light for an afternoon with your nose in a book.
If the big breakfast options aren't what you're in the market for, you'll also find coffee galore and sweet things to go with it.
Battersea Cafe Guide: Map