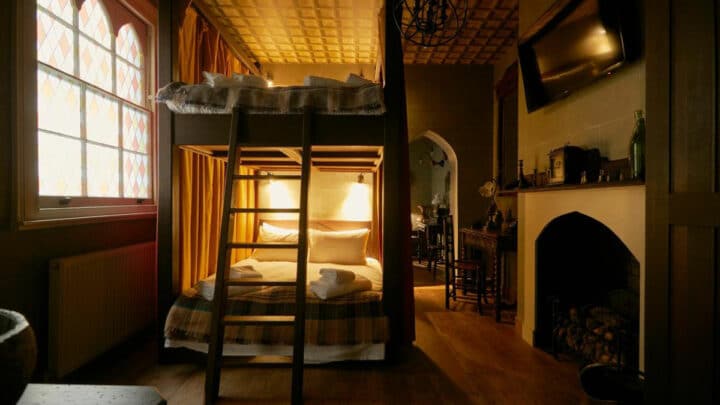 Ever wondered what it would be like to stay at a magical hotel? You can do just that at one of these enchanting Harry Potter-themed hotels in London.
Calling all Harry Potter fanatics, these Harry Potter hotels in London are not to be missed.
If you've been patiently waiting for your Hogwarts acceptance letter (and let's face it, you have), we come bearing good news. It's finally arrived and you're allowed to enter the magical wizarding world at one of these Harry Potter hotels.
These Harry Potter hotels have thought of everything – enchanting floating candles, replicas of The Great Hall, owls, and even Nimbus 2000's.
If you're in the mood for the ultimate Harry Potter experience make sure you plan a trip to platform 9 & ¾ at Kings Cross, visit the magical Harry Potter World Tour or visit one of the many Harry Potter filming locations in London like Leadenhall Market and Grimmauld Place.
Whatever you decide to do during your Harry Potter stay, we know that you'll have a magical time.
What are you waiting for? Grab your acceptance letter and wizarding uniform, and get ready to step into Hogwarts at one of these Harry Potter hotels in London.
Read Next: What You Need to Know Before Visiting the Harry Potter Studio Tour
Best Harry Potter Hotels in London: At a Glance
Best Harry Potter-Themed Hotels in London
Georgian House Hotel
Pimlico
£££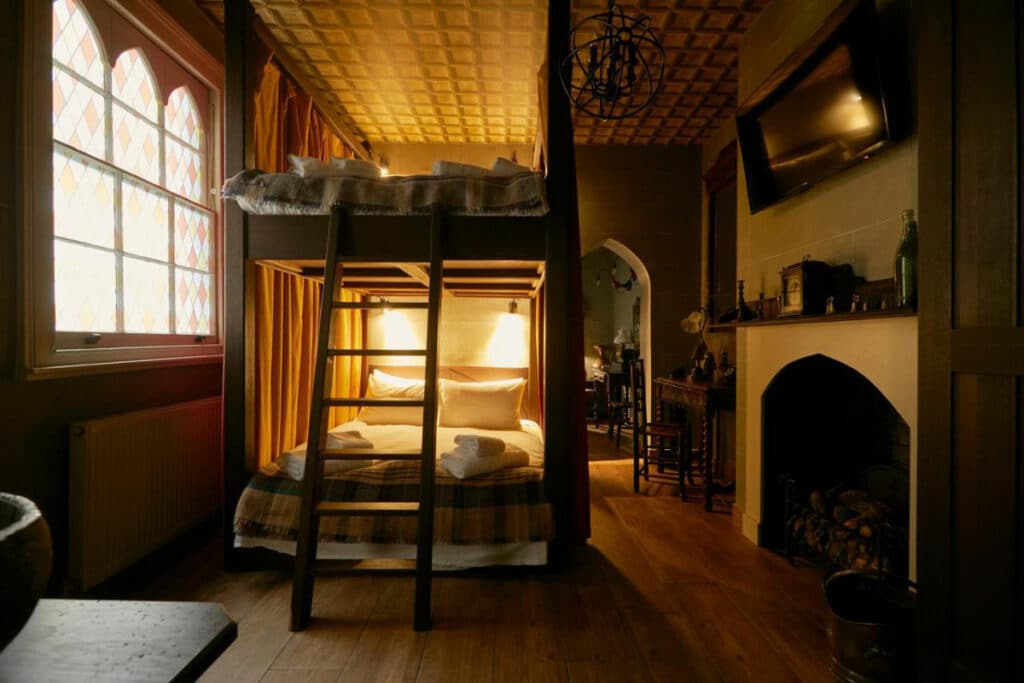 From the outside, Georgian House Hotel doesn't exactly strike you as enchanting. But, don't let that fool you into thinking that this is not the best Harry Potter-themed hotel in London. Behind that ordinary door is a magical wizarding world and Hogwarts awaits you.
Inside this Georgian hotel you'll find an abundance of character and charm – and that's before you even reach your wizarding sleeping quarters.
Concealed in the lower ground floor of this award-winning hotel, curious guests can find the wizarding chamber. It's in this area of the 19th Century hotel that muggles have no entry, so you best remember to pack your Hogwarts acceptance letter.
Once in the chamber, wizards pass through a portrait-lined passageway lit by candlelight – that's as close to The Great Hall as you're going to get.
There are two types of stay here: The Wizards Chamber and The Enchanted Chamber.
The Wizard's Chamber has mystical gothic rooms featuring magical castle details with stained glass windows, stone walls, archways, trunks and cauldrons. Sleep in four-poster beds hung with velvet curtains that are almost the exact replica of Gryffindor's living quarters.
The Enchanted Chamber is a little smaller and cosier than that of the wizards, but still just as magical. These rooms are designed for couples, and you can find these rooms concealed behind a bookcase door on the lower ground floor and feature the same Harry Potter memorabilia.
During your stay, non-muggles can enjoy a bewitched breakfast experience, enchanted afternoon tea and wizard potion making on Saturday through Sunday.
Hagrid's Hut
£££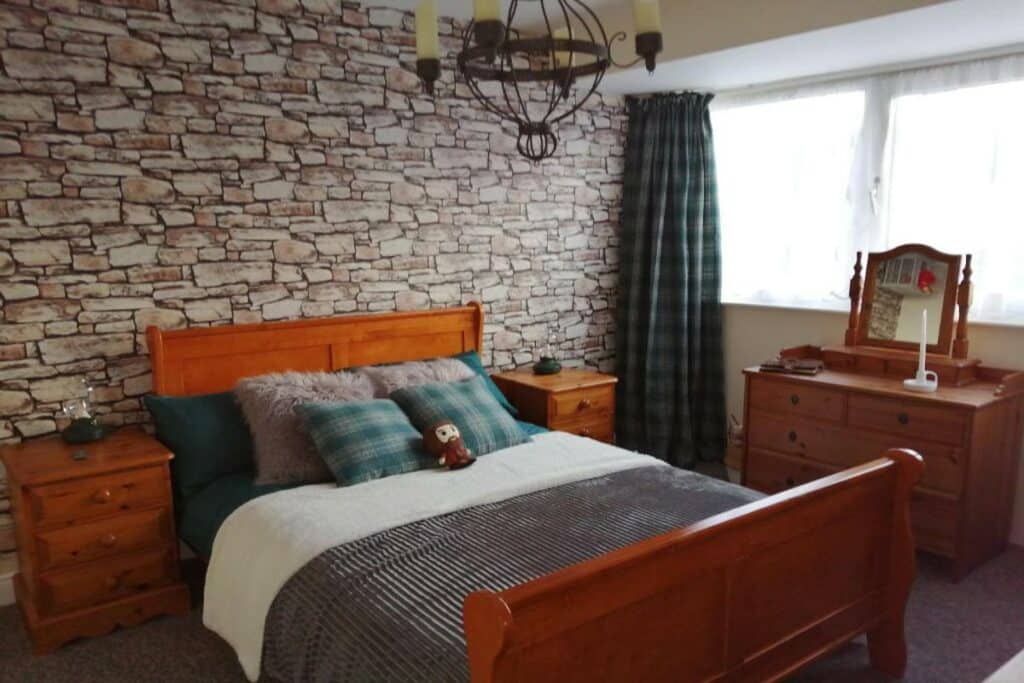 Hagrid is one of the most intriguing Harry Potter characters, and his hut was an interesting place that was off limits to some. But not to you – you can stay in a real life replica of Hagrid's Hut.
Slip on your Hogwarts uniform that's waiting for you at the entrance, no muggles allowed and certainly no Slytherin – this uniform is for Gryfindors only.
Just in case you weren't sure if Hagrid actually lived here, there's a life-size cut out of Hagrid and his frightening furry friend. If you're afraid of spiders, then beware there's a miniature version of Aragog (Hargrid's pet spider).
Inside Hagrid's Hut is a stone walled living area that's fit for wizards and witches and has everything you need to perform dark arts spells and potions. Sitting above a roaring fire is a miniature version of Hippogriff – the part horse, part eagle who comes to Harry's rescue on more than one occasion.
There's no shortage of owls at Hagrid's Hut and it's Harry Potter tradition that all wizards be assigned one. And, despite being a hut in the enchanting forest, Hagrid's hut has all the modern modcons you could need like WiFi, flat screen TV's and a fully equipped kitchen.
There's two bedrooms at Hagrid's Hut, one with bunks beds for little Hogwarts attendees. You'll find the magic continues here too, magical floating candles, more owls and the bigger bedroom has a stone wall just like Hagrid's Hut.
Harry's House
£££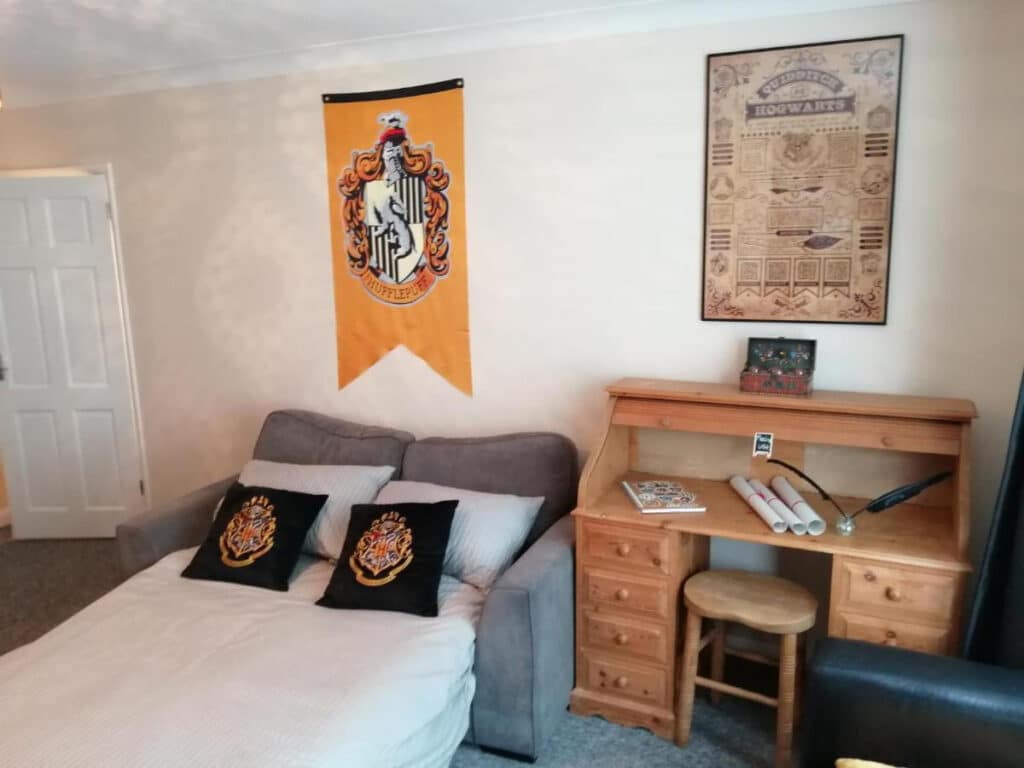 All wizards are welcome to stay at Harry's House, and muggles are tolerated. Fans will love this Harry Potter-themed house which is just a short drive from the Harry Potter Studio Tour.
This enchanting Harry Potter apartment transports you into the film sets as soon as you step foot inside the wizarding world. Harry's House comes with two bedrooms, one for the big kids, with magical candles floating candles as a lamp shade… And beware of the basilisk lurking around the bed frame.
Little wizards will find their wizarding quarters have bunk beds, and all children are assigned an owl throughout their stay. You'll even find trunks for draws and Nimbus 2000's incase you fancy a game of quidditch in the garden.
The magic continues in the hallway where you can enter platform 9 & ¾, but we wouldn't recommend muggles attempt to enter. Ouch. Enjoy a magnificent feast in The Great Hall, complete with floating candles, Harry Potter House's memorabilia and a magical starlight projector.
Dotted around Harry's House, there are plenty of reminders that you're now in Hogwarts. In the living quarters there's a roasting fire alongside an ink pot and quill to scribble down all your spells and potions.
This Harry Potter hotel in London even has a Harry Potter themed toilet seat, there's nothing from the wizarding world you won't find at Harry's House. And, even though this house is for wizards, modern wizards still need WiFi, flat screen TV's and a fully equipped kitchen for you to whip up a feast.
Harry Potter Hotels in London: Frequently Asked Questions
Can you sleep at Harry Potter World London?
Unfortunately, you can't sleep at Harry Potter World. But, there's some wizardly wonderful Harry Potter-themed hotels that you can stay at. The Georgian House Hotel has a secret Harry Potter living quarters that'll make you feel like you're in Hogwarts.
How far is Harry Potter world from King's Cross?
The Warner Brothers Studios in Watford is 21 miles away from King's Cross. Driving from London King's Cross Station, where the platform 9 & ¾ is, takes roughly 30 minutes. Though, London traffic is no joke so expect this to take up to an hour. I'd recommend hopping on a train (there are specific buses from Watford, the nearest railway station) or booking onto a tour.
Where in London is Diagon Alley?
Parts of Diagon Alley were filmed in London at Leadenhall Market. Leadenhall Market is in the City of London, and you might recognize it from the first film, Harry Potter and the Philosopher's Stone. Other locations for Diagon Alley include Stoney Street (by Borough Market) and of course, at the Warner Bros Studios.
Harry Potter London Accommodation Guide: Map