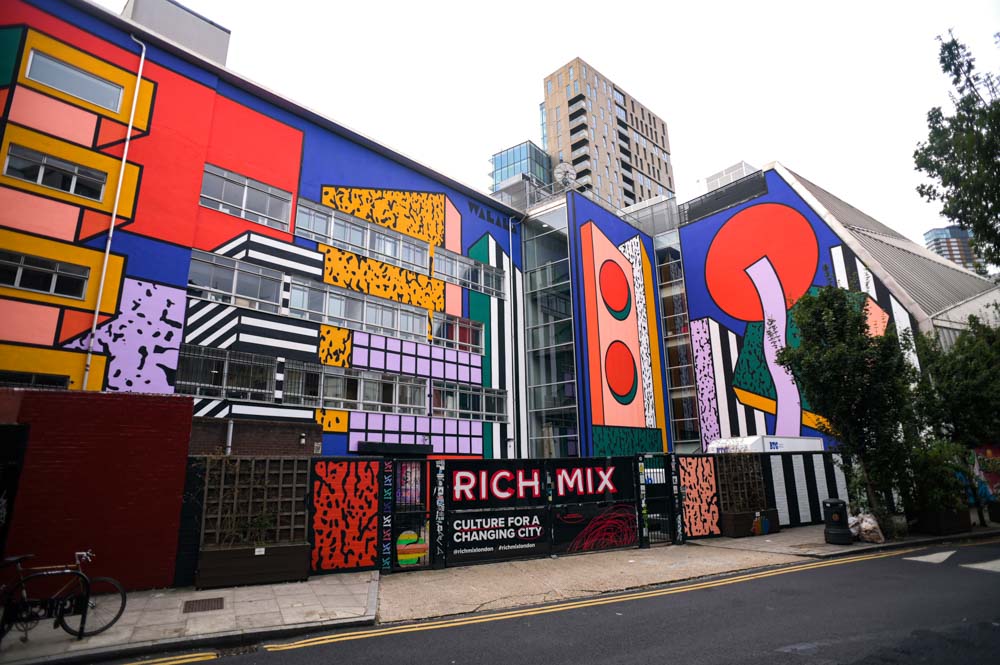 Discover the best cinemas in East London with this guide. From Hackney to Stratford, here's where to catch a movie in the East End.
Words by John Rogers
East London has provided the backdrop for some of independent cinema's most memorable films, so it's no surprise that the area is full of stunning local theatres.
And, it should come as no surprise to regular readers of London X London that we consider ourselves cinephiles. We love nothing more than to grab a drink, nestle up on a comfy seat and sink into a fantastic piece of visual storytelling.
And you'll usually find us doing just that in East London – these streets are home to a rich tapestry of local independent cinema.
So, grab your popcorn and get ready to discover the best cinemas in London's East End.
Best East London Cinemas
Hackney Picturehouse
The King of East London cinemas, The Hackney Picturehouse took up residence in what used to be Hackney Central Library in 2011, thanks to the vision of Picturehouse Cinemas and Panter Hudspith.
Fast forward to today and the building's interior contains five screens, a restaurant and two bars, bringing a touch of class to the classic brutalist construction.
As well as providing an excellent array of food and drinks directly to your seat, the Hackney Picturehouse prides itself on accessibility with monthly Autism-friendly screenings, regular Dementia-friendly showings and special Toddler Time showings.
In addition to being one of the hottest movie venues in town, Dabbers Social Bingo has opened its second London branch in the Hackney Picturehouse. Film and Bingo, we think that's a killer combo.
The Castle Cinema
Hackney
Another brilliant spot in Hackney, The Castle Cinema is a beautiful community crowdfunded cinema that shows various artistic and independent movies.
Sit back in some of the most comfortable armchairs inside a theatre that harks back to cinema's glorious bygone age. The bar is a modern take on a speak-easy style cocktail bar, with frilly lampshades and round tables where you can sit and chat with your friends before and after the credits roll.
As well as this, the cinema offers private hire that can be used for special private screenings of classics. Pretty cool, we think.
Genesis Cinema
The Genesis Cinema sits on Mile End Road, which runs through the heart of Bethnal Green in London's East End, and shows a combination of Hollywood hits and arthouse treats.
The site of the cinema was originally a pub called Lusby's, which transitioned to becoming a music hall before fire destroyed it. The cinema opened on site in 1912 and hosted several big names, including Laurel & Hardy and Charlie Chaplin.
The cinema underwent a facelift during the COVID-19 pandemic, extending the kiosk and opening The Yard, an outdoor eating and drinking area. In addition to the film treats, Genesis offers weekly swing dancing classes, work from Genesis hot-desking and an art exhibition space.
Stratford Picturehouse
Stratford
Situated in Stratford's growing Cultural Quarter, the Stratford Picturehouse is a modern, purpose-built space that has won architectural awards for its distinctive, minimalist style. A light and airy venue, the Picturehouse has played a crucial role in urban regeneration in and around Stratford.
The cinema describes itself as the "calm away from the storm," situated well away from the hustle, bustle, and mild chaos of Westfield Shopping centre. Open to everyone, not just moviegoers, the spacious cafe bar overlooks Theatre Square and provides outdoor seating to soak in the rays during the summer.
If you find yourself in Stratford and want a relaxing cinema experience, this is the place for you.
Everyman, Canary Wharf
Amidst the clean-cut surroundings of Canary Wharf's Crossrail Place is a new cinematic gem that provides unrivalled comfort in a sleek, modern space with more than a hint of classic styling.
Everyman Canary Wharf offers a vast range of food and drink, including their remarkable Spielburger kitchen. We love their chocolate milkshake with a flake to dip, while the range of wines, cocktails and beers is ideal for kicking back on the cushioned sofas as you immerse yourself in a rich cinematic experience.
Electric Cinema
The Electric Cinema is something a little out of the ordinary. Part of the Redchurch Street complex in hipster-central Shoreditch, this exotic 50-seat screen is available for private hire only.
Whether you're looking for somewhere to host a screening of a favourite film for someone special or perhaps a screening of your own work, this is the place for you.
Part of the Soho House Club, members receive a decent discount on hires. Otherwise, getting in touch with them for a quote is worthwhile if you want a traditional style big screen experience in a space with opulent, comfortable armchairs and tables with cute little lamps.
Rio Cinema
If it's a stunning indie cinema you're after, look no further than the Rio. This is a beautiful art deco Grade II-listed building dating from the 1930s set on Kingsland Road, Dalston.
The Rio is a community-run space with a 400-seat main auditorium and a stunning, intimate new 30-seat small screen with leather armchairs, cocktail bar and lounge.
As well as showing the best mainstream and arthouse films, the Rio regularly hosts several film festivals, including the Kurdish Film Fest, Queer Film Fest, and London Korean Film Fest. The main auditorium has a whole stage, allowing theatre, stand-up, comedy, live talks and most excitingly (in our view, at least), cabaret shows!
Close-Up Cinema
Close-Up is one of London's finest cinematic spaces, regularly showing some of history's most pioneering pieces of film-making. Its library contains over 20,000 titles, including ground-breaking early movies, the finest world cinema, classics, experimental titles and documentaries.
In addition to the outstanding range of screenings, which are a must-visit for any cinema buff, the library also contains a massive range of books, journals, histories and an online archive that includes back copies of the prestigious Vertigo film magazine.
One visit, and we promise you'll want to return dozens more times.
Rich Mix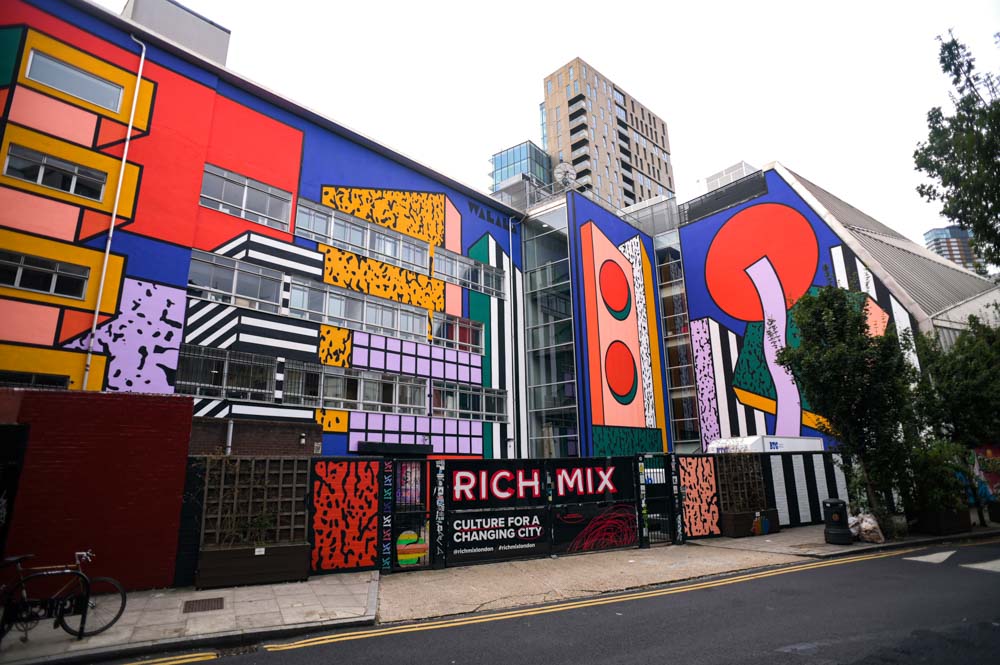 Rich Mix opened in the heart of Shoreditch in 2006 and has become one of London's premier art spaces, boasting three cinema screens alongside live music, spoken word, theatre, dance and visual art in their many exhibition spaces.
The cinema includes a bar and screens everything from locally produced independent films to the biggest Hollywood blockbusters.
This charity-run arts space reinvests every penny made over the bar through cinema screenings. It goes back to promoting arts work in the community and opening access to the arts to those that may not naturally be able to unleash their creativity.
Practical Tips for Exploring the Best East London Cinemas
Fancy cheap tickets? Some cinemas have special ticket deals during off-peak times, usually during the day in midweek. It's worth checking in advance.
All of the cinemas in this guide are excellent choices for anyone into up-to-date indie cinema releases. However, for those that like to go back in time and enjoy some golden oldies, we thoroughly recommend checking out Close-Up Cinema.
East London Cinemas: Map
East London Cinemas: Read Next